Introduction
Location
Accommodation
Diving
Pricing
Enquire Now
White Grass Ocean Resort & Spa is an award-winning boutique resort located on the enchanting remote island of Tanna – one of the southernmost islands of the Vanuatu Archipelago.
The warm ocean temperatures make White Grass Ocean Resort an all year round diving destination, and the on-site PADI Dive Centre 'Volcano Island Divers' offers shore dives, boat dives, and dive courses.
There is also superb snorkeling on the coral reef just 100 metres from the bures with a private jetty for easy access, and two beautiful reef swimming holes for novice and family snorkelling.
The Restaurant & Guest Lounge
The restaurant at White Grass Ocean Resort & Spa offers an international cuisine with flavours influenced from Melanesia and seasonal organic produce of vegetables and fruit.
An a la carte breakfast, lunch and dinner menu is available at the restaurant, with daily blackboard specials. Snack Menu is available all day and there are vegetarian and gluten free options.
Menu changes seasonally, our talented experienced chefs create delicious meals incorporating the local organic produce with the renowned freshly caught fish, seafood and lobster.
With beautiful uninterrupted views over the ocean it's the perfect place to dine or to relax with a tantalizing cocktail.
The resort also offers, a Children's menu or 50% off the adult rate for children 4-11 years; a Set Menu for lunch and/or dinner for groups of more than 10+ guests; and can cope with most special dietary requirements if advised at time of booking.
Nabisa Day Spa
The Nabisa Dat Spa is located in an open bure with uninterrupted views over the rugged coast line. The local therapists are highly trained and offer a wide range of treatments using Tanna's own organic coconut oil and high quality volcanic products from Vanuatu.
Other Facilities
The resort has an in-house Tour Desk, providing numerous tours from the famous, and one of world's most accessible, Mt Yasur volcano, with its uninterrupted fireworks, to the traditional Kustom villages, and the unforgettable Black Magic Tour to the incredible Blue Cave on the western coast.
As well as the swimming pool, the resort provides free use of bikes, sea kayaks and snorkelling equipment. There's also Pitch 'N' Putt Golf, Pétanque, Volleyball, Badminton and Croquet.
The resort has complimentary WiFi in the rooms and the lounge bar area.
We think …
White Grass Ocean Resort & Spa is the perfect place to experience the real Vanuatu, diving pristine coral reefs, and relaxing on the sapphire blue coastline with stunning views and sensational sunsets.
White Grass Ocean Resort & Spa is located 2km from Tanna's airport, itself a 35 minute flight from Port Vila. With multiple flights daily it is surprisingly accessible. Air Vanuatu has regular flights via Port Vila from Sydney, Brisbane and Melbourne with great deals on airfares. Book your excursion to Tanna on the same ticket and get 30 Kg checked baggage allowance all the way.
White Grass Ocean Resort has 18 south-sea island style bures set in manicured tropical gardens, sited to take best advantage of stunning sea & sunset vista.
All have ensuite facilities with hot water, ceiling fans, 24 hour electricity and are fitted with cool tiled floors. They feature mini refrigerators and coffee and tea making facilities. The bedrooms are newly refurbished, well-appointed and decorated, offering a comfortable stay in this unique environment.
White Grass Ocean Resort also has three brand new Family Villas with 2 bedrooms with 2 ensuite bathrooms, a spacious lounge area, kitchenette and balcony, garden and sea views – perfect for accommodating families or friends.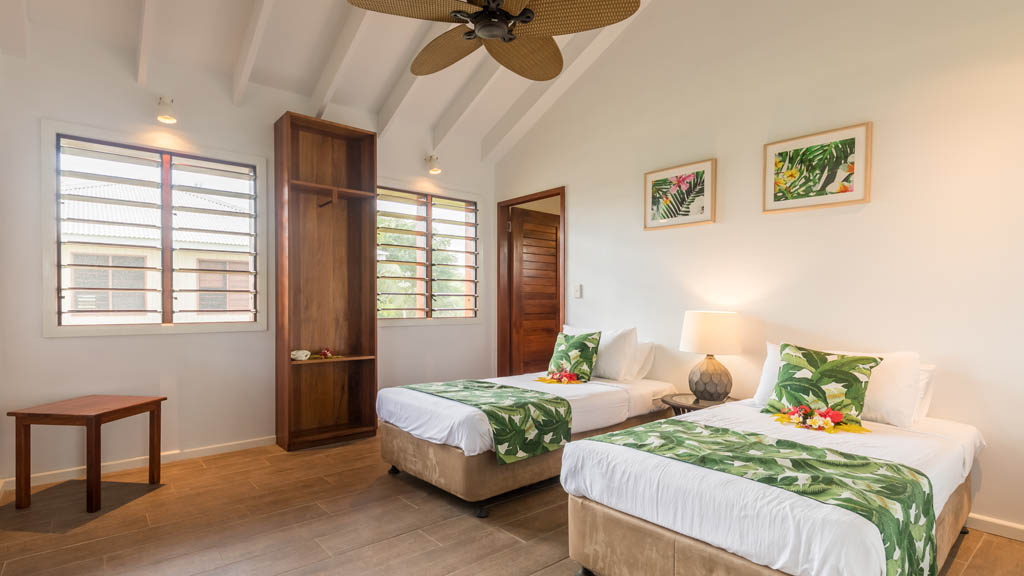 Diving at the White Grass Ocean Resort is provided by the PADI Scuba Dive Centre 'Volcano Island Divers'. They offer everything from daily boat and shore recreational diving to Discover Scuba Diving, and PADI courses from Beginner to Master Scuba Diver. They can provide all the gear you need, or just weights and tanks if you have your own.
Dive Area
Most of the dive sites are accessible from White Grass Ocean Resort & Spa's purpose-built jetty – whether you are shore or boat diving, other sites are via shore dives from pebble beaches.
Even on the House Reef you can see amazing coral formations, dugongs, turtles, moray eels, reef sharks and blue spotted rays. There is lots of interesting topography, with swim-throughs, tunnels and grottos to explore.
Sites further afield include Kamitua Reef, a sheer wall drop off and prolific Pelagic Fish and marine life, from giant Yellowfin Tuna, Barracuda and Grey Reef Sharks, to Fan corals, Moray eels and Nudibranchs; and the wreck of the MV Jean Percy – a small cargo boat sitting upright in 14m of clear blue water.
Pricing for White Grass Ocean Resort & Spa
Valid to 31 March 2020
AUD
|
VUV
7 Nights Ocean View Bure & 10 Shore Dive Pack
117684
VUV
|
117684
7 Nights 1 BR Family Ocean View Bure & 10 Shore Dive Pack
148616
VUV
|
148616
7 Nights 2 BR Family Ocean View Vila & 10 Shore Dive Pack
148616
VUV
|
148616

Valid from 1 April 2020 to 31 March 2021
7 Nights Ocean View Bure & 10 Shore Dive Pack
106813
VUV
|
106813
7 Nights 1 BR Family Ocean View Bure & 10 Shore Dive Pack
120594
VUV
|
102594
7 Nights 2 BR Family Ocean View Vila & 10 Shore Dive Pack
132844
VUV
|
132844
This resort's prices are in Vanuatu Vatu. The AUD prices shown are based on the current exchange rate. The price paid in AUD will be based on the actual exchange rate at the time any payments are made.
Pricing includes Wifi, Airport transfers, Tropical breakfast, Pure spring drinking water, Snorkelling equipment, bikes, Kayaks, Pitch 'N' Putt Golf, Pitch 'N' Putt Golf, Pétanque, Volleyball, Badminton & Croquet, Daily Guided Snorkelling Tour to Turtle Reef, Late Check out (Subject to Availability)
The per person twin share/double pricing above is indicative only: we show 7 night with 10/12 dive packages at high-end and lower-end rooms (singles & doubles) for the purposes of comparison. We can give you a price (and availability) for any combination of nights/dives you wish to undertake, which will include any discounts due to you as part of that package, and any exclusions, or items payable at the resort.
Please use the [Enquire Now] tab to give us your exact requirements and we'll give you the best deal we can.