Introduction
Location
Accommodation
Diving
Pricing & Schedules
Enquire Now
Sea Explorers Dauin is set in Pura Vida Beach and Dive Resort, in beautiful tropical garden with water frontage and a private sandy beach, just 15km south of Dumaguete in the small town of Dauin on Negros.
Sea Explorers Dauin, a PADI 5 Star CDC dive centre, offers training and daily dive excursions. Its larger banka style boats are perfect for trips to neighbouring islands Apo and Siquijor, whilst the resort speed boat will take divers to any dive site along the Dauin coastline. Dive groups on the boats are small, and divers may dive the house reef at any time.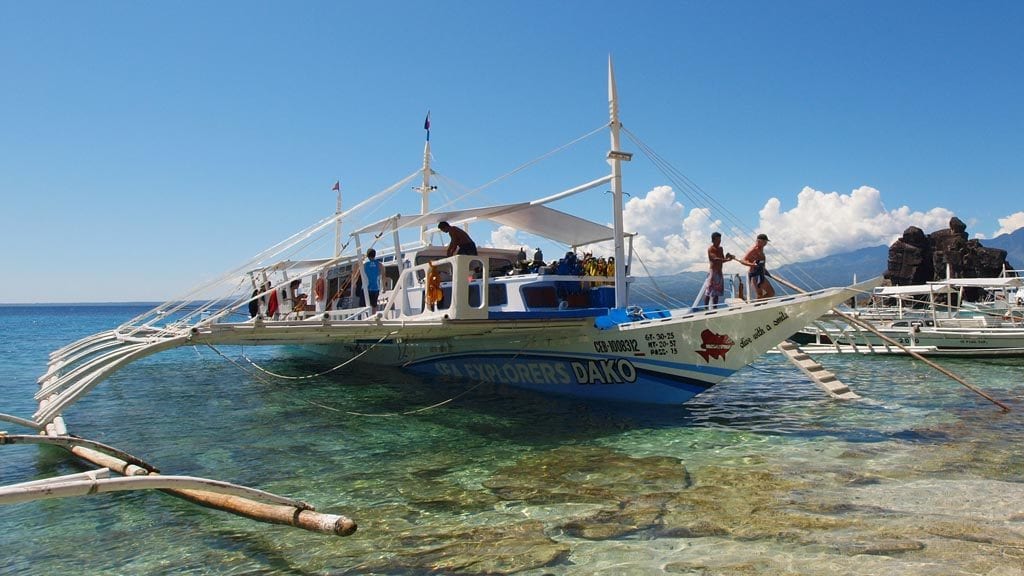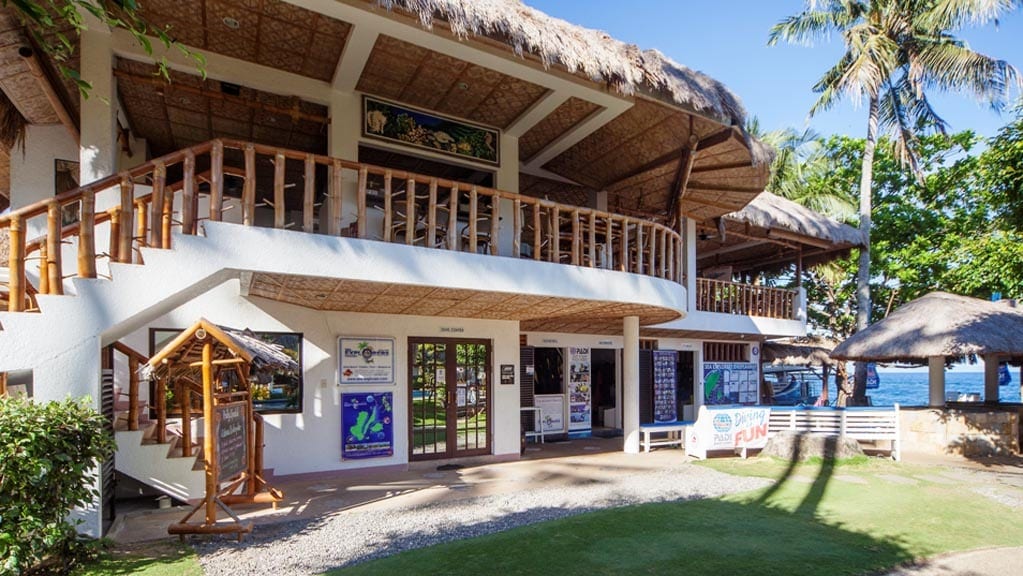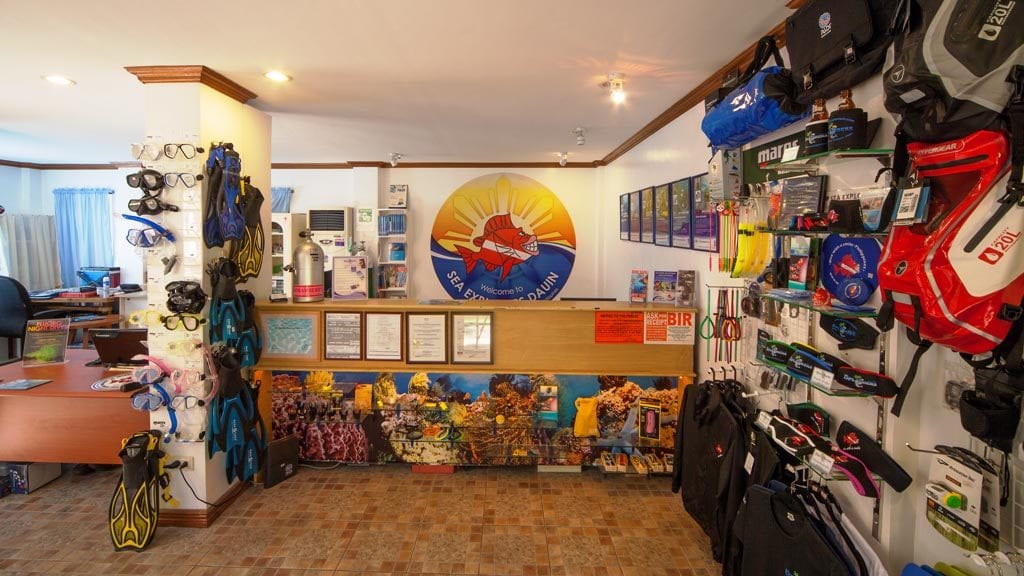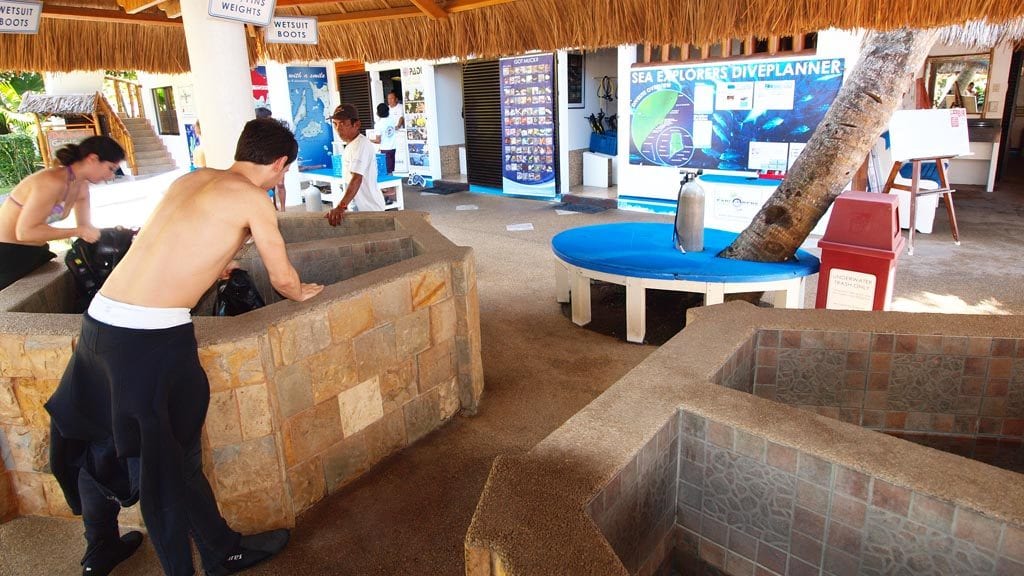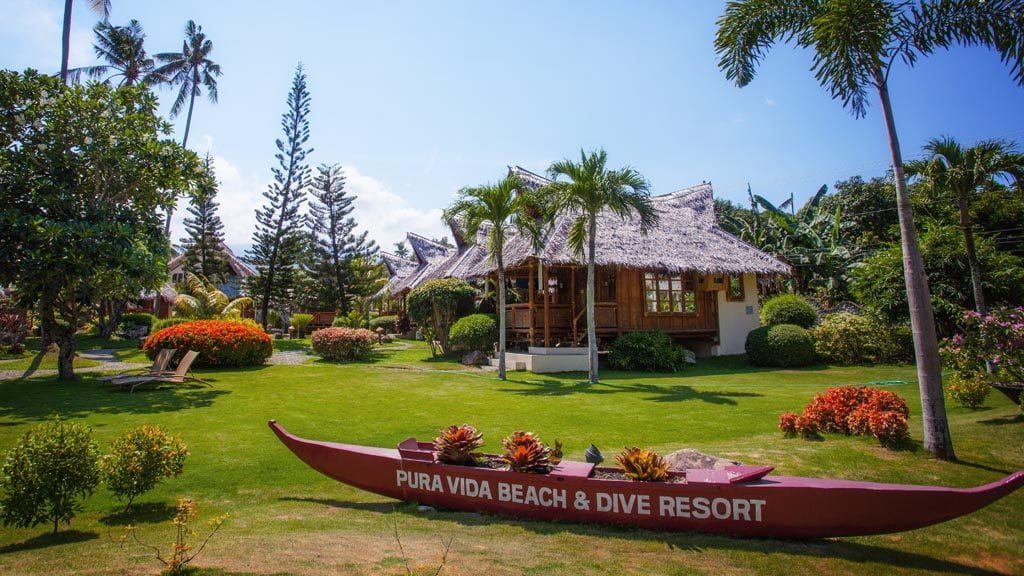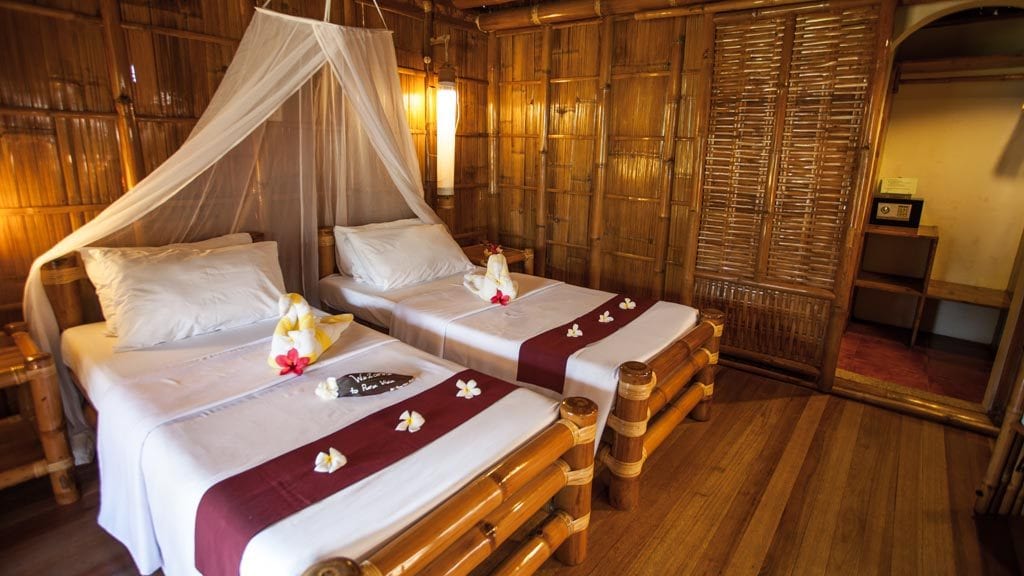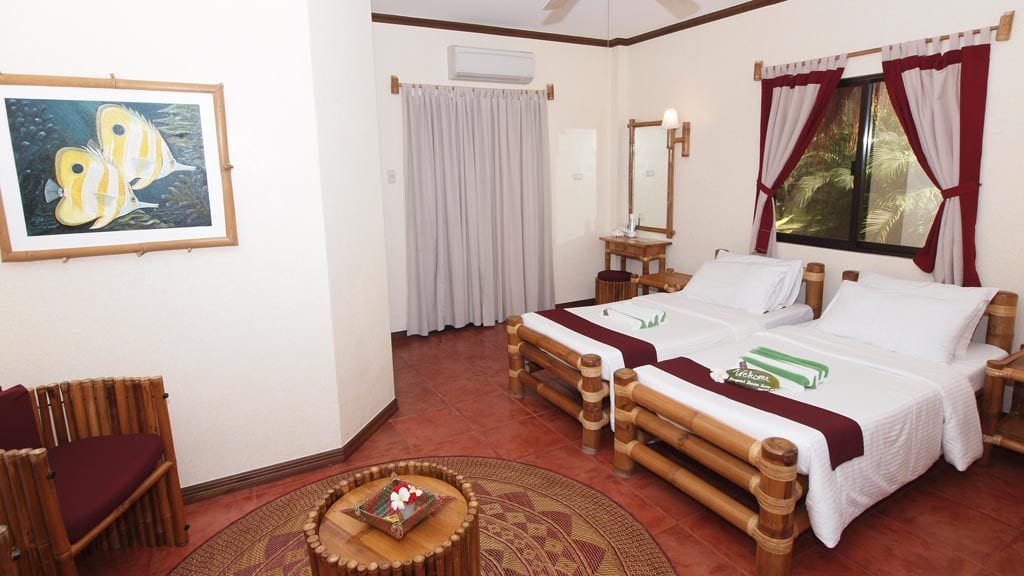 Staying Connected
Pura Vida Beach Resort has a reliable mobile phone reception, and free WiFi is available throughout the whole resort.
We think…
A highly recommended resort built by divers for divers. Really friendly and professional service.
Pura Vida Beach Resort is located directly on the beach just south of Dauin, near Dumaguete, Negros.
The transfer from Cebu airport starts with a trip to the southern tip of Cebu which takes approx. 4-5 hours by minibus, followed by a short ferry to Negros (about 30 min.) and a further transfer (approx. 45 min.) to the hotel by car. Charges apply for the Cebu transfers.
Alternately, there are Express ferries from Cebu to Dumaguete. The direct services are currently not operating and you would need to transfer via Tagbilaran which could also take the best part of a day.
Transfers to the resort are available from Dumaguete domestic airport and Cebu International Airport.
Arrival in Cebu/Mactan Intl. Airport:
From Cebu Int'l Airport to Liloan, Santander pier: 3.5 hours by car
From Liloan, Santander Pier to Sibulan, Negros: 30 minutes by ferry
From Sibulan, Negros to Pura Vida Beach Resort: 1 hour by car
Arrival from Cebu Pier:
From Cebu pier to Dumaguete pier: 5-7 hours by fast ferry (via Tagbilaran)
From Dumaguete pier to Pura Vida Beach Resort: 30 minutes by car
Arrival at Dumaguete domestic airport:
From Dumaguete Airport to Pura Vida Beach Resort: 1 hour by car
The Pura Vida Beach and Dive Resort have 27 rooms: 10 Standard air-conditioned rooms, 2 Suites, 3 Family Deluxe rooms and 12 deluxe rooms with pool, ocean view or garden view veranda. The standard rooms are located in the back of the resort and are airy and built from native bamboo.
Pura Vida Beach and Dive Resort also features a restaurant, bar, swimming pool and spa.
The restaurant on the first floor above the diving centre has a wide selection of delicious international and Asian food. The choice of dishes is really great. Enjoy an evening at the poolside bar, or at the beach bar with a beer or a fine dessert.
The Sea Explorers PADI 5* Dive Centre is located on the premises of the resort. The pool facilities are used for learn-to-dive courses. The dive shop has ample gear storage, rinse areas and a large air-conditioned classroom with state of the art facilities.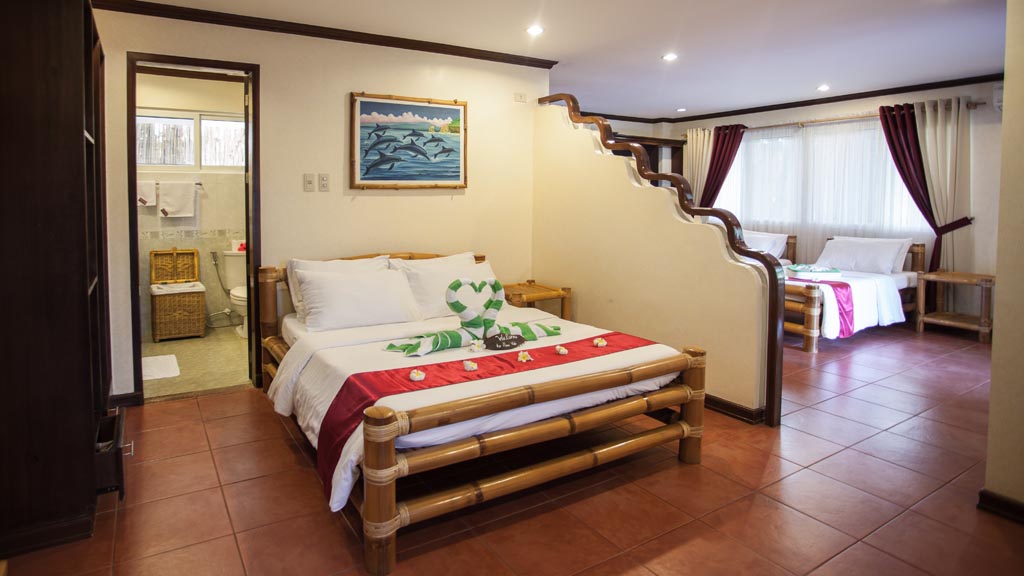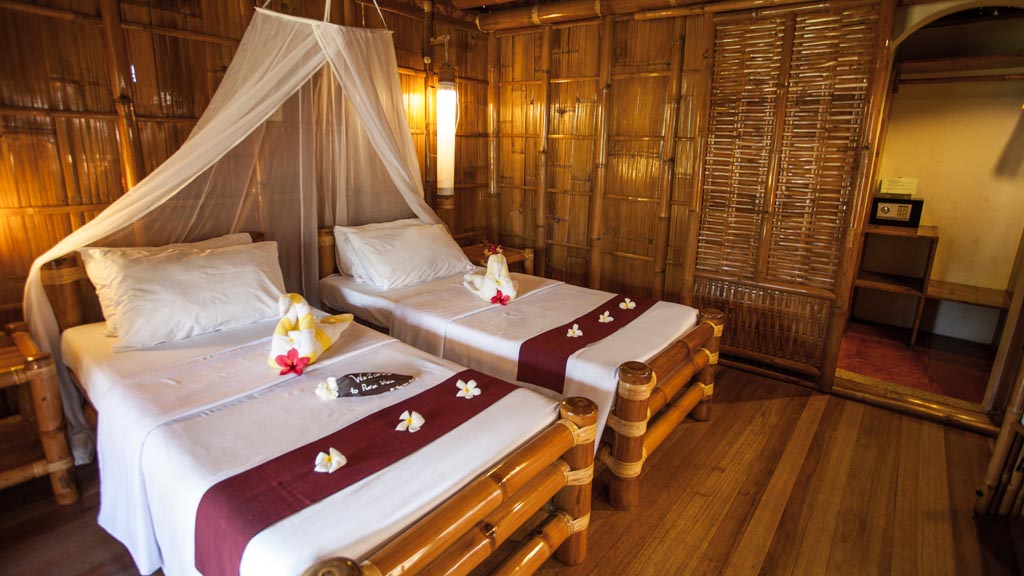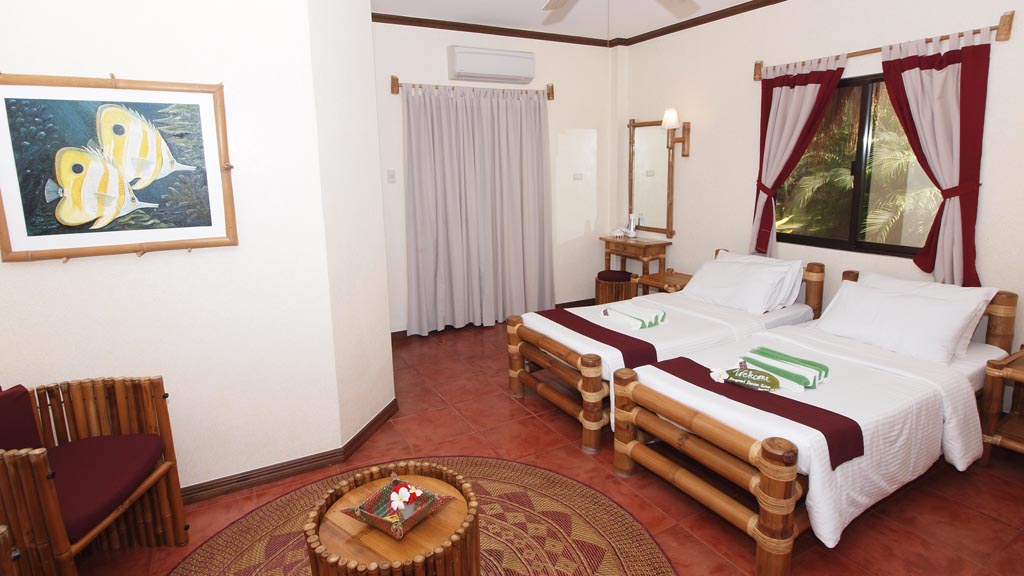 The Sea Explorers DauinPADI 5 Star CDC dive centre offers several dive trips per day including equipment rental, dive courses and diving instructor courses. Sea Explorers Dauin have five boats, from 24m banka-style outrigger boats for 14 divers to a small speedboat. All boats are equipped with an emergency kit, DAN Oxygen System and cell phone. One or two-week long dive safaris can be booked around the islands of the Visayas for a minimum of 6 divers.
Dive Service
You can choose among various daily dive trips and night dives. Just next to the dive shop there is a house reef with large coral and fish diversity, ideal for photography and night dives. The dive shop stocks 12L aluminium tanks with DIN + INT connections, complete hire equipment for 20 divers, and offers Nitrox. The dive centre is located next to the Pura Vida Beach & Dive Resort pool and bar.
Dive Sites
The dive sites can be reached by outrigger boat within 5 to 90 minutes. Full-day trips to Apo Island and Sumilon Islands are also available. The dives are accompanied by European and local instructors as well as knowledgeable local Filipino dive guides who are intimately familiar with the diving conditions.
Highlights are the dive sites around Apo Island with intact coral formations and varied diving in shallow coral gardens and beautifully decorated walls. Interesting underwater landscapes with sea fans, soft corals and feather stars offer a home for many colourful nudibranchs, moray eels, frog fish, seahorses, clown fish and sea snakes. About 450 different species of hard and soft coral have been found here. Atmosphere travels to Apo almost daily even if there is only 2 divers on-board. The trip takes only 20-25 minutes and 3 dives are offered. In addition to Apo Island the protected dive site of Masaplod offers an abundance of fish life.
The house reef is a paradise for macro fans. It has some artificial reefs and muck diving sites in the volcanic sand along the coast. Several fire fish, seahorses, ghost pipefish and rare cephalopods are regularly found here.
The dive sites are accessible all year round, with mostly good to very good visibility, and generally low to medium currents. The water temperature is warm and tropical at 27-29°C (81-84°F), a 3 mm wetsuit should be sufficient.
Pricing for Pura Vida Beach & Dive Resort Valid Until September 2023
AUD
PHP
7 Nights Garden Double, full board with 10 dives
60650
PHP
|
60650
7 Nights Garden Single room with 10 pre-paid dives

78150
PHP
|
78150
7 Nights Deluxe Double with 10 pre-paid dives

67650
PHP
|
67650
7 Nights Deluxe Single with 10 pre-paid dives

92150
PHP
|
92150
This resort's prices are in Philippine Peso. The AUD prices shown are based on the current exchange rate. The price paid in AUD will be based on the actual exchange rate at the time any payments are made.
Transfer will be by car/van and ferry. Fees for excess luggage and porters are NOT included

The dive center is located inside Pura Vida Beach & Dive Resort

Rates include breakfast, tanks, weights, guide, and boat rides

Does NOT include sanctuary fees and special day trips

The per person pricing above is indicative only: we show 7 night with 10/12 dive packages at high-end and lower-end rooms (singles & doubles) for the purposes of comparison. We can give you a price (and availability) for any combination of nights/dives you wish to undertake, which will include any discounts due to you as part of that package, and any exclusions, or items payable at the resort. Please use the [Enquire Now] tab to give us your exact requirements and we'll give you the best deal we can.