Introduction
Location
Accommodation
Diving
Pricing & Schedules
Enquire Now
The Atlantis Puerto Galera Resort & Dive Centre is beautifully located on Mindoro Island offering local muck dives in Sabang Bay all day long, and full day dive trips (three tanks) to Verde Island amongst others.
Resort Facilities
Atlantis Puerto Galera is beautifully built into the hills of Sabang Beach of Puerto Galera and has a great beachfront location; in many travel guidebooks and magazines, Atlantis is quoted as one of the most outstanding resorts of the Philippines with its award-winning (Flintstones) design.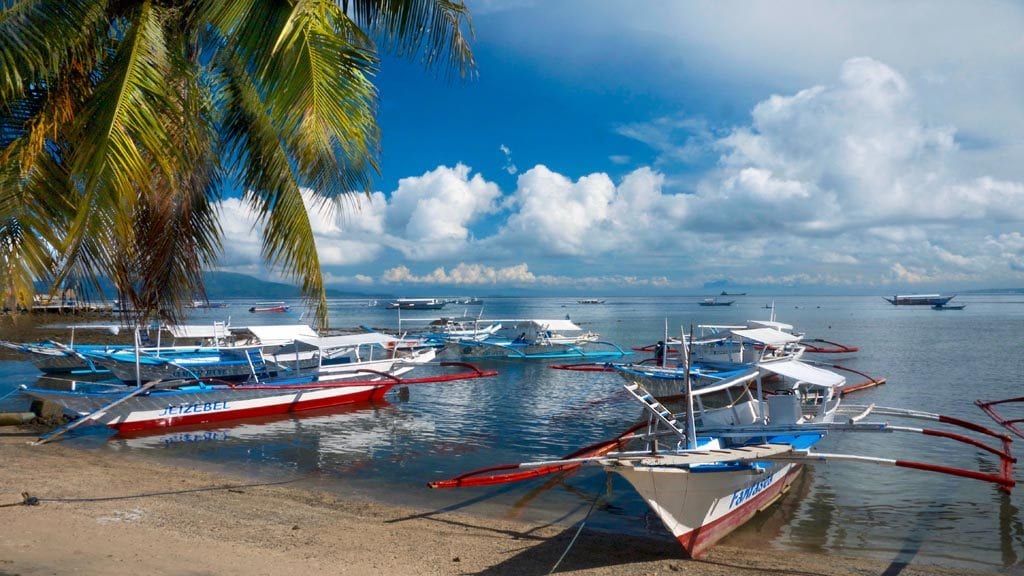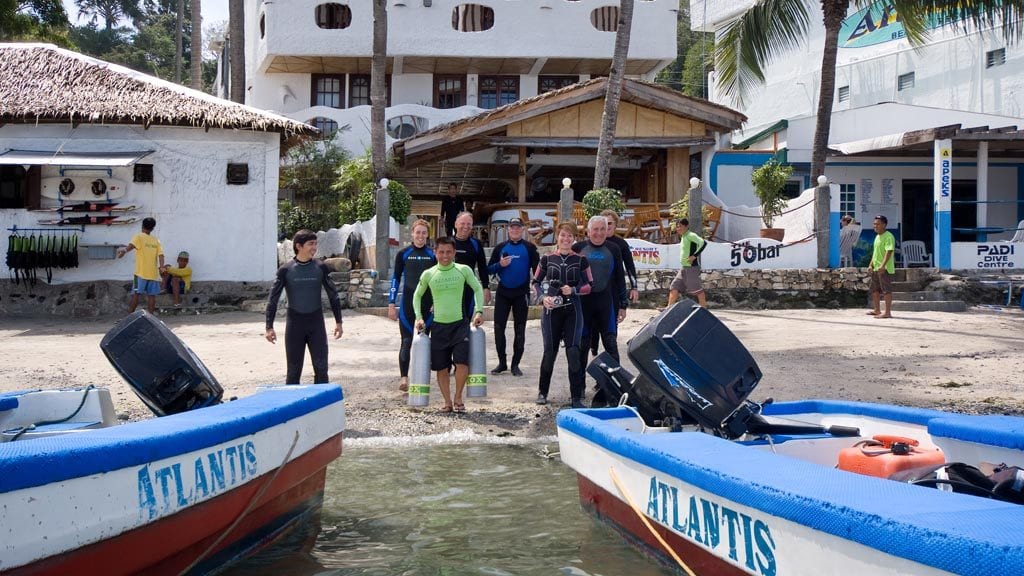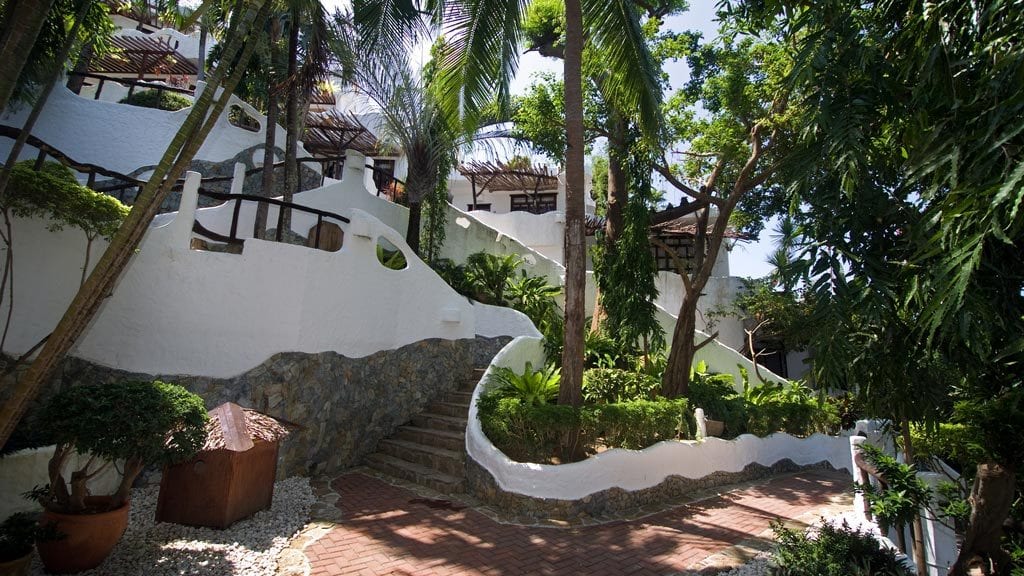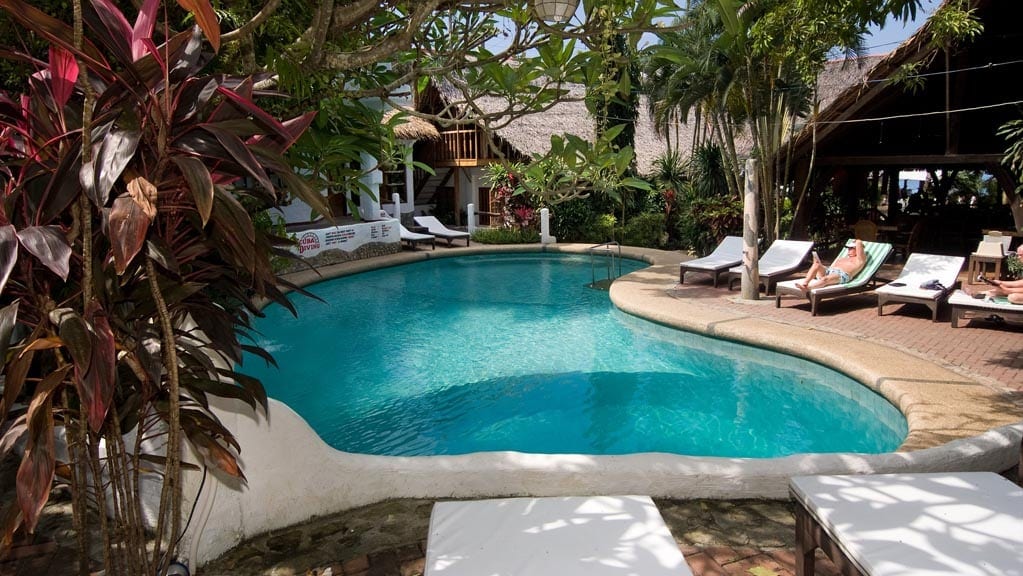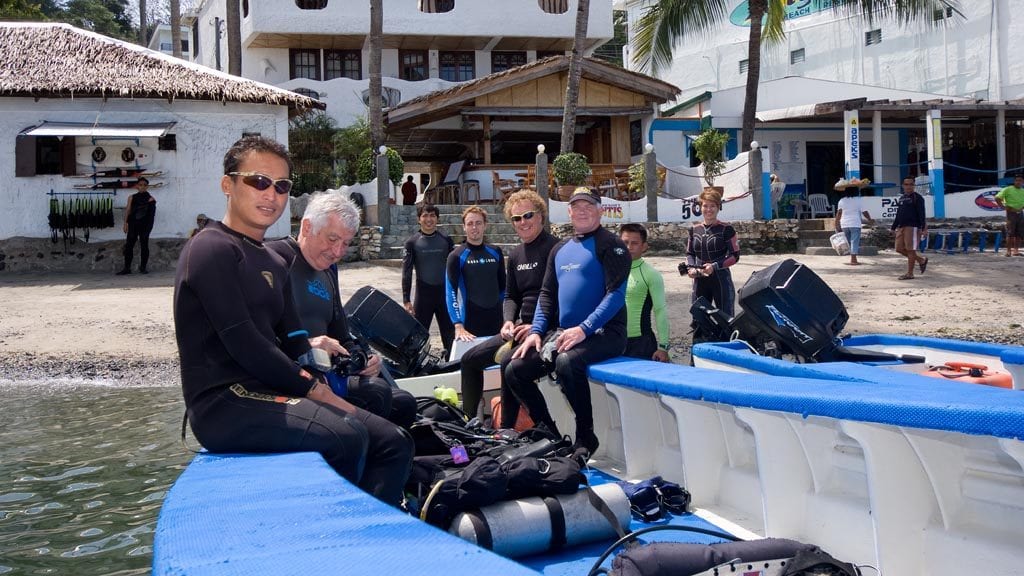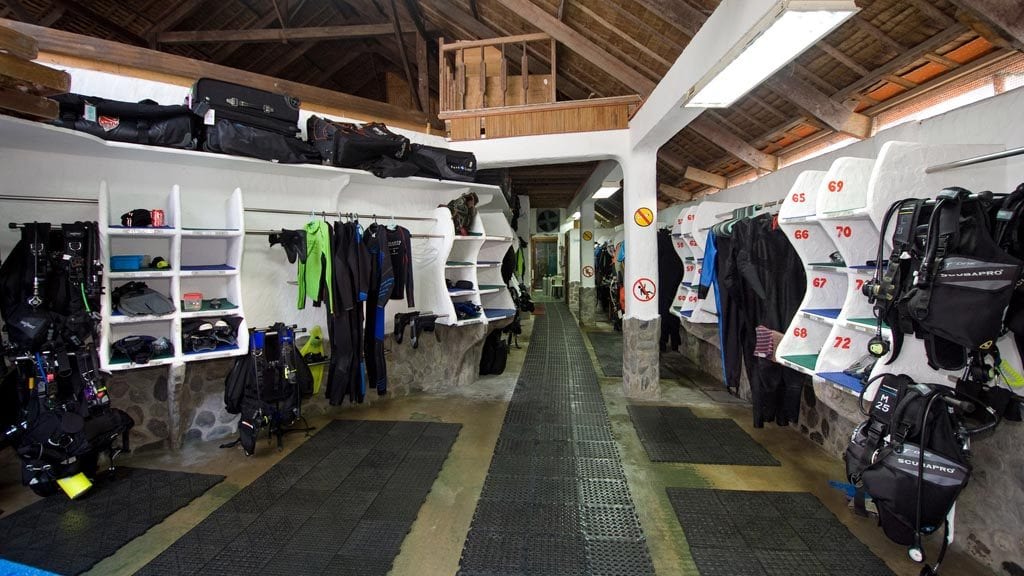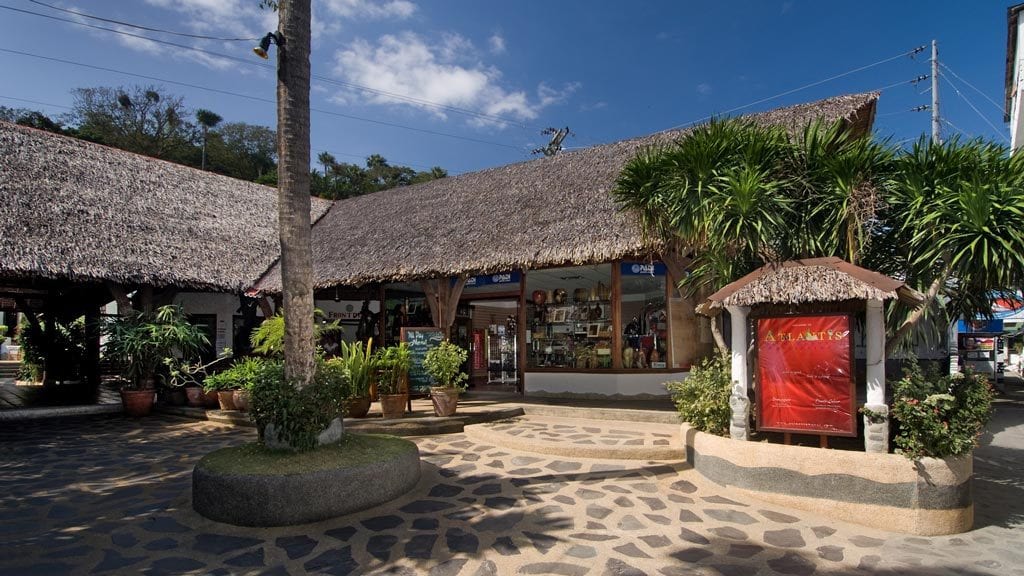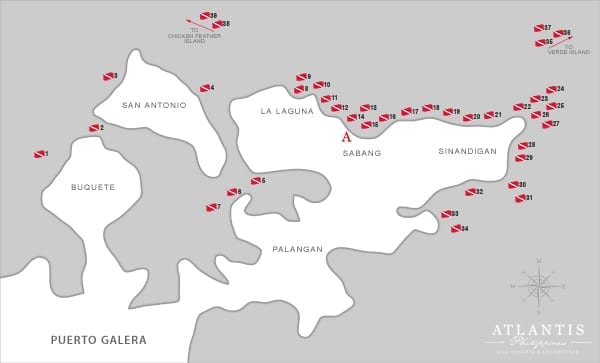 The resort's restaurant (Toko's) is really special and probably the best restaurant at Sabang Beach. Toko's will provide you with a unique dining experience using fresh local products and flavours made to an international standard. They have an ever-changing blackboard 3-course lunch and dinner menus, theme nights, plus a Mongolian Wok. You can also choose from an extensive list of cocktails and shakes or enjoy the best coffee in town.
Atlantis has a nice beach front cocktail bar, the '50 Bar', where most people start their evening. Enjoy a great selection of music, meet new friends and enjoy the company of Atlantis' dive staff while overlooking the ocean.
There is a free form private pool, filled with non-chlorinated water and sheltered by trees, and a poolside service that includes snacks and full drinks menu.
The Spa offers surprisingly affordable two hour hot stone, Japanese Shiatsu and Thai to name just a few options. They also offer facials, manicures as well as hot wax treatments for hands and feet. Unwind from a hard day's diving and add the perfect finishing touches to your vacation.
The resort has a boutique shop for all your needs and more. Dive, equipment and accessories; sunscreen, t-shirts, swimwear, sarongs, and more such as beautiful native art.
Staying Connected
Atlantis Resort has reliable mobile phone reception and all rooms and common areas have free high-speed WiFi (provided via microwave link).
We think…
The Atlantis Puerto Galera is a nice place to spend your holiday. They offer a great choice of accommodation styles and fantastic food and service. A great resort for underwater photographers – the facilities are outstanding.
The Atlantis Puerto Galera Resort is located on Mindoro Island. The resort is accessible from Manila by minibus to Batangas (approximately two hours, – 110 km south of Manila). From there you travel for approximately 1 hour by boat to Puerto Galera, which is on the northern tip of Mindoro Island. Door to door 'meet and greet' transfer arrangements can be made to/from the resort.
You can transfer to the resort from Manila and Subic Bay via private seaplane (2-3 passengers), or helicopter (4-6 passengers); flight time being approximately forty minutes.
Atlantis Resort has forty guest rooms and suites. All are en suite and elegantly designed to give you maximum comfort, privacy and relaxation throughout your stay. Features include:
Air conditioning & ceiling fans
Fully stocked mini-bar
Supply of emergency toiletries
Cable T.V. with free movie and sports channels
In-room safety deposit box
Coffee and tea making facilities in suites
Complimentary WiFi throughout
See our travel partner website for the inclusions of each of the different room types.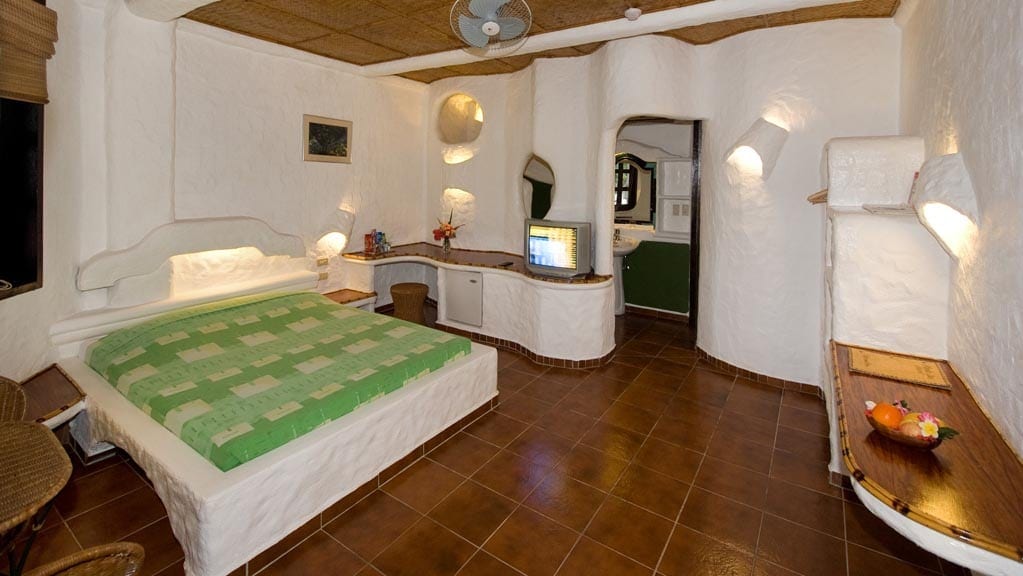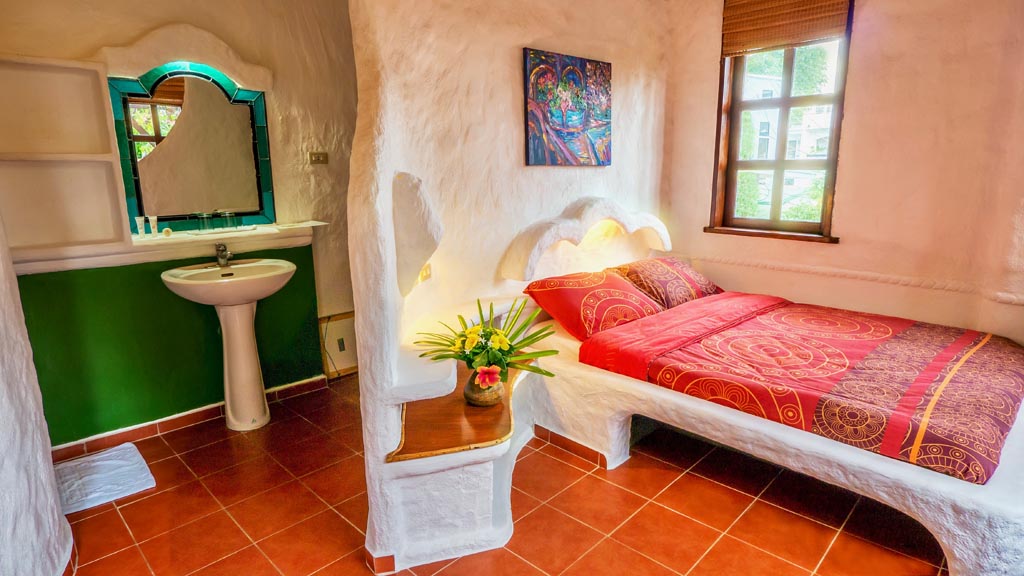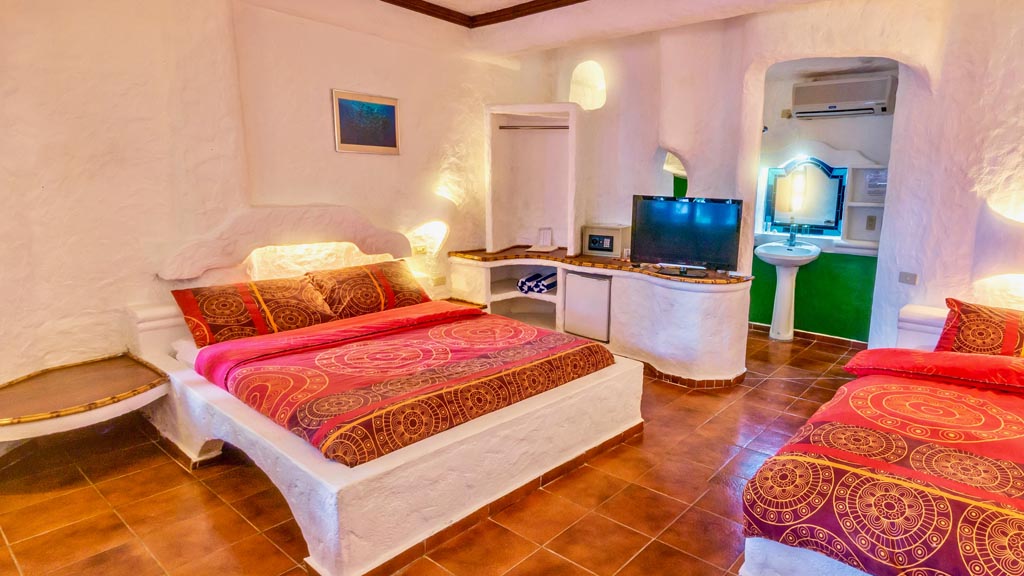 Atlantis Puerto Galera Dive Centre is a 5 Star PADI Career Development Centre, one of only few dive centres with such a rating in the region, so training from beginner to instructor level is possible. You will find the highest standard of dive education, fantastic facilities and well trained, friendly dive guides. Explore some of the 30+ close dive sites or do one of the many dive courses they can offer: Nitrox, technical diving or Rebreathers. The dive shop is very impressive and underwater photographers will love their camera room.
Dive Service
Diving is very flexible with local dives offered at 9am, 11am, 2pm, 4pm and 6pm (night dives available every day). There is a choice of dive site each time and dive groups have no more than 6 people.
Full day dive trips (three tanks) are on offer as well. Visit Verde Island and the Hot Springs of Chicken Feather Island and enjoy some of the best diving with a fantastic BBQ lunch cooked on the beach.
The facilities include:
Underwater Photography Services
High-quality rental equipment
Spacious comfortable boats
Fresh beach towel every day, snacks and drinking water
Hot water shower in the dive shop
Multiple compressors for Air, Nitrox and Trimix
Your equipment carried for you
PADI CDC and TDI facility
PADI Courses from beginner to Divemaster and Instructor Level
Most PADI Specialty courses on offer
Discover Scuba Diving for not-yet-divers
Training pool and fully-equipped classroom
Kids Diving
Marine Life Presentations
Camera Room
Atlantis Galera Dive Centre has one of the most spacious camera facilities you will find in any dive resort worldwide. Like its sister dive centre in Dumaguete, there are 21 individual cubbyholes to store equipment with a work surface 80cm deep with a shelf running the length of the work surface for battery chargers and eight fluorescent under-shelf lights. Five air-guns and 16 sets of power sockets in both 220 and 110 volts are positioned around the room.
The facility has 42-inch HD flat-screen TV mounted on the wall with both HDMI and USB connections so guests can show off their photos and video on the big screen at the end of a day's great diving!
Atlantis Puerto Galera also offers Fluoro Night Dives, where using a special filtered blue light and a yellow mask visor you can see first-hand the magic of fluorescence.
Dive sites
Atlantis Puerto Galera has some of the most diverse coral reef diving in South East Asia, located at the very heart of the 'Coral Triangle', offering everything from entry-level diving to diving in strong currents. The reefs are well protected by the local dive schools. Coral and fish life are recovering very well from earlier abuse by dynamite fishing and give a very good idea of the biodiversity of Philippines' marine life.
Highlights are the dive sites around Verde Island with beautifully overgrown cliffs, good fish life and strong currents; and The Canyons, also with strong currents, great coral growth and an abundance of fish. Nudibranch City has an incredible variety of sea slugs and the Sabang Bay is a great place for macro photography with pygmy seahorses, frogfish, nudibranchs, scorpionfish and much more. Diving is possible all year round with good visibility most of the time and moderate currents.
Pricing for Atlantis Resort Puerto Galera
Valid to 31 Dec 2023
AUD
USD
7 nights Deluxe Room (double / twin share) with unlimited diving
2430
USD
|
2430
Optional extras
Unlimited Nitrox
204
USD
|
204
Single supplement
504
USD
|
504
Day Trip to Verde Island
120
USD
|
120
Day Trip to Anilao
138
USD
|
138
This resort's prices are in USD. The AUD prices shown are based on the current exchange rate. The price paid in AUD will be based on the actual exchange rate at the time any payments are made.
INCLUDED: accommodation as specified, all meals at Toko's Restaurant, coffee, tea and filtered water during restaurant's operating hours (breakfast drinks, Italian and specialty coffees are not included after breakfast), unlimited Internet access, unlimited scheduled boat diving (typically 5 dives per day including night diving).
EXTRAS PAYABLE LOCALLY: Marine Park fees, tips, alcoholic beverages
The per person pricing above is indicative only: we show 7 night with 10/12 dive packages at high-end and lower-end rooms (singles & doubles) for the purposes of comparison. We can give you a price (and availability) for any combination of nights/dives you wish to undertake, which will include any discounts due to you as part of that package, and any exclusions, or items payable at the resort. Please use the [Enquire Now] tab to give us your exact requirements and we'll give you the best deal we can.