Overview
What differentiates Passions of Paradise is their determination to give you an ecologically great experience of the Great Barrier Reef whether you're a snorkeler, certified divers, or wanting to try an introductory dive. As Climate Action Leaders, within the tier of Advanced Ecotourism operators, their commitment to a sustainable visit to the Reef, and their passion to share an understanding of the unique marine environment shines through.
Passions operate a purpose built 25m sailing catamaran with permits for eight different reef sites, taking you to the reef with the best conditions for the day, an if you choose to dive with them over several consecutive days, this ensures a variety of dive sites.
The cat has an air-conditioned cabin, giving passengers inside a good view over the ocean, and a full commercial galley.  Outside, there is level wrap around deck, plenty of space for sun-worshipping in the nets between the bows, and a custom dive deck with twin stairs into the water, at the stern.
Passions of Paradise is a certified PADI dive centre, offering both certified and introductory diving with all the gear you could need available for hire.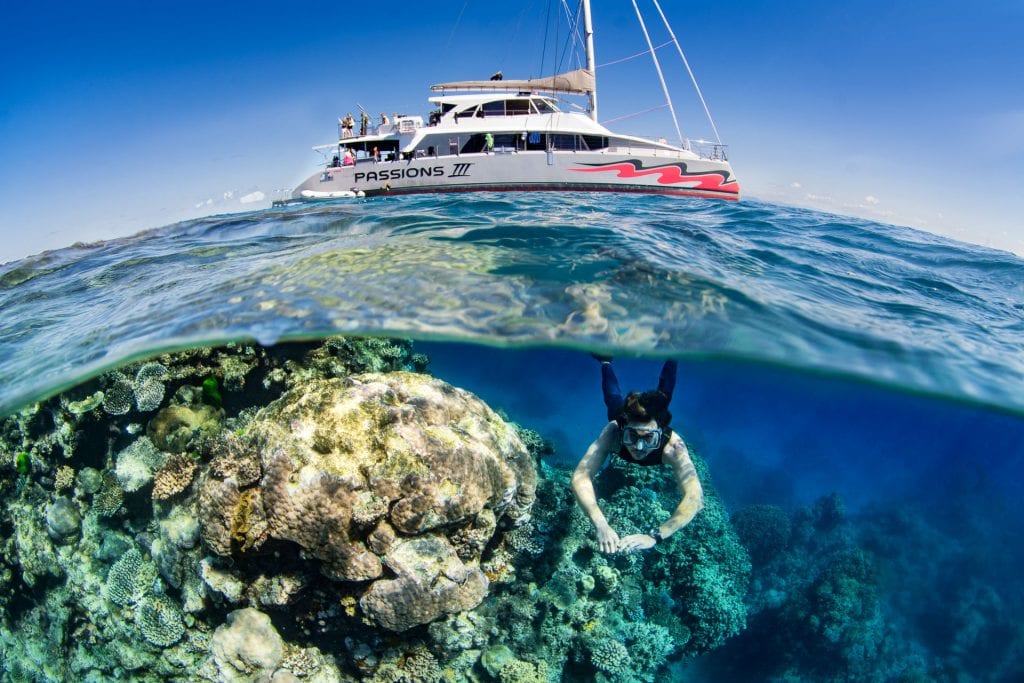 Facilities
| | | | | |
| --- | --- | --- | --- | --- |
| Training School Type: | PADI | | Nitrox Fill: | |
| Air Fill | | | Number of Guides | 4 |
| Gear Hire | | | Number of Boats | 1 |
| Gear Sales | | | Number of Dive Sites | 12 |
| Gear Servicing | | | Accommodation | |
Location
Enquiries: please contact Passions of Paradise directly:  +61 7 4041 1600 or via their Contact page.
What to expect
Check-in at the Cairns Reef Terminal is at 7.30am for an 8am departure.  Morning tea including freshly brewed coffee and muffins is served on the trip out to the Reef. Divers can dive straight from the boat via the rear stairs.
Snorkelling is also available throughout the day, and any non-divers in your party can take advantage of free snorkelling tuition, or the Introductory Diving sessions on offer.
Between dives an expansive hot and cold buffet lunch is served in the main cabin.
During the trip back, Passions will raise her sails making a considerable saving in diesel fuel, and making good her commitment to sustainable tourism.  A perfect time to enjoy the ocean from the sundeck – a time when you're most likely to catch sight of dolphins.
Alternately, in the main cabin you can listen to the reef interpretation talk, or watch the entertainment provided by staff whilst enjoying a beverage from the bar.
Pricing / availability enquiry