Site Overview
Dive Centres
Site Type:
Reef – Scenic; with occasional Macro (Nudi's) and Mega fauna
Depth:

Top: 2M

Median: 15M

Bottom: 20M

Location:
70 km north east of Port Douglas, Queensland
The Agincourt Reef (though the beginning of the Ribbon Reefs) is not a continuous strip of reef forming a boundary with the continental shelf, but rather isolated bommies within the lagoon area inside the Great Barrier Reef.  There are some rocky swim throughs, and different areas are inhabited by different corals, their forms dependent on their surroundings.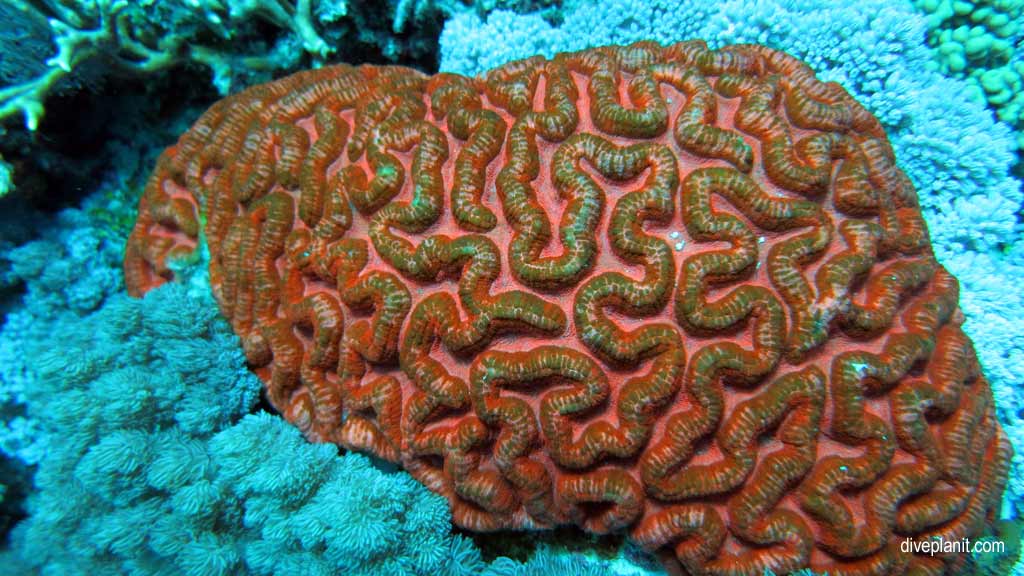 In some sheltered areas corals have grown to their full extent unimpeded by others.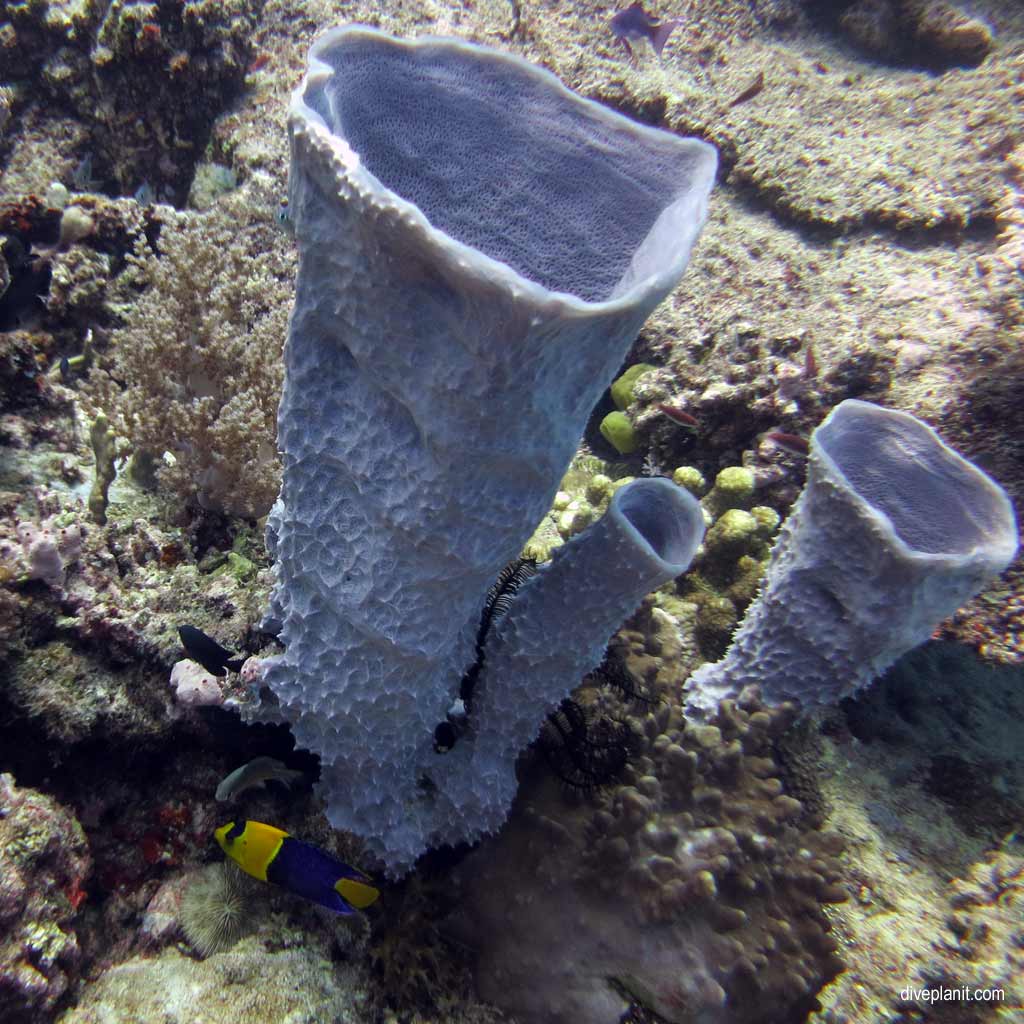 Corals are a bit like trees: they'll grow out if they can, but might need to grow up if competing with others.  Conversely, if in constant current they may grow squat or flatter, like bushes seen on windy outcrops.
Different corals support different fish colonies.  In amongst the Staghorn coral you might find a speckle faced hawkfish – an ambush predator.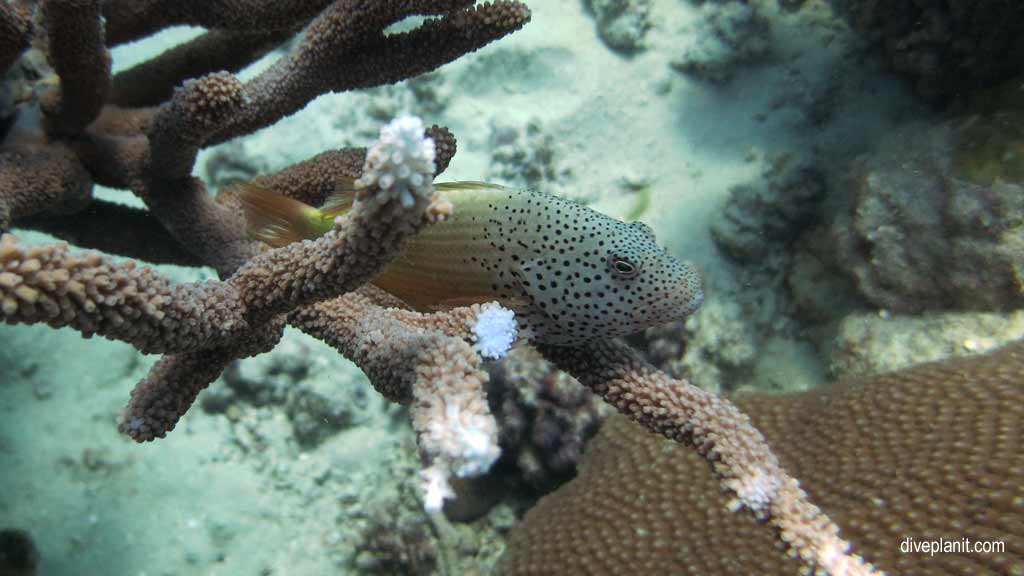 Within small branching coral you are likely to find a myriad of different Damselfish who hover above the coral and quickly retreat within the safety of its branches if any predators (or divers!) approach.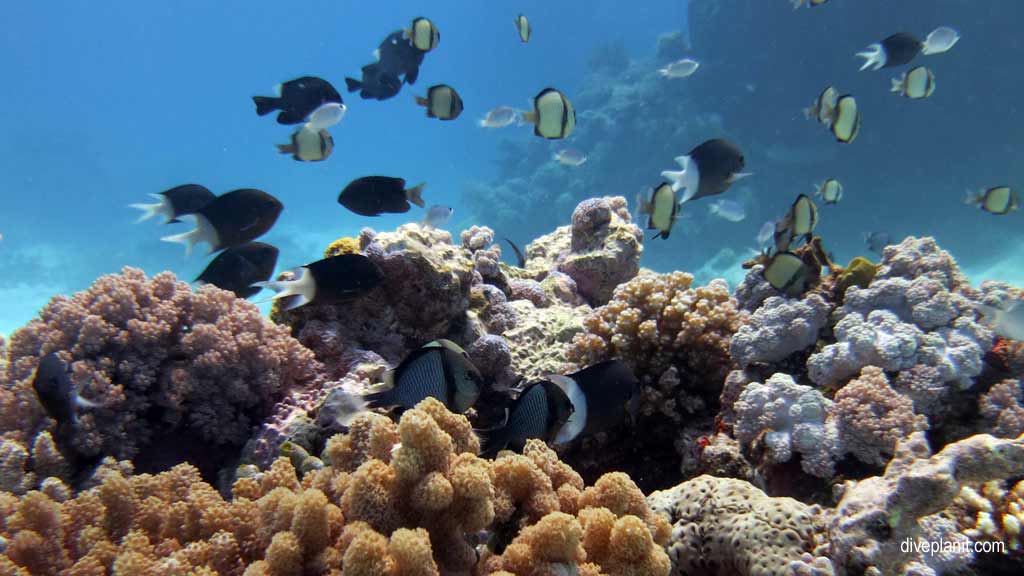 Likewise seeking safety within the sea anemone you will probably find one of two anemonefish from the family of Damsels.  Note that not all anemonefish are clownfish – that is a particular species.  This one is a Pink Anemonefish.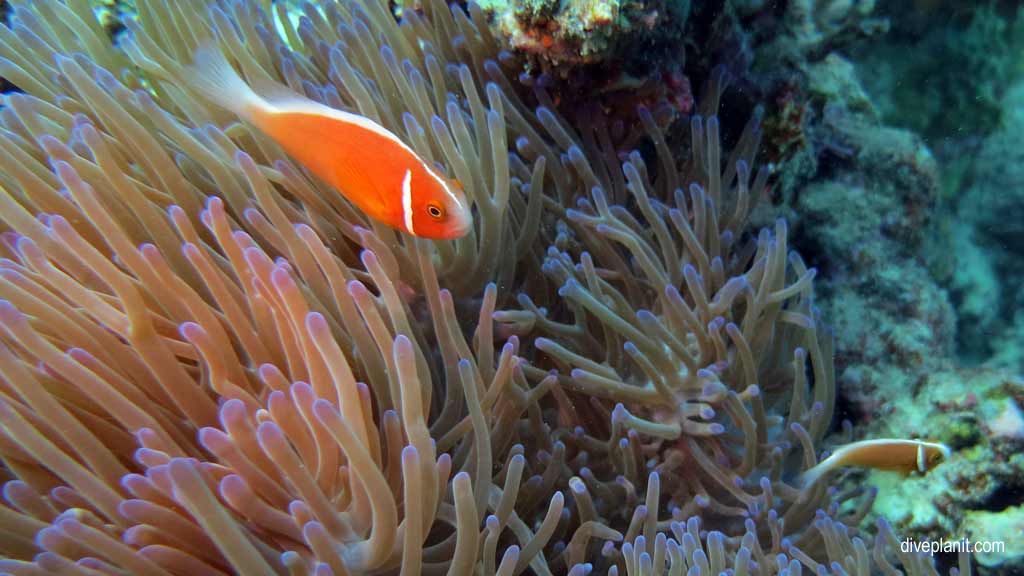 There are fish who's role within the eco-system it is, to keep the coral free from algae.  These include the parrotfish – such as the two-colour parrotfish in the centre of this picture.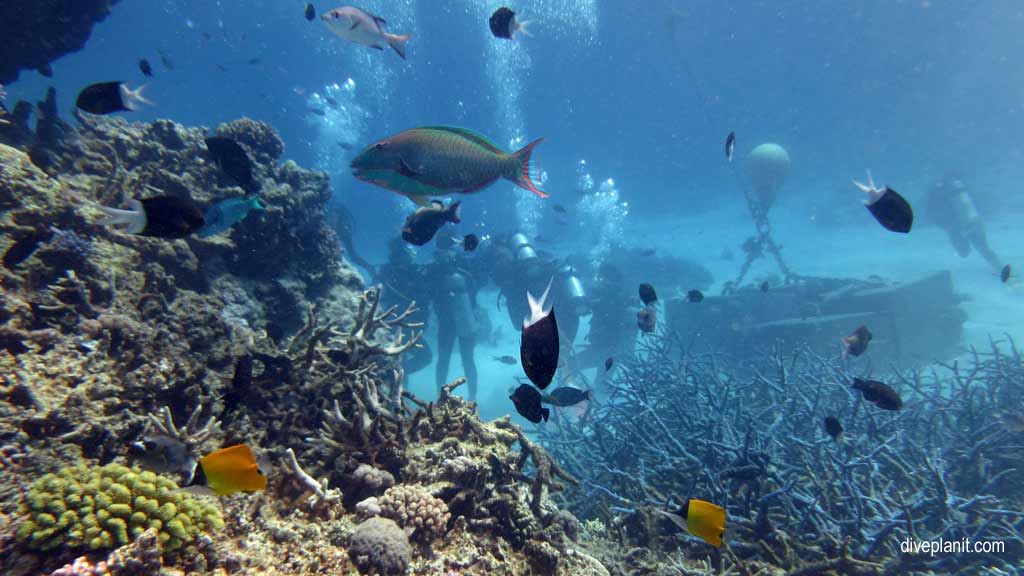 Unlike the wrasse who is a carnivore, eating benthic (meaning in the seabed) invertebrates, zooplankton and small fish.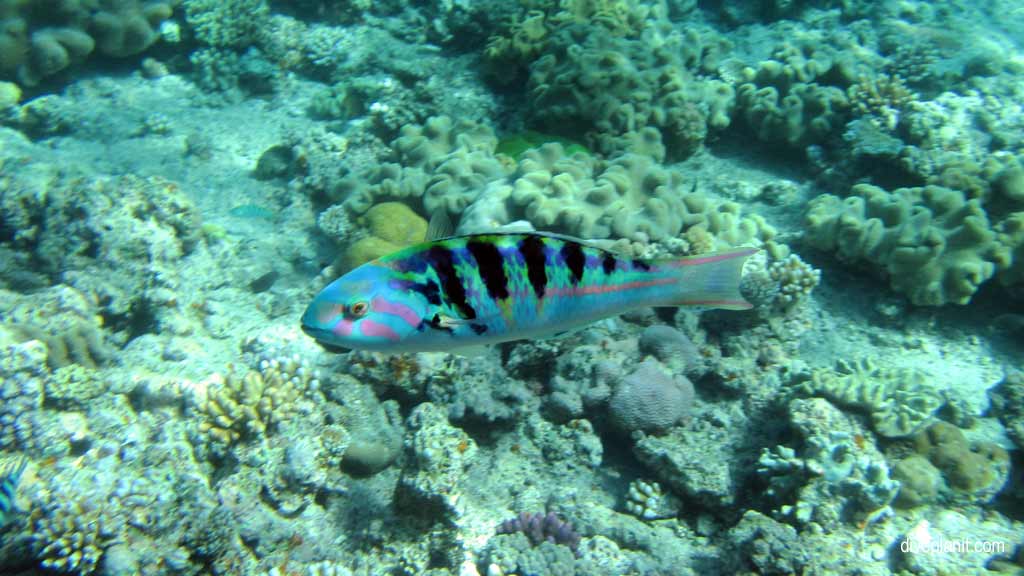 You will also spot Sweetlips which are abundant.  They just hang around during the day – often under ledges or overhangs and feed on benthic invertebrates at night.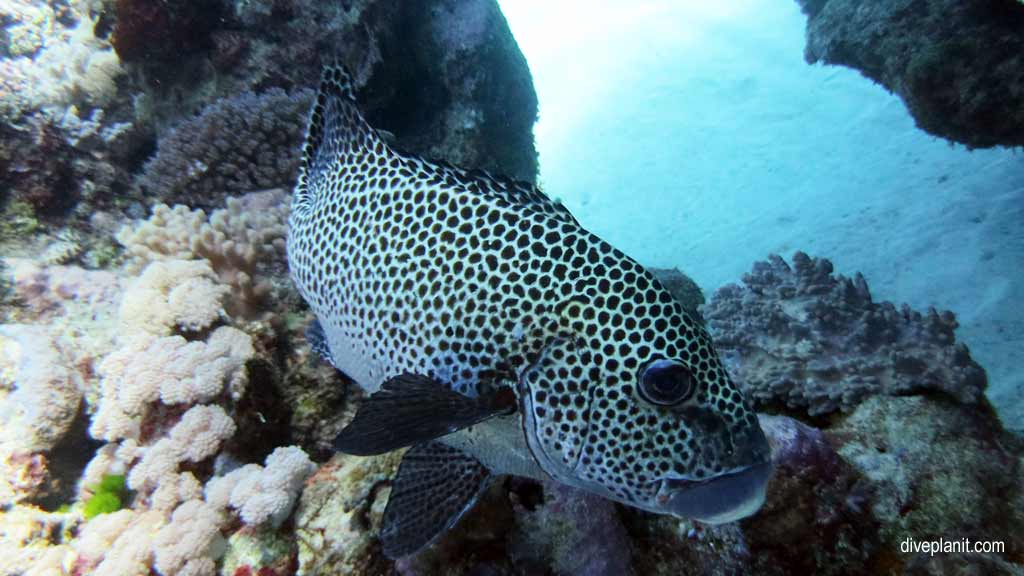 Another fish that dines on invertebrates is the pufferfish – so-named by its ability to puff up to balloon-sized proportions if threatened.  Its skin contains a toxin lethal to mammals – but not necessarily to all fish – some of which are its predator.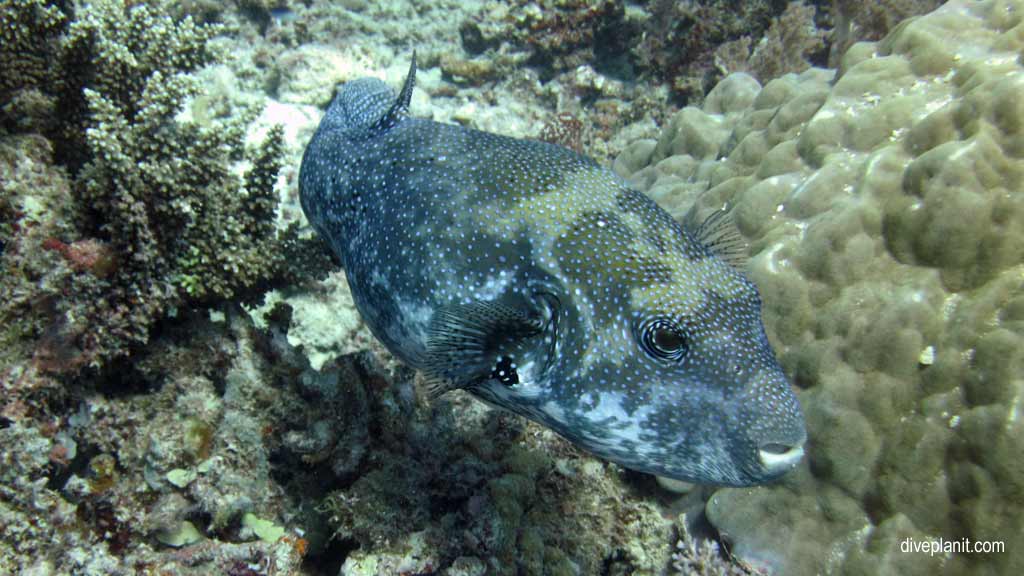 Look carefully around the reef for the most colourful.  These are likely to be surgeons, angelfish and butterflyfish like this Red Fin butterflyfish.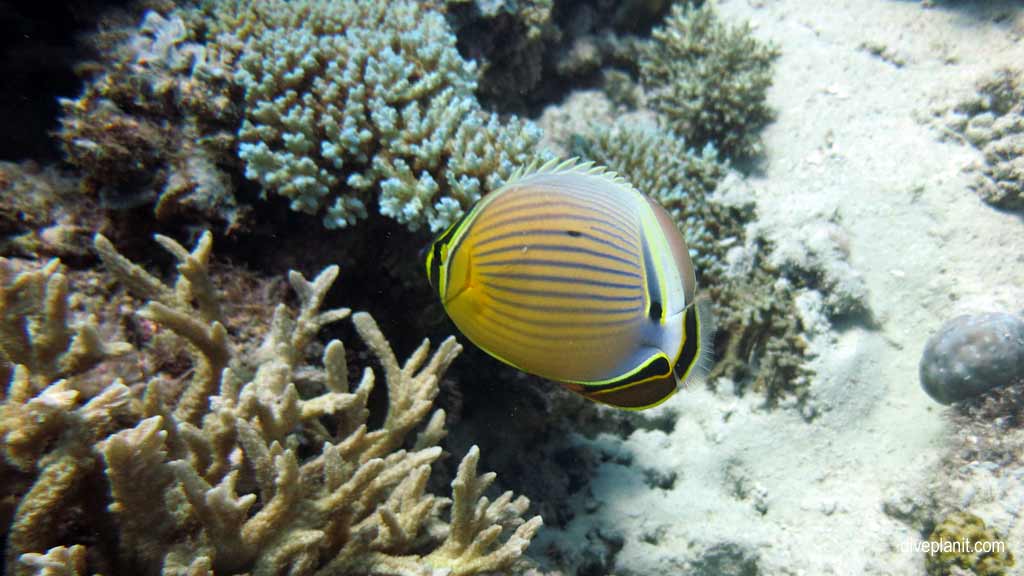 There are numbers of both green and hawksbill turtles, though they tend to be rather shy – probably as a result of a prior experience when divers were not as enlightened as they are today.  This hawksbill made good his escape as soon as he noticed the 'Discover Scuba Diving' group enter the water above!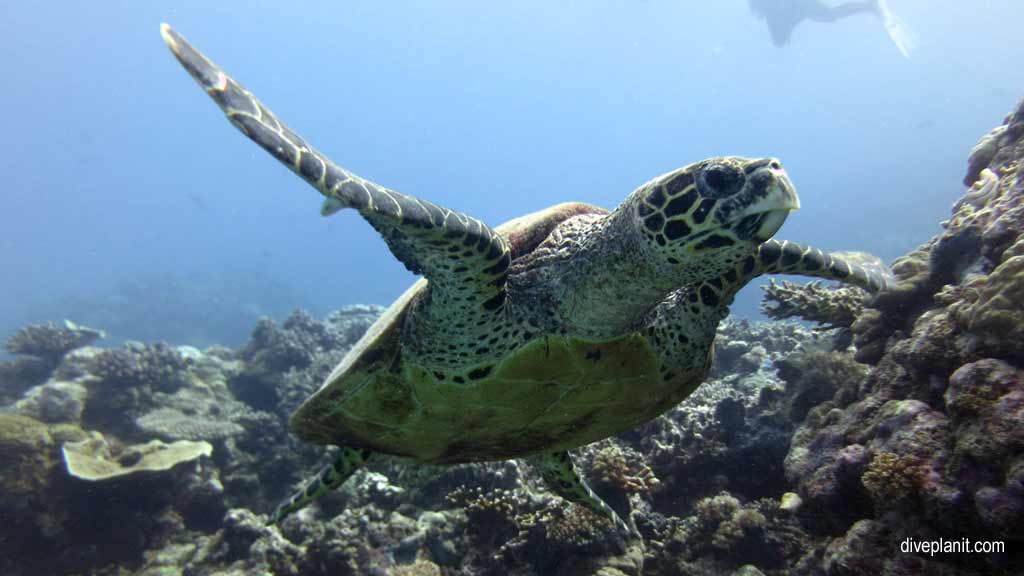 Also, depending on your luck, and to an extent the skill and experience of your guide, you might be fortunate enough to see a reef shark cruise through the site skimming the sandy bottom, avoiding anything in neoprene!