Overview
Officially opening late-August, Extra Divers Australia is a full-service dive operation based on Christmas Island in Australia's Indian Ocean with a boat that takes up to 16 divers moored at the Wharf in Flying Fish Cove.
Extra Divers offers the full gamut of SSI courses including TDI Tech Diving courses, though PADI courses are also available on demand. At the dive centre you'll find full sets of brand new dive gear – including dive computers – to hire and for sale.
The custom-build dive boat (surveyed for 18) with a diver limit of 16, has been recently refurbished before its transfer to Christmas Island. The twin engine modern boat with toilet and covered dive deck will be able to access dive sites all around Christmas Island, such as Rhoda Wall, West White Beach Cave and Perpendicular Wall, with ease.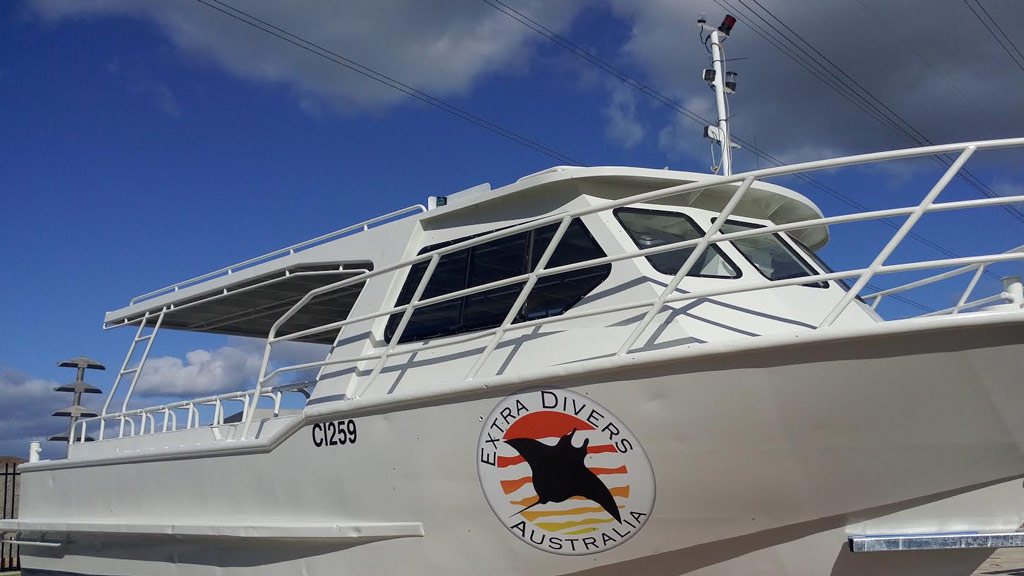 The Extra Divers Dive Centre itself is located right in the middle of Settlement, with cafés, the supermarket and Christmas Island Tourism Office on one side and the best pub and a selection of great accommodation on the other side.
There's a nice deck overlooking the water to relax on after your dive and write up the all-important dive log! After that, you can stroll over to the pub for a coldie, or your nearby accommodation to watch the sunset slowly into the Indian Ocean.
Extra Divers are initially planning to offer a double-dive in the mornings, with afternoon dives on demand. Shore dives in Flying Fish Cove and optional night dives will also be available.
To make an enquiry about availability or to lock in some fabulous Christmas Island diving, contact them directly.
If you want to book your accommodation, go directly to Christmas Island Tourism Authority's Website.
Facilities
| | | | | |
| --- | --- | --- | --- | --- |
| Training School Type: | SSI, PADI | | Nitrox Fill: | |
| Air Fill | | | Number of Guides | 2 |
| Gear Hire | | | Number of Boats | 1 |
| Gear Sales | | | Number of Dive Sites | 30 |
| Gear Servicing | | | Accommodation | |
Location
43 Gaze Road, Settlement, Christmas Island
Pricing / availability enquiry