Overview
The Only PADI 5 Star Dive Centre on Fiji's Coral Coast, Diveaway Fiji has a small local team who are professional, dedicated and fun to dive with. Based at The Hideaway Resort, they also have shop fronts at Outrigger Fiji Beach Resort and Mango Bay Resort, and welcome guests from all the resorts along that section of the coast, so you can choose your own style of resort and still dive or learn with Diveaway every day.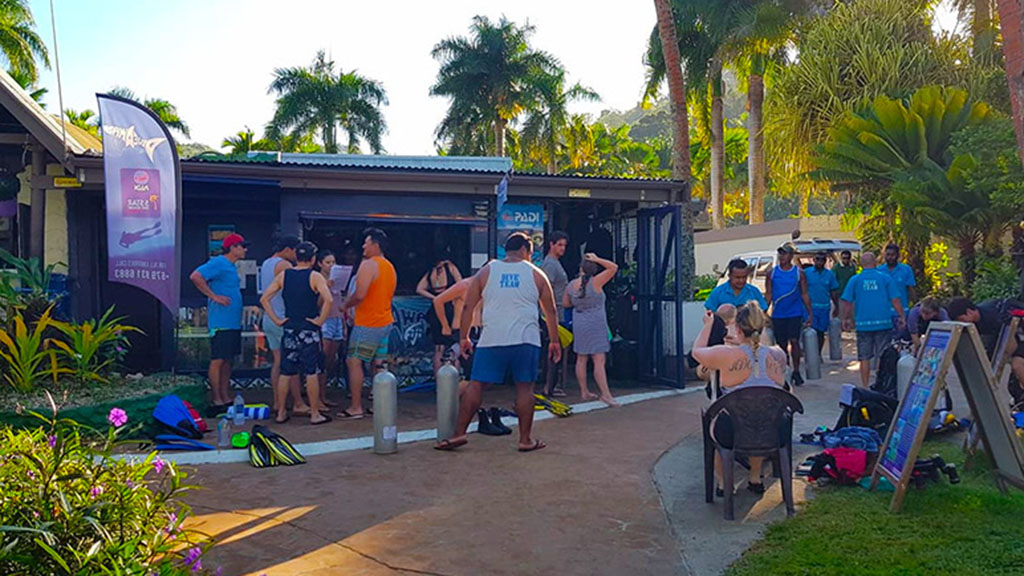 Indicative Pricing for Outrigger Resort & Diveaway Fiji to 31 March 2023
Low Season
AUD
FJD
7 Nights Resort View King Room with 10 dives & all meals
4184
FJD
|
4184
7 Nights Plantation Bure King with 10 dives & all meals
5025
FJD
|
5025
7 Nights Beach Front Bure with 10 dives & all meals
6251
FJD
|
6251
High Season
7 Nights Resort View King Room with 10 dives & all meals
4599
FJD
|
4599
7 Nights Plantation Bure King with 10 dives & all meals
5686
FJD
|
5686
7 Nights Beachfront Bure with 10 dives & all meals
7245
FJD
|
7245
Pricing includes accommodation as specified, all meals, 5 dive days/2 tanks per day, tanks, weights, dive guide, Fiji Government taxes.
The per person pricing above is indicative only: we show 7 night with 10/12 dive packages at high-end and lower-end rooms (singles & doubles) for the purposes of comparison. We can give you a price (and availability) for any combination of nights/dives you wish to undertake, which will include any discounts due to you as part of that package, and any exclusions, or items payable at the resort. Complete the Pricing & Enquiry Form to give us your exact requirements and we'll give you the best deal we can.
Diveaway offers both shore and boat diving with a large number of dive sites just a 10-minute boat ride from the beach. There are sites suitable for divers of all levels from complete beginners through to the very experienced. Dive groups are deliberately kept small and as there are no other dive operators on their dive sites there is never a crowd underwater to spoil your view.
As a PADI 5 Star Dive Centre, Diveaway Fiji offers diver training from Discover Scuba right up to Rescue Diver training as well as several specialty courses.
Facilities
| | | | | |
| --- | --- | --- | --- | --- |
| Training School Type: | PADI 5 Star Resort | | Nitrox Fill: | |
| Air Fill | | | Number of Guides | 5 |
| Gear Hire | | | Number of Boats | 3 |
| Gear Sales | | | Number of Dive Sites | 24 |
| Gear Servicing | | | Accommodation | |
What to expect
As Diveaway Fiji services a number of resorts, guests are transferred to meet at the Diveaway dive shop at Hideaway for an 8am check-in. As dive guests complete the paperwork, the close knit dive team bring out the dive gear allowing guests to set up their own tank.
Once your gear is set up, it's loaded into the van for the 5 minute trip to where the boat is moored in a sheltered bay just around the corner. From there it's a short wade out to the boat and if you have booties bring them as it's the Coral Coast remember!  Ten minutes later you will be stepping off the boat into one of the many dive sites.
The terrain varies from coral reefs sloping slowly to vertical reef walls which drop down to a broad ledge at 26m (which looks like the bottom at first but then the real drop-off is on the edge of that). In the big open areas there are some are wide V-shaped gullies, and some broad flat bottomed U-shaped gullies running perpendicular to the reef.
Some big enough to be home to a coral meadow such as Bigfoot: a rounded sloping area bedecked with corals and alive with all the reef fish you'd expect to find on a coral reef. There are angels, and smaller butterflies, including the lattice, the dot-dash and the ridiculously long-nosed butterflyfish.
Dark and dusky surgeons and idols are aplenty and a few Titan triggers cruise around plus the odd pufferfish. You'd be unlucky not to see a white tipped reef shark resting on the sand at some point or a turtle scooting up ahead of you. We were not unlucky! Highlight of the first dive was a small pod of dolphins playing up near the surface out in the blue but we could see them clearly in the 30m visibility. The generous 220 bar fill meant that we got a full 60 minute dive even with a max depth was 29 m.
It's an easy clamber out of the boat via the rear ladder, and the surface interval disappears quickly with the 10 minute trip back, swapping the tanks at the van, and grabbing 30 minutes on the beach in the warm Fijian sun.
Even if it is close by, the second dive will give you a completely different dive. Areas of both hard and soft corals are to be found, on most dives in this region, and in some places you'll even see them interspersed.
There are a fair few an anemone colonies too, with three or four families of three or four big anemonefish in each one: Big blue striped Clarks and the little shyer pinks. Overall the fish are quite skittish so the knack is to find one of the many cleaning stations, sit quietly at a safe distance and watch the reef society assemble and go about its fishy business. Again, with a full tank you can easily stretch the second, shallower dive to 80 minutes.
Once back in the boat it's 10 minutes to shore, and 10 minutes later you're back at the resort where the wash down tubs are waiting. Diving with Diveaway Fiji, you can easily get a couple of generous dives in before lunch and have the rest of the day free to spend with the family, explore Sigatoka, or just relax at your own resort.
Pricing / availability enquiry