Louise Southerden is a travel writer, ocean advocate, surfer, Byron Bay resident and a good friend to us here at Diveplanit. Concerned at the number of shark encounters in Northern NSW, Louise attended last night's 'Shark Meeting' at Lennox Head and was disappointed to find an overwhelming support for shark culling. Here's her report.
"If you've seen the Mick Fanning footage [of the shark attack in South Africa], that's happened 10 or 11 times in this area this year," said Ballina Mayor David Wright opening the "shark meeting" in Lennox Head tonight.
The situation: About seven white sharks (the correct name for "great whites", according to the CSIRO) have been hanging around the area for the past month. Beaches have been closed. There have been four serious human-shark encounters this year: one fatality and three guys in hospital.
All this is, said the Mayor and others, is "totally unprecedented", hence the decision to act.
What's being done now:
Aerial patrols. Council spent $16,000 on aerial patrols during the Gromfest surf comp a few weeks ago so that it could go ahead, and is keeping up aerial helicopter patrols – their shark sightings are posted on the Ballina Shark Reports Facebook page.
Call 000. There's now a "shark sighting" protocol: if you see one, call 000 and police will alert local authorities to get people out of the water. Apparently lives have been saved on at least five occasions in the last couple of weeks, by these two measures alone.
Drones. A few privately owned drones have been used to alert surfers to sharks in the water, unofficially.
Going forward: An advisory meeting is to be held in Sept, and there'll be a more formal Shark Summit in early October (location and dates to be decided) with international as well as national shark experts discussing options for managing the shark-human interactions.
Other options were briefly discussed: tagging (expensive, but could be done if it received funding), drones, technologies such as sonar (used in South Africa), using dead sharks as deterrents (works with white sharks apparently, but not tiger sharks). All these and more are to be investigated.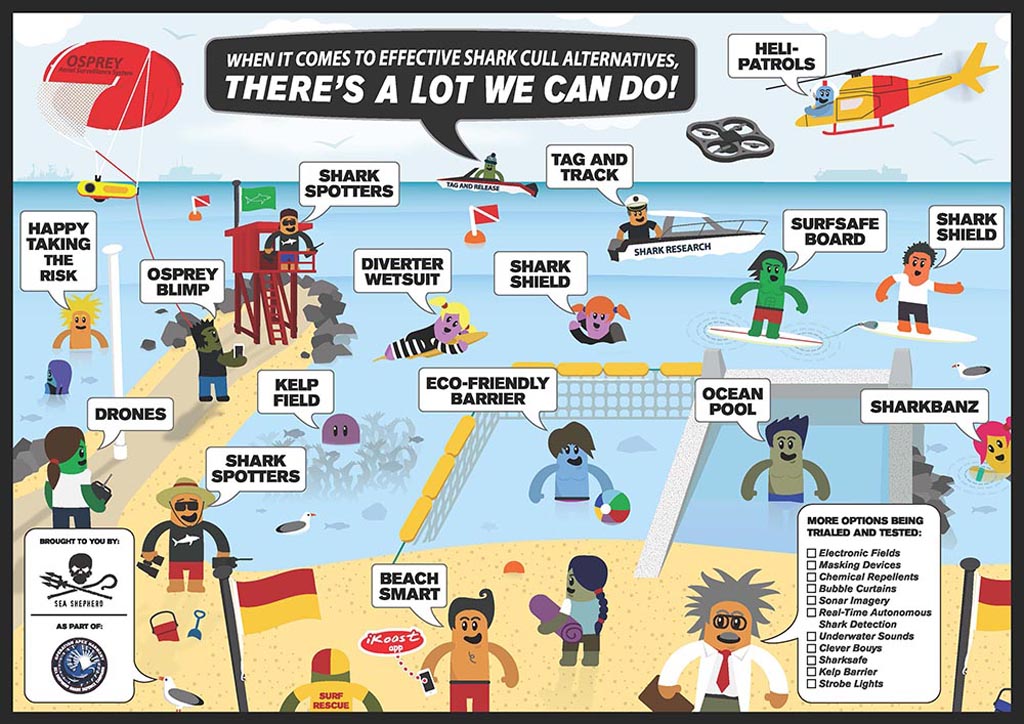 The measure that got the most interest and support, sadly, was culling. A few times people asked for a show of hands, and almost every hand in the room shot up in support of killing seven protected white sharks – even though, as the Mayor pointed out a few times, "No one knows why they're here."
There are smarter, more effective, less aggressive alternatives – and the powers that be are evaluating them all. That's encouraging.
What do you think would be the best plan of action?
Do you support the culling of an endangered species?
Are there better alternatives?