Exciting news… Seabin, a new tool being developed to combat plastic pollution in our oceans, has reached – and exceeded – its crowd-funding target of $230,000. Pete Ceglinski and Andrew Turton, the guys behind the project, have been asked quite a few questions about it, and we've had quite a few here on the Diveplanit blog too, so for everyone who's asked us questions about production, power, marine life and plastic waste, here are some answers from the innovators themselves…
There has been a lot of questions regarding Seabin lately, about cost and who's going to maintain the Seabins and also the effect of sea life. So we just wanted to answer these questions as best we can for our followers.
Who will be paying for the Seabins?
Marinas, ports and yacht clubs will be buying, maintaining and paying the running cost of each Seabin. These marinas, ports and yacht clubs are the ones providing us with less ocean plastics to swim in. The cost of a Seabin may seem high to some, but for the service they will provide to the marinas, ports and yacht clubs it is an affordable investment and the benefits for all of us, including marine life is substantial.
Where will the Seabins be produced?
Our aim is to be as sustainable and responsible as we can in the production of Seabins. They will be not be made in China, mass produced and then shipped all over the world just to obtain a cheaper price. Instead, we aim to have Seabins produced on a variety of continents to help boost local economies and reduce shipping costs – which in turn reduces the price and reduces their carbon footprint. The price of being more responsible and more sustainable is higher than the price of a mass produced product made in China but we are okay with that. The marinas who will install and operate the Seabins are okay with that also and the local businesses who will help produce Seabins are okay with that.
How will Seabins be powered?
The power for the water pumps at the moment is electric. We aim to develop this detail as best we can, to use the least power possible to help clean the ocean plastics out of our harbours. We are looking at alternative power sources, options of buying solar credits etc. In the end, it will come down to the marinas, ports and yacht clubs, who will make the decision on how to best power the water pump for the Seabins. Solar power may not be an option for some marinas whereas wind energy may be. Or maybe some local governments may choose to turn off their public water feature fountains in order to run Seabins that collect Ocean plastics from their waterways. There are a lot of ways to run a Seabin more sustainably and we are up for the challenge of this.
Will marine life get trapped in Seabins?
It is possible for sea life to become trapped in the Seabins . However in four years of testing Seabin, we haven't caught anything. They simply stay away from the surface and the current the Seabins produce, much like fish stay away from the water pump in a home aquarium. If a fish or marine animal makes its way into the Seabin then it will be caught by the natural fibre catch bag which is submersed in water and then simply thrown back into the water when the catch bag is changed by the marina worker.
We are talking with scientists to incorporate fish deterrent technology into the Seabin now and also have a marine biologist to study the effect on microscopic sea life. The initial response is positive as it's microscopic and the location of the Seabins, in the most polluted areas of marinas, does not yield a high concentration of sea life. The marine biologist is excited to start collecting the data as this is a very new technology.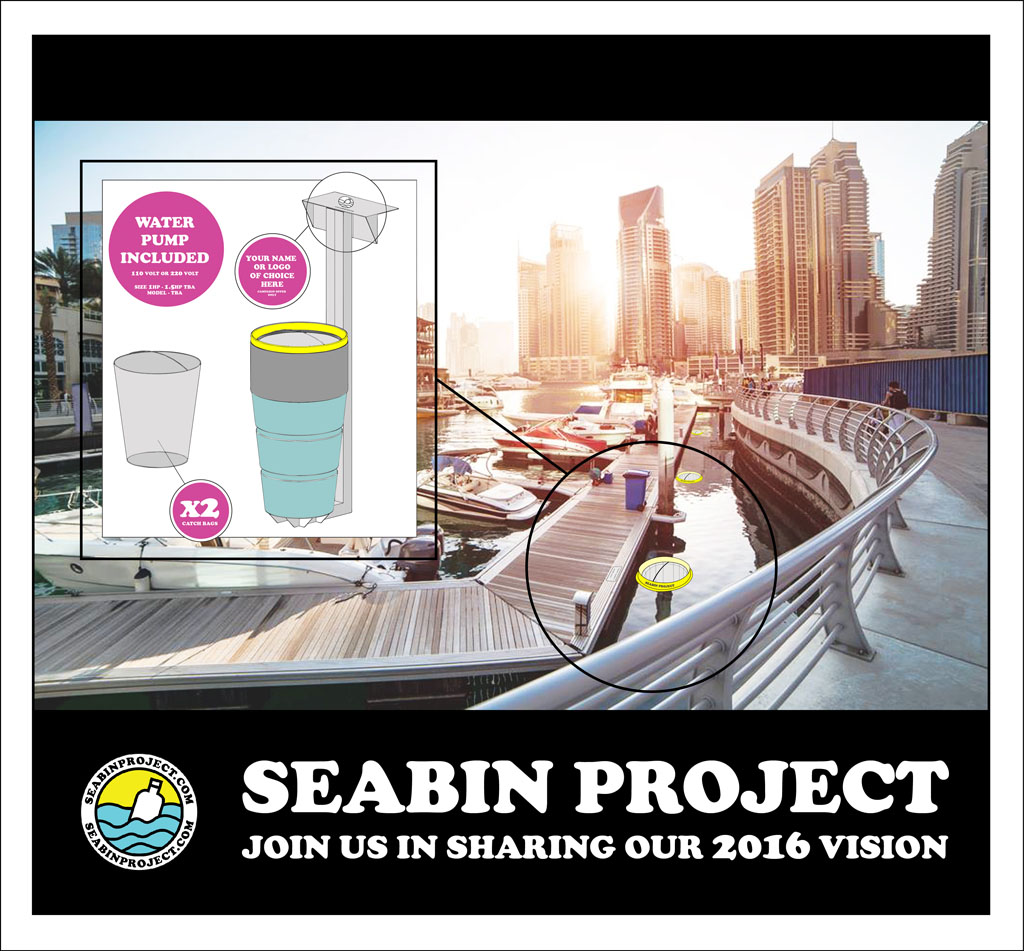 Thank-you!
Thank you again to every single person who viewed our video (over 80 million of you) every single person who shared and liked our page or posts, every single person who donated and to all the amazing people who sent us messages of support during the campaign.
It meant a lot to us, it hasn't been easy. We are two normal guys who quit their day jobs to try and make a dream turn into a reality and with everyone's support its really happening! If everyone can share this around, that would be amazing.
Thanks everyone. Andy & Pete
For more info, visit: seabinproject.com or get in touch via Facebook and Twitter.