Ever been kissed by a Manatee? Encounters with marine mammals are always special and my recent encounter with manatees in Florida's Crystal River is perhaps one of the most special I've ever experienced.
I'm not sure what I was expecting, but I certainly wasn't expecting a big mumma manatee to come up and give me a smooch, her pungent seagrass breath even penetrating my snorkel. My first reaction is to try swim away to avoid touching her, but our guide Misty grabs my arm and tells me to stay still and let the manatees control the encounter.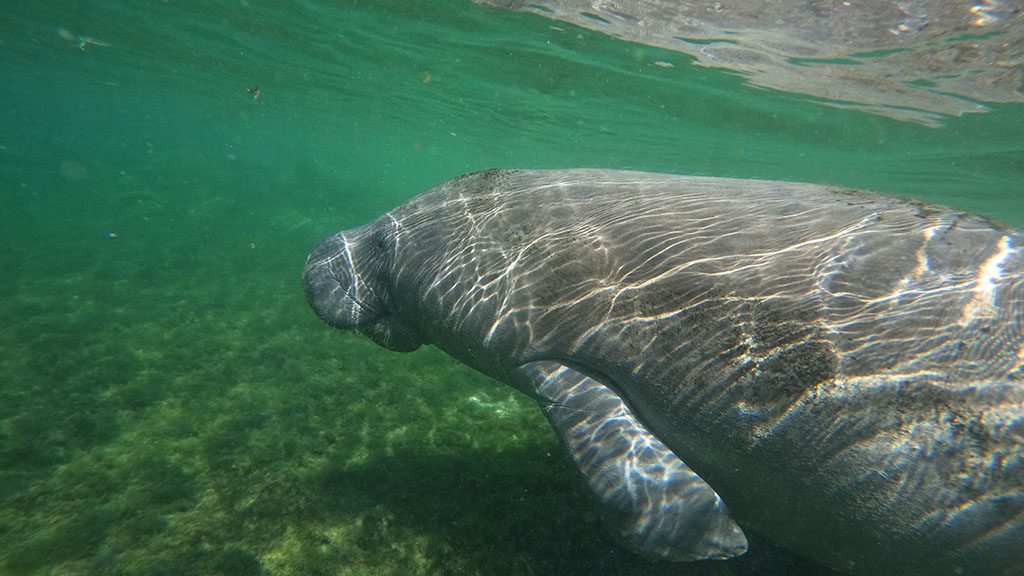 On our three-hour tour we cruise to several different corners of this freshwater bay, spotting manatees every few minutes, and jumping in for a snorkel only when conditions are ideal (for both the manatees and us).
After a few plunges, the best encounter is saved for last when we spot a mum and calf in crystal clear water at Hunter Spring. We spend over an hour floating in shallow water as mum and bub happily munch away on sea grass, occasionally approaching us for a snuffle.
It honestly feels like just a few minutes as we float passively nearby, watching them go about their business. At times they are mere centimetres away, as we stay still in this shallow water and let them approach us or ignore us. It's magical.
The Nature Coast
In autumn and winter as the ocean becomes cooler, West Indian manatees aggregate in the warm fresh spring water of Florida's Crystal River in their hundreds.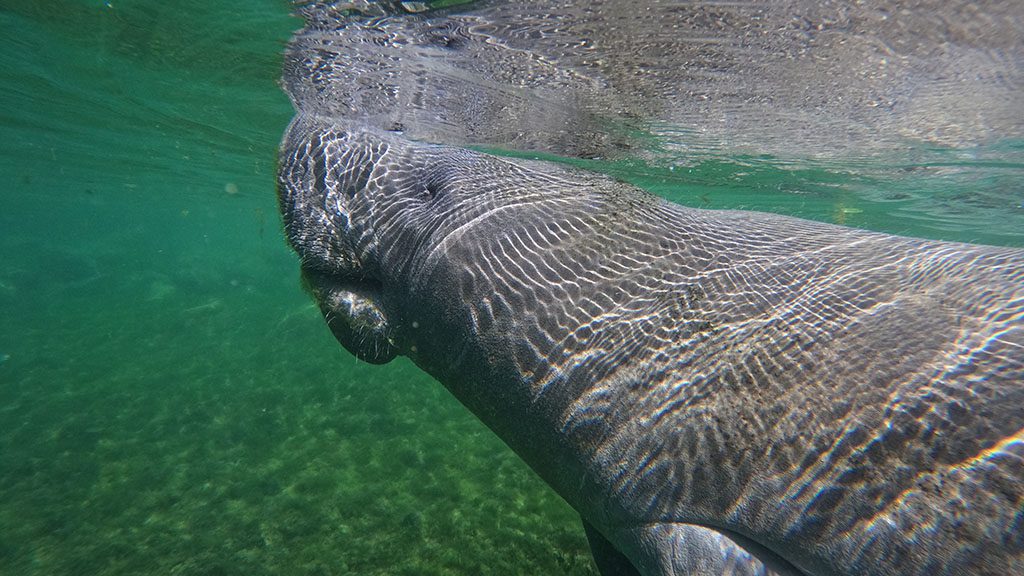 The area is surprisingly built up, with houses lining the foreshore, but as our guide Misty explains, most are empty, and all have restrictions on the management of their properties. No pesticides, herbicides, and sewage must be managed with great care.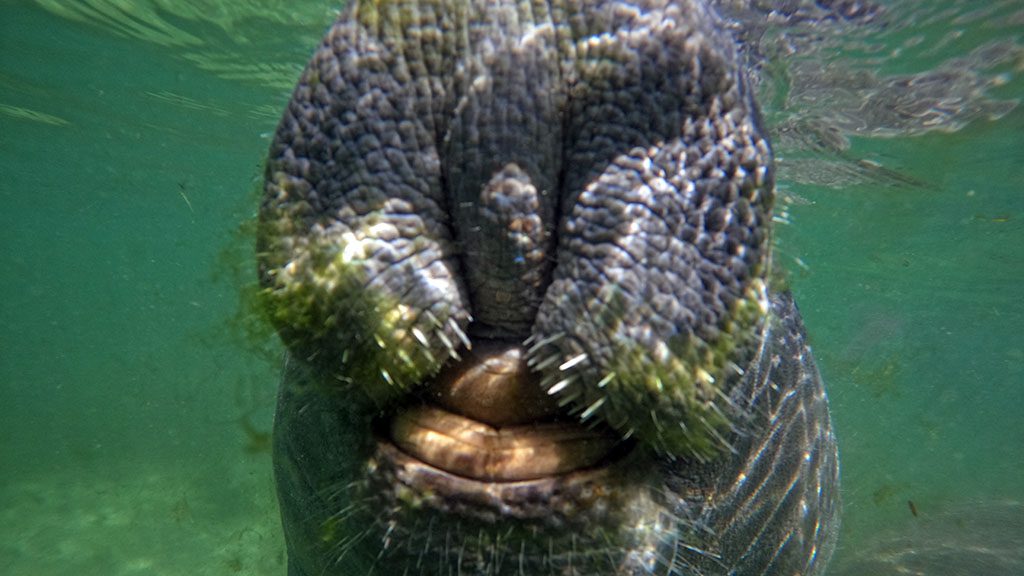 Manatees are endangered. Under threat from habitat loss and water pollution. Property development in Florida has flourished unchecked for decades. In coastal Florida ever greater loads of nutrients like phosphorous and nitrogen from septic tanks, lawns and agriculture provide fuel for algae until it erupts into massive blooms, blocking the sunlight needed for seagrass to grow, the main source of food for these so-called sea cows.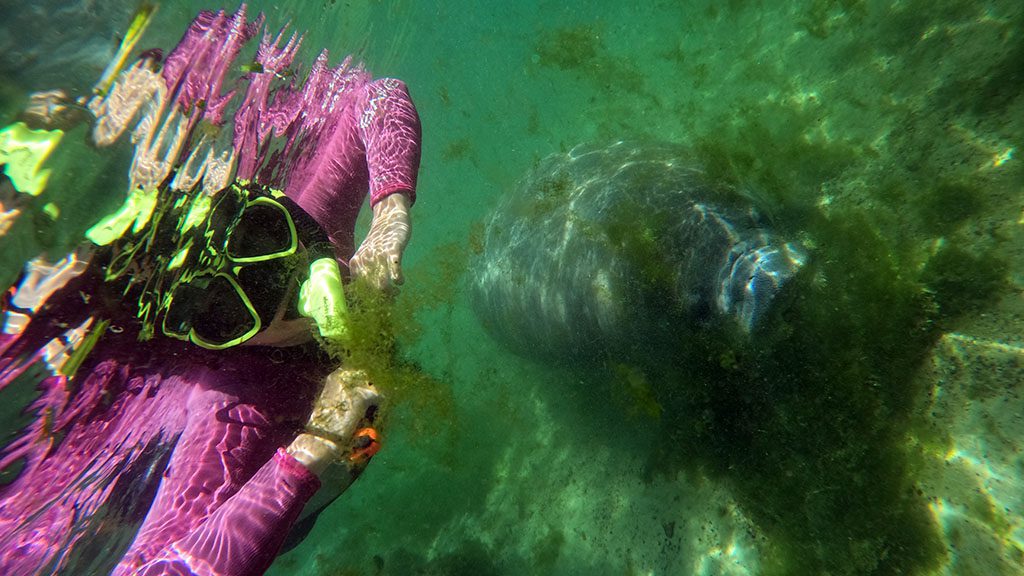 But the Crystal River and Homosassa manatee population is thriving. Why? According to Justin Grubich of Pew Research, who has been researching sea grasses in Florida for years: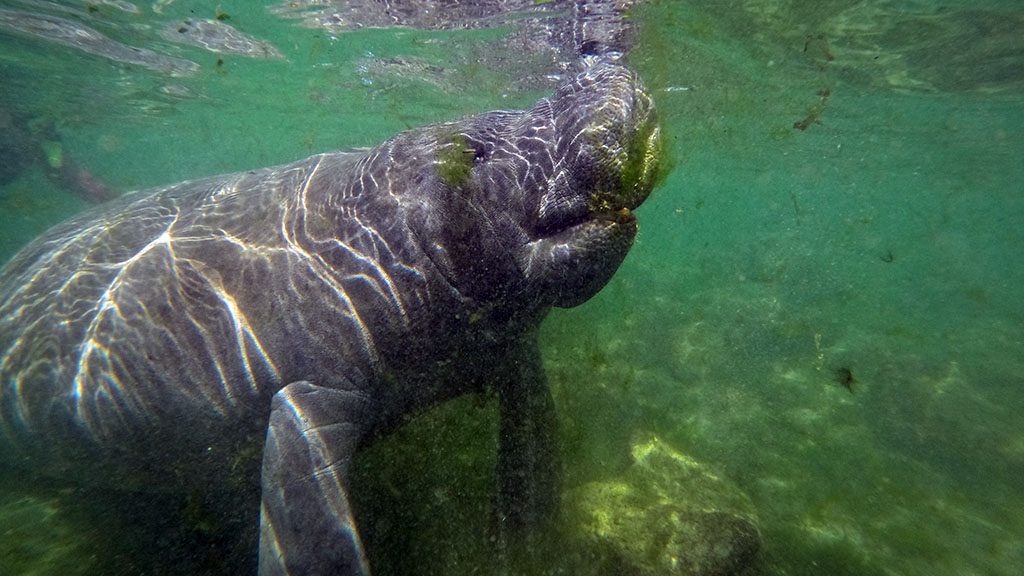 "The seagrasses of the Nature Coast and the Big Bend is the largest spring-fed seagrass meadow in the world, and at this time, the healthiest and most pristine there is in the United States."
Restoring Sea Grass
The Crystal River and Homosassa population of manatees – the largest in Florida – flourishes in this corner of the Gulf of Mexico that comprises Big Bend Seagrass Preserve and the recently created Nature Coast Aquatic Preserve. But not without the efforts of a committed team of conservationists.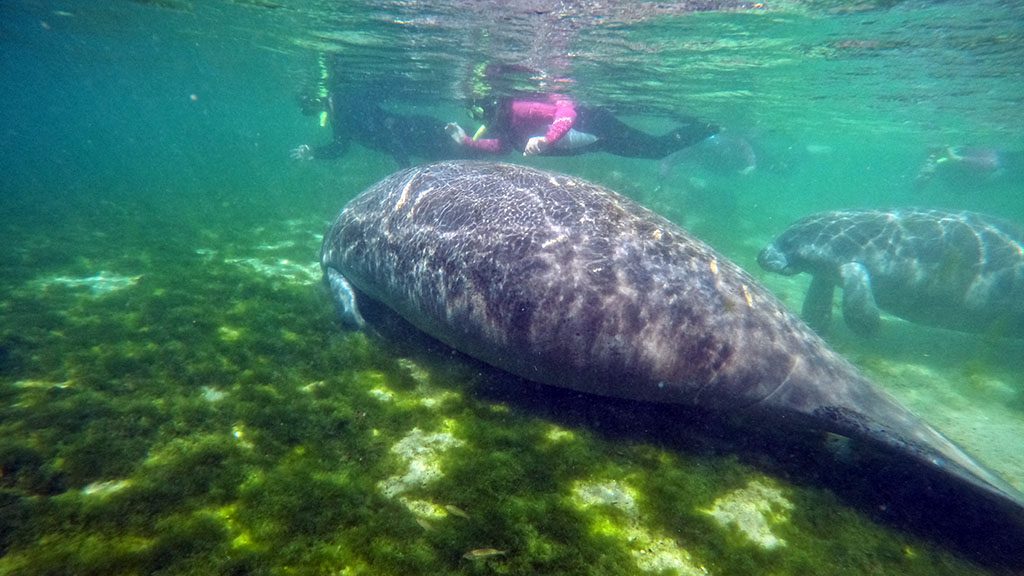 Conservation efforts are not limited to the creation of marine reserves. Since 2015, with funding from the Florida Legislature, conservation organisation Save Crystal River has been working to restore eel grass, a once dominant native vegetation in these waters. And it's been a huge success.
The process is intricate and time consuming. It starts with literally vacuuming up dead vegetation that has settled on the bay floor to expose its natural sandy bottom. Then, divers plant plugs of a unique species of eel grass that tolerates salinity.
On our 3-hour tour we're able to see parts of this expansive bay where the program has yielded success, and other corners that have yet to have this hoover and implant treatment. The difference in water clarity is remarkable. Zero to Hero. It's wonderful to see a successful conservation program in action, and the manatees certainly seem to be taking advantage of this renewed eel grass smorgasbord.
Plantation on Crystal River
We had our manatee experience with the Adventure Center at Plantation on Crystal River. Our guide Misty was a passionate and knowledgeable guide, able to provide an intimate encounter with these adorable creatures. Had we more time, I would have opted to stay here at the Plantation for a few nights. Crystal River is roughly 90 minutes' drive from Orlando, so you'll possibly spend as much time getting here as you would standing in a queue at Disney World!