Introduction
Location
Accommodation
Diving
Pricing & Schedules
Enquire Now
Dive in luxury
Galapagos Master offers 7 and 10-night dive cruises in the Galapagos Islands. The dive cruise includes dive sites at Wolf Island and Darwin Island, as well as the best dives sites in the Galapagos around the central islands. At 32m, the Galapagos Master is a stable boat able to travel at a steady 12 knots in ideal conditions.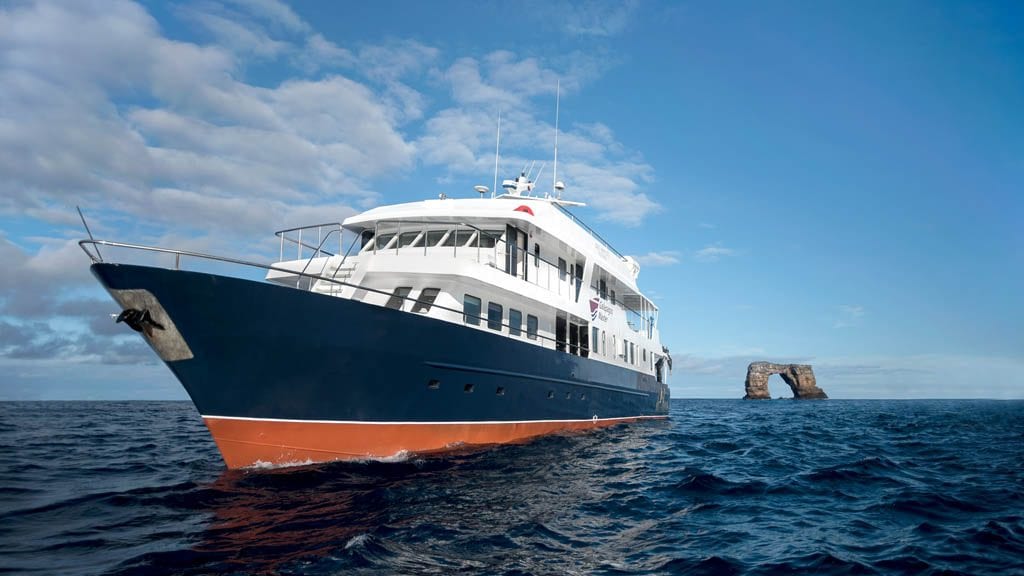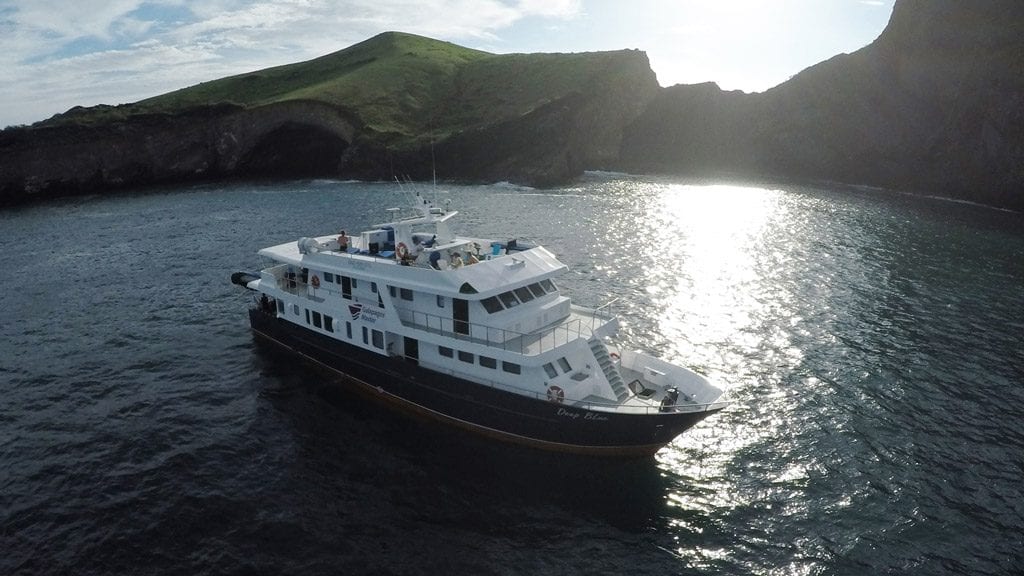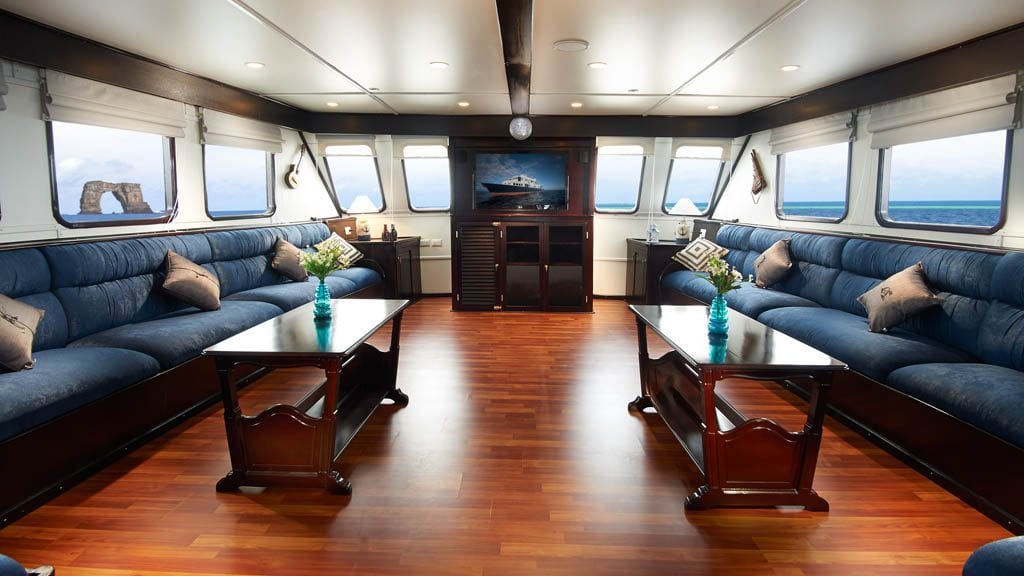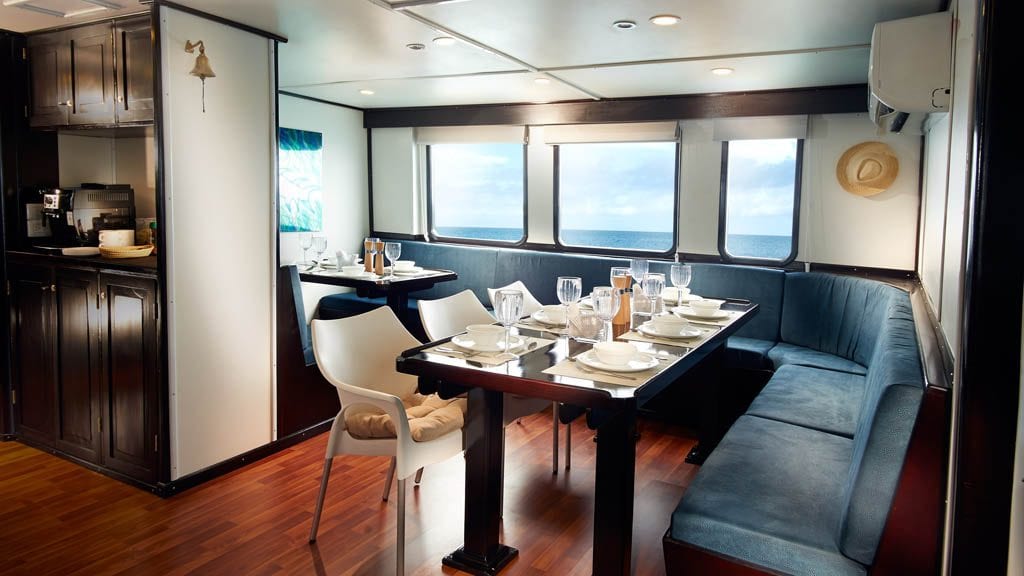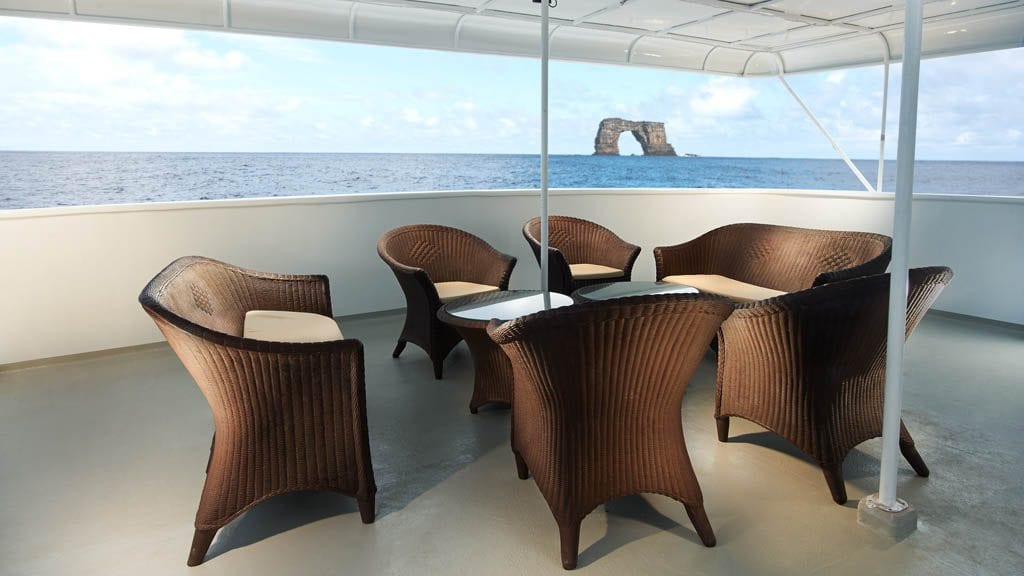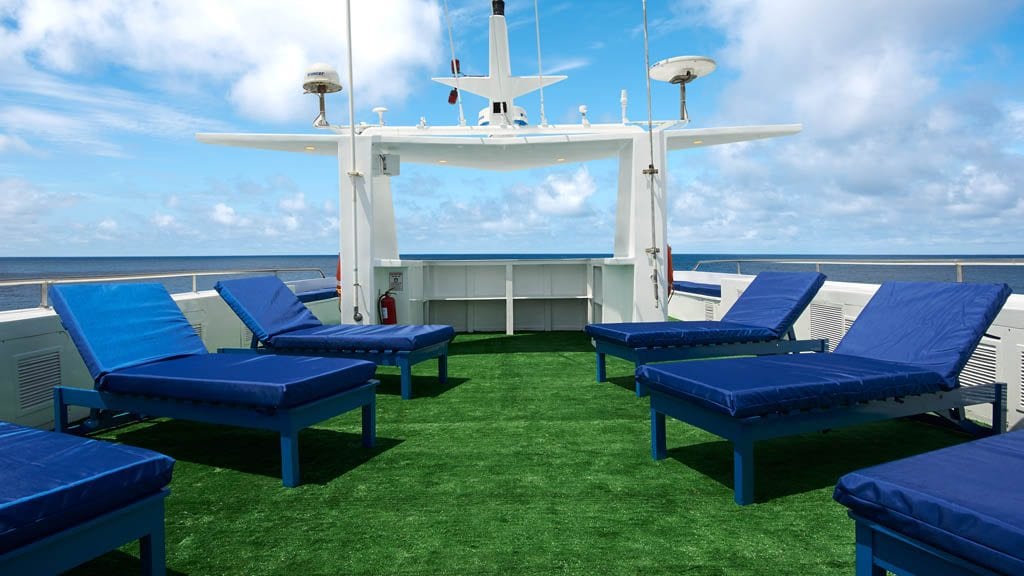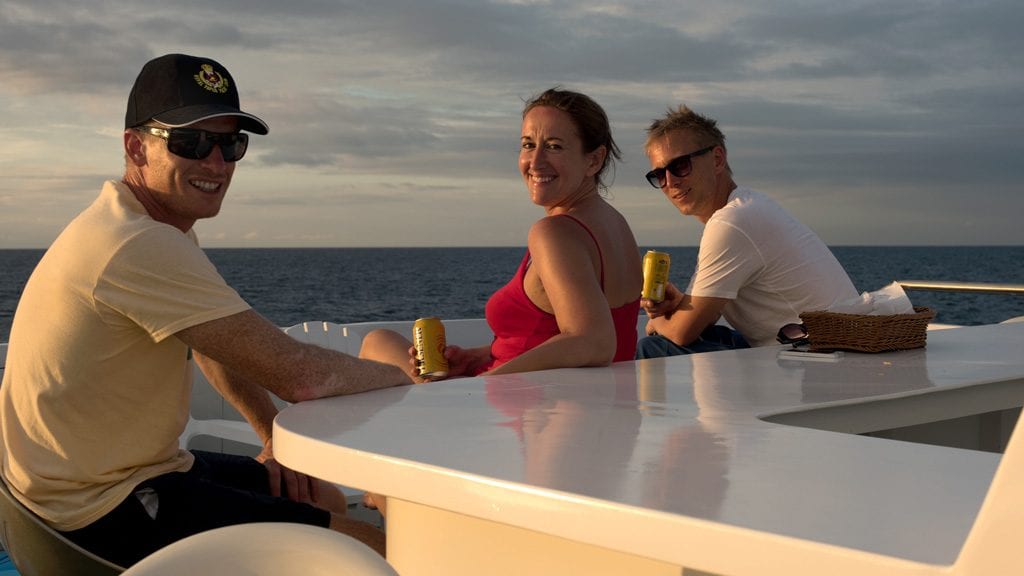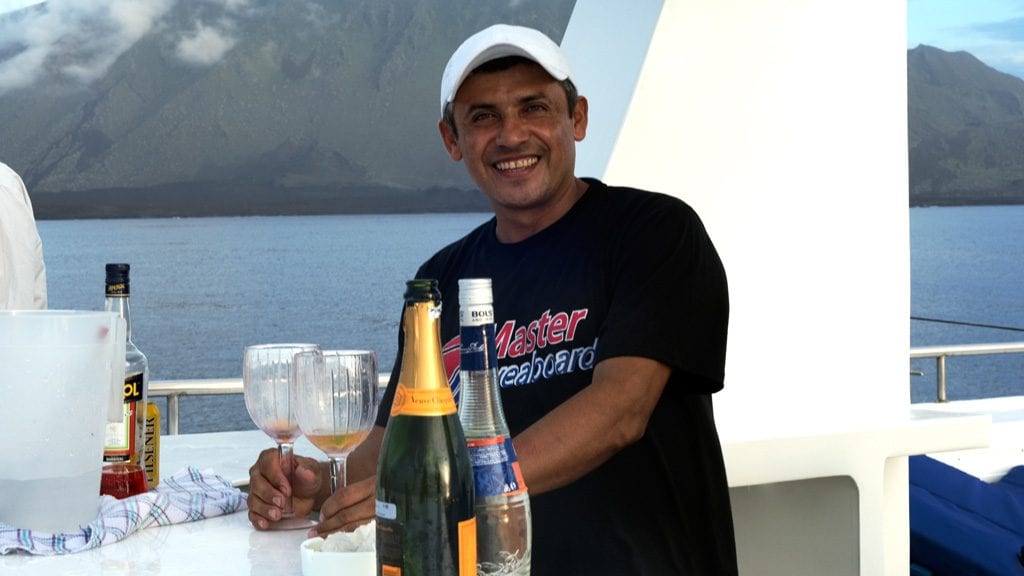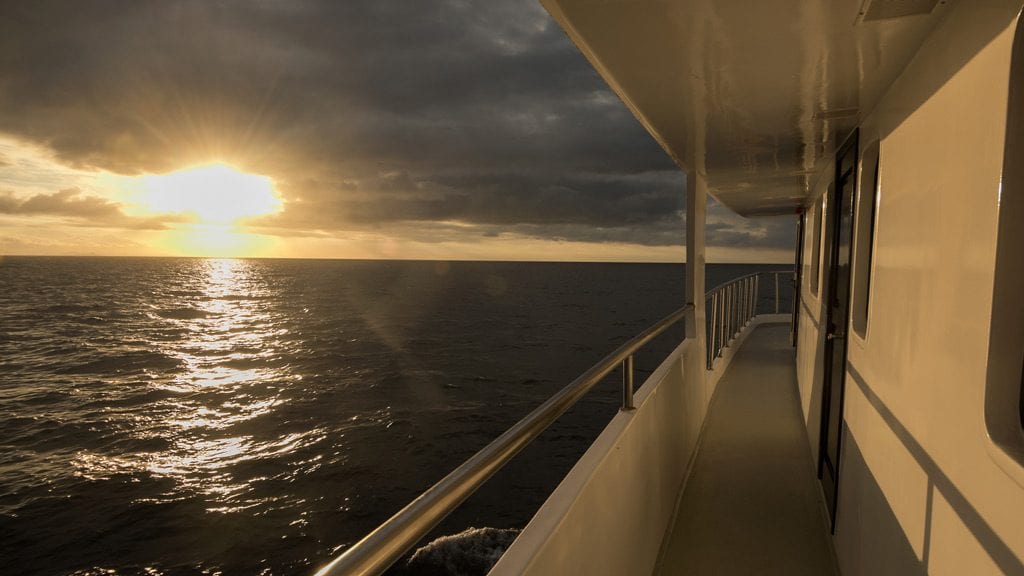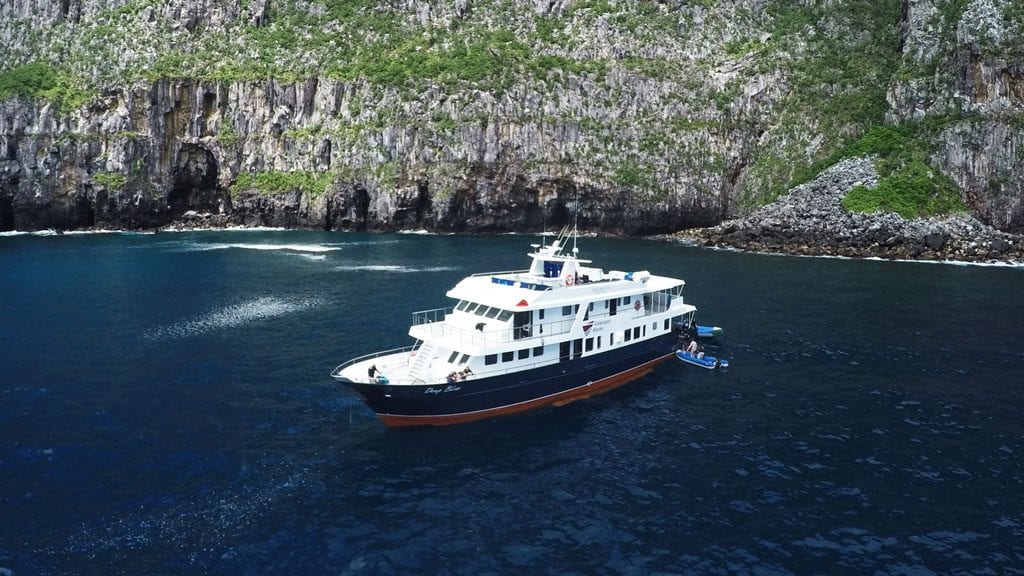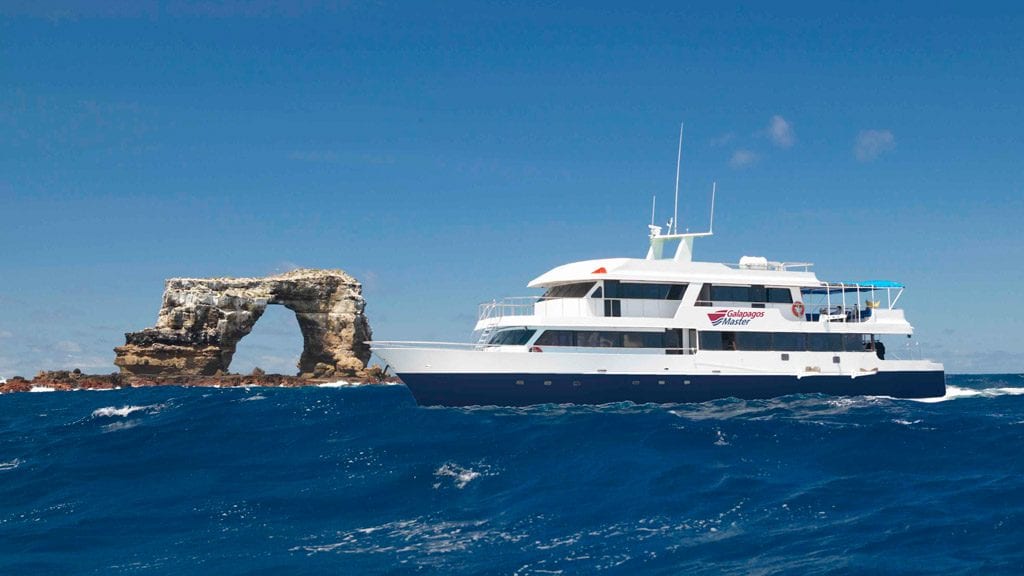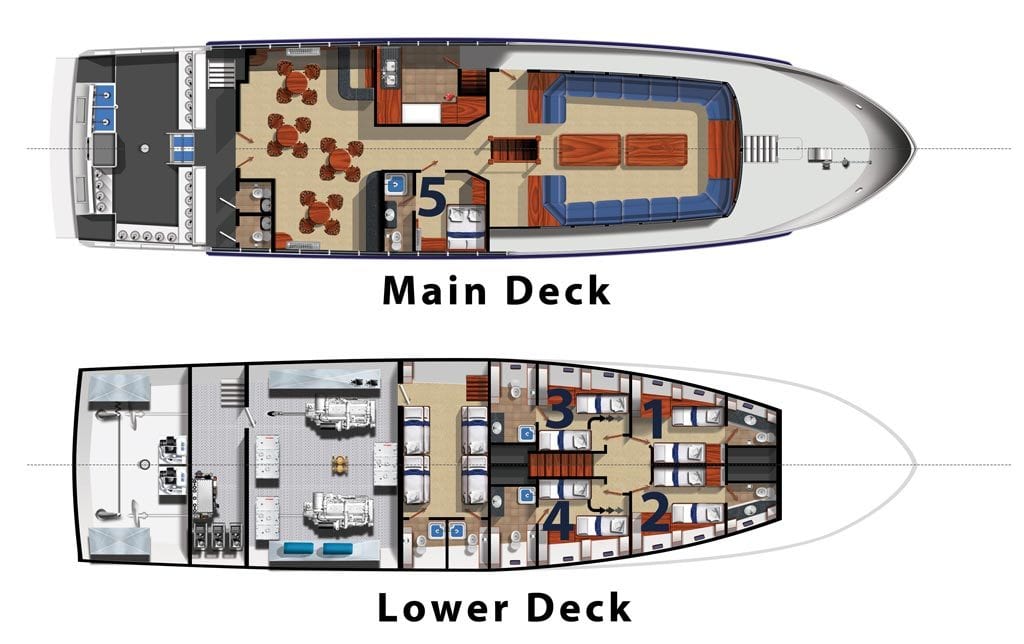 Galapagos Master's amenities include a spacious indoor lounge with Plasma screen, an indoor dining area, a small library & entertainment system, a large sun deck and an outdoor shaded area on the upper deck. Power outlets are 110/220V for US plugs and adapters are available free of charge.
We think…
Galapagos Master is a luxury liveaboard option for those wanting to explore the Galapagos to its fullest. She is set up to be the most eco-friendly dive liveaboard in the Galapagos Islands.
Galapagos Master itineraries depart San Cristobal island. The liveaboard is moored in a sheltered bay and reached by speedboat after a 10-minute bus ride from the airport. Prior to leaving the Galapagos there is also the opportunity to visit the Interpretation Centre on San Cristobal Island.
The Galapagos Master features 9 cabins for up to 16 divers. All beds are aligned to the direction of travel for a very comfortable trip. All cabins have private en suite facilities and individually controlled air-conditioning units. There is one double bed cabin on the main deck and 8 twin bed cabins – 4 on the lower deck and 4 on the upper deck. 6 of the 8 twin bed cabins can be adapted to double bed cabins if required.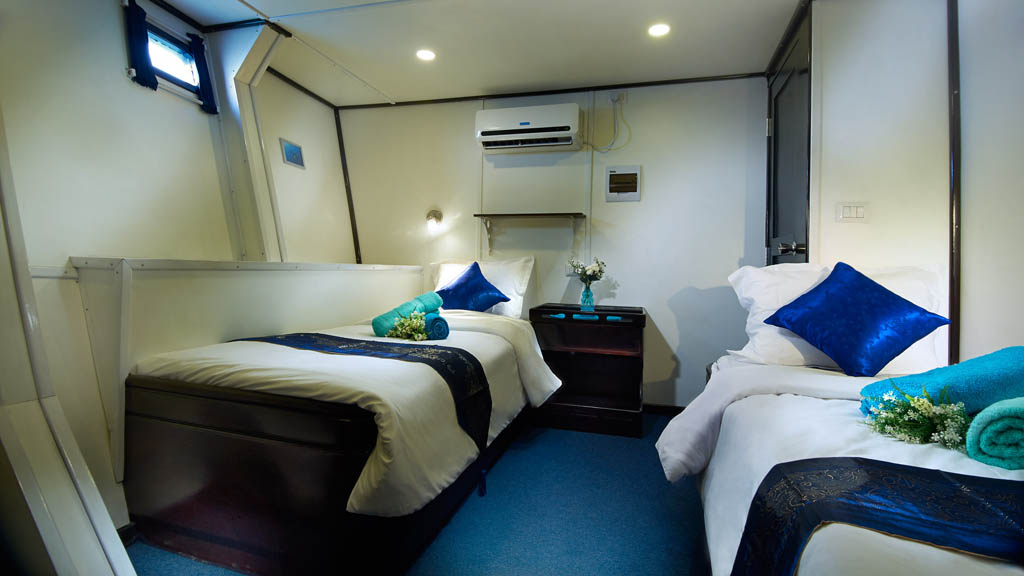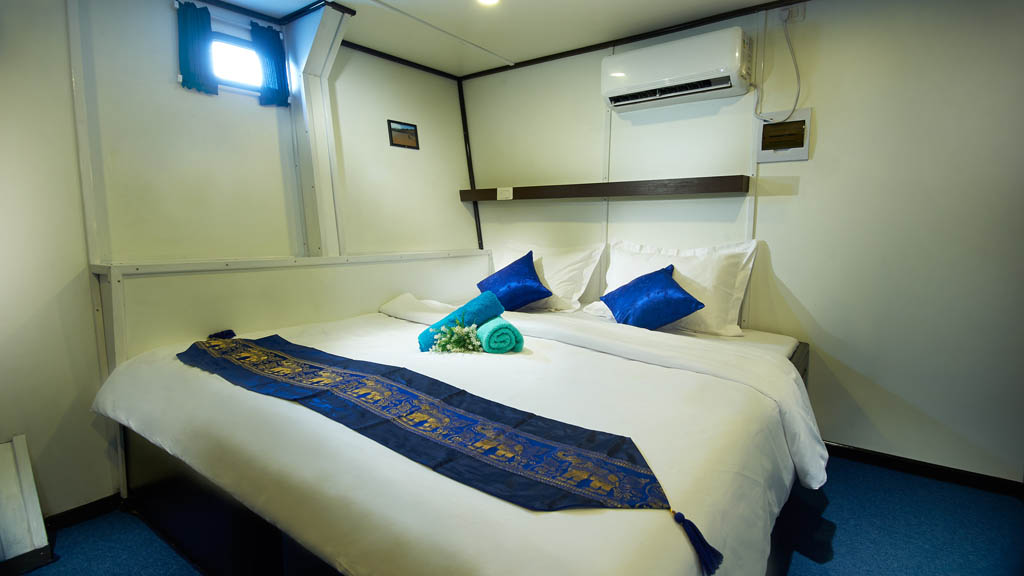 Dive service
Galapagos Master offers up to 4 dives per day subject to weather and sea conditions. To allow guests to explore the Galapagos to its fullest, some dives may be substituted by an island visit.
The dives are mostly performed off the two dive tenders on board. Nitrox produced by the on board membrane system is available at an additional charge. Upgrades to 12L or 15L steel tanks are available at a minimal fee. All tanks have DIN and international valves.
The large covered dive deck is equipped with under seat baskets for dive gear and overhead baskets for personal items. There is also a camera table and a charging station. Rinse tanks are conveniently located for washing dive equipment and camera gear, whilst there are 2 shower heads for those wishing for a quick post-dive rinse down. A further 2 deck heads are situated on the starboard side of the boat, just in front of the salon entrance.
The waters surrounding the Galapagos Islands are quite cool. From December to May: 21C-30C (70F-86F) and from June to November 16C-24C (60F-75F). You should bring at least a 5mm – 7mm wetsuit (semidry) with hood, boots and gloves. Alternately, bring a dry suit.
Dive areas
During 7 night itineraries, 3 dive days are scheduled at Darwin & Wolf, whilst 10 night itineraries offer 4 dive days at these famed islands. Weather permitting, you can expect to visit all the best dive sites around the Galapagos Islands.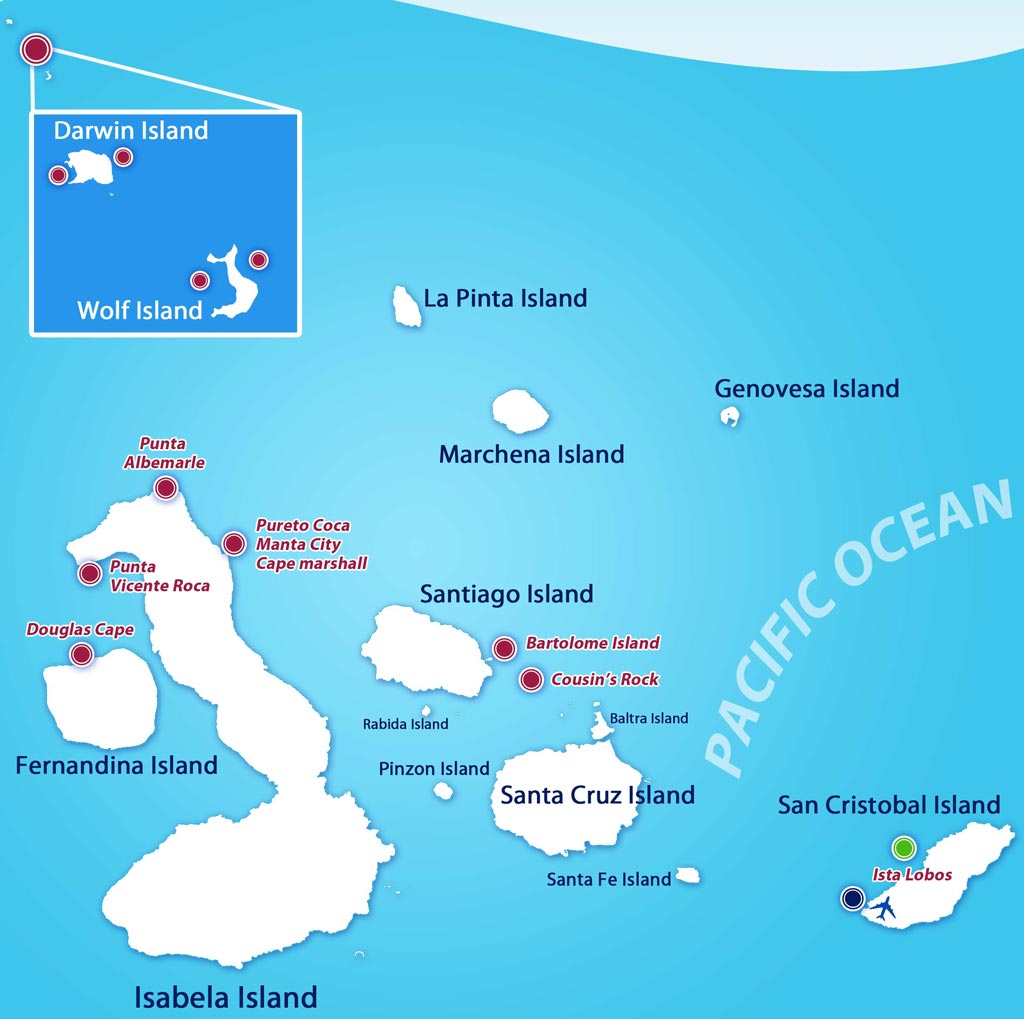 Staying Connected
No internet service is provided onboard Master Liveaboard Fleet Yachts. Most mobile phones which have 'roaming' will function during the cruise, however, service signal strength can be very weak and some areas of your cruise may not be covered at all.
You should know…
Please note that Galapagos Master currently does not accept credit card payments on board. Cash payments in USD, Euro, GBP, AUD and NZD are accepted. In addition to hyperbaric chamber fees, guests are advised to bring enough USD (or equivalent currency) for any optional extras and tips.
Diving in the Galapagos can be challenging, even for the experienced diver, and as such we highly recommend our guests have training beyond beginner level and a minimum experience of 50 dives, preferably in similar conditions. If our dive crew feel that you do not have the relevant skills or experience to dive the more challenging sites safely then they may stipulate that you sit out some dives.
Trip dates & availability
Please see pricing table below the availability panel for inclusions, exclusions, and extras.
This liveaboard's prices are in USD. The price paid in any other currency will be based on the actual exchange rate at the time any payments are made.
Single supplement surcharge is 100%
Included: Accommodation as specified, all meals, snacks, drinking water, soft drinks, fruit juice, tea, coffee, up to 4 guided day dives per day (no night diving), tanks (12L aluminium), weights, air fills, dive guide, min. 2 land excursions per trip, transfers on San Cristobal on charter days
To submit a booking request, please use the [Enquire Now] tab to give us your requirements in terms of dates, number of divers/snorkelers, and we'll give you the best deal we can.
Galapagos Master Extras
AUD
USD
Galapagos National Park fee (cash only)
100
USD
|
100
Ingala Transfer Card (cash only)
20
USD
|
20
Hyperbaric Chamber fee
35
USD
|
35
Nitrox fills (7 nights)
150
USD
|
150
Nitrox fills (10 nights)
225
USD
|
225
Full set of dive gear rental (excl. torch and dive computer) (7 nights)
270
USD
|
270
Full set of dive gear rental (excl. torch and dive computer) (10 nights)
405
USD
|
405
Dive computer (7 nights)
72
USD
|
72
Dive computer (10 nights)
108
USD
|
108
Upgrade to 15L steel tank (per dive day)
12
USD
|
12
This liveaboard's prices are in USD. The AUD prices shown are based on the current exchange rate. The price paid in AUD will be based on the actual exchange rate at the time any payments are made.
Important Information
Special payment and cancellation terms apply for this operator.