Introduction
Location
Accommodation
Diving
Pricing & Schedules
Enquire Now
Matava Resort is a small and intimate getaway, designed to blend into its natural environment, where there are no roads, no noise and no pollution, just the rainforest covered slopes, coral lagoons and Great Astrolabe Barrier Reef.
Matava Resort's 'Dive Me' dive boat makes double dive excursions to the best local dive spots along the Great Astrolabe Reef as well as The Manta Dive – Fiji's only year-round manta dive site.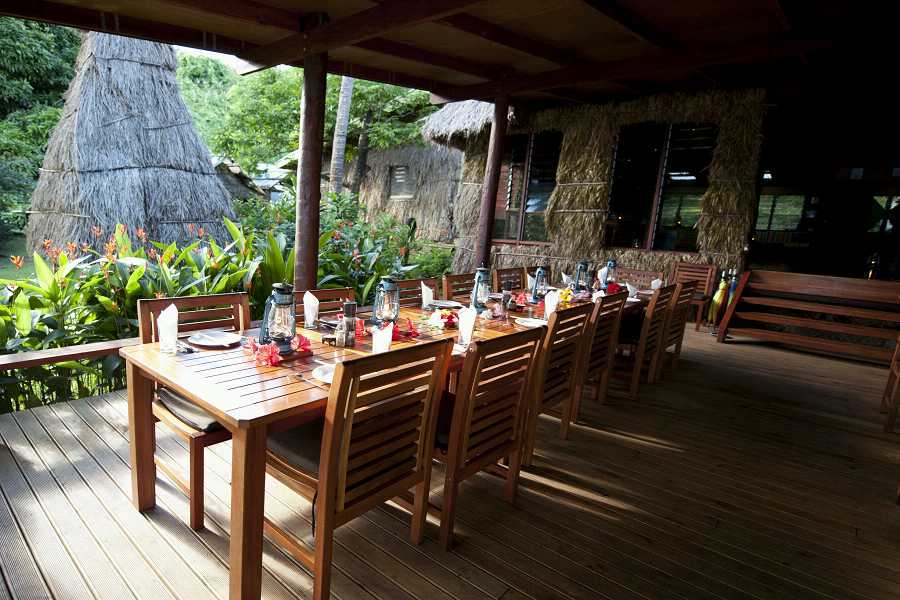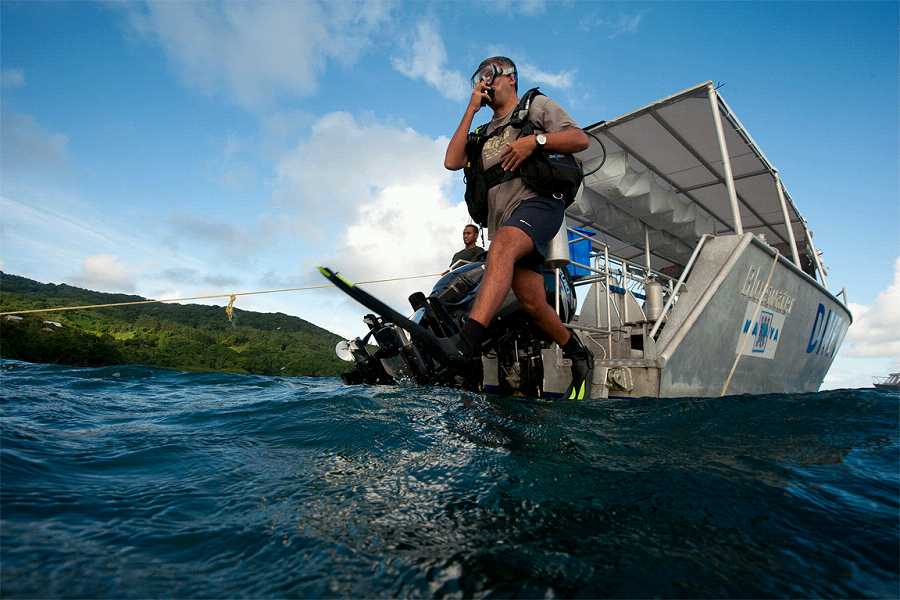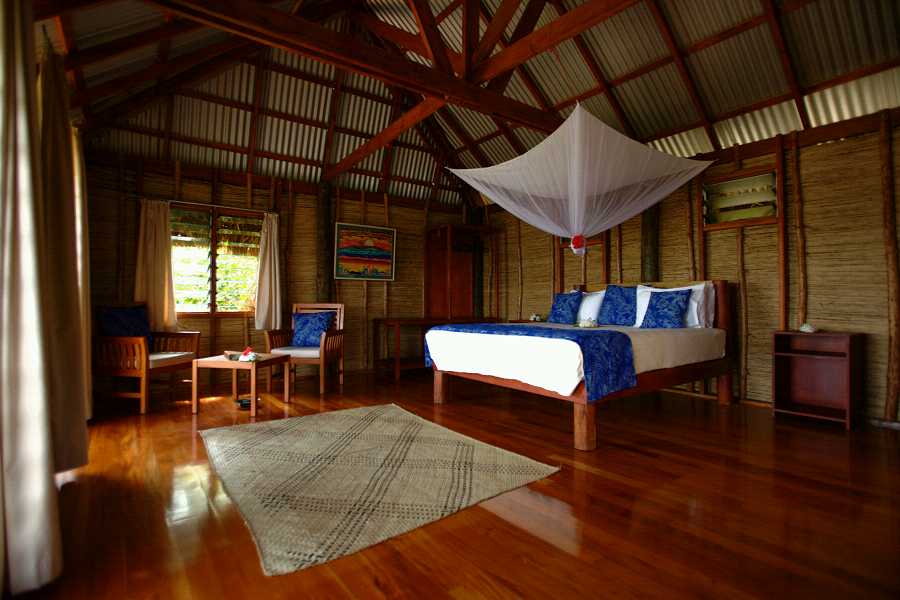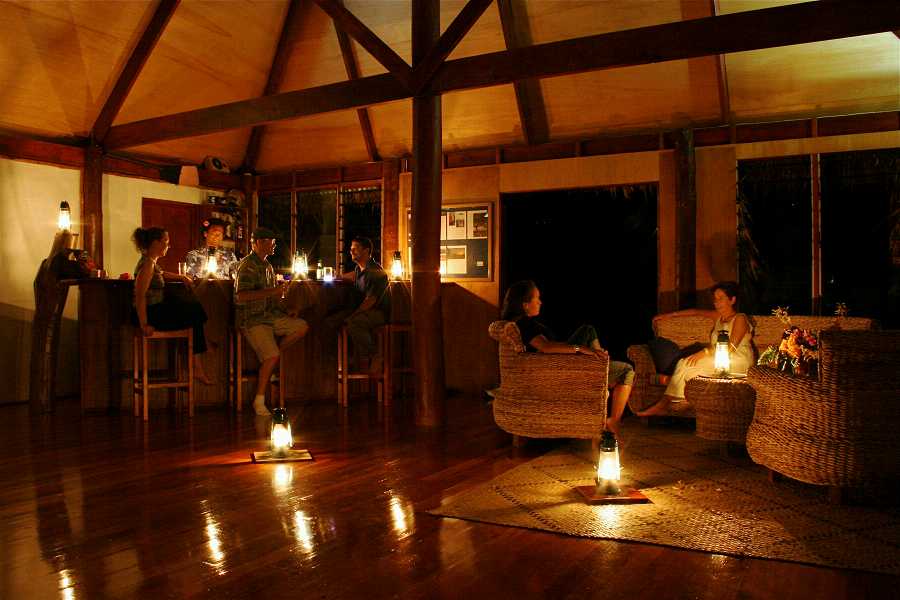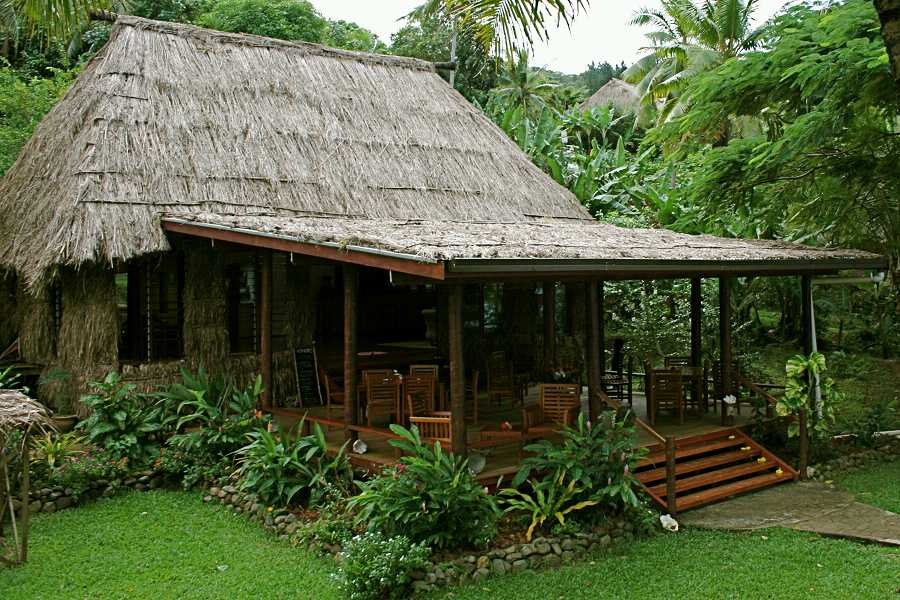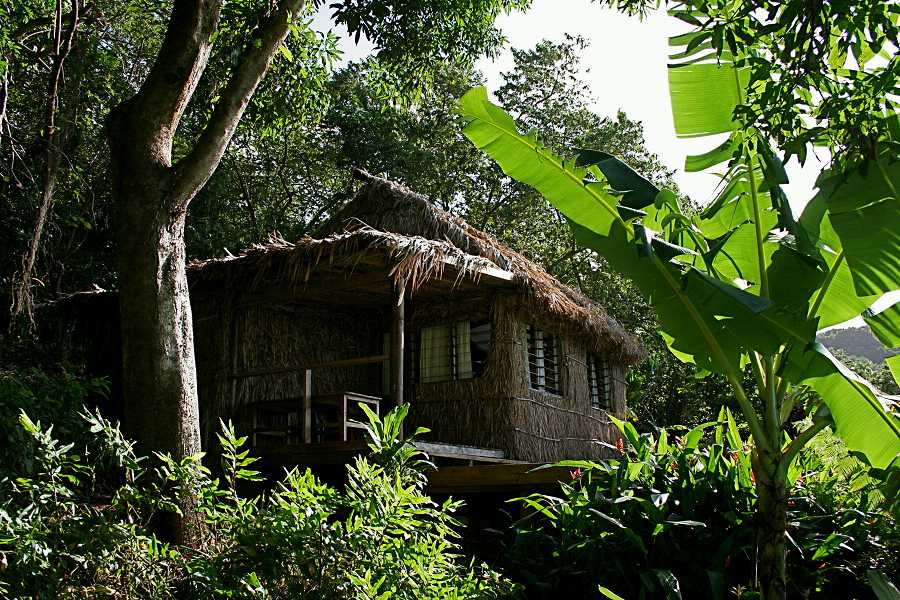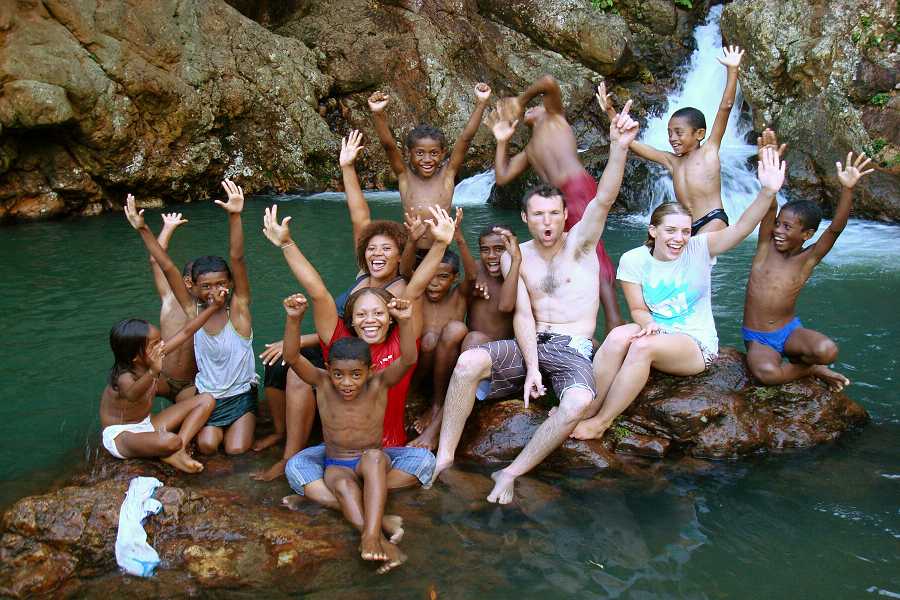 Matava Resort is a true eco-resort. You'll leave only a small ecological footprint due to its solar power and hot water, and responsible and ecological waste management. They have an extensive organic farm and the veggies and fruit are correspondingly top class.
The main building is the gathering place for guests to have meals and relax. There are also power sockets where guests can recharge camera and laptop batteries.
Dining
Dining at Matava is a casual and very social experience which takes place on the terrace of the 'bure levu', the main house, or on the spacious waterfront deck. Meals at Matava are a blend of local and international cuisine. The menu takes advantage of local seasonal delicacies and the day's fresh produce. Bread is baked daily and the resort boasts its own organic vegetable farm. Generally, all guests sit together for meals. Dining together is fun and helps guests meet each other. Private dining on your own bure deck can be arranged for special occasions. Freshly brewed coffee and teas are available complimentary from early morning until late evening. The resort caters for vegetarians, vegans, and those who are lactose/gluten intolerant.
Activities
For non-divers, there are plenty of other activities to enjoy at Matava: snorkeling, sea kayaking, rainforest- trekking to waterfalls, guided nature walks, fishing, bird watching, spa treatments in the Bamboo Spa and village visits & performances. Please note that Matava is not able to cater for young children.
Staying Connected
The resort offers WiFi access via credit card purchase. Wireless service covers the main bure and is available 24 hours. Connection speeds are good and data is unlimited. The system is provided by Digicel Fiji who is responsible for pricing. You can buy 1 hour / 1 day / 3 day or 1-week bundles at the resort's reception. There is an Internet etiquette policy which you should follow when staying at Matava: Please separate Internet time and social time! There are plenty of places to take yourself away, be on the Internet then leave it behind. Matava is trying very hard not to let the 21st century take the art of conversation with new people and existing friends away.
You should know…
There are no banks on Kadavu. It is preferred that guests settle their bill (or part of it) in Fiji Dollars cash. Please obtain any cash you require at the ANZ Bank in Nadi International Airport. The resort also happily accepts Euros and US Dollars. Should you wish to settle via credit card, they do accept Visa & Mastercard with a 5% surcharge.
We think…
Matava is ideal if you want to relax in a pristine and natural environment so far off the beaten tourist track that genuine encounters with Fiji's amazing culture are still possible. Matava is not recommended for those expecting 5-star facilities, but for those who like to experience a true eco-resort. Astrolabe Reef is one of the best dive spots in Fiji; the seascape consists of less soft coral than the reefs further north, but the caverns and canyons of Astrolabe attract more pelagics. There are several manta cleaning stations just a short boat ride from the resort.
The multi-award winning Matava Adventure Dive Resort & Spa is set amidst lush tropical surroundings of Kadavu Island south of Nadi, offering easy access to the most spectacular dive sites on the Great Astrolabe Barrier Reef and the chance to experience the culture and hospitality of the real Fiji.
Getting to Matava
Your international flight into Fiji will take you into Nadi on Fiji's main island of Viti Levu. From there, daily domestic flights take you to Kadavu's airport in the small town of Vunisea. For those already in Fiji daily flights also operate between Suva & Kadavu. From Vunisea it is 5 minutes by road then approximately 45 minutes boat transfer to the resort.
Traditional thatched bures are nestled in the rainforest offer privacy and some superb ocean views. Drift off to sleep to the soothing sound of the waves breaking over the Barrier Reef and awake to the symphony of the exotic native wildlife.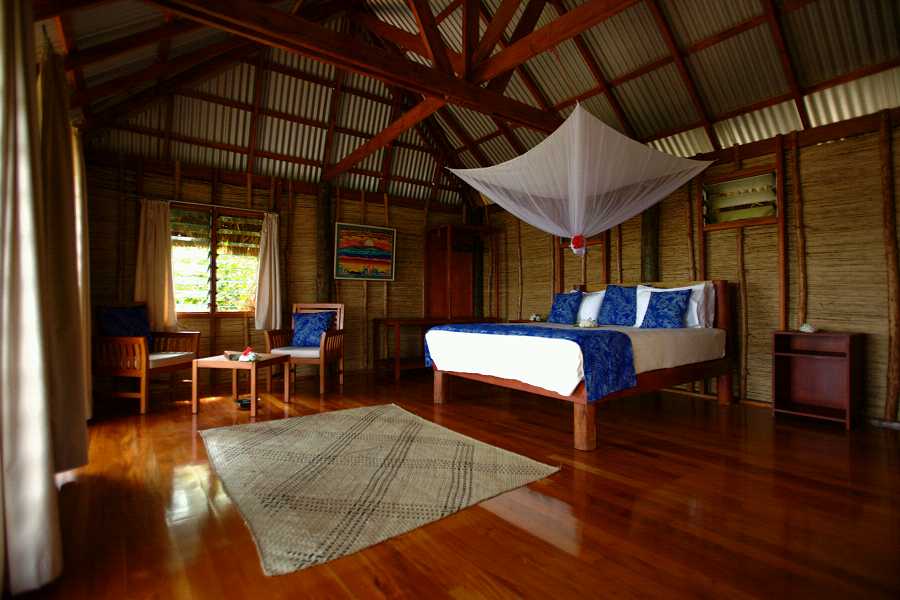 Matava currently offers two different levels of en suite bure accommodation. Total capacity is 26 guests in 10 bures. All bures are powered by solar panels. There is no air-conditioning or fans; the evening breeze is all that's needed to cool the traditionally built bures. Personal mosquito nets are provided for all beds. There is no TV, fridge, phone, iron, hairdryer or power socket in the bures. You are officially in Paradise!
Honeymoon/Family Bures sleep 2 to 4 guests and are very spacious in a beautifully elevated location with sweeping views of the ocean and nearby islands. They are equipped with large en suite bathrooms, king size bed, single bed, sofa and large terraces.
Ocean view Bures sleep up to 3 guests and have en suite bathrooms, queen bed and a single bed and spacious terraces.
Resort Facilities in all bures are 5 Star: mattress, fine cotton sheets, extra blankets for warmth, en suite bathroom with 24 hour solar hot water, 12V solar lighting, private deck and amazing views.
Providing breathtaking views, some accommodation bures are higher up the hillside, with steps and steep paths so guests need a reasonable degree of agility and fitness.
Mad Fish Dive Centre
The Mad Fish Dive Centre at Matava resort operates 3 dive boats, they are 7m (23 ft) long and have been custom designed and outfitted for guests and staff. With a top speed of 35 knots, they cruise at 25 knots fully loaded. They are fast and ideal for maneuvering through the complex reef system that runs along the coast. All boats are in full Fiji Islands Maritime Safety Authority Survey and carry life jackets, safety pyrotechnics, communications equipment and oxygen medical kit.
Dive Boats
Mad Fish Dive Centre's dive boat, "DIVE ME" accommodates a maximum of 12 divers on a 2-tank dive, as well as 2 PADI dive masters and a skipper. It has everything on board that a diver needs like rinse buckets, a camera table, a shaded area, and easy entry twin platforms for both going in and out of the water.
With this boat, Mad Fish Dive Centre is the first and so far only resort on Kadavu that is able to dive the entire length of the Great Astrolabe Reef. This opens up never-before-dived areas and dive sites.
Dive Service
The dive centre at Matava is fully equipped with all the latest in diving equipment including Mares BCDs, regulators and wetsuits as well as masks, fins and dive computers are all available for hire. PADI instructors are qualified to teach courses from PADI open water to PADI divemaster.
If you are diving and bringing your own wetsuit, a 3mm shortie is recommended during the summer months (November to April) and a 5mm long wetsuit during the winter months (May to October).
Dive area
The Great Astrolabe Reef is the world's fourth largest barrier reef and is Fiji's largest living organism. It extends along the entire southern side of Kadavu and stretches for over 120km. Astrolabe is rated as one of the world's premier diving locations offering great diversity in coral structures and marine life.
The reef got its name in 1827, when the French explorer Dumont d'Urville's had a rather unfortunate encounter with the reef, which greatly damaged his vessel "The Astrolabe".
Dive sites
Spectacular and still pristine dive sites await those who dive at Matava, with over 20 world-class sites suitable for all levels of experience within a 5 minute to half hour boat ride. Combined with simple access to The Manta Dive, Fiji's only year round manta dive site, Mad Fish Dive Centre truly offers divers easy and comfortable access to some of the best diving Fiji can offer.
Pricing for Matava Resort to end 2023
AUD
FJD
7 Nights Oceanview Traditional Bure (double/twin) with 10 dives
3500
FJD
|
3500
7 Nights Oceanview Bure (single) with 10 dives
4060
FJD
|
4060
This resort's prices are in FJD inclusive of all Government taxes (totalling 25%). The AUD prices shown are based on the current exchange rate. The price paid in AUD will be based on the actual exchange rate at the time any payments are made.
Important Information
Includes: all meals (breakfast, lunch, dinner, unlimited tea/coffee); return airport transfers on Kadavu Island (for stays of 3 nights or more); complimentary snorkel gear.
Included dives are morning 2-tank boat dives with Mad Fish Dive Centre, with weights, tanks and dive guides.

The per person pricing above is indicative only: we show 7 night with 10/12 dive packages at high-end and lower-end rooms (singles & doubles) for the purposes of comparison. We can give you a price (and availability) for any combination of nights/dives you wish to undertake, which will include any discounts due to you as part of that package, and any exclusions, or items payable at the resort. Please use the [Enquire Now] tab to give us your exact requirements and we'll give you the best deal we can.