Introduction
The Solomon Islands is an archipelago just south of the equator in the Coral Sea. As such, diving Solomon Islands is rich and varied: coral walls and drop-offs, coral gardens in the lagoons, volcanic tunnels and caves, WW2 wrecks of planes, ships and subs, and the rich variety of sea life from nudis to mantas. Due to the low numbers of divers who visit the Solomons, most of the natural dive sites are still in a pristine, unspoilt state, and there are more sites being discovered all the time. For the adventurous diver, the Solomons presents an opportunity to dive some of the least dived sites in the Coral Sea.
The archipelago of almost 1,000 islands runs north-west from north of Vanuatu to the west of PNG between 6 and 12° south of the equator. Many of the islands are volcanic – both passive and active – and many of the sounds between the islands are 2,000m deep. A number of the main islands, the New Georgia group in particular, are surrounded by barrier islands creating natural seawater lagoons. This is what makes the diving, and the marine life so diverse.
The wrecks are mainly from WW2, both ships and planes. From submarines to destroyers and bulk carriers, to fighters, bombers and even a Catalina. There is a potted history under Local Information below.
Location
The main islands of the Solomon Islands lie either side of a line heading south east from PNG's Bougainville Island towards Vanuatu. The capital Honiara is just a two hour flight from Brisbane.
Dive Sites
Not surprisingly, the Solomons is known for great wreck diving, but there are also caves, tunnels, walls, drop-offs and coral reefs. Each island differs, but like Uepi usually offers a combination of the above. Honiara has wrecks a plenty, ships, planes and subs, but also caves up near Tambea, and coral reefs and tunnels over in Tulagi – just an hour by boat.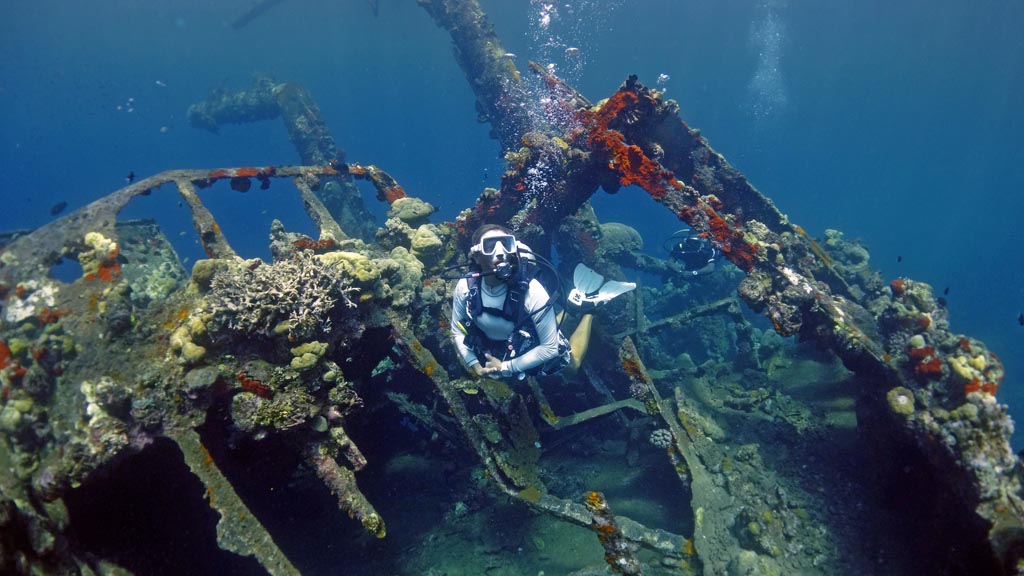 Uepi, because of its proximity to the deep New Georgia Sound, has coral covered walls, drop-offs, and coral reefs but also access to wrecks – both boats and planes. Another 75 km further west, Munda is the main jump off point for diving Rendova Harbour and Roviana and Vonavona Lagoons. Finally, about another 75 km to the west, Gizo and its surrounds has some of the best and most exciting diving in the Solomons, with reefs, points and wrecks and many of the sites located in sheltered waterways just minutes by boat.
All sites have an abundance of coral and hence fish life, from the smallest Purple Basslets to the Black tipped reef sharks and every size and colour of fish in between.
Dive Sites
How to Get Around
There are domestic connections from Honiara to every other major island, so expect to fly to Honiara and work outwards from there. You can find the domestic timetable as a PDF by selecting 'Plan' and then 'Schedules' on the header menu on the Solomon Airlines Website.
There are also a few ferries and random freight boats, but you're better off investing time in sorting flights and making sure your dive operator or resort can meet you off those flights.
Other Activities
You can check out the specific activities under each destination – there is more to the Solomons than just diving. Get out to the other islands where you can go bush-walking, bird-watching or even surfing. Check out the Solomon Islands Visitor Bureau website.
A great option for non-divers or not-so-serious divers is a Solomon Islands Discovery Cruise. Email us for more information
Also check under each of the other destinations, Honiara, Uepi, Munda and Gizo for activities specific to those destinations.
Local Information
On the plus side: The climate is tropically warm and humid with the average day time temp of 28°C. So dress code is light and casual, but keep the 'brief beachwear' for the beach; respect the pacific island sensibilities – best bet is simply to bring, or buy, a sarong.
Power sockets are type I – that's 240V Aussie and NZ style – three pins in a triangle.
Credit cards are widely accepted, though a number of smaller establishments remain cash only. There are FX facilities at Honiara International airport, and in the city.
Agnes Gateway and Dive Munda accept Visa & MasterCard with a 3% surcharge; Fatboys & Dive Gizo accept Visa & MasterCard with a 3.8% surcharge. There are FX facilities at Munda airport, and an ATM in Gizo.
There is an FX booth in the corridor between arrivals and departures, and another one in the departures hall at the international terminal in Honiara. Also, one in Munda which is open from 11am to 3pm on Saturdays just for the Brisbane-Munda direct flight. Both Westpac and ANZ banks are represented in Honiara with ATMs.
Tipping is not expected – in fact it's actively discouraged.
Many of the resorts have WiFi, though it can be a little sketchy – especially away from the lobby area. Solomon's Our Telekom has a number of products that can help you stay connected including:
A local 3G SIM – available in all sizes
A Bumblebee pre-paid WiFi card to access their WiFi hotspots
A 3G dongle modem to get your laptop on-line anywhere there is 3G.
Commonwealth, US and most West EU passport holders can get a 30 day visa on arrival. Australia, New Zealand and Britain have High Commissions; China and Japan have Embassies, France, Germany and the US have consular agents. For any other countries you might want to check who looks after your interests.
On the downside: Malaria is still a problem. Check in with your local GP at least a week before you go, and get anti-malaria tablets that suit the Solomons and you. Most you need to start taking before you arrive, and for a period of up to a month after you leave.
A little Local History
The Solomon Islands is believed to have been settled by Papuan speakers as early as 30,000 BC and evolved much as other pacific islands with the introduction of the out-rigger canoe and finally ceramics around 1,000 BC. The sea port of Honiara is situated on the small peninsular of Santa Cruz, and named by the Spanish explorer Alvaro De Mendana, who landed there and named the islands 'Solomon Islands' in 1568 after King Solomon, as he believed it might hold untold treasures. It does – but not the type he was thinking of – as he wasn't looking below the waterline! In 1893 the Solomon Islands was declared a British Protectorate in order to stamp out 'blackbirding' – the brutal kidnapping of islanders for slave labour in Australia and Fiji. The Islands saw some of the fiercest fighting of WW2 as the Americans halted and reversed the Japanese advance. Dozens of ships were sunk between the main island of Guadalcanal and the Florida Islands giving rise to the name Iron Bottom Sound. In 1976, after the first oil price shock, the cost of running a colony with no known fuel or mineral resources became apparent to the British and subsequently Independence was granted on 7 July 1978. Since then the Solomon Islanders have suffered 'ethnic tensions', a number of earthquakes (the most recent in 2014), tsunamis, and cyclones – which cause infrastructural damage such as bridges to be washed away. Despite these tribulations, the Solomon Islands, with a population of about half a million lives in a constitutional monarchy, has a reasonably stable currency and a national airline and telco. The commercial hub of Honiara has mains electricity, tar-sealed roads and large hospital and a number of schools and colleges.
Getting There
All international airlines fly only to Honiara. Solomons Airlines flies to 22 domestic destinations from there. The international flights are: Solomon Airlines which flies to Honiara four times a week from Brisbane, twice weekly from Nadi (Fiji), and weekly from Port Vila (Vanuatu), and Port Moresby (PNG).
Pricing / availability enquiry