Award-winning photographer PT (Pink Tank) Hirschfield spends seven days of underwater exploration with Dive Munda and discovers the restorative powers of the legendary 'Munda Magic'.
Sitting here in the tranquil Solomon Islands outpost of Munda, it's difficult to imagine these blue skies buzzing with WWII Japanese and US fighter planes. Yet not far beneath the surface of the calm waters surrounding Dive Munda HQ lie the P-39 Airacobra, a small Jap Zero fighter plane lying at 28 metres, and the Douglas Bomber close to the shore at 12-14 metres depth.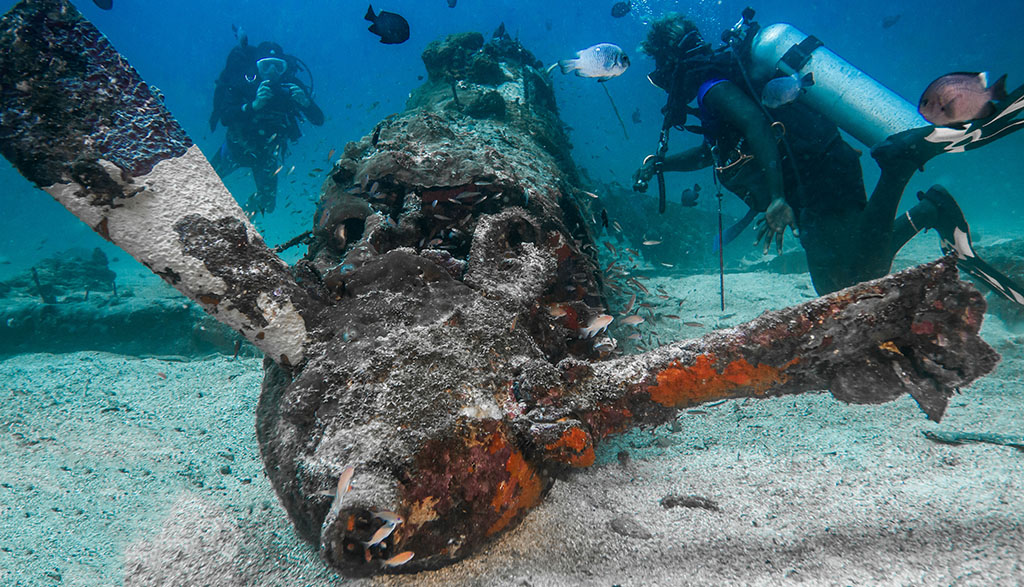 This region is rich with historical significance. Several islands stand as shrines to one Lieutenant John F. Kennedy and his heroic feats when his vessel was rammed and wrecked by a Japanese destroyer. Diving the easily accessible plane and shipwrecks in this region, seeing them take on new lives as artificial reefs, just one of many reasons to explore the lagoons of the Solomon Islands' Western Province.
During my visit, a group of aquatic historians are laying plaques on known wrecks and seeking local knowledge to discover wrecks that have never yet been dived. Unlike many of the divers attracted to this region, war and history have somehow never quite held the same appeal for me.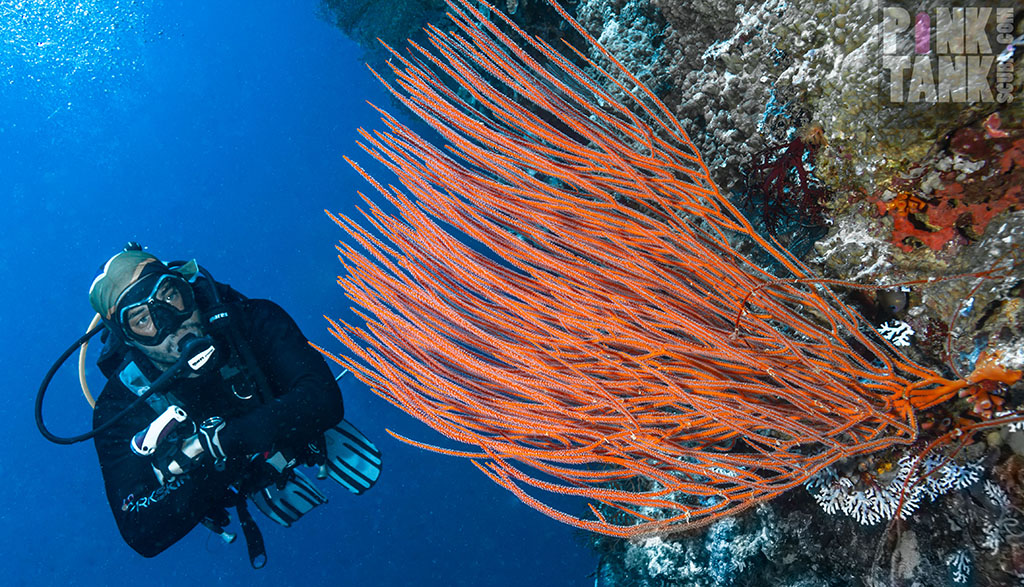 While I enjoy photographing the small fighter plane wrecks, I find myself more drawn to the living, breathing pelagics swirling past the current prone slopes and drop offs, of Munda's Shark Point, Eagles Nest, Barry's Breakfast and Secret Spot. I'm enthralled by three spotted eagle rays dancing at depth, large schools of barracuda, curious batfish, midnight snappers, bumphead parrotfish, yellow tailed kingfish and trevally. The appearance of occasional black tip, white tip and silvertip reef sharks, small devil rays and turtles are always cause for celebration. When I am underwater surrounded by such incredible diversity of marine animals, I can barely spare a thought for the complexities of life on land.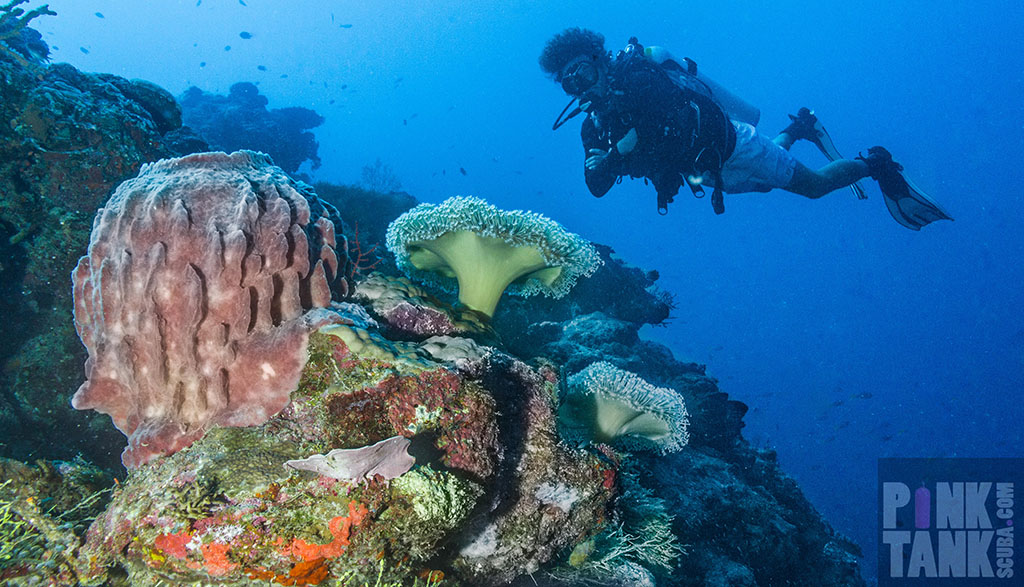 A diverse range of sites is easily accessible between ten and forty minutes across the gorgeous bay by boat from Agnes Gateway Hotel, where Dive Munda is based. The bommies and rocky outcrops of Haipe Reef, Rainbow Reef and Susu Hite Island play host to a wide diversity of hard and soft corals, barrel sponges and countless fish species.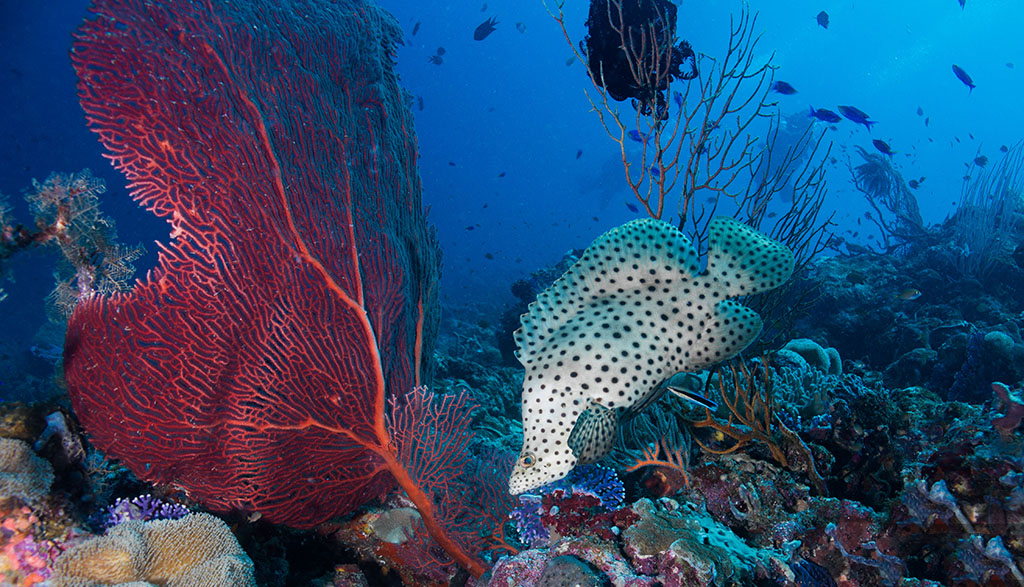 Amongst the most photogenic are many types of anemone fish; the white-bonnet variety are endemic to the Solomon's and are easily found along with nine other varieties. Dartfish, bannerfish, tangs, triggerfish and moray eels are some of the more commonly sighted species seen availing themselves of the ever-present cleaning stations. The highly decorative leopard wrasse is far less common and sighting one feels like winning a jackpot. Small octopuses and cuttlefish hide amongst the rocks between all the hard and soft corals, brightly coloured sponges and spectacular gorgonian fans.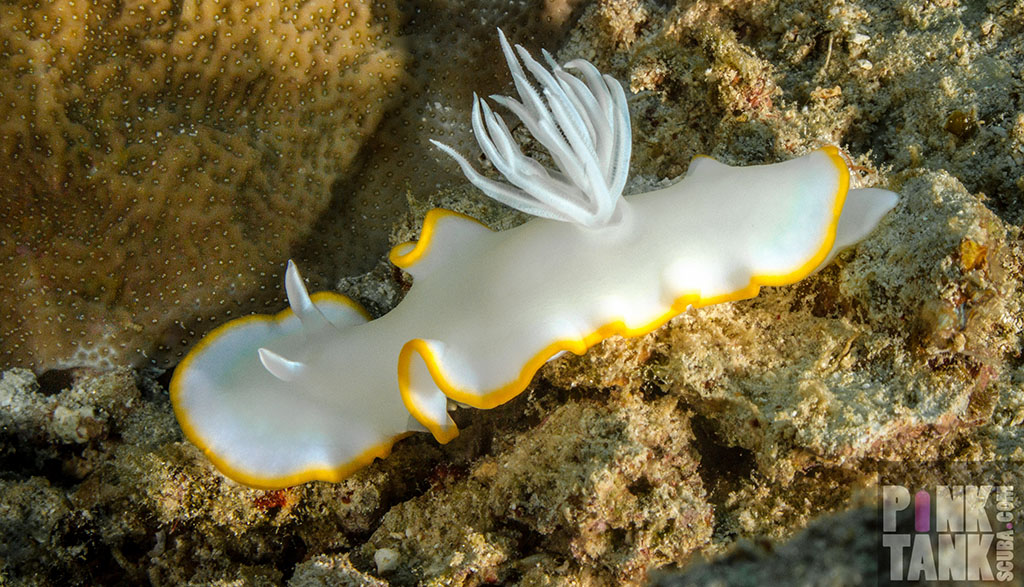 The last ten or so metres at the gorgeous Rainbow Reef are a poignant reminder of the 2016 tsunami, the slopes in the shallows being almost completely comprised of coral rubble. Yet life goes on and there are scattered signs of new growth and marine life, a testament to the resilience of nature.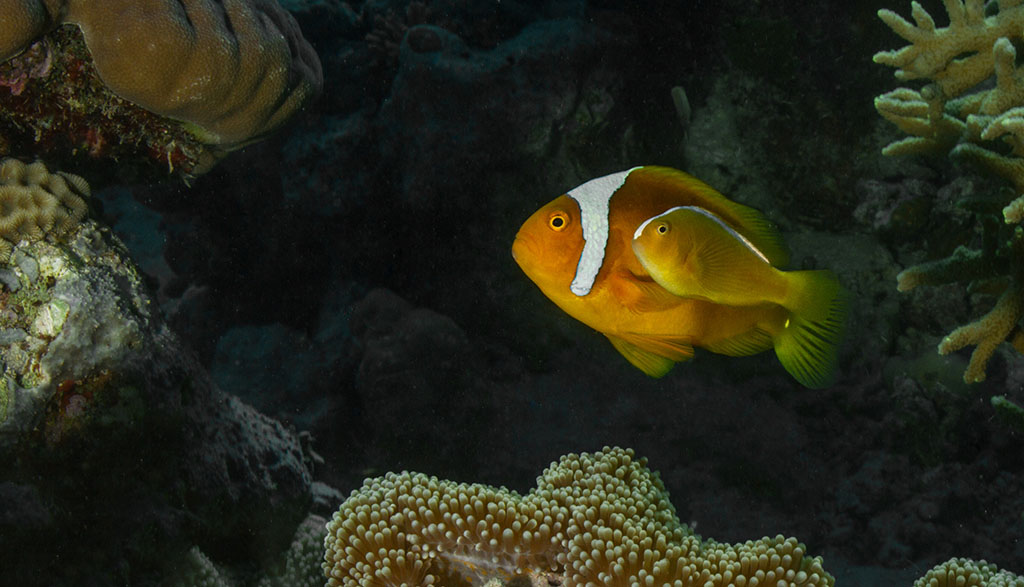 Langarana (along with nearby Belobelo) is one of Munda's signature sites. A sheer wall descends hundreds of metres, festooned with gorgeous brightly coloured spaghetti-like sponges and some of the largest sea fans in the world (purportedly home to pygmy seahorses). Big-eye mackerel, tuna and eagle rays pass in the blue, while black tip sharks are found resting in the rocky swim throughs. Tombatuni Point is another of the best wall sites the Solomon's has to offer, coupling large pelagics with stunning sponges and fans. A myriad of macro treasures, particularly nudibranchs, can be found hidden along the wall.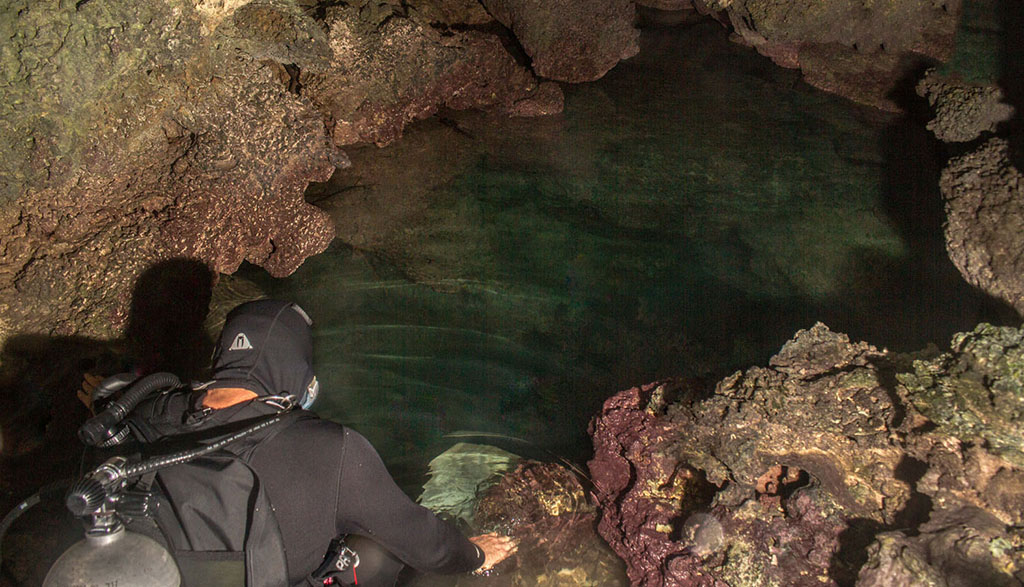 One of the most memorable dives in this region, however, is the Cave of the Kastom Shark, entered through a sinkhole in the middle of a small coral atoll. The vertical shaft descends to around 35 metres before opening up into a chamber, where we follow a guideline through a narrow tunnel to a wide opening on a vertical coral wall.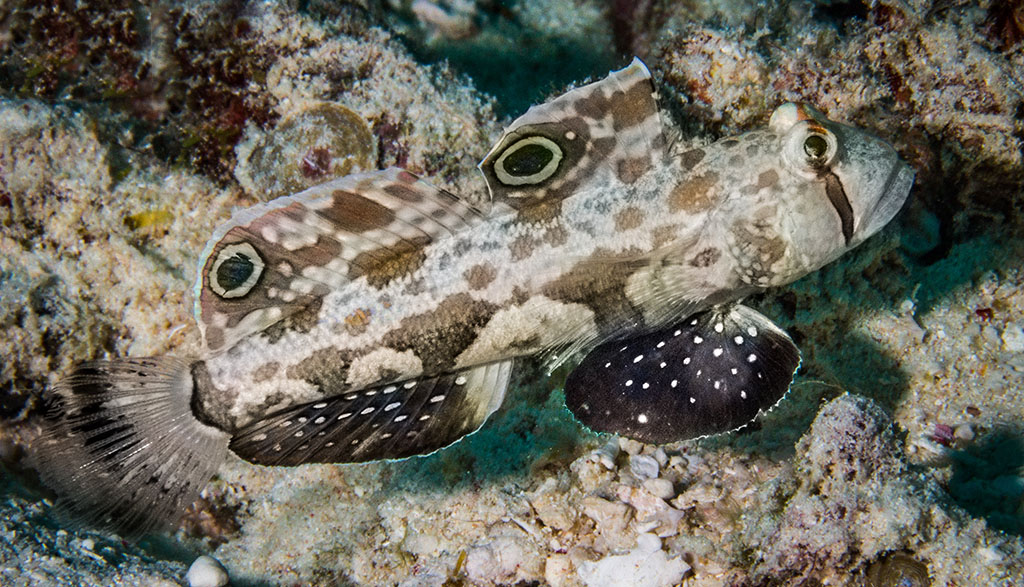 Throughout this region, dolphins can often be seen from the surface. Rumours of occasional hammerheads and legends of dugongs seen once but never again stir my senses. Surface intervals are spent on lush deserted islands with a generous feast of snacks and an opportunity to go exploring before re-boarding the dive tender for the next dive.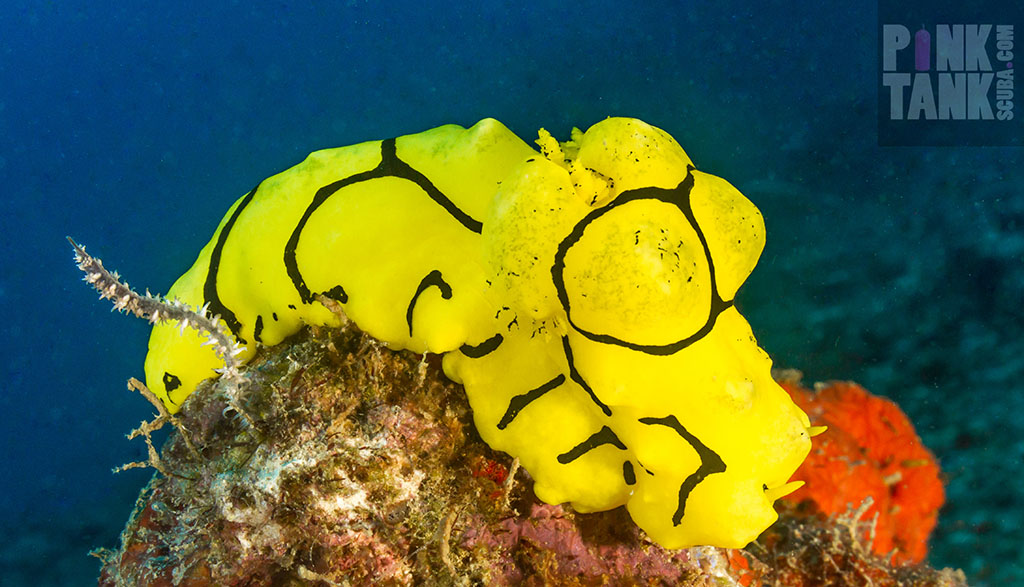 I have always been obsessed with details, taking intimate macro portraits of the marine creatures I encounter. But the Magic of Munda compels me to broaden my field of vision, to see all that lies before me as part of a much bigger picture. My photos from this trip are primarily wide angle. On this trip, I have been less focussed on isolating and capturing tiny subjects and details and more intrigued by finding the connections between beautifully chaotic elements within the broader scheme, often bursting with colour. The diversity of sites on offer is breathtaking, and more than can be adequately explored in a single week.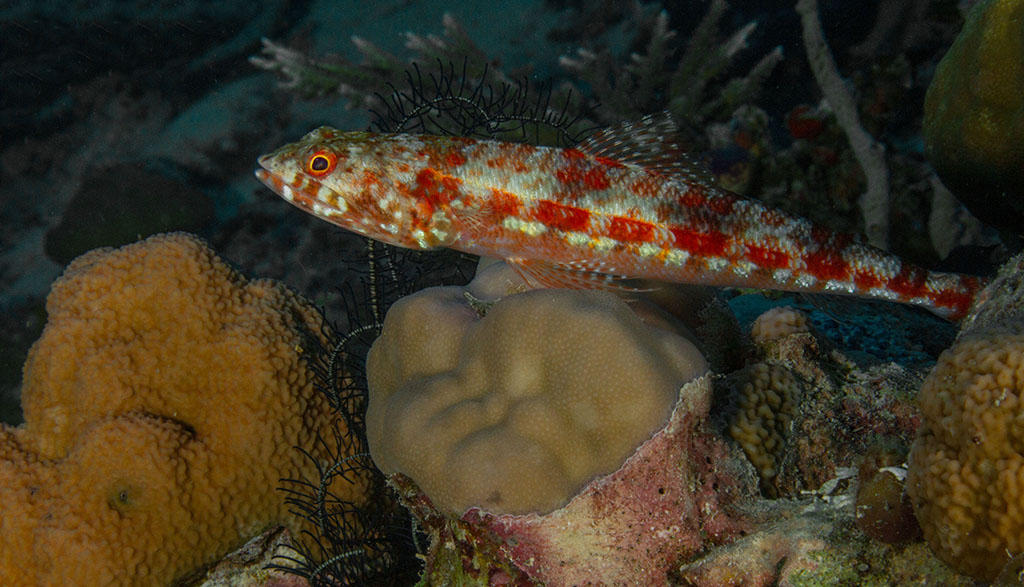 Availing myself of the typical three dives a day on offer, my seven days of underwater exploration with Dive Munda has exposed my soul to the restorative powers of the fabled 'Munda Magic'.