Queensland's Gold Coast is best known for surf beaches and theme parks. But now, there's an underwater theme park for divers that aims to put the Gold Coast on the dive travel agenda: Wonder Reef.
Wonder Reef is a collection of nine enormous sculptures installed on the ocean floor off Main Beach, just north of Surfers Paradise. The structures were designed, in part, by artist Daniel Templeman, who took his inspiration from the concept of a hot air balloon rising in the sky. Each sculpture is attached to the sandy sea floor at a depth of 30 metres via 72-tonne concrete foundations, and they float in the water 22 metres up. The sculptures move with the energy of the ocean, creating a surreal yet organic diving experience.
The installation is an extraordinary feat of engineering, the result of 15 months of complex technical analysis and detailed design by Aussie company Subcon Blue Solutions, with the aim of creating a "hanging garden" for divers to enjoy. Of course, unless exploring wrecks with an interesting historical back story, divers don't normally book a dive trip to see a feat of engineering wonder. They come to view the fish, coral, and other marine life that these artificial reefs attract.
Wonder Reef's nine sculptures represent the creation of 32,000 cubic metres of new reef habitat in a previously barren seabed. Right now, the reef is still in the very early days of development, but its evolution is something divers will be able to track, with different marine life visible every time they visit.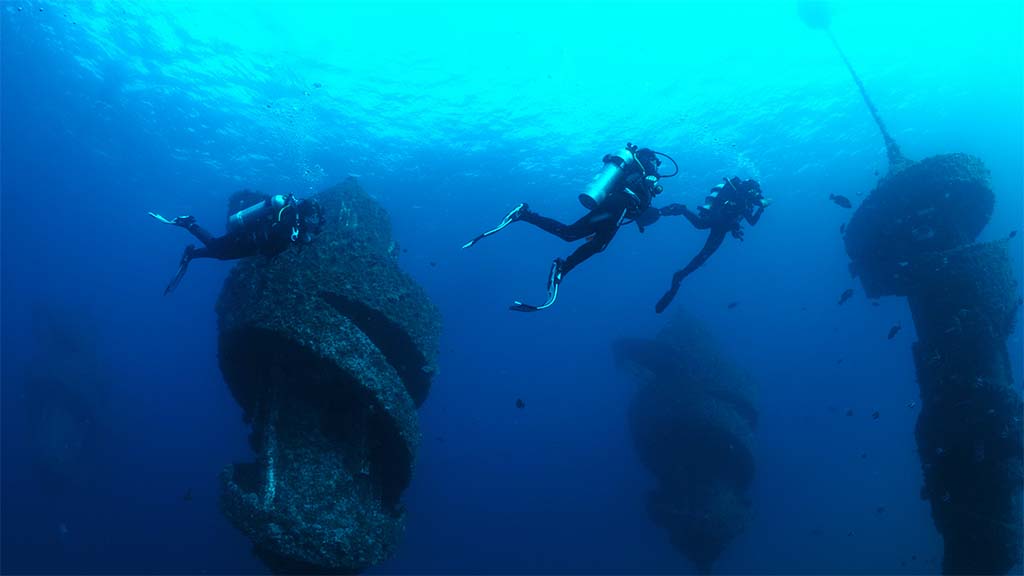 Already, the nine structures of Wonder Reef have attracted dozens of marine species, including both the eastern blue groper and Queensland groper (first time I've seen these two species at the same dive site), numerous species of crustaceans, lionfish, butterfly fish, nudibranchs, anemone fish and octopuses.
The structures are also covered in soft corals, some quite vibrant in colour and there are lots of juvenile wrasse flitting in and out of the coral cover and crevice, and clouds of glass fish in the shadows.
These are regenerative structures, designed to withstand cyclonic waves up to 18.5 metres high, as well as aiding in marine ecosystem research.
Going deep
Wonder Reef is designed for divers of all levels, with features at eight metres (at the top of the structure), 18 metres (at the base of the so-called 'flutes'), and 30 metres (where the structures are anchored to the ocean floor).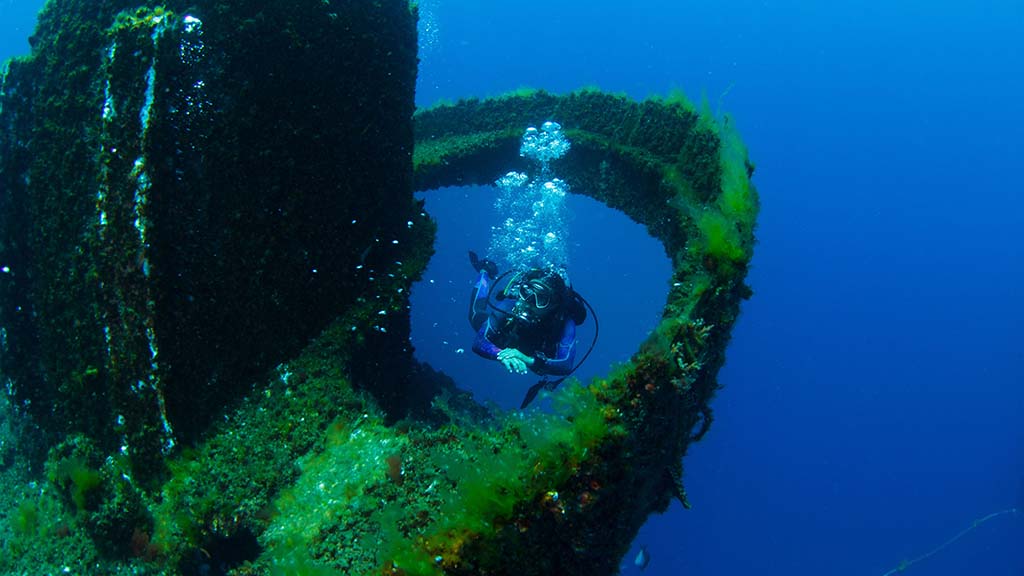 On our first dive, we explored the shallower parts of the flutes, where butterfly fish, Moorish idols and fusiliers buzzed us as we peered into nooks and crannies for crayfish, shrimps, octopus, and nudibranchs.
On our second dive, my dive buddy and I went deeper to explore the sea floor – an entirely different dive experience exploring the swim throughs at the base of each structure, while larger, slower moving fish peered at us from the shadows, including an enormous yet elusive Queensland grouper.
Wonder Reef Green Zone
One of the more exciting aspects of this new dive site, is that a new Green Zone has been created to protect the marine life that it attracts. This is a no-take zone, meaning it's off-limits for both commercial and recreational fishers. This new Green Zone is not yet widely promoted (or well-signed) so it was wonderful to see the passionate crew of Gold Coast Dive Adventures go out of their way to enlighten any fishing boats we came across.
Gold Coast Dive Adventures is a Sea Shepherd Dive Partner, passionate ocean lovers that operate a sustainable dive centre and contribute to the whole experience by educating passengers about the delicate balance of nature beneath the waves and how divers can help to protect it.
Beyond Wonder Reef
Gold Coast Dive Adventures is owned by experienced divers Nicole Cottrell, her son Harrison (Harry), scientist stepdad John and Master Skipper Sebastian Lovera. This family-run business has one main objective: to put Gold Coast on the international dive map of extraordinary locations.
"The Gold Coast area is situated perfectly between sub-tropical waters and temperate waters providing some of the best diving in Southeast Queensland and an unequalled array of extraordinary dive sites for all levels," said Harry, who has dived in many countries around the world, including a few years managing a dive resort in Komodo.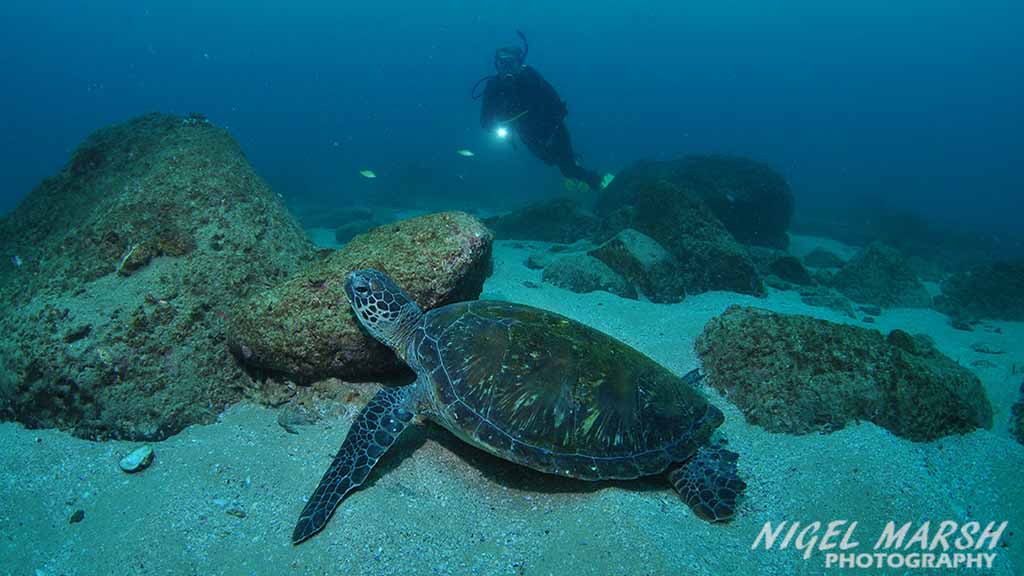 "The diving is remarkable and offers something for all levels, but it is our spectacular shark diving adventures that we are most proud of. With a huge migration of grey nurse sharks in the winter we can offer remarkable shark diving experiences. This also gives us the platform to educate people about these beautiful, docile, intelligent creatures.
Wonder Reef is the latest addition to the Gold Coast Dive Trail, a series of what is now 11 world-class dive sites to explore in the area. These sites include the Scottish Prince wreck, a vessel replete with whisky bottles still on board, just minutes by boat from Wonder Reef; the wreck of the Aquarian, a scuttled fishing boat; natural reefs including Kirra, with its soft corals, cuttlefish and moray eels, and Nine Mile, where you can usually guarantee an encounter with a grey nurse shark.
And then there's Cook Island, with its large resident population of turtles – a great site to dive or snorkel. When we dived here, the viz wasn't fantastic, which in a way made it more exciting as we were buzzed by turtles that we didn't spot until we were face to face! On the sea floor, we found lots of different species of nudibranchs and in the shallows, we were surrounded by huge schools of pomfrets – magical!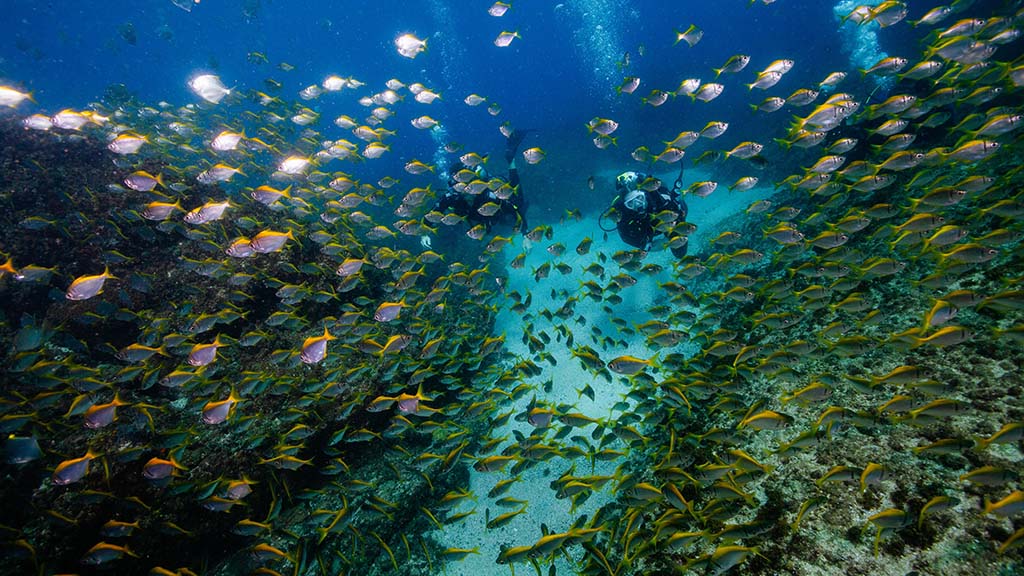 After two days diving Wonder Reef and a few of the Gold Coast's other dive sites, I returned (topside) for a whale watching tour with Sea World Cruises, a highlight of which was a very close encounter with a mum and bub humpback whale – right on top of Wonder Reef. I could just imagine the calf having fun underwater swimming around these amazing structures – only wish I could have dived in to see!
For information on diving Wonder Reef – and the Gold Coast's other dive sites, contact the awesome team at Gold Coast Dive Adventures or contact us at enquire@diveplanit.com for a diving and accommodation package.