More often than not, the best diving is off the beaten track – not only because there are fewer divers on the reefs – meaning they tend to be kept in really good shape, but also the numbers in the dive boat and the resort are smaller leading to a more intimate experience.
Taveuni, and to a greater degree, Kadavu are definitely far from the madding crowds of Port Denarau, and all the better for it. So if you don't need a plasma TV in your bure, or a lagoon pool with swim-up bar, but prefer instead world class diving and the world's fourth-largest barrier reef, then diving Taveuni and Kadavu are probably more to your liking.
Kadavu
Kadavu is home to the Astrolabe Reef, the world's fourth-largest barrier reef that traces the length of the island group, as can clearly be seen on the map below. The map also shows the deep water beyond which is why there are regular sightings of the ocean going manta rays who use a (locally) well known cleaning station, and occasional sightings of Hammerhead sharks.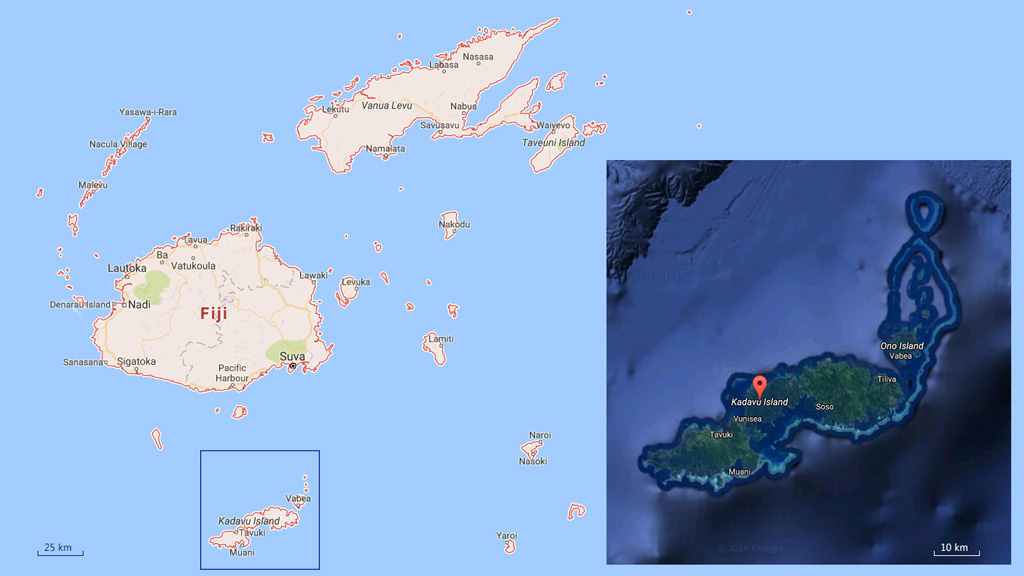 The reef itself has vast soft and hard coral formations including swim-throughs and mazes which should impress even the most experienced divers. Home to a variety of shy creatures like pipefish, sea horses, eels, octopuses; as well as prolific fish life from wrasse to reef sharks. Divers are also treated to encounters with turtles and spinner dolphins.
The resorts on Kadavu should not be considered basic, the only thing that's rationed is electricity – as it is generated from diesel-consuming generators and small-scale solar. So don't expect a plasma TV or a hair-dryer (oh you weren't – good!), but do expect WiFi and organic vegetables grown on site and harvested about 20 minutes before they are put on the table.
Through necessity, most resorts are largely self-sufficient: they compost waste, feed food scraps to their pigs, and funnel grey water out to the plants in the grounds, whilst free-range chickens supply the eggs. They recycle bottles, cans and plastics in Suva.
You can help these resorts by limiting your use of 'disposable' items (that word should be banned), and taking any used item that is not compostable back to the mainland for 'disposal'.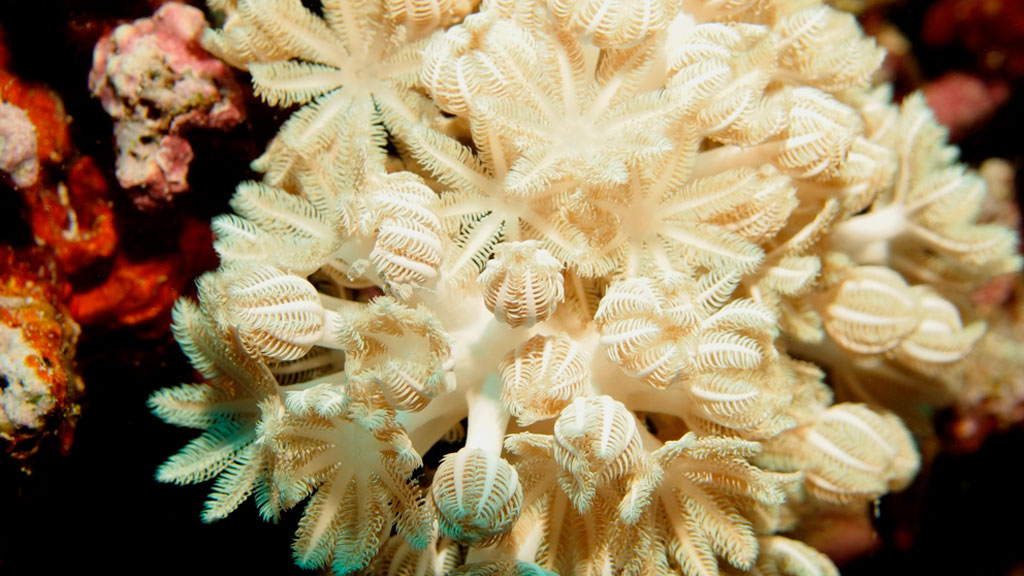 There are a number of resorts dotted around the islands, most will collect you in their boat from the airport or ferry terminal. Two good examples are:
Maidive: set directly on the Astrolabe Reef with just five bures and a maximum of 16 guests, assuring you of a completely personal and unique dive experience. A comfortable resort with warm showers, Wi-Fi, and a hammock on your private deck.
Matava: studio-style bures are well-spaced on a steep hillside and have simple, white-tiled bathrooms and excellent, unobstructed views of the ocean. A waterfront deck with daybeds provides a tranquil spot to while away an hour with a book in the shade (the beach is a short boat ride away).
Taveuni
Considered less off the beaten track, Taveuni has a road that runs its full length, and also an airport and ferry terminal.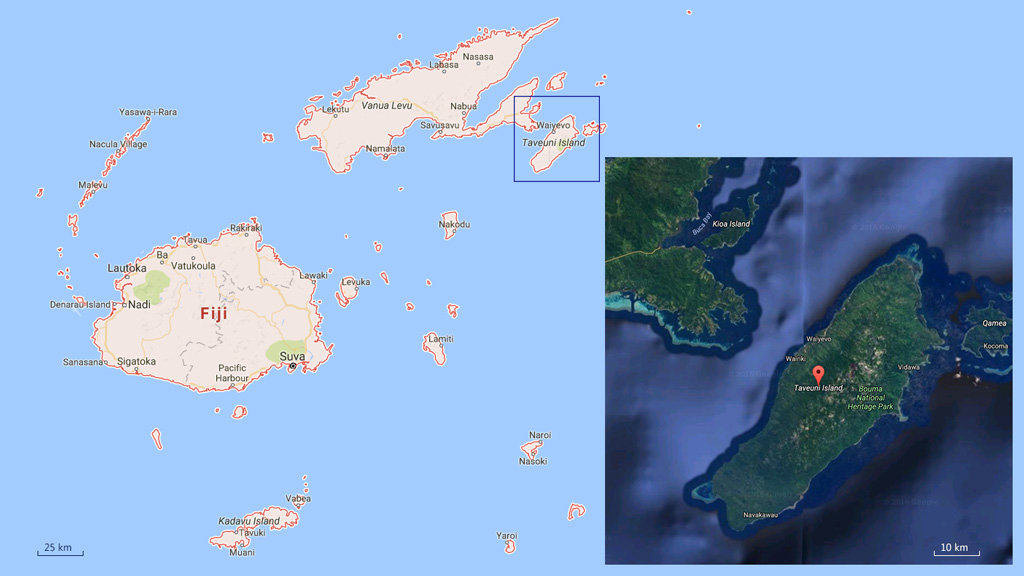 The allure of Taveuni is Rainbow Reef in the Somosomo Straits home world class dive sites like the Great White Wall, The Ledge, and Rainbow's End. Great White Wall, described perfectly by Taveuni Dive Resort as "a perpendicular wall covered in ice coloured soft coral below 16m which keeps going deeper…". It's not just the Wall, there are swim throughs full of night fish, and large coral heads where I personally spent 40 minutes just watching the reef society go about its business.
There are plenty of other dive sites round about too – pretty much all the way along Vanua Levu to Savusavu, and a great shallow reef for snorkelling on the southern tip of Taveuni in Vuna Reef – which can be seen on the map.
There's a well maintained National Park on the other side of Taveuni – Bouma National Park – which has a river cascading in a series of waterfalls down the steep hillside with freshwater swimming pools, and a path alongside it leading to various viewpoints with magnificent views out across the bay.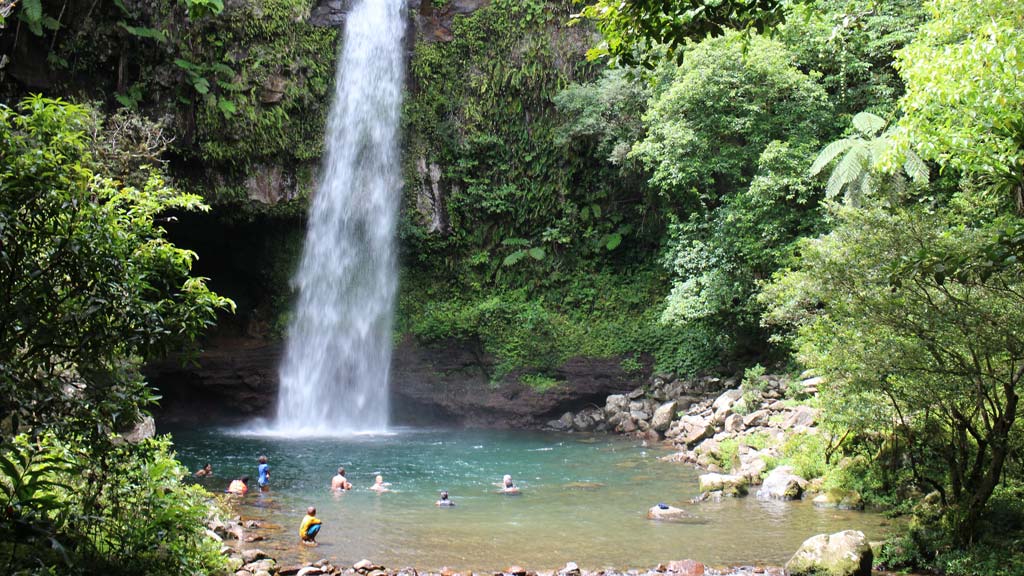 Taveuni has a variety of dive centres and resorts that offer diving; here are two examples from each end of the spectrum.
Dolphin Bay Dive Retreat: based across the Somosomo Strait on Vanua Levu, Dolphin Bay Divers has eco-budget accommodation and also offers diving and dive courses to guests at all the resorts on Taveuni which is just a 20 minute boat ride across the strait.
Taveuni Dive Resort: a purpose built dive resort, based at the Taveuni Estates residential community, Taveuni Dive has four boats and offers double dives every morning to all the sites in the area.
An alternative method of diving these sites, both Taveuni and Kadavu, is on a small ship cruise to the outer islands, with someone like Captain Cook Cruises Fiji.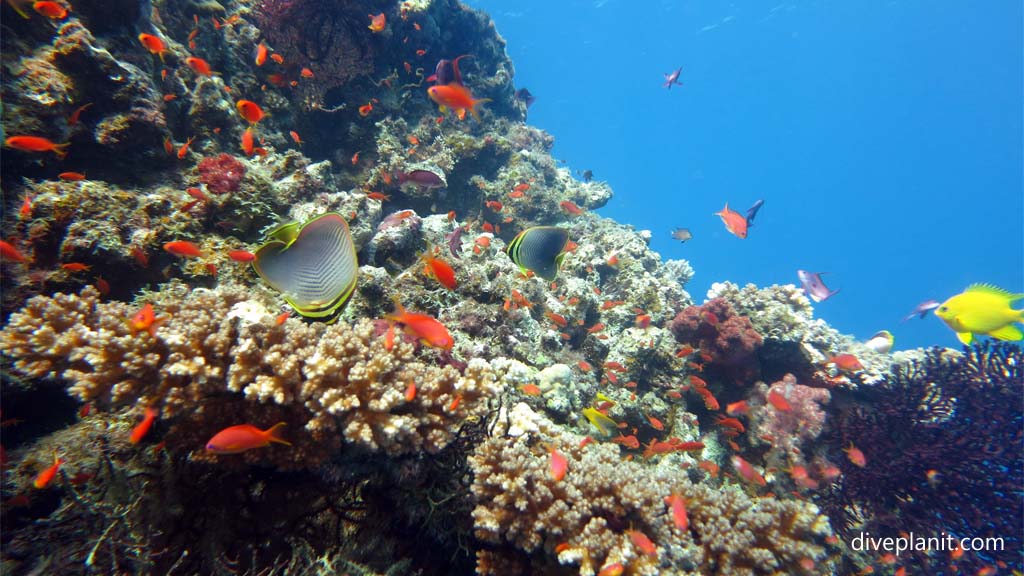 Now your appetite is whetted, you can find more details about how to get to these islands here, and more about Fiji generally, here.
If you liked this post, you might also like Tawali's Underwater Paradise
(Picture credits on this page include Maidive and banner by Dolphin Bay).