Close your eyes and imagine Paradise, what image does that word conjure up?
I'm guessing a tropical island, with a few small fluffy white clouds drifting across an otherwise unbroken blue sky, a huddle of coconut trees, and aquamarine waters lapping gently on white sands. You may also conjure up a few toned and tanned locals dressed in nothing but grass skirts and coconut shells, but let's not go there right now – this story is about diving.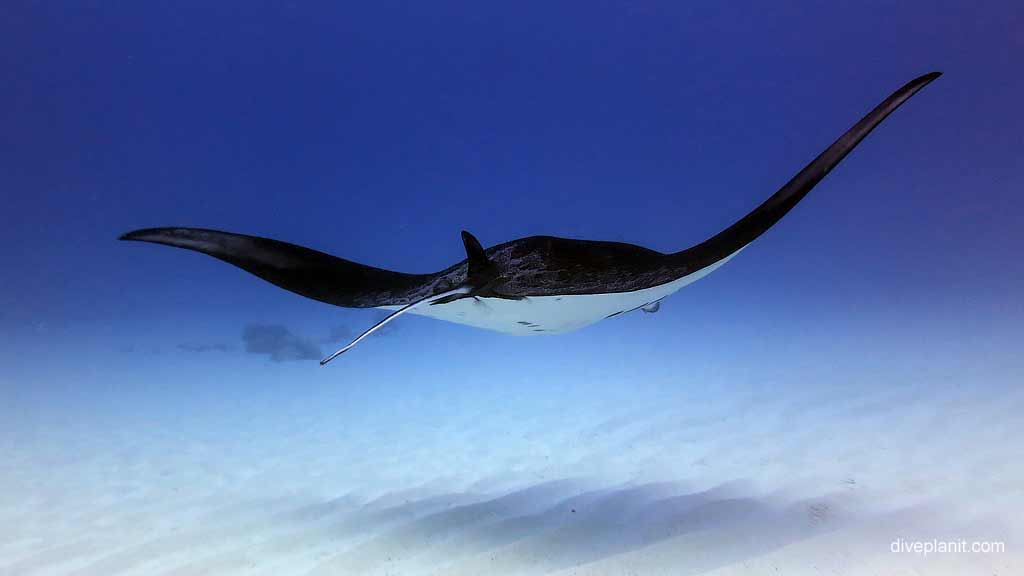 This paradise does exist. The Cocos Keeling Islands is a little outpost of Australia in the Indian Ocean halfway between Perth and Sri Lanka. It is made up of two atolls and 27 coral islands, all dotted around a turquoise lagoon, making for rather fantastic diving conditions.
Humans inhabit just two of these islands: West Island and Home Island. West Island is the centre of administration, and where you'll find the airstrip (which doubles as a 9-hole golf course), post office, a couple of restaurants, the pub and all available accommodation. Around 100 Aussies live here – it's a bit like a country town, only it's in the middle of the Indian Ocean.
Home Island is actually home to the local Malay community, who number around 400. The Malays first came to this outpost when the islands were first settled in the early 19th century, the labour force for a once-thriving copra industry.
The lagoon is visited by turtles, dolphins, mantas, there's even a resident dugong called Kat. There is also a lot of less natural stuff in there, dumped by man of the last couple of centuries including cables, cannons and wrecks – all of which have formed small artificial reefs. Add these to the natural coral reefs dotted all around the islands and you've got yourself a real diver's paradise.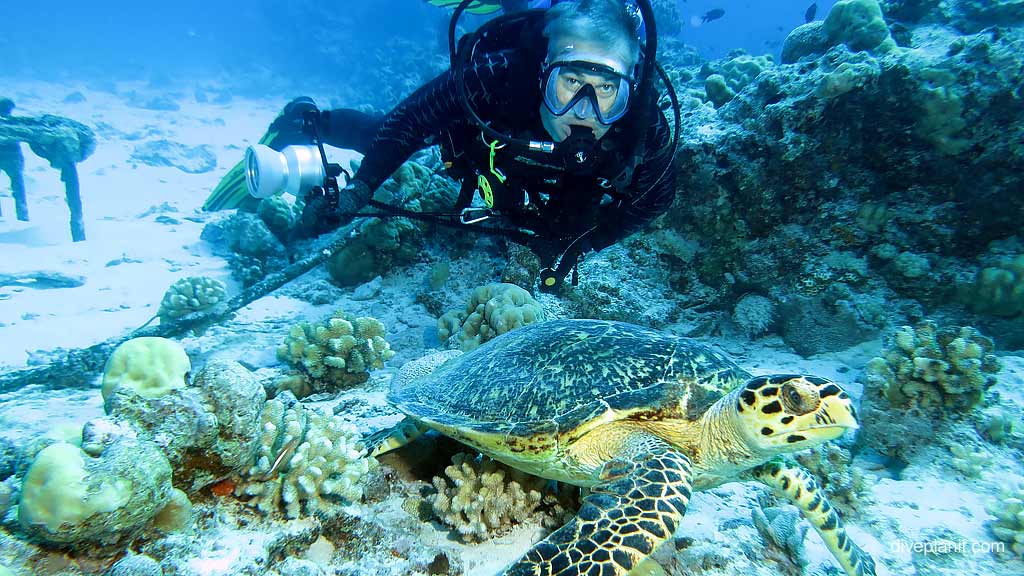 Cocos has a well-established dive centre called, not surprisingly Cocos Dive, who operate trips every day to all the best dive sites.
Your typical diving day runs like this: Dive Master Dieter will pick you up from your accommodation at eight o'clock. After checking and loading your gear you'll be in the boat by 9 o'clock setting off across the lagoon for the first dive.
The lagoon's waters are flushed with the clean, crystal clear waters of the Indian Ocean, from which direction only the Indian Ocean knows but Dieter heads off to find the sites that will be perfect for the day.
Today it's 'Cannons', and we get a short history lesson on the way, which always makes a wreck dive more interesting. Cocos was discovered by an English captain called Keeling in 1609 but it wasn't until two centuries later that a Scottish captain, Clunies-Ross established a coconut plantation here using Malay Labour with himself as a feudal lord.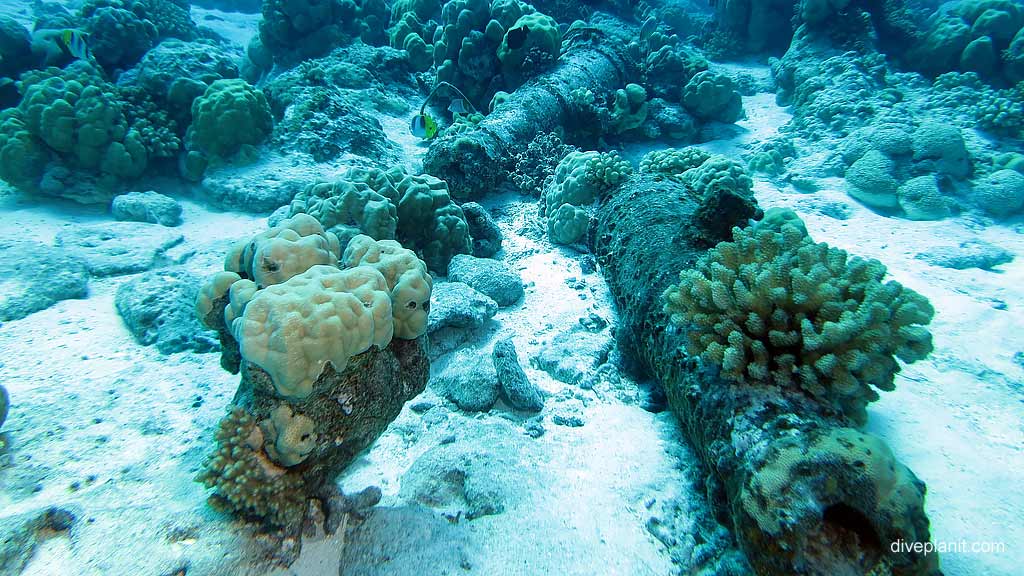 So yes it does have coconut trees, in fact acres of them. But they don't huddle, they stand in long, straight, and now idle rows, as the harvesting of coconuts has long since become uneconomical.
It's Dieter's supposition that the ships that came to collect the copra (derived from coconuts) would have had to have some ballast to get here, and these half-dozen surplus cannons would have been dumped over the side prior to their loading of copra.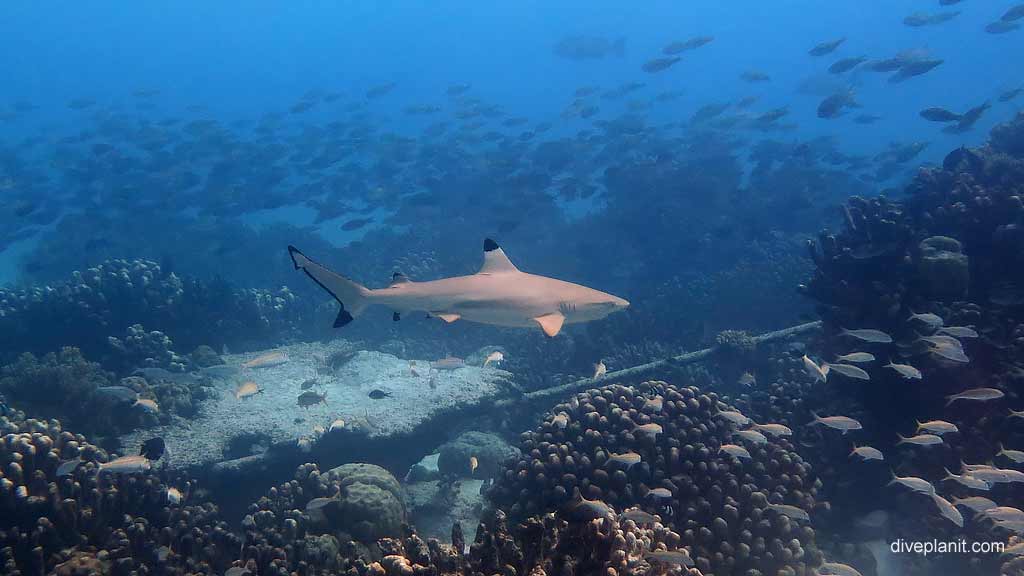 During World War I, Cocos was established as a telegraph station, and guess what happened to all the surplus cables and equipment afterwards? That's right, they went to another dive site creatively called 'Cables'.
But today we're diving at Cannons. The cannons themselves are really just a sideshow to the natural reef. We catch sight of the Cocos Pygmy Angelfish found only here and at Christmas Island, also a friendly turtle who obliges us the opportunity for a great photo shoot, a not so playful octopus and the ever present reef sharks cruising around at a respectful distance.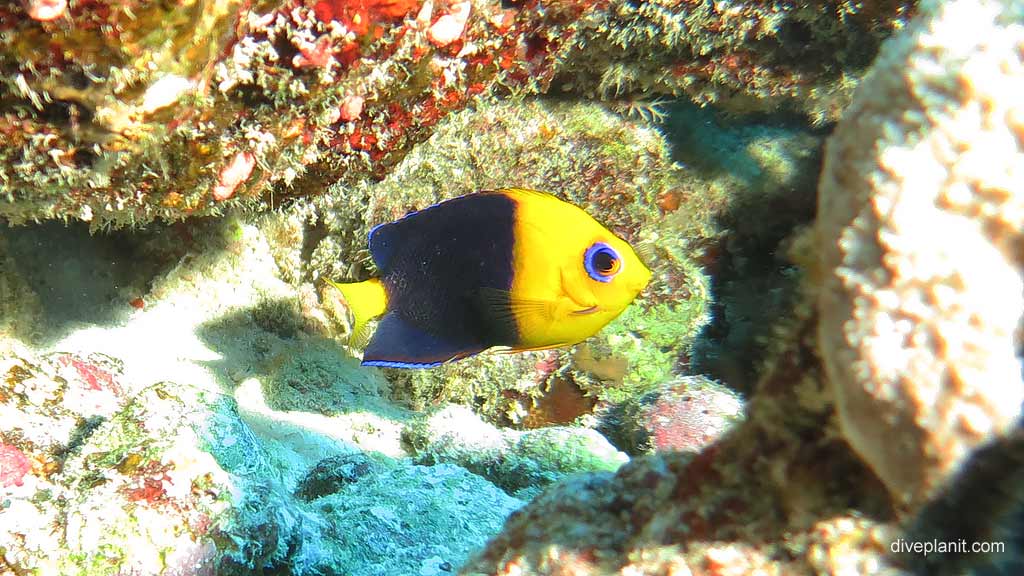 Lunch is at Direction Island where a sheltered picnic table is decked with a red-and-white chequered cloth and an amazing array of salads, cold meats, cheeses and bread, freshly baked that morning, is spread before us.
It is warm and sunny and fluffy white clouds drift across the sky, the temperature is 28° moderated by the gentle breeze of Southeast Tradewinds. It's always summer here in paradise and as I look out over the white sands into the aquamarine waters of the lagoon, a deep tranquillity washes over me.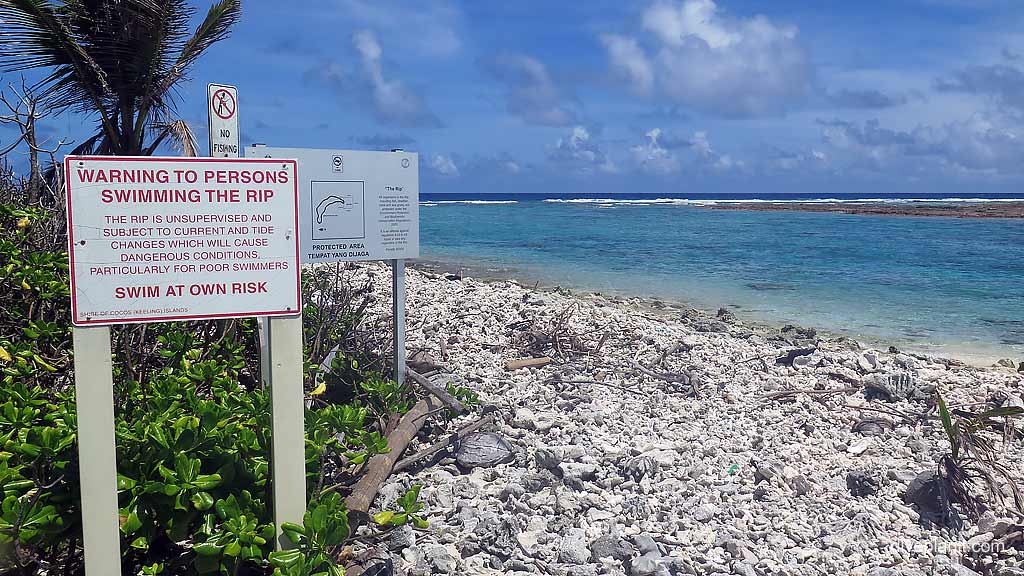 But not for long. Next up: a snorkel at The Rip. At the end of Direction Island is a gap before the reef of the next island where the Indian Ocean flows into the lagoon. Enter at the right spot and you'll get an exhilarating drift snorkel over reef sharks and humphead parrotfish, drifting back into the bay to almost where you started out – a bit like a natural waterslide, and worth doing a few times for the hell of it.
As we set off for the second dive Dieter can't resist a quick stop at the Service Station. This is not for his boat, this is a local cleaning station for the mantas that cruise the lagoon. As luck would have it there are a couple around so we decide to slip in for a spot of manta watching.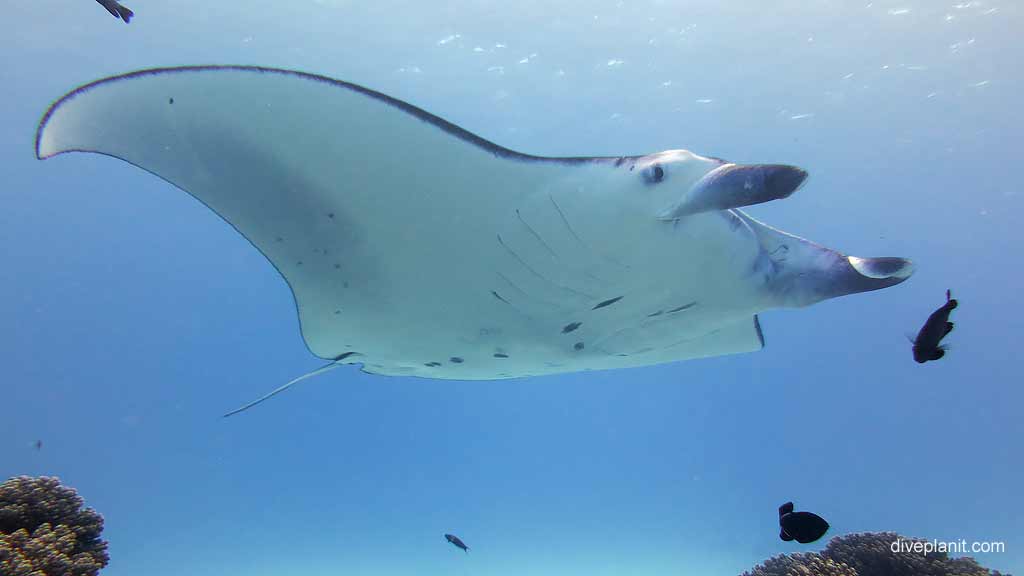 Dieter knows the path they take to approach the reef where the cleaning takes place so we can sneak in from the opposite direction and grab some lovely close-up photos. It's tempting to continue the dive on the reef there as there's lots of marine life and at 9m with great ambient light you can stay forever.
But our dive guide has another treat for us so we're off to Cologne Gardens. As soon as we hit the water we're greeted by a colony of batfish looking at us bemusedly as we fumble awkwardly sorting buoyancy and camera gear trying not to look quite so clumsy in front of these elegant and graceful fish.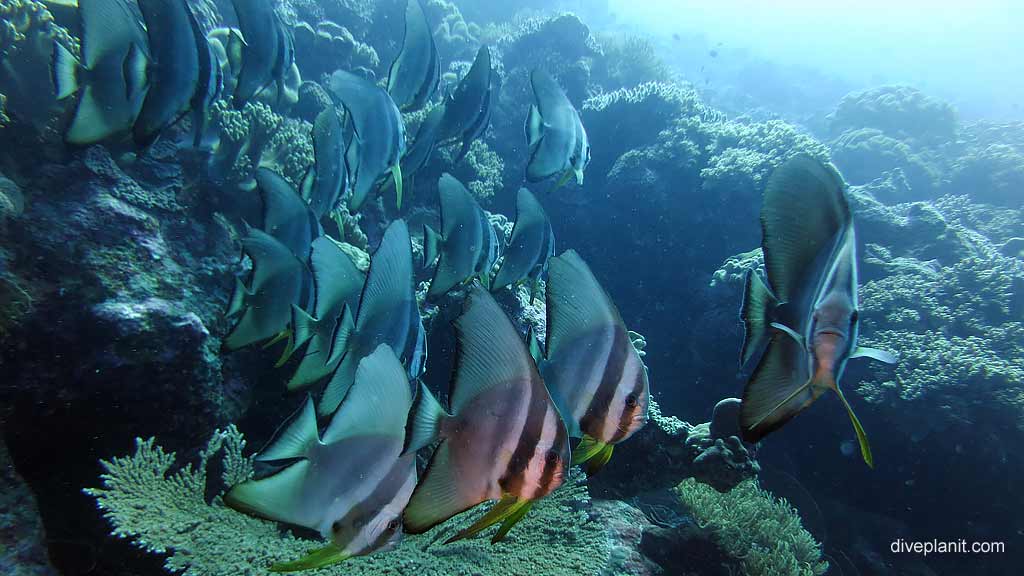 Cologne Gardens doesn't have Gothic towers but it does have beautiful coral gardens teeming with fish and magnificent gorgonian fans, standing almost as tall as me, down on the edge of the reef.
Climbing back into the boat and feeling happy with the day's diving, we set off back to West Island. But the diving day isn't over yet: as were crossing the lagoon we run into a pod of spinner dolphins (or they run into us – I'm not sure which), and by the way they are surfing our boat's bow wave, it looks like they're up for a play.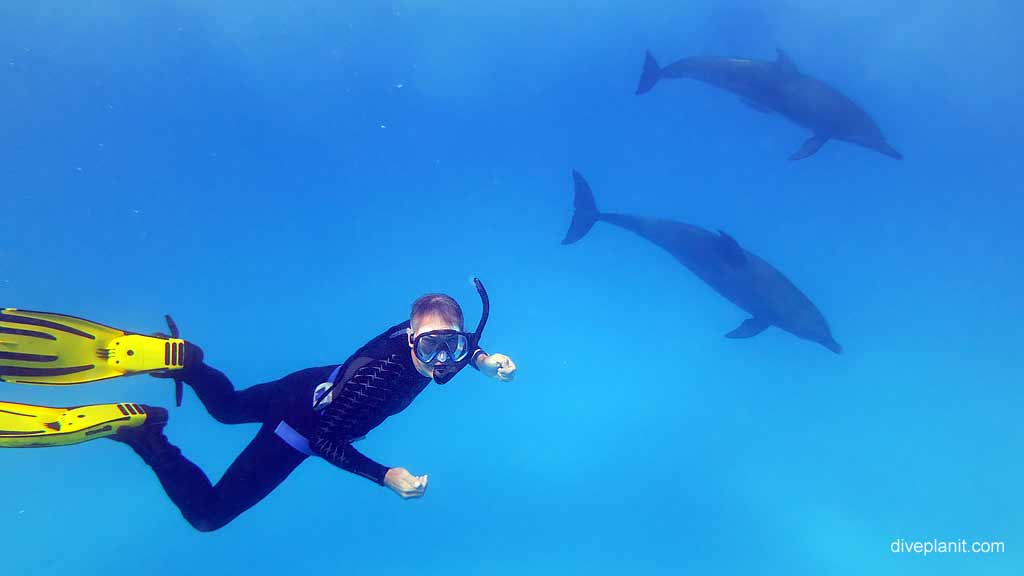 So once again we slip into the water with mask, fins and snorkel this time, and Dieter drives the boat around in wide circles bringing the dolphins with him. They whizz around under and over us and wait for a moment at 5m offering us the chance to dive down and swim with them.
Wearily we climb back into the boat and finish our trip back to Cocos Keeling Islands West Island and end the day with a cold beer at the Cocos Club (the pub), sharing our best dive stories of the day while the sun sets over the Indian Ocean and the fluffy white clouds turn all shades of orange and red.
If you liked this post, you might also like Christmas Island Close Encounters (with Whale Sharks!)