Introduction
Location
Accommodation
Diving
Pricing & Schedules
Enquire Now
Shore Thing is one of the newest diving liveaboards in Australia and was first to offer a Ningaloo liveaboard dive trip. Diving from Coral Bay this Ningaloo Liveaboard has access to many Ningaloo Reef dive sites.
Shore Thing is a purpose-built, Roger Hill designed and beautifully appointed, liveaboard sailing catamaran, 51 feet in length and 27 feet in width. Being a catamaran, she is extremely comfortable and stable, both at sea and at anchor and can cope with all weather conditions.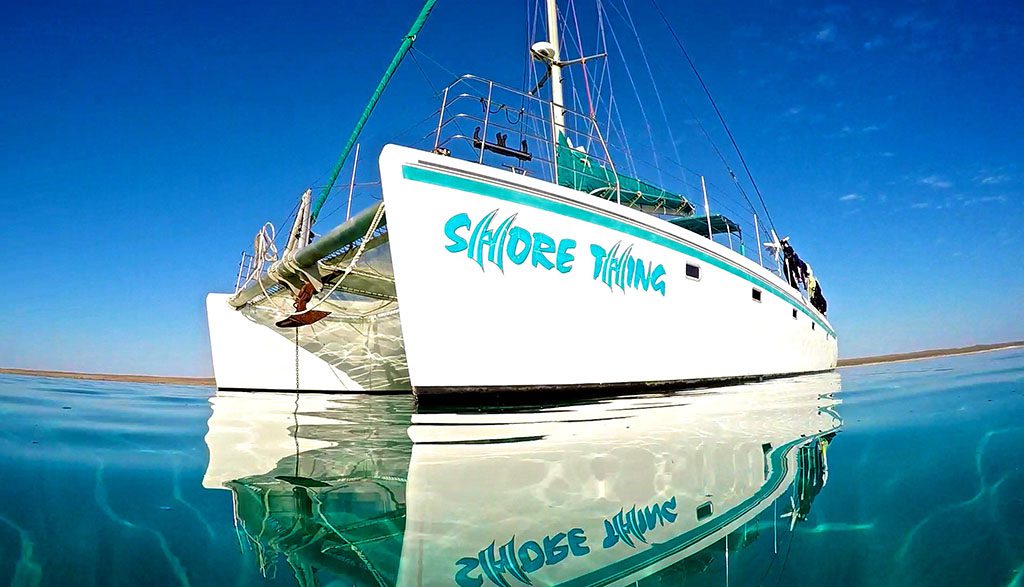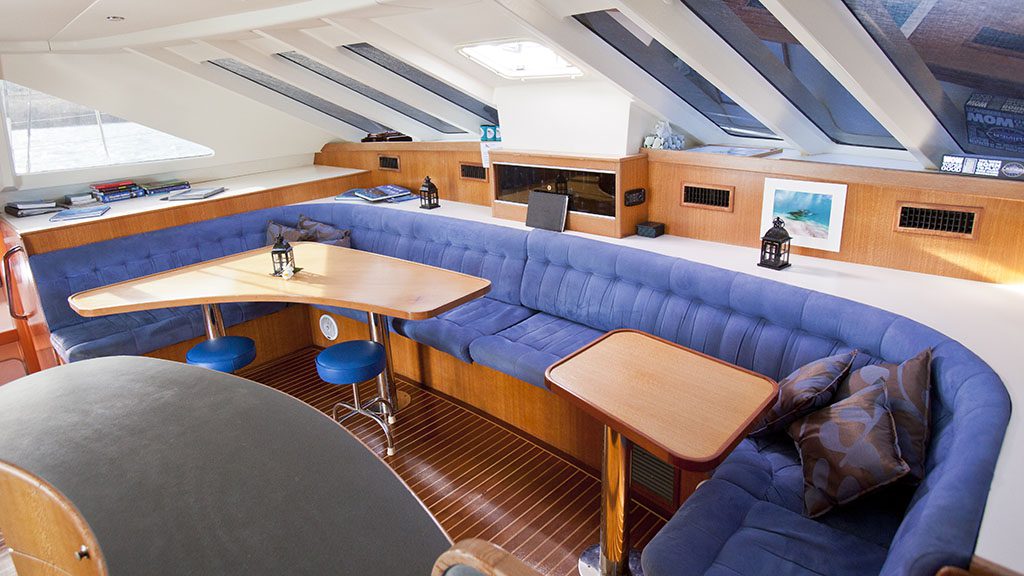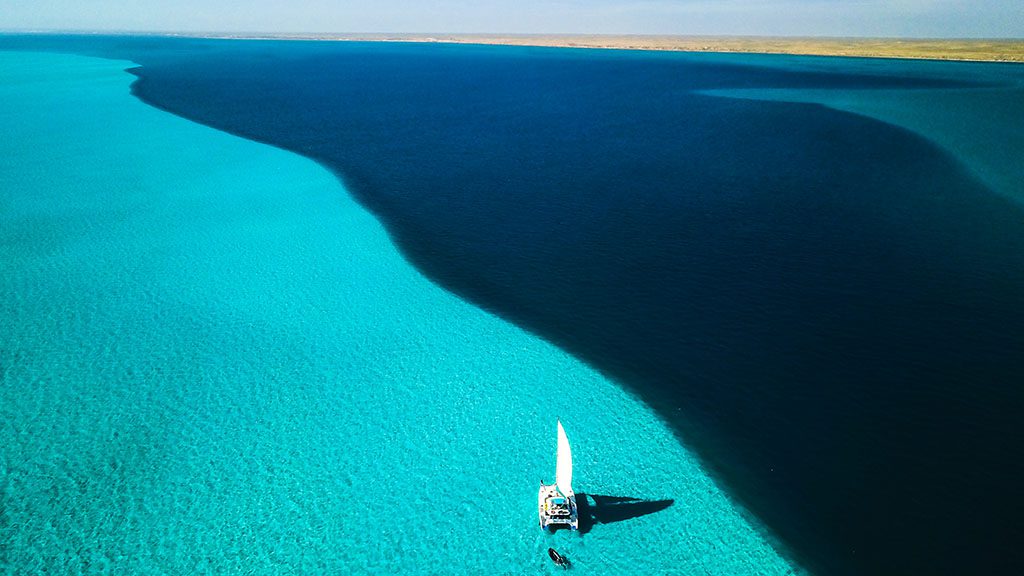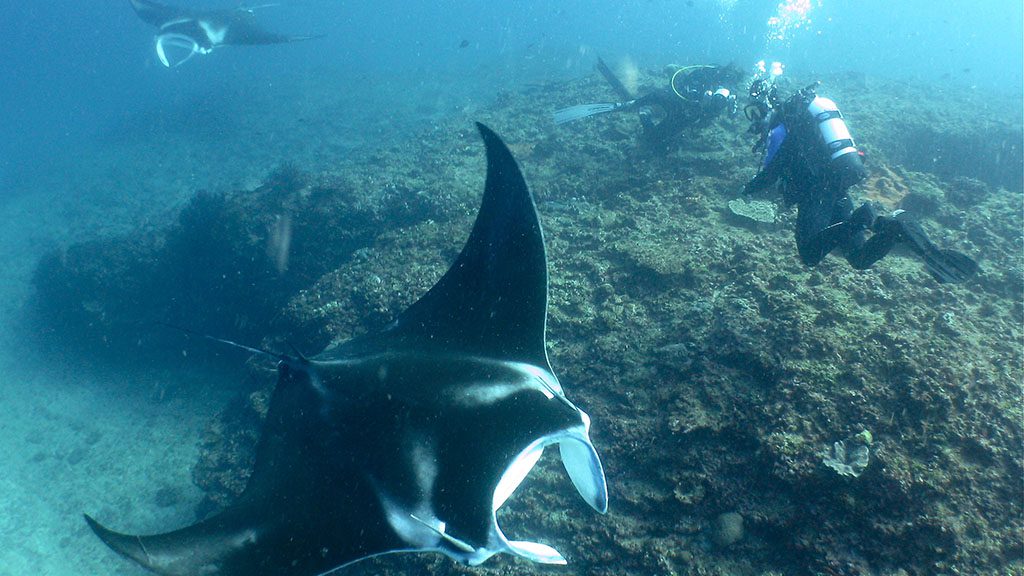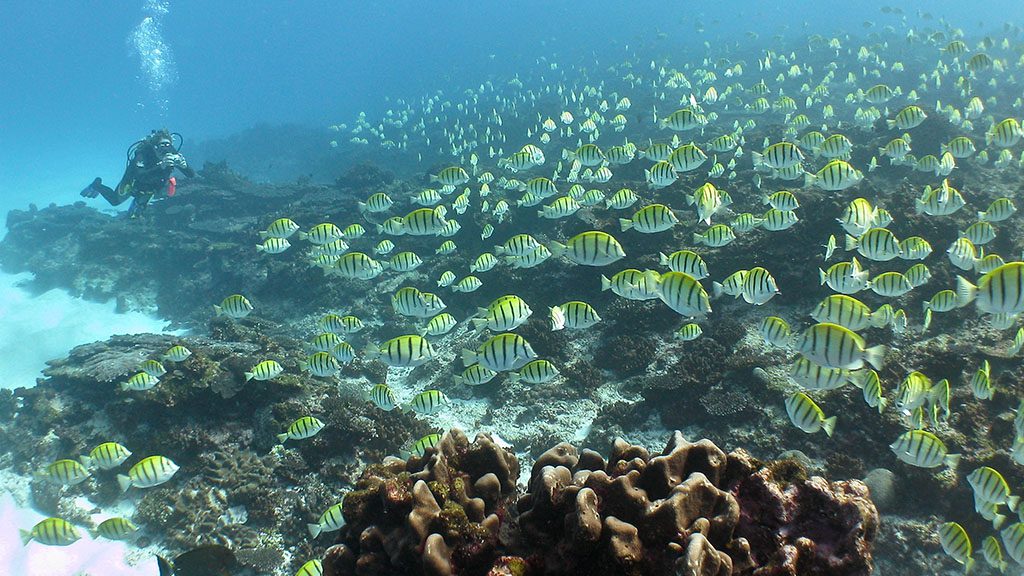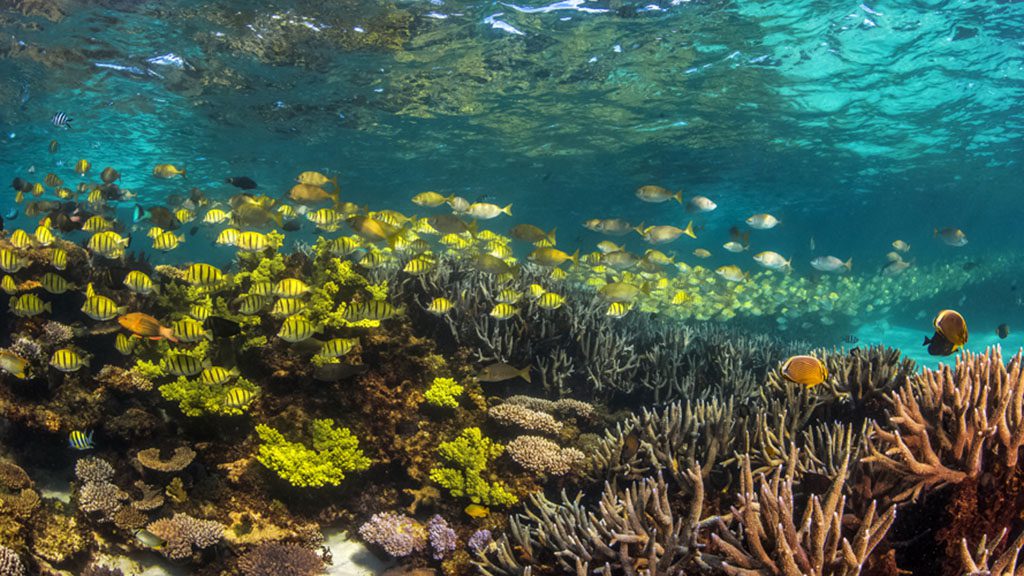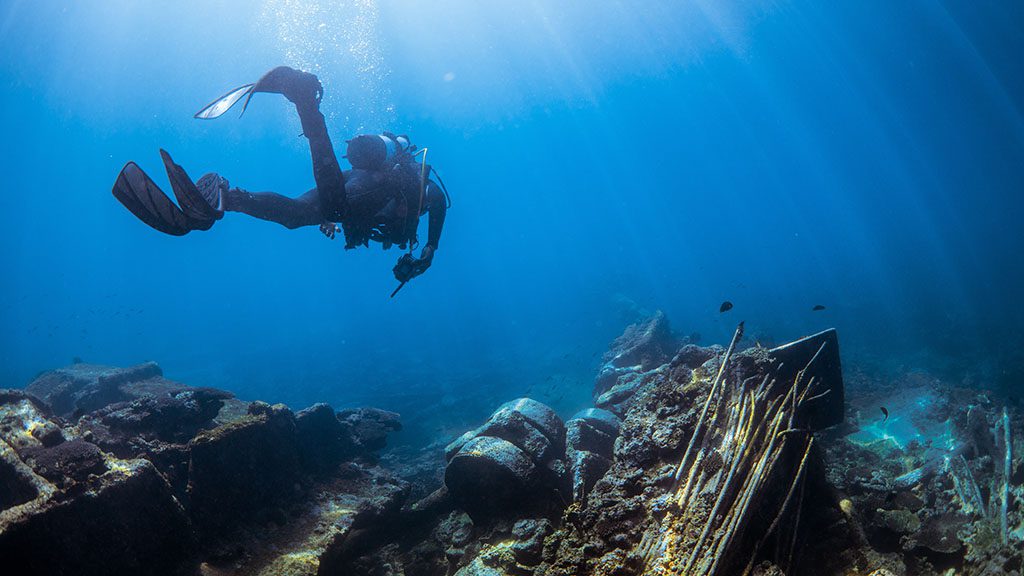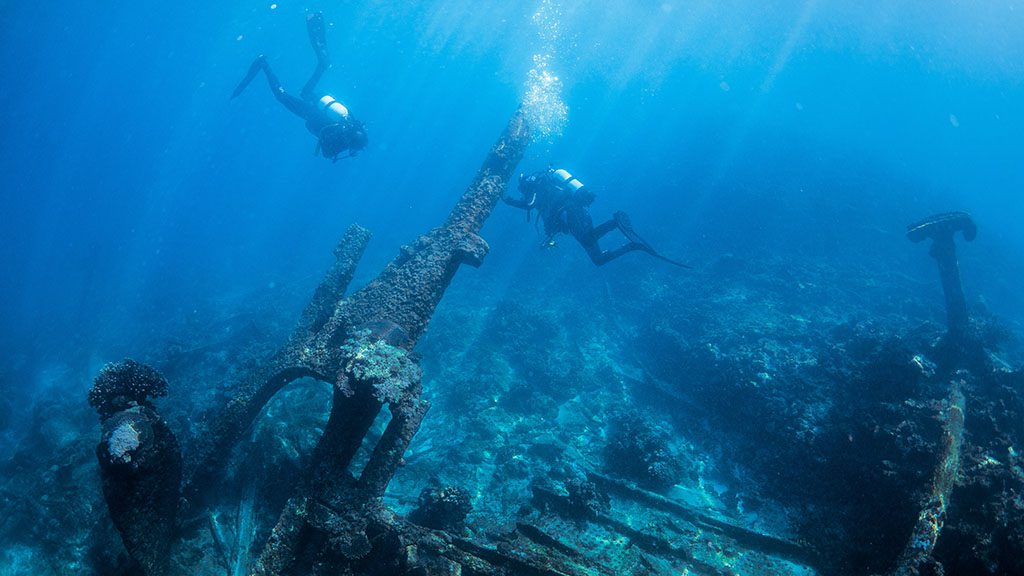 Shore Thing's helm features comfortable seating so guests can enjoy the journey alongside their captain with a bird's eye view of the natural wonders of the Ningaloo Reef. Otherwise relax on the forward deck and trampoline area, in the shade of the sails. The saloon area has ample room to seat all guests in comfort. The large back deck area is well shaded and a lovely area for outdoor dining.
Choose from 3-night Getaway, 5-night Escape or join them together for a 8-night Ultimate Ningaloo Trip.
All tours depart from Coral Bay at 4 pm and disembark Coral Bay approximately 12:30pm. Coral Bay is accessible from Exmouth using via a bus that also calls at Learmonth airport on the way and with timing to meet both the Shore Thing embarkation and disembarkation times, as well as the local flight times. Coral Bay also has an air strip, useful only if you are chartering a light plane
Accommodation on board is orientated toward small numbers to ensure your unique experience, with a maximum of 10 guests. Shore Thing has 4 toilets and 4 showers on board and beautifully designed cabins for privacy and comfort. Cabin types include:
Stateroom King – Private Room featuring en-suite with toilet and shower, air-conditioning, fan and king bed
Deluxe Double Cabin – Private room featuring air-conditioning, fan and double bed with shared facilities.
Stateroom Twin – Private Room featuring en-suite with toilet and shower, air-conditioning, fan and twin beds.
Stateroom Triple – Private Room featuring en-suite with toilet and shower, air-conditioning, fan and double bed with additional single bunk or 3 single beds.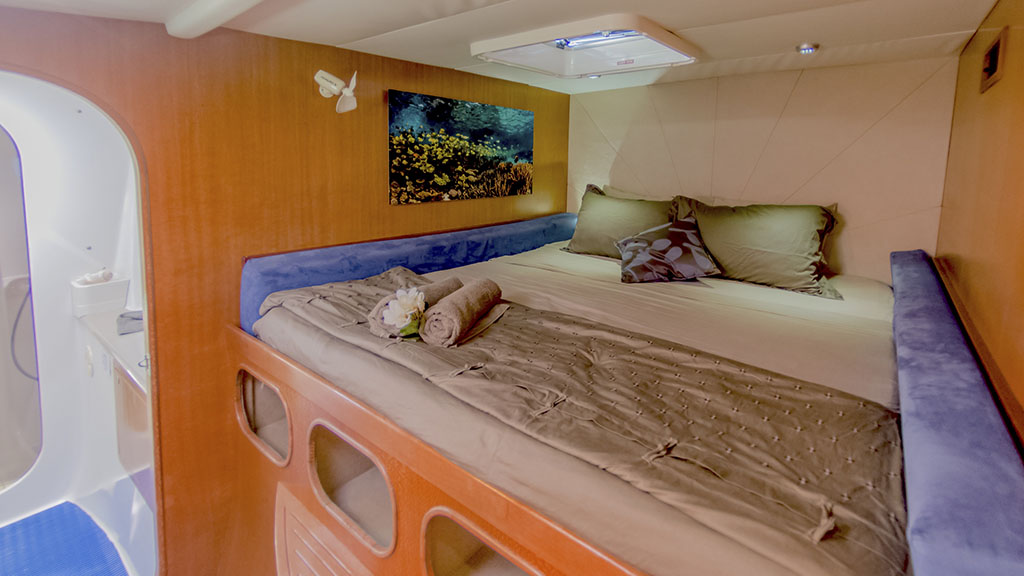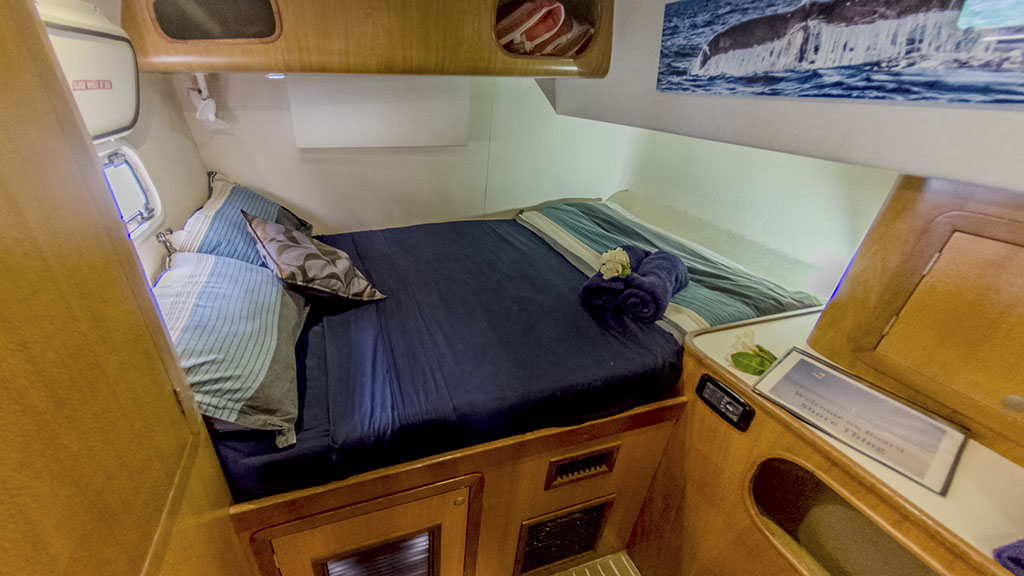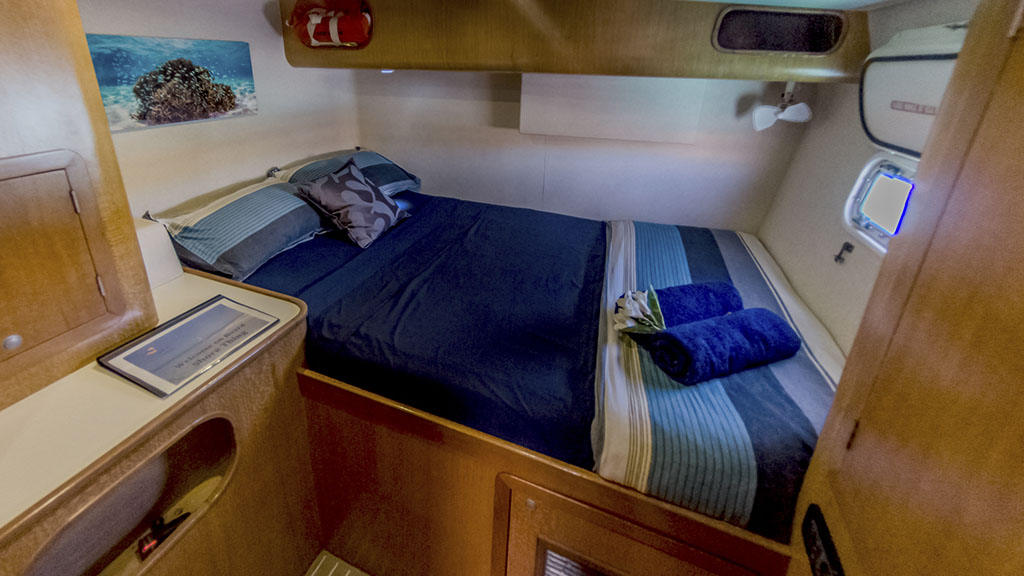 Scuba diving trips onboard Shore Thing are ideal for small groups, dive clubs and couples. Catering for only a maximum of 8 divers there is no chance of being on an overcrowded dive site.
Inner reef dive sites offer brilliant coral coverage and a safe haven for turtles, rays, reef sharks along with all the smaller critters, such as nudibranchs and moray eels. Outer reef dive sites include wall dives, historic shipwrecks and reef ledges, known cleaning stations for sharks and manta rays and many more!!
A qualified PADI divemaster, or instructor, oversees all dives and will assist with all of your equipment and make your scuba diving holiday one to remember for all the right reasons.
Scuba diving activities are accommodated on all scheduled tours, however, the dedicated diving tours allow the tour to be tailored specifically to divers. Dedicated diving tours are offered on a regular basis each season, subject to demand.
One of the benefits of diving Ningaloo by liveaboard is that you are able to explore more of the Reef. Sail Ningaloo has found outer reef dive sites that no one else dives on, including 'The Coliseum', 'Whale Rock' and 'The Ravine' with depths up to 30m. Chances of seeing Manta Rays, sharks, and schooling pelagics is very high, not to mention the excellent coral coverage.
Pricing for Sail Ningaloo - the Ningaloo Dive Liveaboard
Valid to 31 December 2023
3 Nights Snorkel & Dive Getaway
AUD
Stateroom (double or twin share)
2900
Stateroom (single)
5800
Deluxe Cabin Port side with private facilities (double)
2650
Deluxe Cabin Port side with private facilities (single)
3975
Deluxe Cabin Starboard side with shared facilities (double)
2350
Deluxe Cabin Starboard side with shared facilities (single)
3525
5 Nights Ningaloo Escape Tour
Stateroom (double or twin share)
4350
Stateroom (single)
8700
Deluxe Cabin Port side with private facilities (double)
3950
Deluxe Cabin Port side with private facilities (single)
5925
Deluxe Cabin Starboard side with shared facilities (double)
3550
Deluxe Cabin Starboard side with shared facilities (single)
5325
8 Nights Ulimate Ningaloo Tour
Stateroom (double or twin share)
7250
Stateroom (single)
14500
Deluxe Cabin Port side with private facilities (double)
6600
Deluxe Cabin Port side with private facilities (single)
9900
Deluxe Cabin Starboard side with shared facilities (double)
5900
Deluxe Cabin Starboard side with shared facilities (single)
8850
Above rates are per person. Included: accommodation as specified, all meals, non-alcoholic beverages, bed linen, beach and bath towels, snorkeling and kayaking gear (incl wetsuits), diving weights and tanks.
Excluded: dive gear rental ($120 for 3 nights; $180 for 5 nights; $300 for 8 nights), Airport transfers to Coral Bay ($100pp each way) or transfers to/from Exmouth to Coral Bay ($140pp each way).
Please use the [Enquire Now] tab to give us your exact requirements in terms of Trip dates, number of divers/snorkelers, and we'll give you the best deal we can.
Valid 01 Jan 2024 to 31 Dec 2024
3 Nights Snorkel & Dive Getaway
AUD
Stateroom (double or twin share)
3100
Stateroom (single)
6200
Deluxe Cabin Port side with private facilities (double)
2800
Deluxe Cabin Port side with private facilities (single)
4200
Deluxe Cabin Starboard side with shared facilities (double)
2500
Deluxe Cabin Starboard side with shared facilities (single)
3750
5 Nights Ningaloo Escape Tour
Stateroom (double or twin share)
4600
Stateroom (single)
9200
Deluxe Cabin Port side with private facilities (double)
4200
Deluxe Cabin Port side with private facilities (single)
6300
Deluxe Cabin Starboard side with shared facilities (double)
3800
Deluxe Cabin Starboard side with shared facilities (single)
5700
8 Nights Ulimate Ningaloo Tour
Stateroom (double or twin share)
7700
Stateroom (single)
15400
Deluxe Cabin Port side with private facilities (double)
7000
Deluxe Cabin Port side with private facilities (single)
10500
Deluxe Cabin Starboard side with shared facilities (double)
6300
Deluxe Cabin Starboard side with shared facilities (single)
9450