With countless species of sharks and rays, exciting pelagic action, whale sharks, mantas, healthy coral reefs, and year-round warm waters… it's really hard to find any negatives about diving in the Maldives. But with so many incredible dive sites scattered around the 1200 islands of the Maldives… where do you start? Here's our take on the 10 best dives in the Maldives.
1. Tiger Zoo – Fuvahmulah Atoll
Perhaps the most famous dive in the Maldives: the tiger shark dive of Fuvahmulah. Tiger sharks can be observed here year-round and at less than 10m/32ft deep. Suitable for divers of all experience levels, there's also a chance to see thresher sharks, mola-mola, and an abundance of manta rays that use the area as a cleaning station.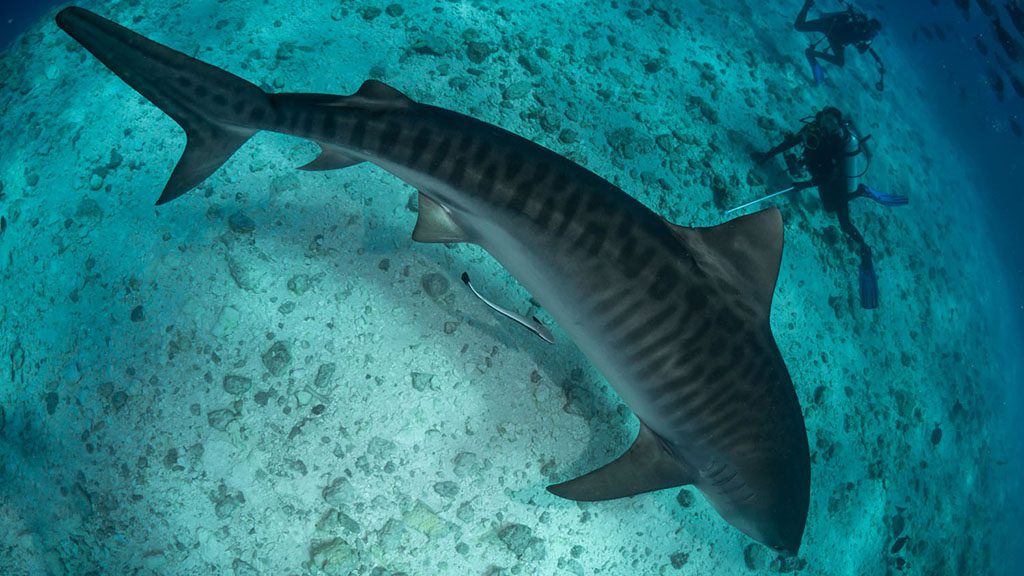 2. Fish Head – North Ari Atoll
Fish Head dive site (also known as Shark Point or Mushimasmingili Thila) is considered by many to be one of the best dives in the world to see sharks. Home to grey reef sharks as well as guitar sharks, barracuda, tuna, and much more. Fish Head is a pinnacle that descends to around 35m/115ft with caves and overhangs for more advanced scuba divers to explore.
3. Maaya Thila – South Ari Atoll
Teeming with life, this pinnacle dive boasts vibrant corals and is home to whitetip reef sharks, gray reef sharks, triggerfish, nudibranchs, and if you're lucky you might spot a giant frogfish. The pinnacle descends to 30m/100ft of depth with mild currents, making it suitable for most reasonably experienced divers.
4. Sun Island – South Ari Atoll
If you're looking to dive with whale sharks, Sun Island is the place to go. With a maximum depth of just 10m/30ft it is easy to spot the gentle giants as they casually cruise by. Beginners and more experienced scuba divers can come to see the whale sharks, as well as swimmers and snorkelers who want to stay on the surface.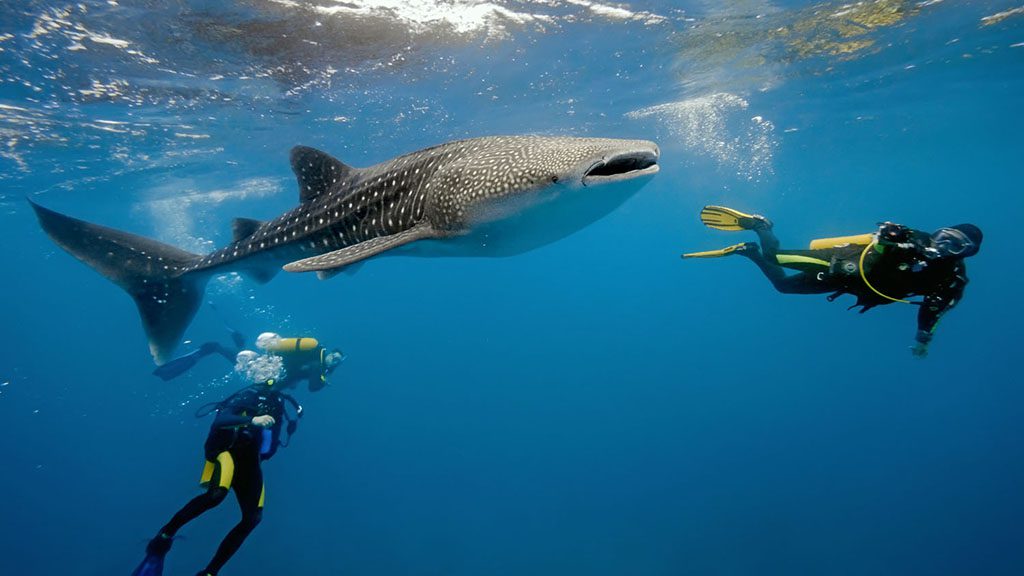 5. Vattaru Reef –
Vaavu Atoll
Divers of all levels can drift along a gentle current and look out for whitetip reef sharks, napoleon wrasse, turtles and much more. More advanced divers can dive a little deeper to explore overhangs at around 30m/100ft, and maybe even spot a hammerhead.
6. Banana Reef – North Male Atoll
Banana Reef has something for everyone; sloping walls, cracks, crevices, carpets of rich corals, healthy marine life, and as much beauty to see at 30m/100ft as there is at 3m/10ft. Napoleon wrasse are a regular sighting, as well as snapper and moray eels.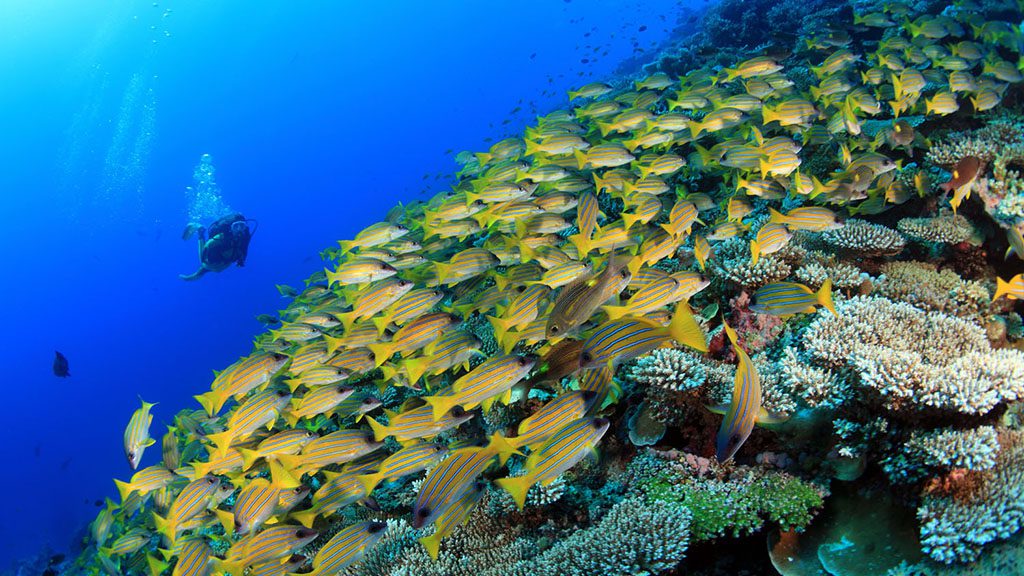 7. Cocoa Thila – South Male Atoll
This pinnacle dive has a sloping dropoff that descends to around 30m/100ft deep and is rich in pelagic life including tuna and trevally. Eagle rays are a regular sighting, and grey reef sharks and turtles often make an appearance too. Strong currents make Cocoa Thila more suited to experienced divers.
8. Kandooma Thila – South Male Atoll
Kandooma Thila is home to barracuda, grey reef sharks, jacks, snapper, and many more beautiful species. "Jack Corner" is situated on the west edge and provides the most exciting sightings. Suitable for more advanced divers who are comfortable with strong currents.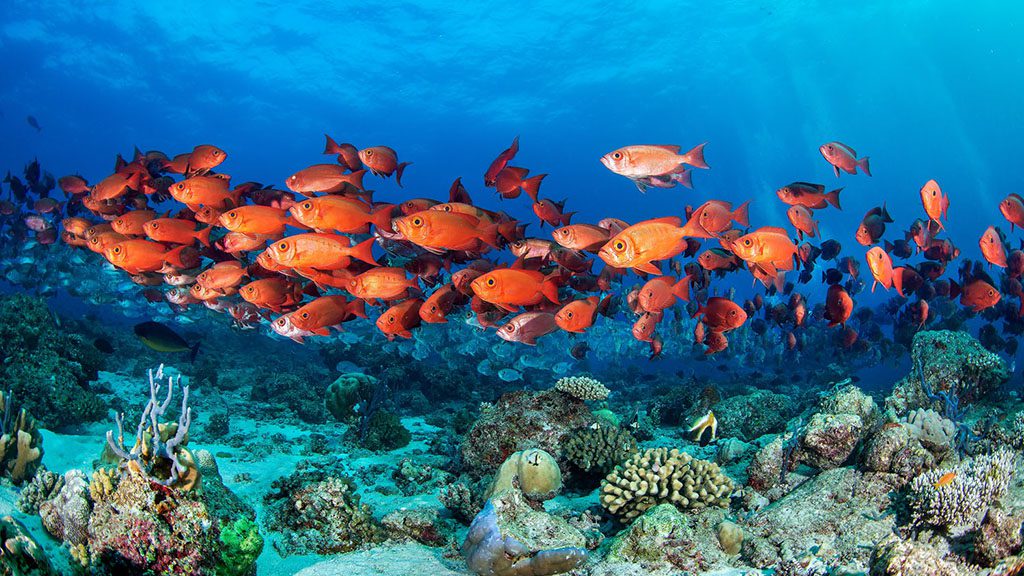 9. Kuredu Express – Lhaviyani Atoll
Heavy currents rush along this sandy channel/reef dive where divers can see barracuda, sting rays, eagle rays, and various species of shark as they cruise by. This intermediate dive also boasts a vibrant healthy coral reef system.
10. Miyaru Kandu, Felidhoo Atoll
Do you love hammerhead sharks? Miyaru Kandu is the best dive site in the Maldives to spot hammerheads. But it gets even better; you are also likely to see other big pelagic fish including dogtooth tuna and grey reef sharks. The best action happens around 30m/100ft so advanced divers will get most out of this dive experience.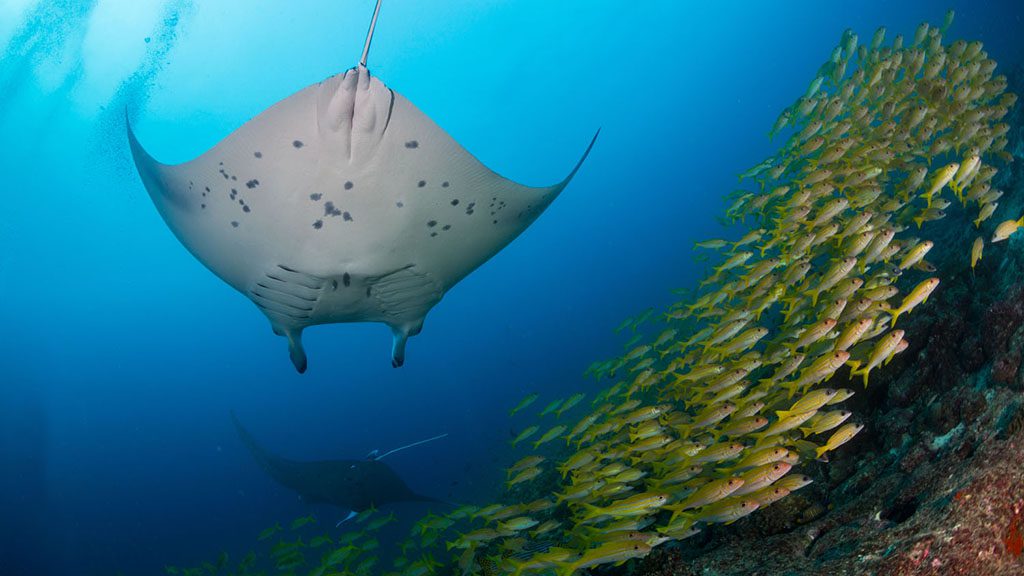 Which dive site are you excited to visit first on your trip to the Maldives?