Overview
The Seadoors Liveaboard is perfectly designed for scuba diving and offers a great variety of different itineraries in the Visayas Seas and at the Tubbataha Reef atolls highlighting some of the very best diving in the Philippines. Seadoors is a luxury liveaboard fully equipped and offering Nitrox, and Rebreather support.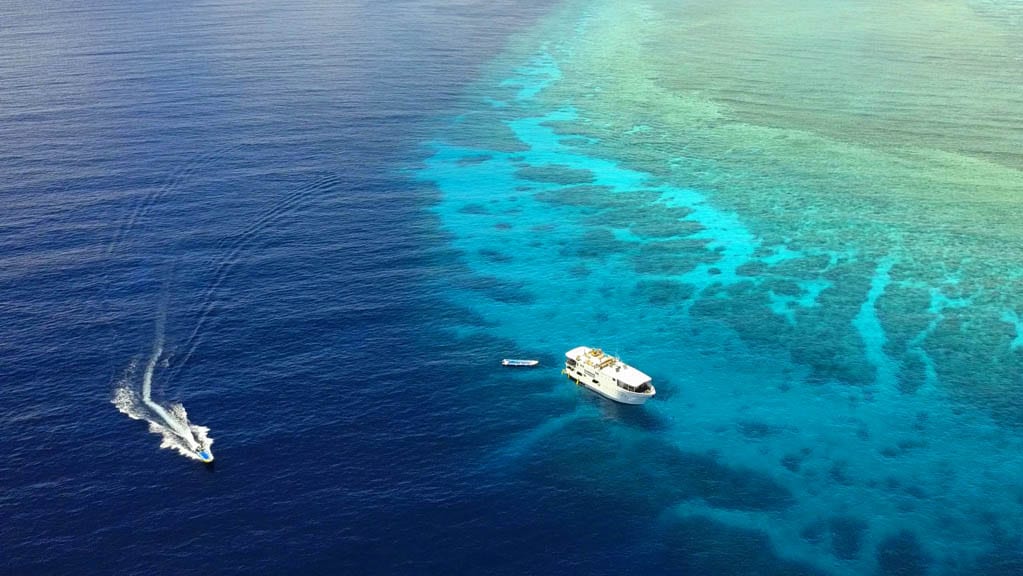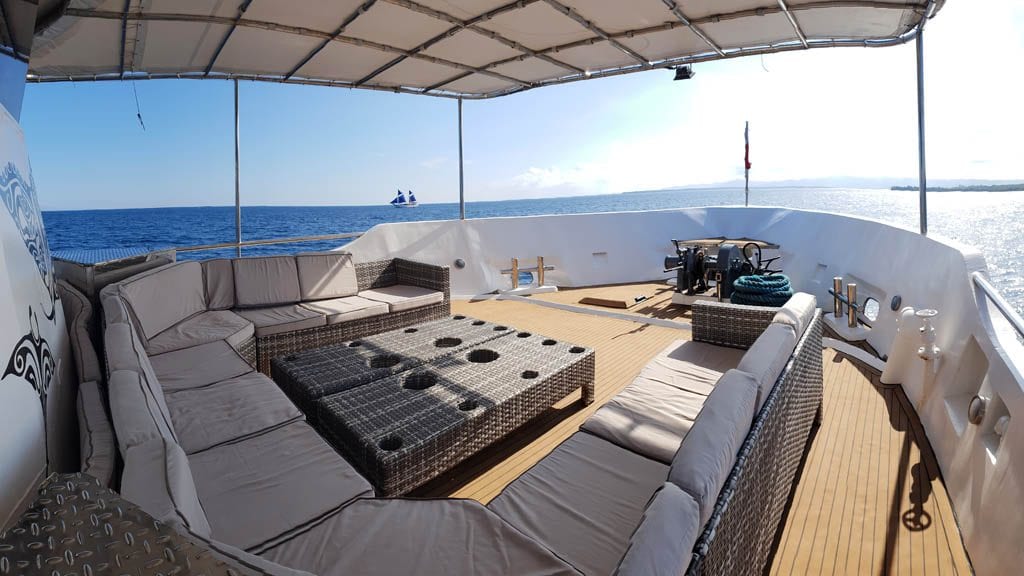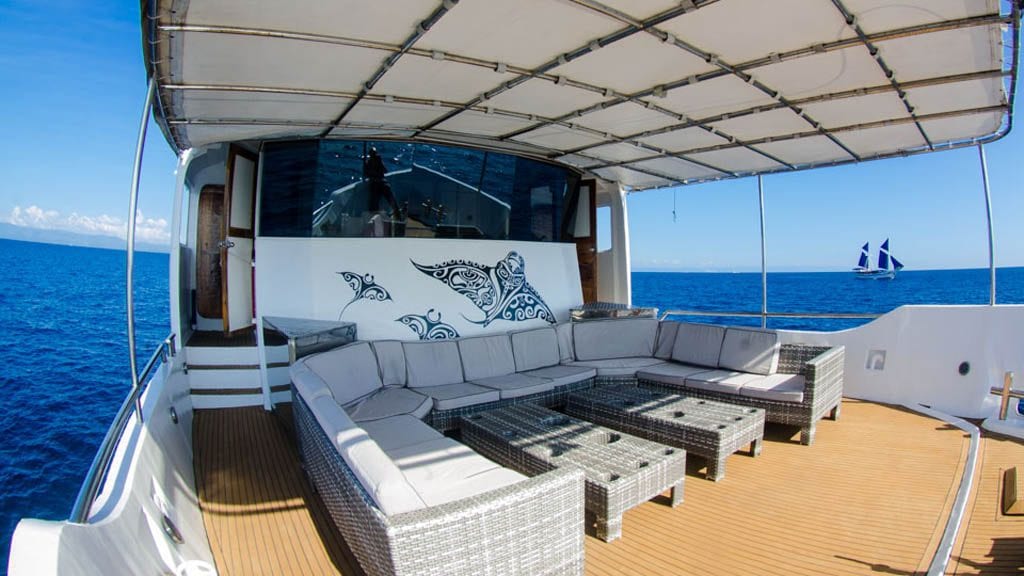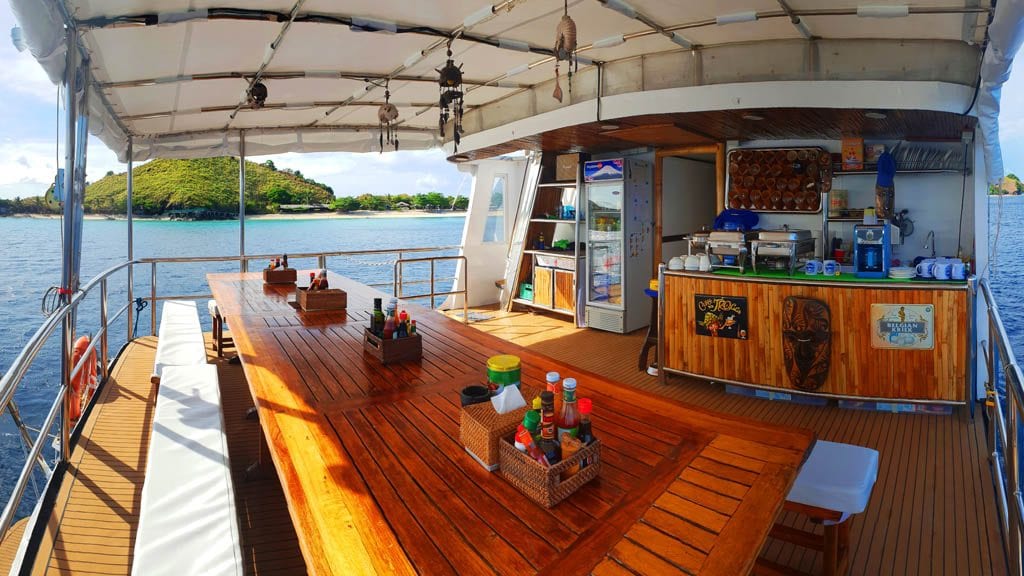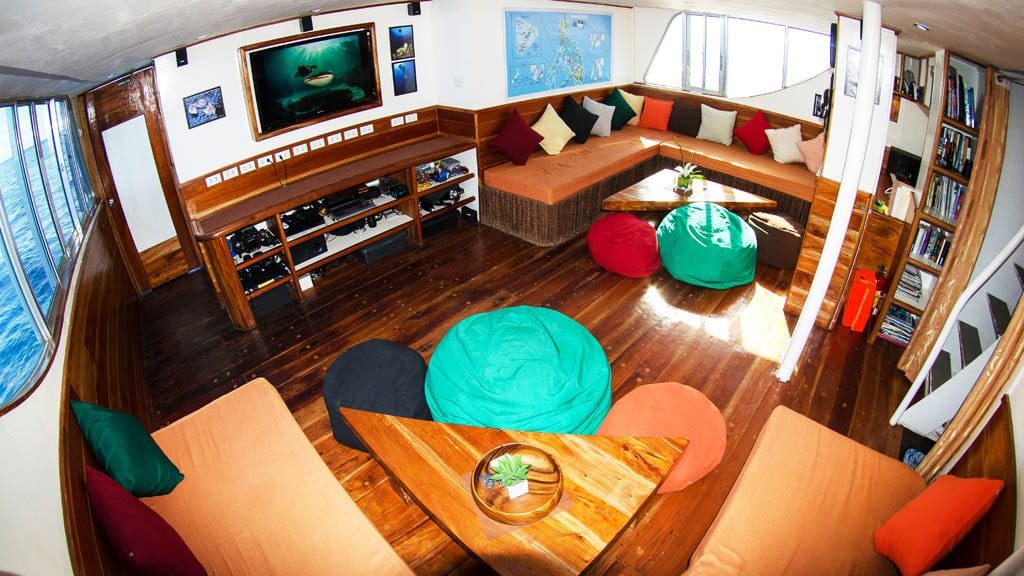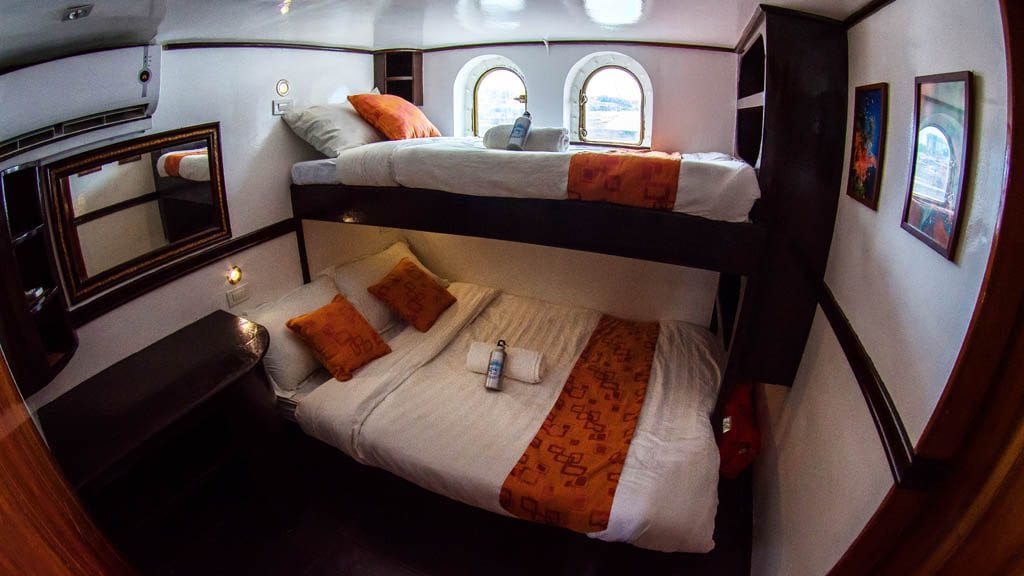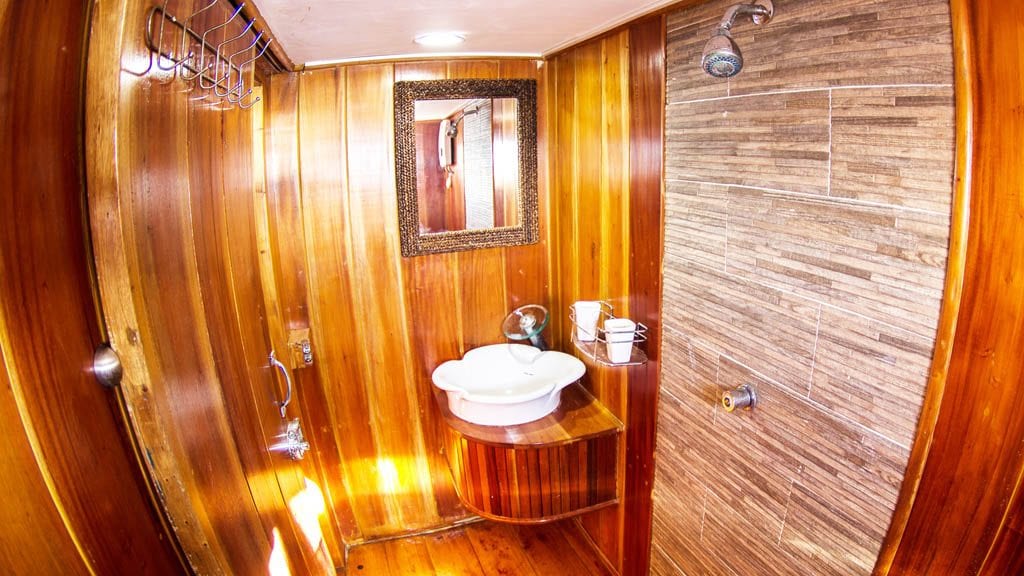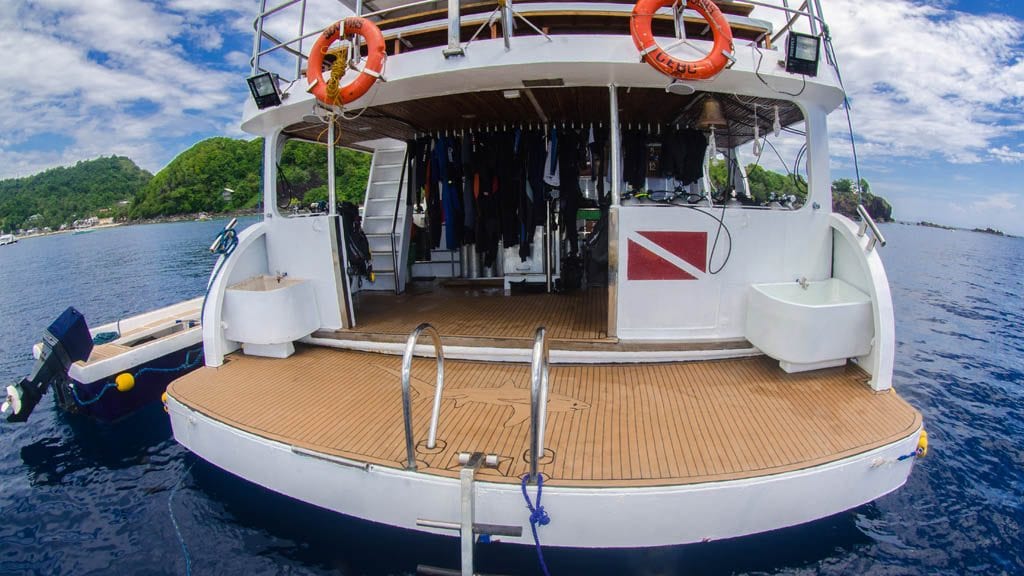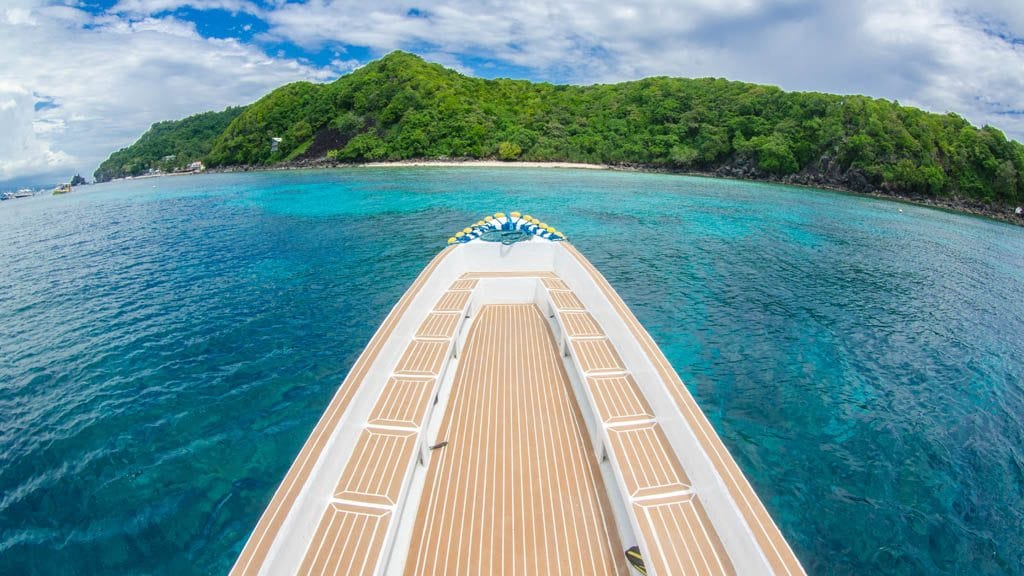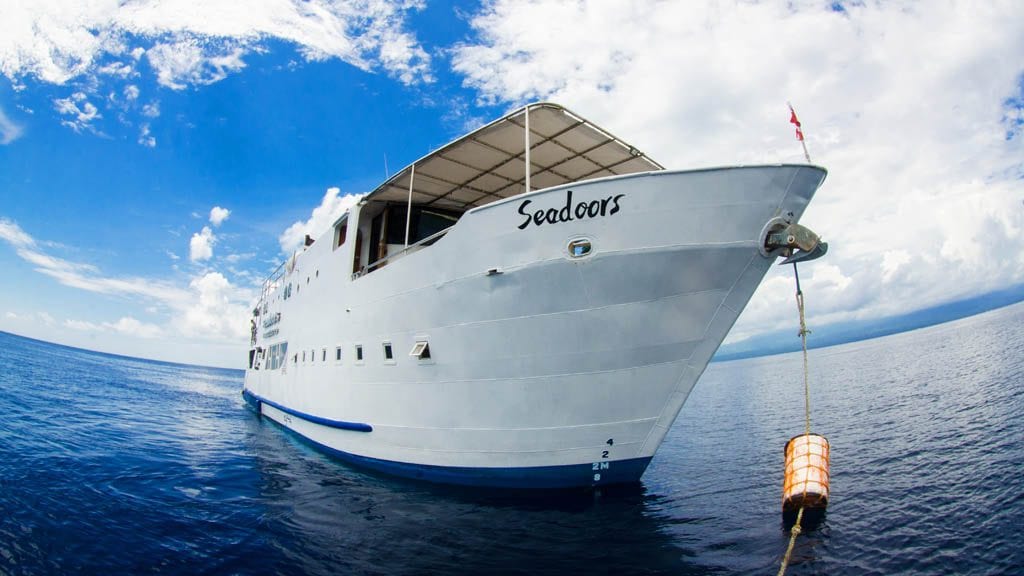 Accommodation
The Seadoors liveaboard has eight comfortable air-conditioned cabins with private showers and toilet, hot water, a double bed and a single bed in every cabin. Two of the cabins are deluxe which additional space and features.
Liveaboard Features
At 25m in length, and a 6m beam, the Seadoors liveaboard is perfectly laid out over its two decks to provide a great diving environment for 16 divers. Inside is a comfortable air-conditioned living-room for relaxation, but also fully equipped with charging stations (Euro round pin 220V ac), and storage stations for photographers and videographers; outside is the dining room and a bar on the rear poop deck offering a beautiful panoramic view whilst you enjoy delicious meals and drinks, and also in the bow is the partially covered sundeck, complete with a Solarium.
Seadoors Liveaboard is also equipped with all the usual logical and safety equipment you would expect to find on a luxury vessel with this range: two gen-sets, water maker, GPS, Radar, Sounder, 2 VHF, Inmarsat satellite phone, forecast receiver, full medical safety equipment and life rafts.
Here's a little video of what to expect aboard the Seadoors Liveaboard
Location
The Seadoors liveaboard itineraries depart from Cebu and Puerto Princesa. The international connecting flights are via Manila and you can fly to Cebu Airport from many international destinations. Domestic airline serve Cebu and Puerto Princesa every day. The air travel getting to the Seadoors liveaboard is relatively simple and not at all strenuous.
What to expect
The dive deck at the stern has space for personal gear stowage, a rack for drying wetsuits and a larger level floor with easy access to the dive platform. There's a sturdy ladder for easy exit from the water and two rinse tanks with arms reach for photographers.
Two 8m chase boats powered with outboard engines 55HP are also deployed as required to get divers quickly to and from dive sites.
Training Courses and Equipment
On board the Seadoors Liveaboard you can hire the full set of dive gear, or individual items such as a torch, a dive computer and even an underwater scooter or full set of Megalodon Rebreathing gear.
Seadoors has a PADI/CMAS instructor, and Divemasters, and two dive Guides – all fluent in English and French.
Seadoors offers everything from Open Water and Advanced courses to some of the more useful speciality courses such as Nitrox and Deep Diver. They also offer CCR (Closed Circuit Rebreather) Courses and have CCR equipment for hire. So if you ever wanted to try out a CCR – this would be the perfect opportunity.
Dive Areas
The Seadoors Liveaboard offers four different circuits around the Visayas, and Tubbataha Reef operating almost year round. There are two transition trips between the two areas which are a unique experience in themselves.
The Philippines has a huge diversity of flora and fauna, colourful coral gardens and its variety of fish from the big pelagics to the little pygmy seahorses. The locations are magnificent, the dive sites are stunning and exotic.
Below is a summary of the different itineraries. You can check out which itineraries have free spots using the live availability listing below that.
Tubbataha The Classic Itinerary: 6 & 8 nights
The UNESCO World Heritage Listed Tubbataha Reefs Natural Park is the crown jewel of diving in the Philippines.
Accessible only by liveaboard (about 12 hour sailing from Puerto Princesa on Palawan Island) from mid-March to mid-June when the seas are calm, even then, the currents can be strong and unpredictable.
Being in the middle of the Sulu Sea, 150km from Palawan, The Sanctuary consists of North and South Tubbataha Atolls, and of Jessie Beazley Reef. Tubbataha boasts a pristine coral reef with a spectacular 100m vertical wall and 40m visibility. The shallow reef tops teem with colourful reef fish and the surrounding waters contain a great diversity of marine life. It is also an important nesting and resting ground for green and hawksbill turtles.
Whales, dolphins, sharks, turtles and Napoleon Truck wrasse are listed along with more than 350 coral species, 11 species of cetaceans, 11 species of sharks and, around 479 other species of fish.
It also has the highest known density in the world of coral sharks, many pelagic species such as the horse mackerel, tuna, Jack fishes, barracuda, and also manta ray, guitar ray, whale shark, and green sea turtle, hawksbill sea turtle.
There are vast multi-coloured coral gardens, and steep walls more than 100 meters high. The preserved reefs shelter hammerhead sharks, tiger sharks, whale sharks, manta ray, turtles, and huge pelagic shoals like barracudas or jack fishes.
To get to Tubbataha, the Seadoors Liveaboard departs Puerto Princesa in the evening heading east for 90 nautical miles, arriving the next morning and offers 3 or 4 dives per day at all the best spots.
Malapascua – Classic Itinerary: 7 days / 6 nights
The Malapascua cruise takes place in the Visayas archipelago. Seadoors leaves Cebu Yacht Club in the evening heading to the north to dive Monad Shoal, a cleaning station of the impressive Thresher Sharks. The next dive in Kimod Shoal is spent searching for the hammerheads and the manta rays. To finish the day Seadoors stops at Dona Marilyn Wreck and we explore Gato Island and its tunnel.
Continuing to the North on to Maripipi, a volcanic island, we dive in magnificent soft coral gardens where sometimes bull sharks can be encountered. Heading south we reach the Camotes Islands time for beautiful dive and land excursion to visit natural underground swimming pools.
Returning back to the south, we spend some time searching for the migrating whale sharks near Limasawa and Pintuyan, and stop at Padre Burgos for a famous night dive.
Seadoors returns to Cebu via Capitancillo Island, and Olango Island.
Malapascua to Cagayan: 11 Days / 10 Nights
With a departure at nightfall, the Seadoors plots a course north to Monad Shoal to observe the Thresher sharks of Malapascua then Dona Marylin wreck and Gato island Tunnel with its extraordinary night dive.
Next, the Seadoors heads all the way south down to Balicasag to explore this famous dive area, then west across to Oslob for the unforgettable whale shark experience.
Heading south again, passed Dumaguete, we explore Apo Island for a while, before heading west for a long navigation into the Sulu Sea to reach the Cagayan Islands to dive along the giant sea fans meet the pelagics.
The Seadoors returns passing by Apo Island and Bohol.
Sulu Sea: Cebu To Puerto Princesa – Classic Itinerary: 9 Days / 8 Nights
Seadoors first sails to the south-west to dive in Sumilon, Cabilao, and Bohol. Stopping in Balicasag to dive in the Black Forest and Rico's Wall, where we can spot schools of jack fishes, and frogfish, the Seadoors then continues to Oslob to meet with the Whale Sharks.
On Apo Island we visit the beach, a paradise for macro lovers, then, going far to the west in the Sulu Sea, we reach the Cagayans Islands, a small wild archipelago. The dive spots here are incredibly remarkable, with deep walls and lots of pelagics passing by spectacular gorgonians walls.
Departing once again in the evening, the Seadoors heads to the national marine park of Tubbataha, for 3 days to explore the fabulous North and South Atolls, and the Jessie Beazley Reef.
The reefs hold the highest density in the world of coral sharks, numerous pelagic species such as the horse mackerel, the tuna, the barracuda, and Rays, Guitard, Manta, Mobula, Marble, Stingray, and sharks, Hammer, Tiger, Grey, Silky, and Whale sharks, and Sea Turtles.
Choose the best dives, the Seadoors spends a fabulous three days before concluding the trip in Puerto Princesa, Palawan.
Sulu Sea: Palawan to Cebu – Classic Itinerary: 9 Days / 8 Nights
The Seadoors starts sailing as night is falling, from Puerto Princesa, to wake up in the World Heritage Marine Park of Tubbataha Reefs. Spending 3 days there, diving the best site with 3 to 4 dives each day, before sailing overnight night to the Cagayans Islands. Being so remote, the dive spots are incredible, with deep walls and lots of pelagic passing by.
In the afternoon Seadoors heads south-east, for a long navigation to Apo Island, a paradise for macro lovers, then, on to the Sumilon Islands to meet the Whale Sharks. Passing close to Bohol, the Seadoors stops in Balicasag to dive the Black Forest and Rico's Wall, where school of jacks are to be found, and frogfish hide!
Finally, the Seadoors heads to Cabilao to dive the Light House.
Southern Visayas – Classic Itinerary: 7 Days / 6 Nights
The Southern Visayas itinerary crosses the south of the archipelago of Visayas, with a selection of the best sites around Bohol Island as well as those of Apo Island, and taking time to enjoy the Whale sharks of Tanawan.
Departing as night falls the Seadoors heads south in the direction of Bohol, arriving in the morning at Cabilao, with its multi-coloured plateaus and walls of microfauna and the occasional whale shark in the blue. Heading further south to Panglao, then Anda Bay, and finally beyond the Bohol Sea to spend one day in Apo Island.
The cruise returns via Oslob for the whale sharks encounter, with one last stop at Balicasag.
Special Visayas Sharks – Classic Itinerary: 7 Days / 6 Nights
The Visayas Special Shark itinerary takes us through the Visayas archipelago, to explore the dive spots with the highest concentration of sharks in Visayas.
Seadoors sails as night are falling from Cebu, heading to the north to arrive at Malapascua, in the morning specifically for the Thresher shark cleaning station at Monad Shoal. Following that Seadoors heads up to Maripipi for the Bull shark reef, and to explore Kimod Shoal in search of hammerhead sharks.
Returning south for Balicasag the Seadoors stops once more at Monad Shoal, and near Bohol again to interact with Whale sharks in Oslob and Corals sharks in Sumilon Island.
Visayas Long Trip: 13 Days /12 Nights plus 3 land excursions
This itinerary is a combination of the Malapascua and Camiguin itineraries with additional excursions.
The itinerary starts at Olango close to Cebu, goes to Malapascua in the north, then down to Camotes Islands, to Southern Leyte, and Anda. The itinerary continues west to South Bohol, Panglao and Balicasag Island then on to South Cebu and Cabilao Island.
This is a quite trip which gives enough time to explore the best dive sites of Visayas as Monad Shoal with the Thresher Sharks, Pintuyan with the Whale Sharks, Limasawa, Padre Burgos, Napantao, Balicasag, Cabilao, Panglao, Anda.
This Visayas Long Itinerary illustrates the surprising diversity and quality of the dive sites in the Visayas: from big pelagics to a big school of fish like Jacks and Barracudas, but also wonderful macro life like Hairy crabs, candy crabs, pygmy seahorses, and frogfish.
The Land excursions are relaxing and are also a very good opportunity to visit the country of the Philippines. These days are focused on visiting an old Spanish Church, waterfalls, the Chocolate Hills to meet the tarsiers and includes lunch on Loboc River.
Visayas Odyssey Itinerary: 10 Days / 9 Nights
The original Odyssey relates to Odysseus' epic journey home from Troy in which he encountered all manner of new things not experienced before. This cruise is an Odyssey that brings together the best Visayas spots from North to South and East to West.
Departure at nightfall from Cebu to reach Monad Shoal with the Thresher sharks of Malapascua, then Dona Marylin wreck and Gato island Tunnel with an extraordinary night dive…
Then south heading to Camotes islands with a land excursion including swimming underground in fresh water.
Further south to meet the whale sharks in Pintuyan, and explore the wonderful site of Napantao with its hidden frogfish and pygmy seahorses.
Then on to Bohol to reach Anda bay with its mandarin fish and a land excursion to explore the Chocolate Hills and see the Tarsiers.
Finally, further south to dive Apo Island, meet the Whale sharks in Oslob and then finish at Cabilao Island known for its untouched coral reef and its large underwater diversity.
Visayas Seascape Itinerary: 10 Days / 9 Nights
This cruise is a Visayas kaleidoscope, a panoramic view of the underwater marine life of the Visayas with an illustration of the Thresher sharks, the whale sharks and the large marine life diversity living in the Philippines.
With a departure at nightfall, the Seadoors plots a course north to Monad Shoal to observe the Thresher sharks of Malapascua then Dona Marylin wreck and Gato island Tunnel with its extraordinary night dive.
The next day is spent moored at Maripipi Island to explorer its unique corals fields and observe the catsharks.
After that Seadoors heads south to Bohol, Cabilao, Balicasag, Panglao and Anda Bay, and after visiting Oslob's whale sharks she plots a course to the south again to for Apo Island.
Trip Dates and Availability
Seadoors Liveaboard Extras Payable Locally (as of August 2018)
AUD
EUR
Full gear hire per day
18
EUR
|
18
Nitrox per day
12
EUR
|
12
15 Litre tank hire per day
6
EUR
|
6
Sofnolime per Kg
10
EUR
|
10
Oxygen per 1000 ltrs
15
EUR
|
15
Bailout tank hire per day
8
EUR
|
8
CCR Megalodon hire per dive
100
EUR
|
100
UW scooter per dive
30
EUR
|
30
This resort's prices are in Euro. The AUD prices shown are based on the current exchange rate. The price paid in AUD will be based on the actual exchange rate at the time any payments are made.
Pricing / availability enquiry