It may be the middle of winter, and with water temperatures hovering around 13 degrees Celsius, but right now is a great time to go diving in Whyalla, South Australia.
Between May and July each year, thousands of giant cuttlefish choose this remote patch of coastline to aggregate and spawn, and this year the locals are reporting the biggest aggregation since 1997, estimating between 150,000 and 200,000 individuals.
The cuttlefish choose this small patch of rocky coastline, between False Bay and Fitzgerald Bay because the flat shingle on the seafloor and rocky outcrops are ideal for laying their eggs underneath. The breeding grounds are now protected with the area encompassing this unique habitat now a no-take zone.
This increasing cuttlefish population has now attracted other marine life, with large numbers of eagle rays now choosing this area to spawn so they can feed on the bountiful cuttlefish, as well as a large pod of dolphins, that has perfected a complex process to de-ink and skin the creatures before eating them.
Seabirds pick unlucky cuttlefish from the surface to eat and Port Jackson sharks pick at the dead ones on the seafloor. A colony of 14 fur seals has also chosen to hang around the breeding grounds this year, and for the first time ever, a large group of squid has chosen this area to spawn, so it has been a fantastic season for visiting divers and wildlife lovers.
Just last week, over 600 divers took to the icy waters to witness the phenomenon, with groups of 24 people taking it, in turn, to snorkel or dive with cuttlefish.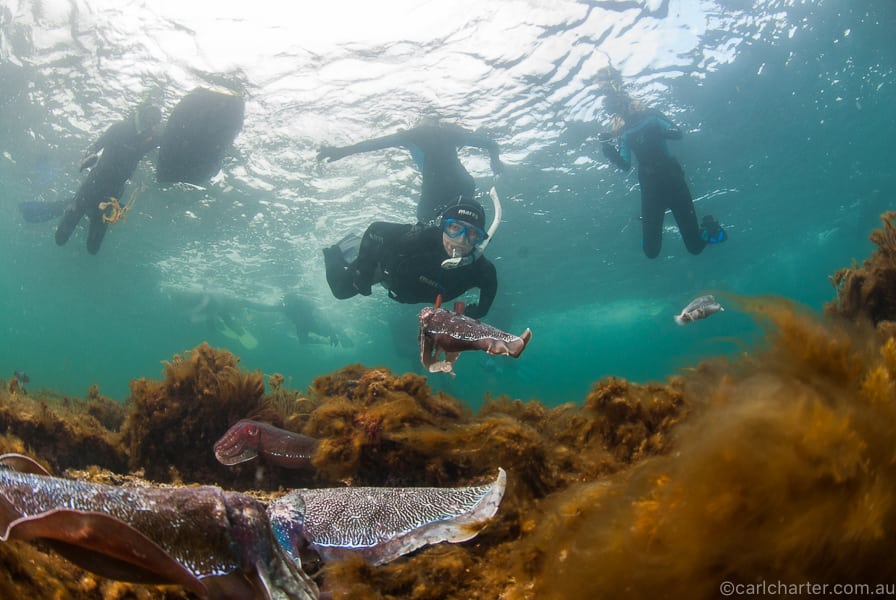 Local dive operator Tony Bramley, of Whyalla Diving Services is running a busy operation at the moment, and he's pleased to see the level of interest rising.
"There are no better tourists for the environment than divers. Divers care about the environment so they generally take good care to minimize their environmental footprint."
While you need to be well prepared for the cold water, it's pretty easy diving conditions. Tony supplies customers with a 1mm body liner, 5mm wetsuit and 3mm hooded jacket, as well as boots and gloves.
There are two dive sites, the easiest entry being at Stony Point, where you can follow a roped path into the water until you are about chest deep, put your mask and fins on and you'll see that you are already surrounded by cuttlefish.
Pictures courtesy of www.carlcharter.com.au