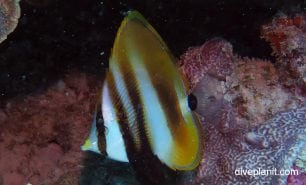 Family
Butterflyfish

(CHAETODONTIDAE)

species
Coradion altivelis
size
Up to 18cm
locality
Sheltered reefs
behaviour
Solitary and sheltering
range
Eastern Indian Ocean and Asian Pacific
Coralfish have a more triangular shape than the oval Butterflyfish and the Highfin is markedly triangular. The body has vertical white, brown and gold bands with a black spot on the caudal peduncle. There are no other spots which help to distinguish other species.