The Wonders of Merimbula Wharf by Diveplanit's guest blogger: Nigel Marsh
Australia's New South Wales coastline has many fabulous dive sites, from the subtropical waters of Byron Bay to the cooler temperate waters of Sydney and the South Coast. The state also has many amazing shore diving sites and one of the best is the incredible Merimbula Wharf.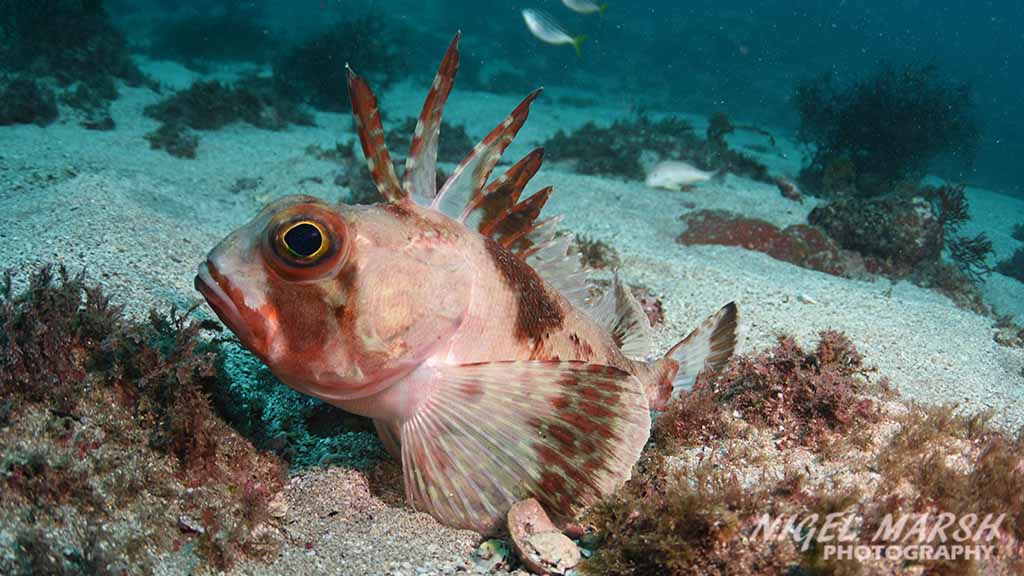 Merimbula is located 475km south of Sydney and is very close to the Victorian border. A popular holiday destination, Merimbula has lovely beaches, rocky headlands and native forests to explore. It is also the location of Merimbula Divers Lodge, which offer dive courses, boat dives and have onsite accommodation. While there are some brilliant boat diving locations at Merimbula and nearby Eden, my favourite dive is to simply jump in from the rocky shore line at Merimbula Wharf.
While you can dive under the wharf, especially if you want to see the resident smooth stingrays that gather here to clean-up the scraps of fishers, but with a maximum depth of only 2m the wharf is best saved for the end of a dive. The main feature of this site is a rocky reef that quickly drops to the sand line at 16m.
This rocky reef is covered in kelp in the shallows and pretty sponge gardens in deeper water. Colouring the sponge gardens are gorgonians, sea tulips, bryozoans, tube worms, soft corals and of course sponges. A close inspection of the sponge gardens will reveal nudibranchs, sea stars, scorpionfish, octopus and sometimes weedy sea dragons. The fish life on this rocky reef is always impressive, with reef fish like moray eels, leatherjackets, old wives, boarfish, wrasse, sweep and damsels, plus schools of trevally, yellowtail and bullseyes. But the main stars are the large blue groper wrasse that follow divers around until they are fed a sea urchin.
A number of ledges and caves are found on the rocky reef off Merimbula Wharf. These provide a home to banded wobbegongs, giant cuttlefish, Port Jackson sharks and their rare cousins, the crested horn shark.
While most divers stick to the rocky reef, I always enjoy exploring the sand flats beyond. At first this area can seem devoid of life, but this area is home to Kapala stingarees, stargazers, flatheads, sand stars, coffin rays and gurnard perch. Large sea pens also rise from the sand, and lucky divers might also find a rare Australian angel shark buried under a layer of sand.
Merimbula Wharf is also the kind of dive site where unexpected species can appear. Over the years divers have seen seahorses, draughtboard sharks, grey-spotted catsharks and recently a small group of grey nurse sharks have been observed lingering around the reef. My own unexpected encounters have included a small green turtle and a cowtail stingray (1000km south of its known range). But my most memorable encounter at Merimbula Wharf was with a very rare Melbourne Skate, a ray I had been hoping to see for over thirty years. This is the largest skate species found in southern Australia, and is occasionally seen off Melbourne, so it was a great delight to find one resting in a gutter off Merimbula Wharf.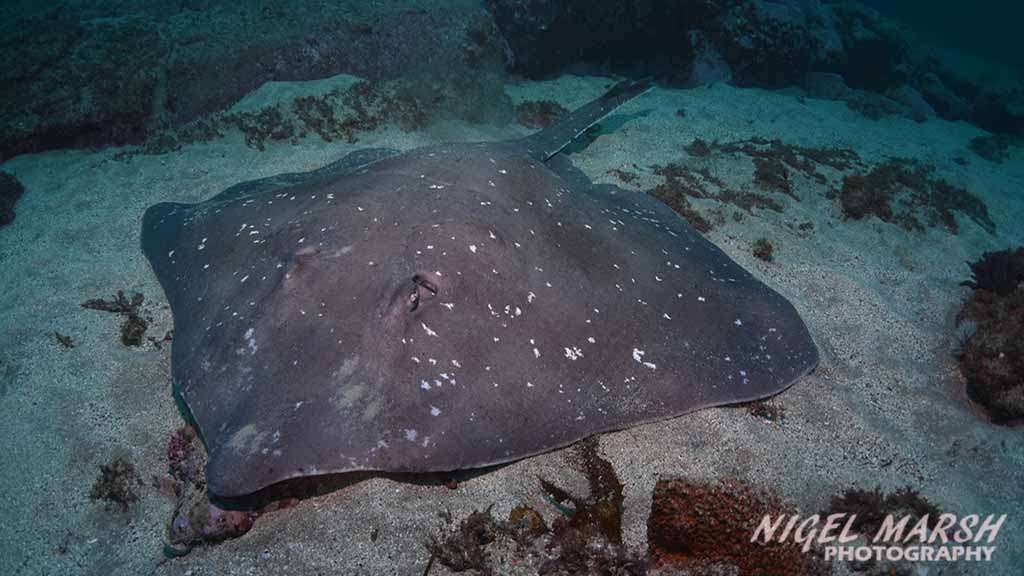 Merimbula Wharf is a great spot to dive at any time of the year, with the visibility generally 8m to 12m, but over 15m at times. Entry and exits can be a little tricky over the rocks, and best avoided in a southerly swell.
With so much to see at Merimbula Wharf, this spot is the perfect destination for a weekend or week long dive getaway.