Introduction
Location
Accommodation
Diving
Pricing & Schedules
Enquire Now
Argo liveaboard is a great choice for diving Cocos Island, Costa Rica. Part of the Undersea Hunter Group, this dive expedition cruiser is both functional and luxurious, designed specifically for comfort and smooth passage to the remote location of Cocos Island.
The Argo liveaboard accommodates 18 divers comfortably and was also designed specifically as a platform for deep-sea exploration with the Undersea Hunter Group's deep-diving submersible, the DeepSee.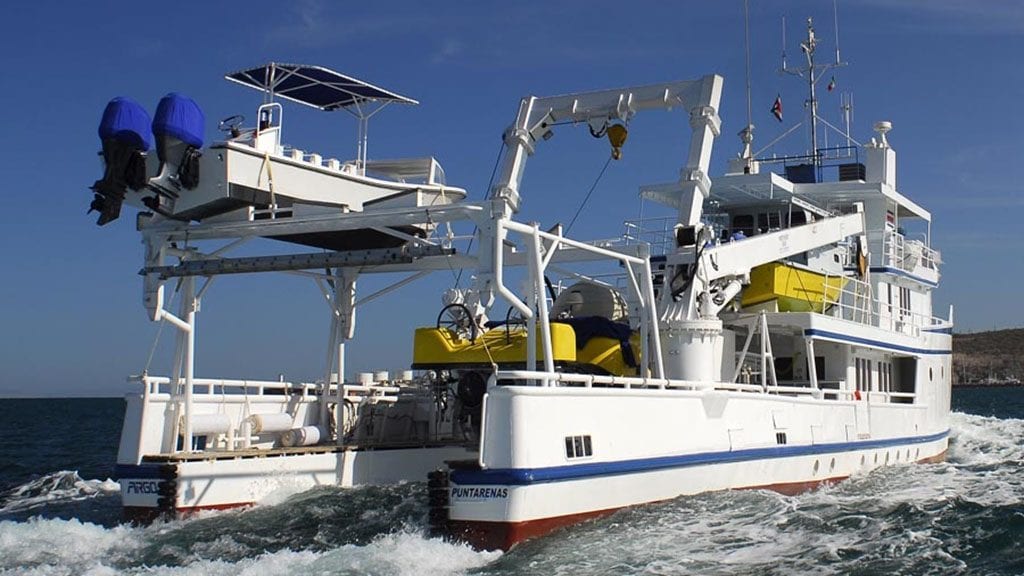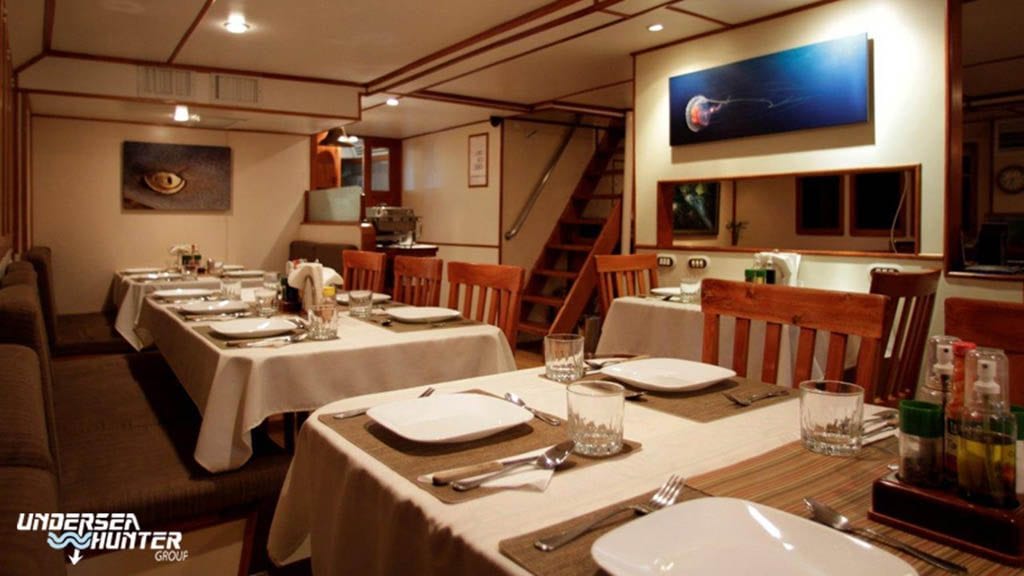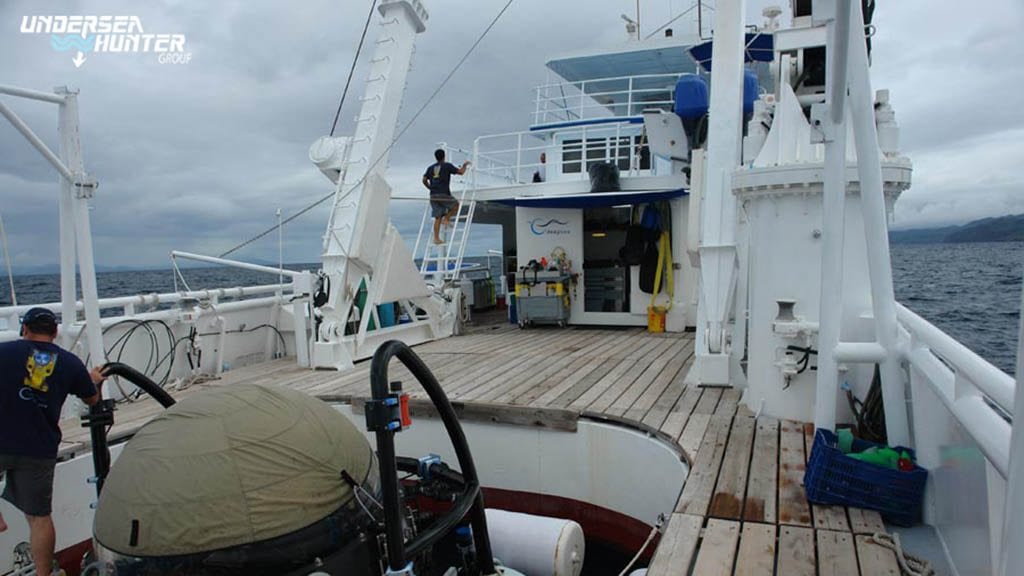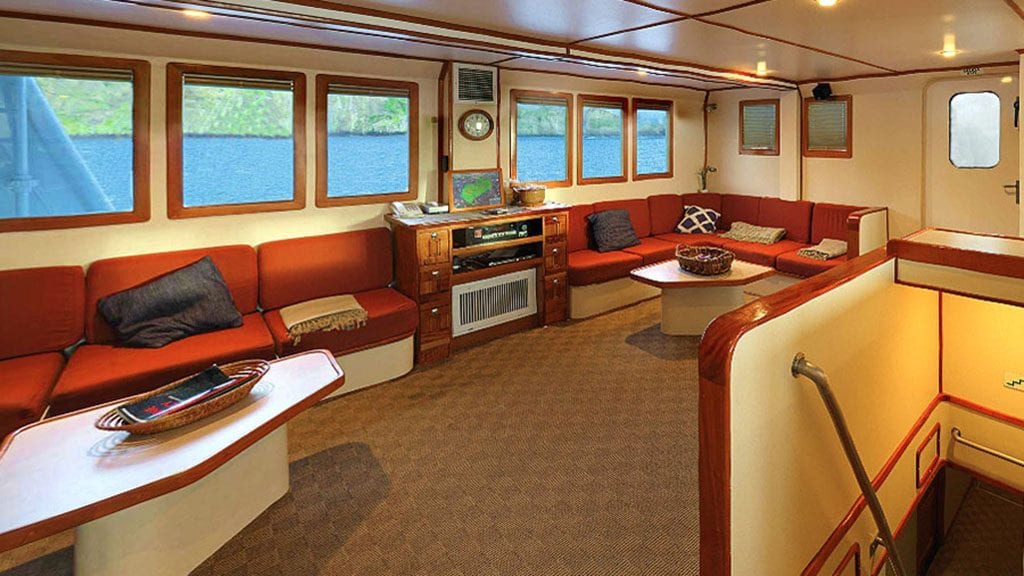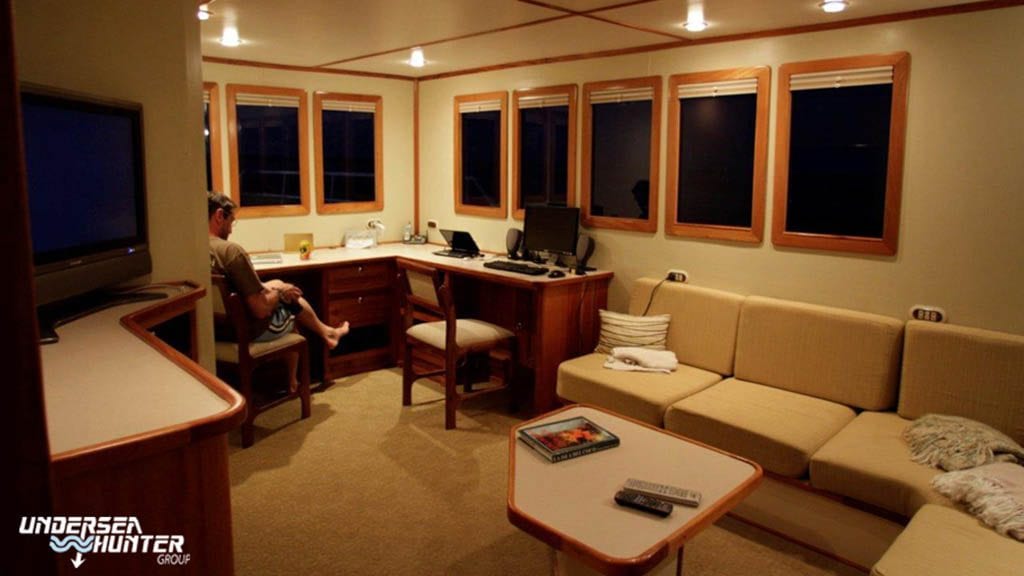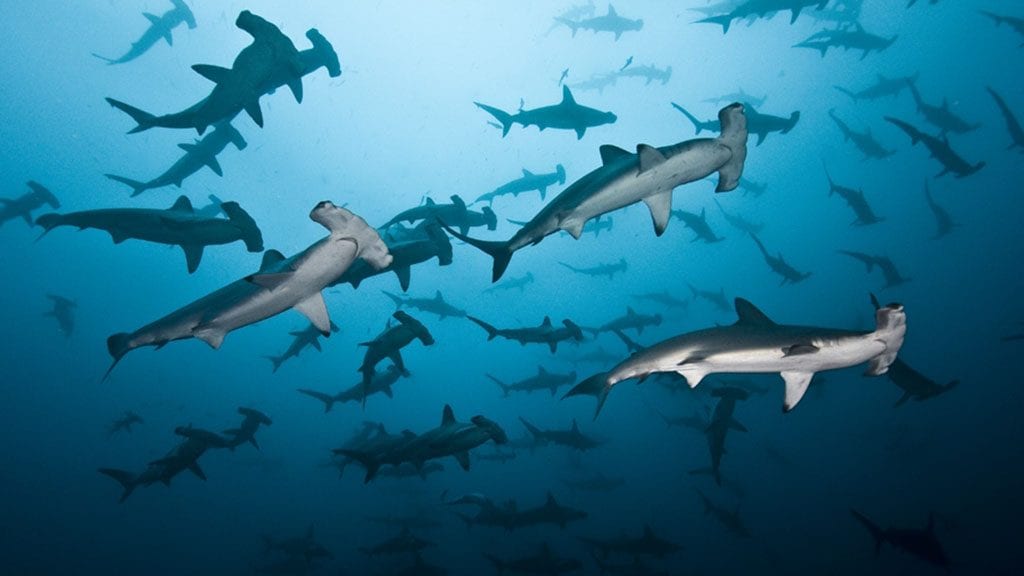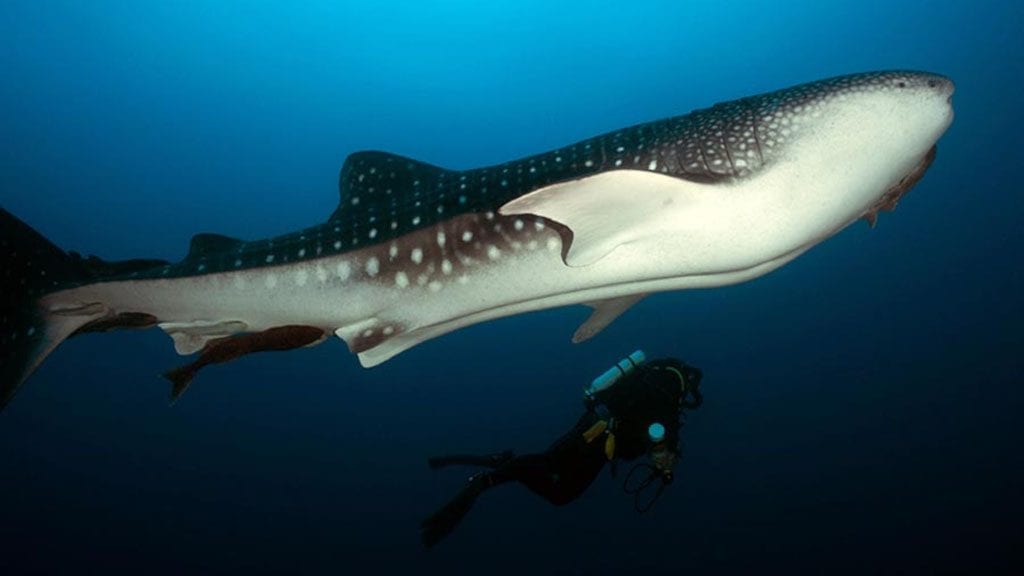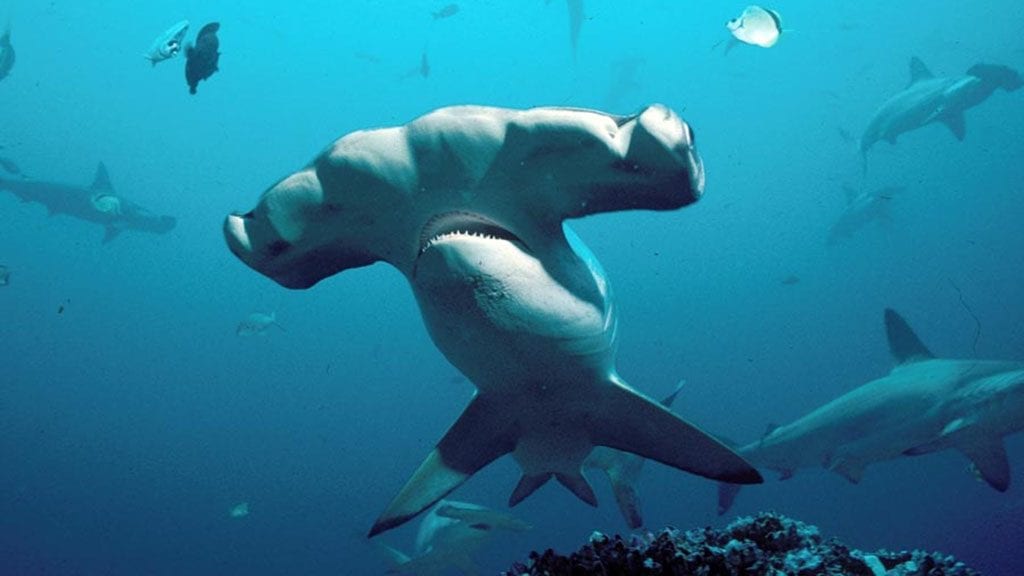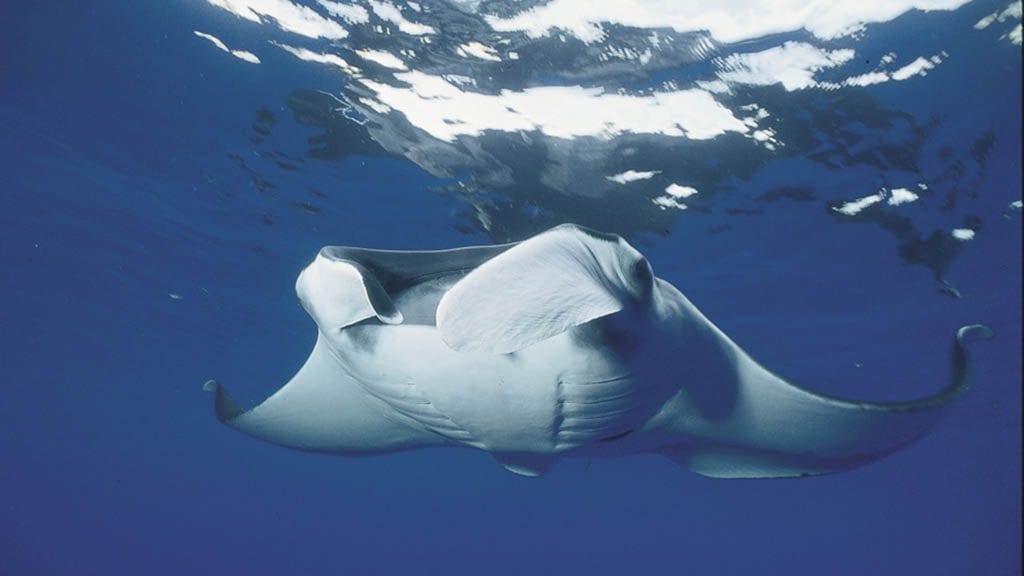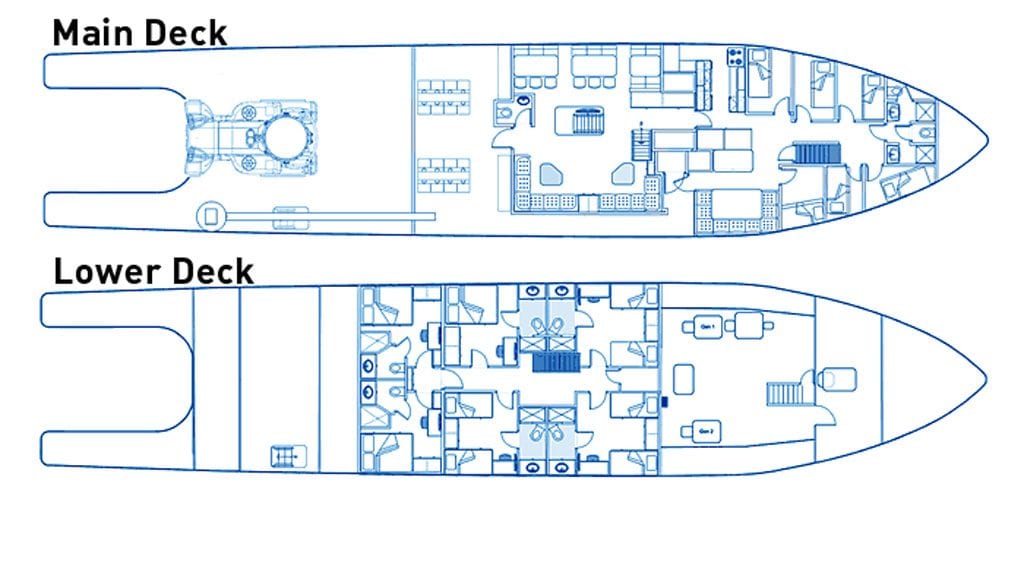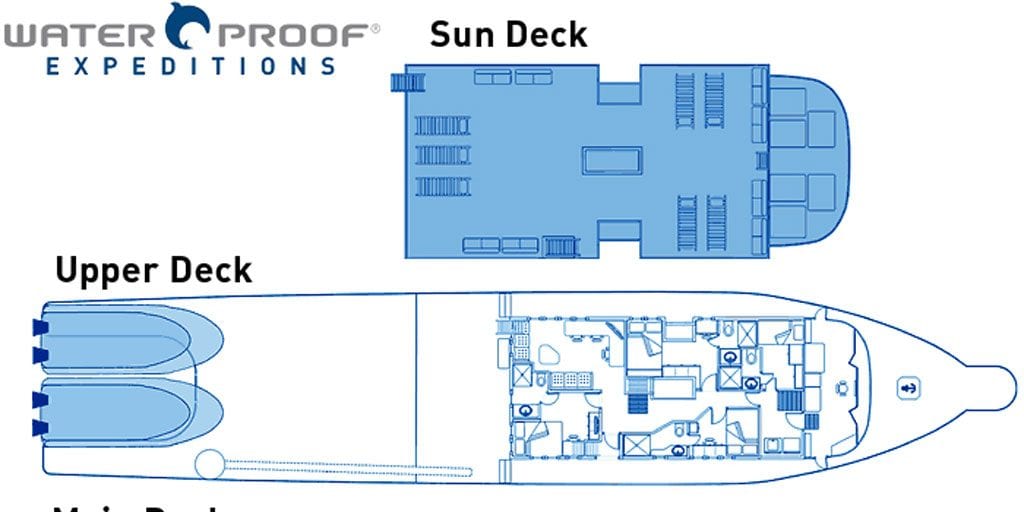 Designed with divers in mind, Argo liveaboard is an intentional blend of work ship and luxury yacht. She was totally redesigned and refitted in 2008, to cater for up to 18 discriminating passengers in nine spacious, well-appointed cabins.
The 40m vessel (130-foot) is staffed by 14 crew, who took the guest's every need. A comfortable and stylish lounge, dining area and sun deck comprise the shared living areas, and ambiance throughout created with undersea-themed artwork. The well-equipped galley enables the ship's chefs to prepare fresh, international level, four-star cuisine for mealtimes or at the "drop of a hat".
Meals are served buffet style and are plentiful and delicious. A good quality coffee machine is available for guests around the clock. Coffee, tea, soft drinks and beer are available for free.
With the underwater photographer in mind, they provide lots of space and rinsing bins for camera equipment and charging stations are also available.
You should know…
While diving Cocos Island is extraordinary and beautiful, the island is very remote and not recommended for inexperienced divers, being an open ocean destination that requires advanced open water diving skills. The minimum required level of certification to dive Cocos is Advanced Open Water and a minimum of 25 hours of diving experience, and divers must be certified to the recreational dive limit of 40 metres (130 feet). Currents and visibility can change in just a few hours. The dive guide on board will always be the final authority as to whether a passenger can do any specific dive.
Staying Connected
The vessel is in radio contact with the Undersea Hunter Fleet office in San Jose during office hours. There is also a satellite phone on board, which costs USD 3.50 per minute.
We think…
If you're an experienced diver who loves diving with large pelagic fish, Cocos Island is one of the best dive locations in the world, and Argo is comfortable, functional and a great choice for technical divers.
Argo liveaboard departs from Puntarenas on the west coast of Costa Rica, reached by car from the capital San Jose in just about three hours.
The crossing to Cocos Island takes about 36 hours. Because of the long journey, extended 10 and 12-night excursions are offered. You get 7-9 dive days, which makes the trip worthwhile. All divers must arrive in San Jose at least one day ahead of cruise start. It is also recommended to have one night after cruise end. Pick-ups are done only from four host hotels in San Jose.
While seas are calmer and water clearer in the dry season – January through May, for many, the best time to dive at Cocos Island is in the 'rainy' season from June through December, when the nutrient upswells attract hammerheads, manta rays and whale sharks. The surface is rougher during this period and visibility drops to within the range of 33 to 82ft (10 – 25m).
There are 8 large double/twin cabins and the Owner's cabin. All cabins are equipped with a private bathroom and individually controlled air-conditioning. All cabins are distinctly themed rooms, with hand-painted artwork, and come with a flat-screen TV with DVD player, custom cabinetry, and a private bathroom and 110V outlets.
Lower Deck:
Cabin 1, 2 and 4 are twin cabins with 2 separate beds on opposite sides of the cabin.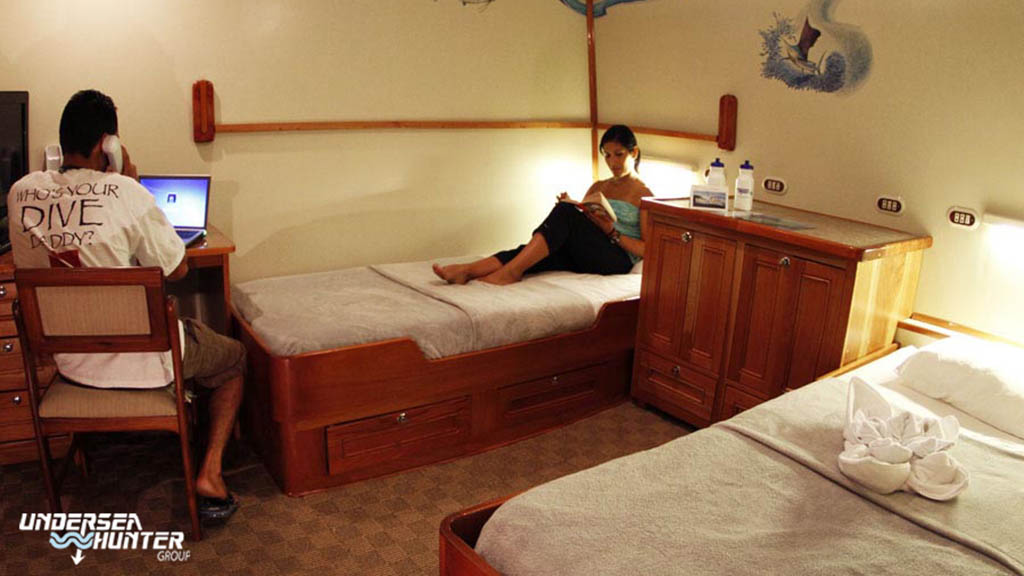 https://www.diveplanit.com/wp-content/uploads/2019/10/4-argo-liveaboard-cocos-island-costa-rica-twin-cabin.jpg
Cabins 3, 5 and 6 are double cabins with a queen bed, an upper bed can be added if necessary.
Main Deck:
The main deck houses the main salon, the galley, the dining room, camera and dive gear storage and the dive platform.
Upper Deck:
Cabin 7 is also a double cabin, on the upper deck and an upper bed if necessary.
Cabin 8 is also a double cabin with one queen size bed, and an upper bed if necessary.
Cabin 9 is the Owner's cabin on the upper deck with one queen size bed. The owner's cabin has the same amenities and features of the other Argo cabins.
Argo's setup is all about diving. On dive days three dives a day are offered, each dive is accompanied by a dive guide, who leads the dive if desired, otherwise, independent diving is announced. All dives are conducted only after a detailed briefing.
The vessel is equipped with a Nitrox filling station and full support is offered to divers who bring their own rebreathers. The electronic equipment and safety standards of the Argo are state of the art. Argo is equipped with two 24-foot dive tenders, powered by fumeless 4-cycle, 115 HP twin-outboard motors that can bring you rapidly to any dive site within an extended, safe radius of the mothership. They are further equipped with VHF radios, depth sounders and portable GPS. A T-Roof and rigid bow cover is also mounted on these vessels for your comfort.
Nitrox is free of charge. The dives are often quite long and no-decompression limits are reached quickly, so diving with Nitrox is highly recommended. The vessel offers full onboard TDI training in Nitrox, with rental of Nitrox computers.
Divers will each be equipped with satellite tracking devices, to assure no one gets lost in the open sea. A surface marker buoy (SMB or safety sausage) is mandatory for each diver and should be brought on board. If you don't bring your own, the crew can provide one for you.
12L (80 cuft) aluminium tanks are provided. A limited supply of 15L steel tanks is available and should be requested in advance. The 12L tanks are standard INT (not DIN). The 15L tanks are DIN. Adaptors are available. Water temperature is about 26C to 29C (78F-83F), although it can be a few degrees lower under the occasional thermocline.
DeepSee Submersible
The DeepSee submersible is available on almost all of the Argo and Sea Hunter trips. The submersible is usually placed on Argo but is also available for Sea Hunter guests when both vessels meet at the islands for 2-4 days. Guests have the opportunity (at extra cost) of deep-sea exploration onboard DeepSee, and it is recommended to reserve and prepay your submersible dives to guarantee a seat.
The DeepSee is a custom-built one-atmosphere submarine, capable of carrying a pilot and two passengers to a depth of 1,500 feet (450 meters). The view from DeepSee's acrylic sphere is unparalleled, with a 360-degree field of vision. The 10cm-thick acrylic sphere actually disappears when immersed, giving the astonishing sensation of total freedom.
Dive Sites
Cocos Island, together with Malpelo Island in Columbia and the Galapagos Islands, are probably the most spectacular dive destinations in the world for big fish. Most dives take place on small offshore rocks and islands. Around here are cleaning stations, where large schools of hammerhead sharks are seen regularly.
Apart from hammerhead sharks which are seen on almost every dive, you'll see large schools of Jacks and barracudas, several species of sharks, including silky sharks, silver tips and tiger sharks. Watch out also for manta rays, mobula rays, whale sharks and dolphins which can be spotted on almost all excursions as well as turtles, moray eels and lobsters. With a bit of luck, you may see sailfish or whales chasing their lunch or dinner. If conditions allow, night dives are offered.
Most of the action is at 18-27 metres (60-90 feet), and most dives are between 18-40 metres (60-130 feet). The safety limit is set at 40 metres (130 feet) and a dive computer is necessary. Visibility averages 18-30m (60-100ft).
Argo Extras - Valid thru 2020
AUD
USD
National Park Fee (10 days)
490
USD
|
490
National Park Fee (11 days)
560
USD
|
560
Regulator + BC + Wetsuit (10 days)

168
USD
|
168
Regulator + BC + Wetsuit (11 days)

192
USD
|
192
Nitrox Dive Computer (10 days)
95
USD
|
95
Nitrox Dive Computer (11 days)
109
USD
|
109
15 Liter Steel Tanks (10 days)
84
USD
|
84
15 Liter Steel Tanks (11 days)
96
USD
|
96
DeepSee Sub Dives (Single dive maximum depth of 260ft/80m)
1450
USD
|
1450
DeepSee Sub Dives (Single dive maximum depth of 1000ft/305m)
1850
USD
|
1850
Free unlimited nitrox fills if nitrox certified
This liveaboard's prices are in USD. The AUD prices shown are based on the current exchange rate. The price paid in AUD will be based on the actual exchange rate at the time any payments are made.