Introduction
Location
Accommodation
Diving
Pricing & Schedules
Enquire Now
The SS Thorfinn liveaboard is a huge dive boat based in Truk Lagoon in a sheltered anchorage and serves as a floating hotel. Its fast tenders reach any of the popular wrecks in no time. A standard dive package runs Saturday to Saturday throughout the year, though any number of nights can be booked if space allows.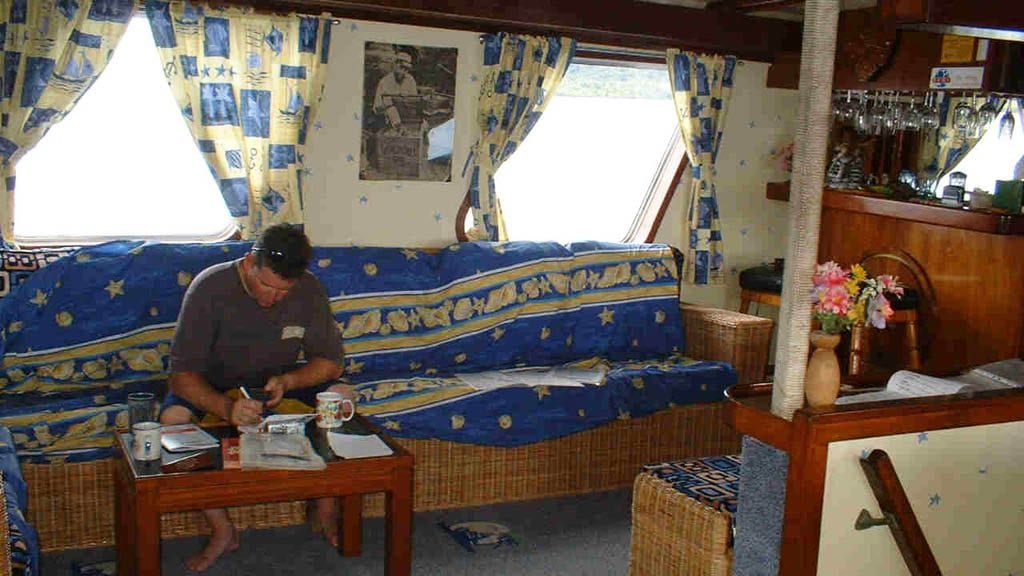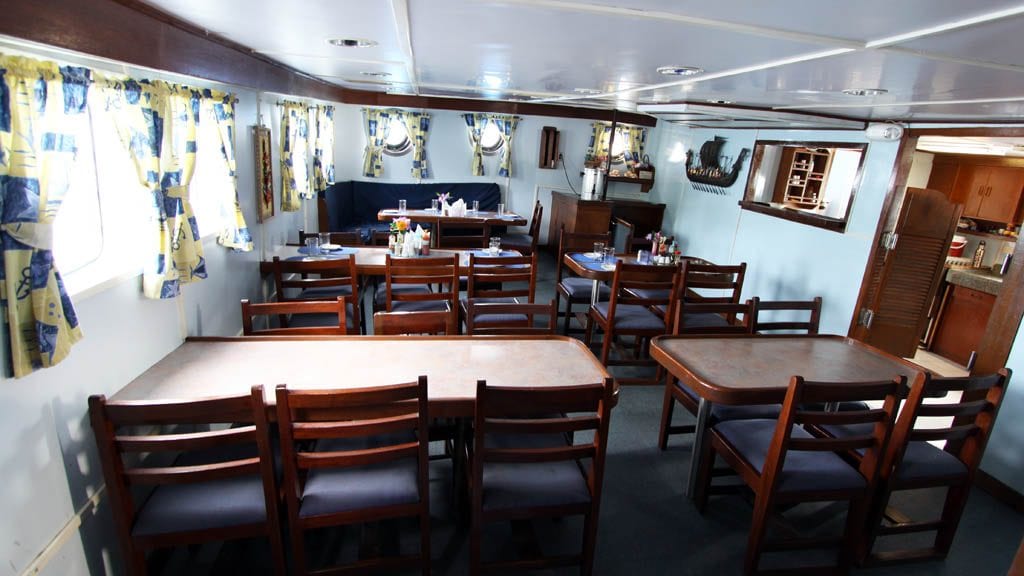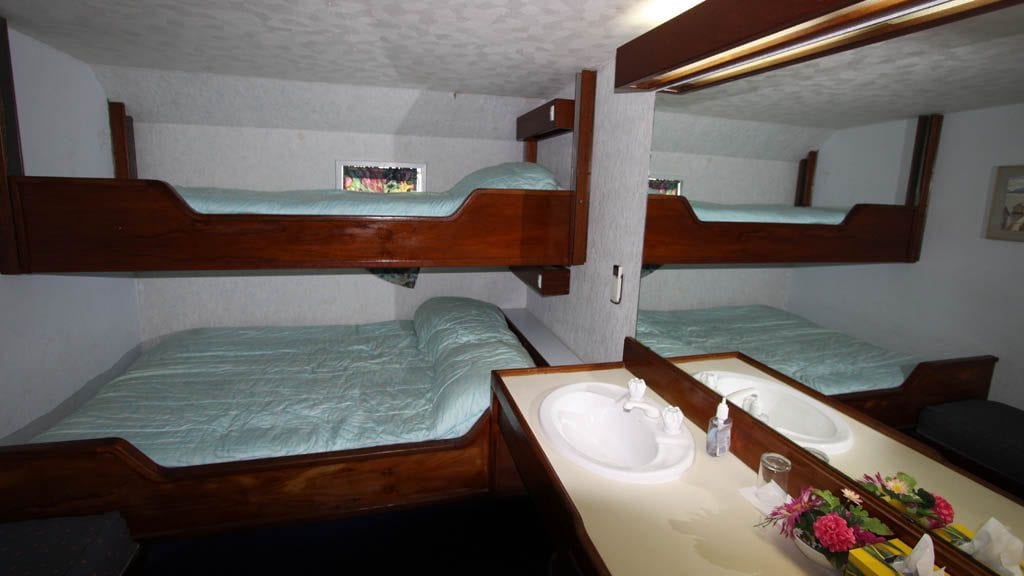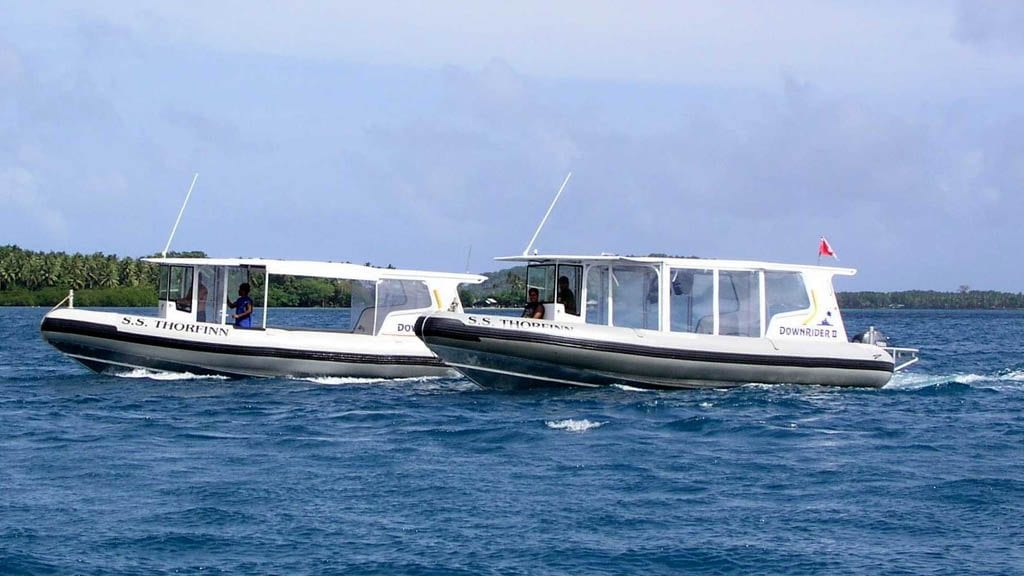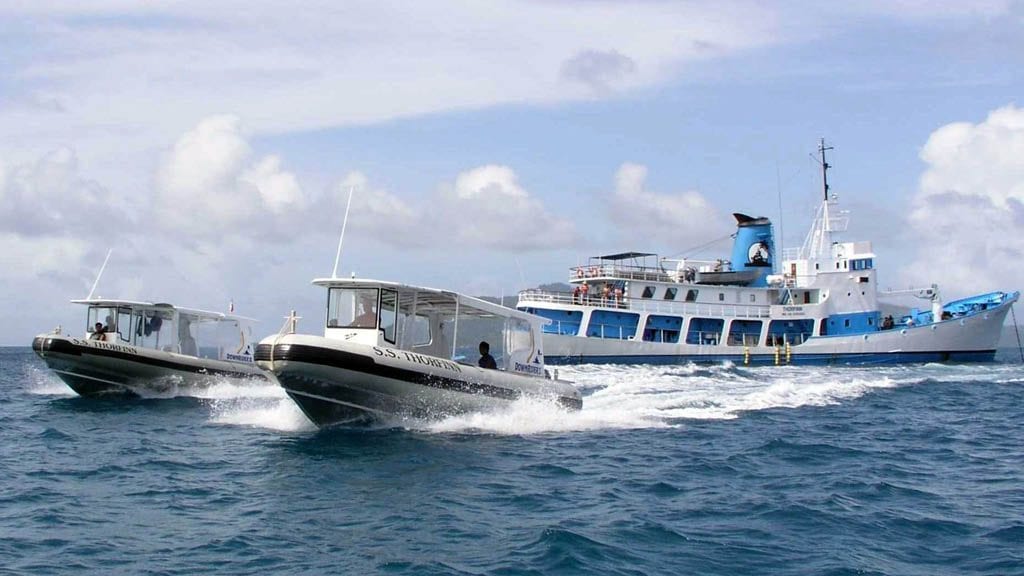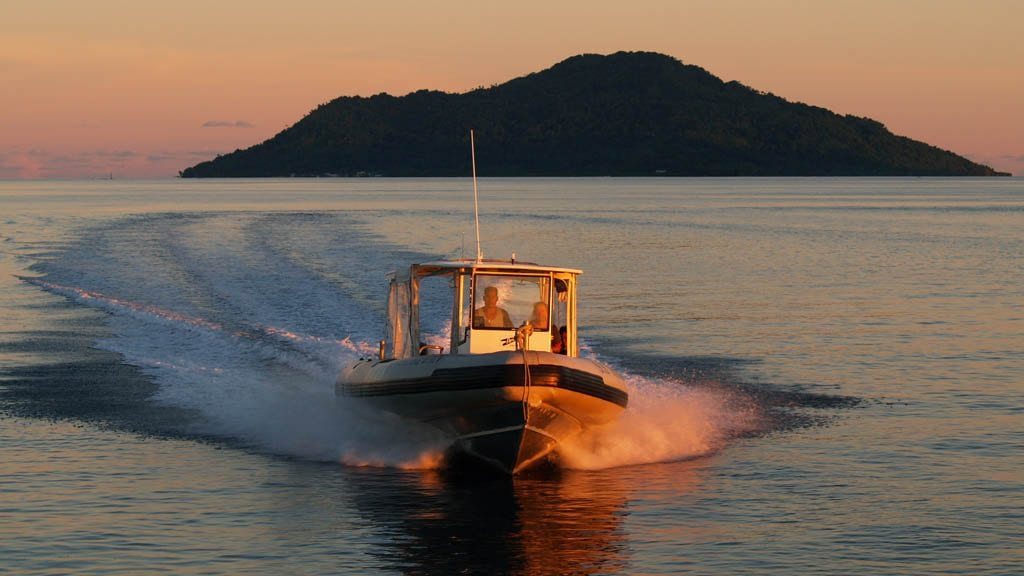 Facilities
Being 58m (190ft) in length and weighing 110 tons, the SS Thorfinn Liveaboard is a very stable vessel. Captain Lance and his dedicated staff are keen to welcome you aboard and serve up the diving and vacation delights available here.
The guest lounge is equipped with a multi-system Plasma TV with DVD player, a CD player with iPod connection, and a surround sound 4-way speaker system. A well-stocked DVD and paperback book library, magazine rack, reference books (fish, wrecks) are all available for guest use. Indirect lighting, large view windows and comfortable seating make this a popular guest area.
The bar provides a range of beverages from coffee, tea, hot chocolate and soft drinks, to beers, wines and spirits at a reasonable cost. Adjacent to the galley is two separate dining lounges. Special dietary requests are catered for as available food supplies permit.
The carpeted sun deck has a partial canopy and comfortable lounge chairs. The ocean spa on C deck is a central meeting point between dives.
Two large, 3-tiered camera tables with a compressed air gun for cleaning and maintenance of camera equipment, are conveniently located adjacent to the main guest lounge. Each table has dual voltage 110V and 220V charging points.
Staying Connected
Fast, clear, (bandwidth-limited) WiFi internet  is served via an Inmarsat's Fleet Broadband 500 system.
We think…
All divers, but especially technical divers are very well catered for on Thorfinn. The very experienced crew will go out of their way to take you to new dive sites every time, and not to repeat any. Thorfinn is a comfortable floating home.
The SS Thorfinn Liveaboard arranges transfers from and to the airport.
Accommodation
The SS Thorfinn Liveaboard has 10 air-conditioned staterooms which accommodate 20 guests in double occupancy. All have in-room vanities, TV's and DVD players, indirect lighting and full-length closets. Seven rooms located on 'D' and 'E' decks have double or queen size beds plus adjacent single berths, all with private showers and toilets. Three additional rooms on the 'C' deck are bright and spacious with two shared shower rooms and two shared toilets.
Thor's Lair, an exclusive luxury suite on 'D' deck, has been created from two former main deck cabins, featuring a huge king size bed, adjoining bed settee, 44 inch TV monitor/player, PC table/chair, carpeted walls, 4 view windows, walk-in closet, bar fridge, bedside lighting controls, and large bathroom. It is available for a slight premium over regular fares.
Dive Service
After a thorough dive site brief delivered by Captain Lance, divers are delivered to the lagoon's dive sites via the two powerful, well designed, covered 9m (30ft) custom built tenders equipped with radios, sonars, under seat gear bins, fresh water showers, and seat edge lighting. Each tender heads off to dive separate sites to avoid crowding over a single mooring. Diving is done in small groups with experienced local guides who can show you the very best attractions at each site. Visiting up to 5 different daily dive sites provides an opportunity to view an unmatched 30 or more wrecks in one week. Dive boats depart at 8am, 11am, 2pm, 5pm and 8pm and dives are limited to 40 minutes for safety reasons.
Diving with the SS Thorfinn Liveaboard offers:
Diving in compliance with Truk State Laws with accompanying licensed and experienced local guides taking you through each wreck site carefully and safely
Valet system in boats for personal gear and cameras to each diver
Unrestricted depth air dives on computer non-deco basis, with 3 plateau 15-minute ascent guidelines
In water gear removal and stowage by staff, assuring easy re-boarding via the ladder
Hang tanks at 5m (15ft) on each dive, and extra air tank for contingencies on deeper dives
Nitrox blends for certified Nitrox divers
Wreck penetrations on buddy principle with cautionary instructions
Fresh towels are immediately handed to guests on re-boarding dive tenders
Dual voltage 110V and 220V charging points in each room
DIN and Yoke valves
Technical Diving
Technical divers can choose from various sets of banded, twin manifold cylinders in 3 sizes from 7, 11, and 15 ltr Pony bottles, and broadly assorted sizes of re-breather bottles are freely supplied on certain plans. Sofnolime is stocked and distributed freely to rebreather users. Oxygen is generated onboard and, along with helium, can be mixed to meet most requests from today's discerning technical divers.
Technical divers and crew are typically dispatched in separate dive tenders and run on an alternate schedule specifically geared to extended deep diving. Extra charges apply.
Live Availability and Pricing
Pricing for SS Thorfinn Liveaboard 1 Jan - 31 Dec 2018 - Sunrise Plan
AUD
USD
7 Nights Double/Twin Cabin
2350
USD
|
2350
Extension night Sunrise Plan
336
USD
|
336
EXTRAS payable at time of booking (as of January 2018)
AUD
AUD
Truk Service Tax 5% of cruise price
118
USD
|
118
Truk Service Tax 5% for extension night (per night)
17
USD
|
17
Upgrade to "Thor's Lair" cabin (7 nights)
350
USD
|
350
This resort's prices are in USD. The AUD prices shown are based on the current exchange rate. The price paid in AUD will be based on the actual exchange rate at the time any payments are made.
Important Information
Single cabin surcharge +50%
Included:
* 7 nights accommodation in double/twin cabin
* 7 dive days on Saturday itineraries
* Up to 5 daily dives from comfortable state of art 30ft dive launches
* Free Nitrox EAN 32 to single tank users
* Valet system for dive gear storage incl. cameras rinsed/delivered to C deck camera tables
* All meals, snacks, tea, coffee, softdrinks, juices. Beer, wines, spirits at low bar prices.
* Free WiFi internet to 70MB, expandable at cost, via Inmarsat Fleet Broadband 500 system
* Airport or hotel transfers to ship with local history, ship details and dive safety briefings
* Final Friday night BBQ Buffet with cultural party by select local crew members
Please use the [Enquire Now] tab to give us your exact requirements and we'll give you the best deal we can.
SS Thorfinn Liveaboard Extras Payable Locally (as of January 2019)
AUD
USD
Truk Lagoon Dive Permit
50
USD
|
50
Truk Airport Departure Taxes (payable cash on departure)
30
USD
|
30
This resort's prices are in USD. The AUD prices shown are based on the current exchange rate. The price paid in AUD will be based on the actual exchange rate at the time any payments are made.
Important Information
Special payment and cancellation conditions apply.