Site Type:
Scenic drift dive along a reef
Depth:

Top: 5M

Median: 19M

Bottom: 24M

Location:
West of Gili Trawangan (– where the sunsets if looking from Gili Air)
Off Gili Trawangan, Sunset Reef has a large number of reefs and well-spaced coral bommies containing the biggest variety and abundance of reef fish of all kinds. There is a variety of interesting sponges too, from barrels to tubes, and then sea fans and xenia. With reef fish from the biggest sweetlips – down to a colony of Clark's anemonefish.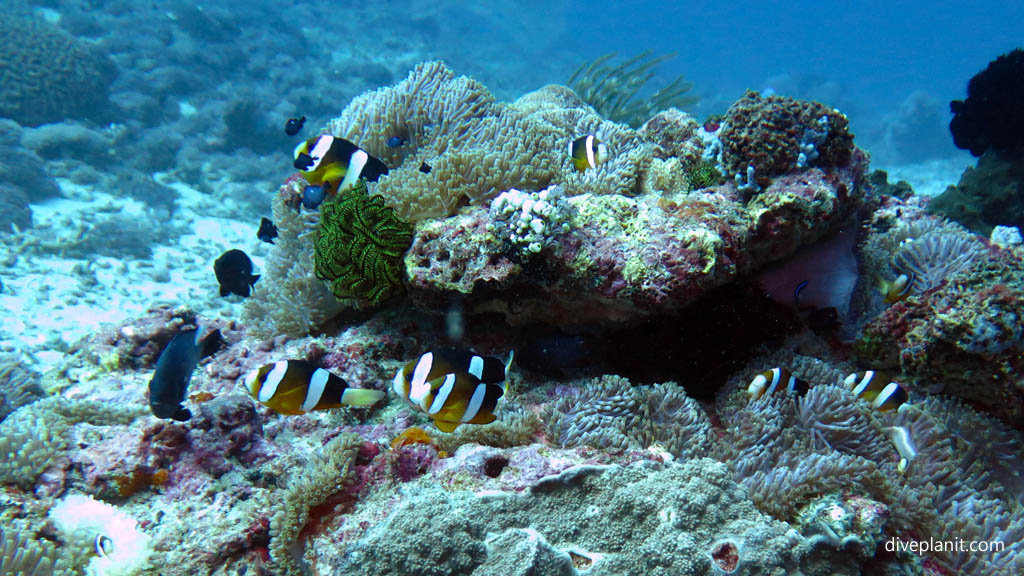 Happily enjoying a little freedom until you get up close.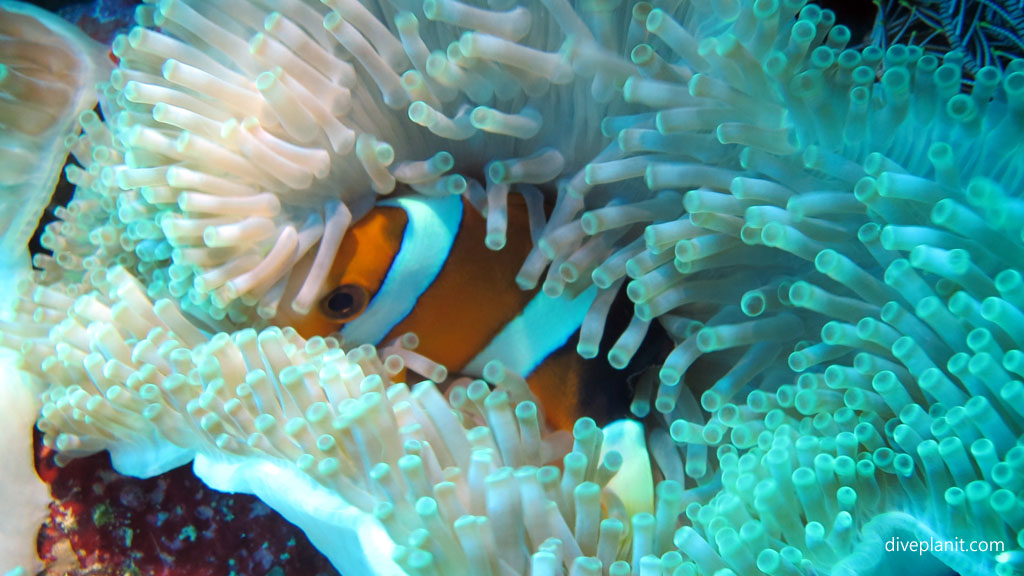 Most of the Gilis dive sites have strangely shaped sponges – some look like little cactus colonies.
This one had the misfortune to grow under a plate of acropora and it looks like he's tried to grow in different directions to get to some light.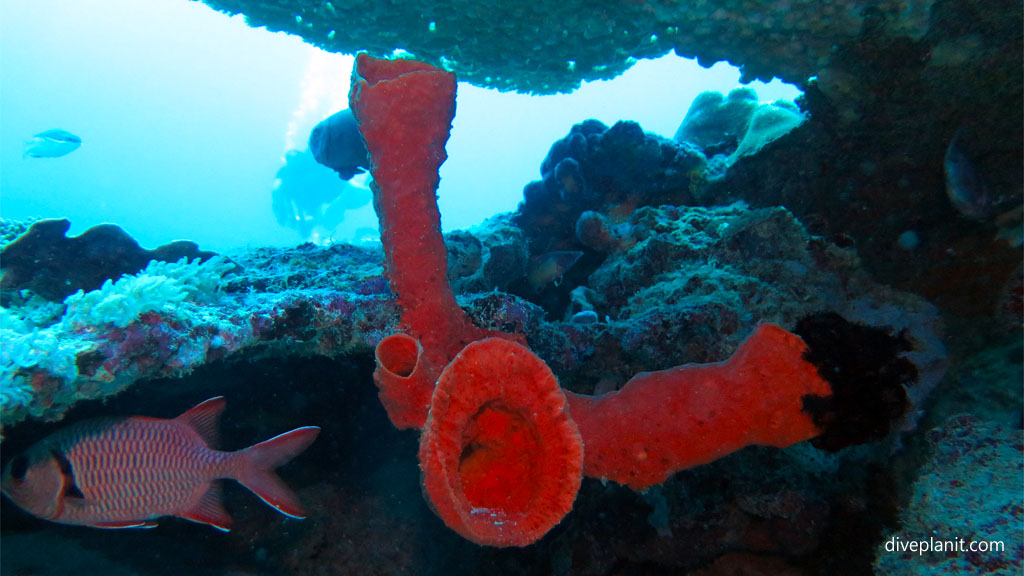 Looking carefully on these sponges you'll find even weirder looking critters like this Hairy squat lobster and polyclad flatworm behind it.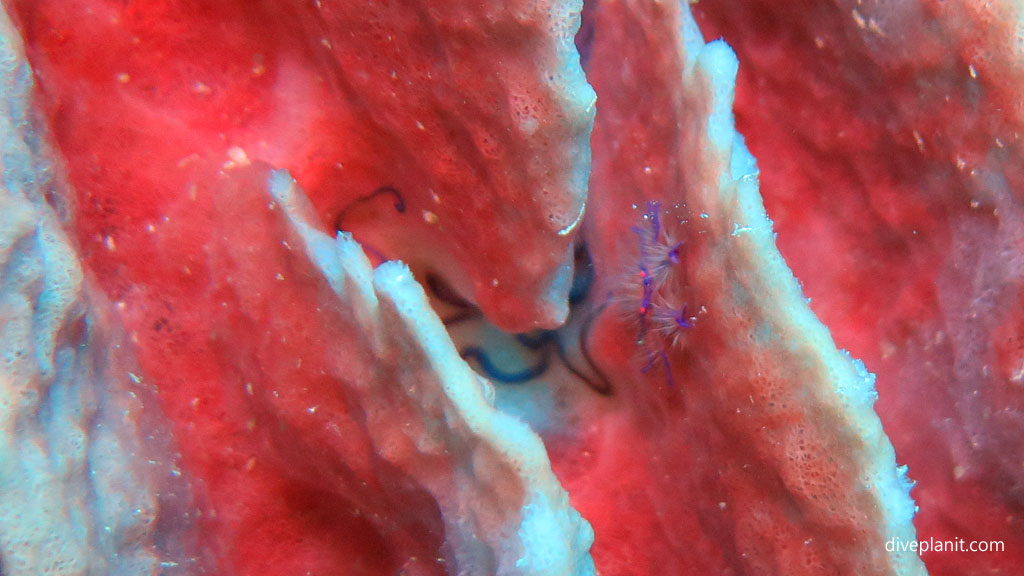 Moving on from the micro there's plenty of bigger stuff like this school of Gold strip goatfish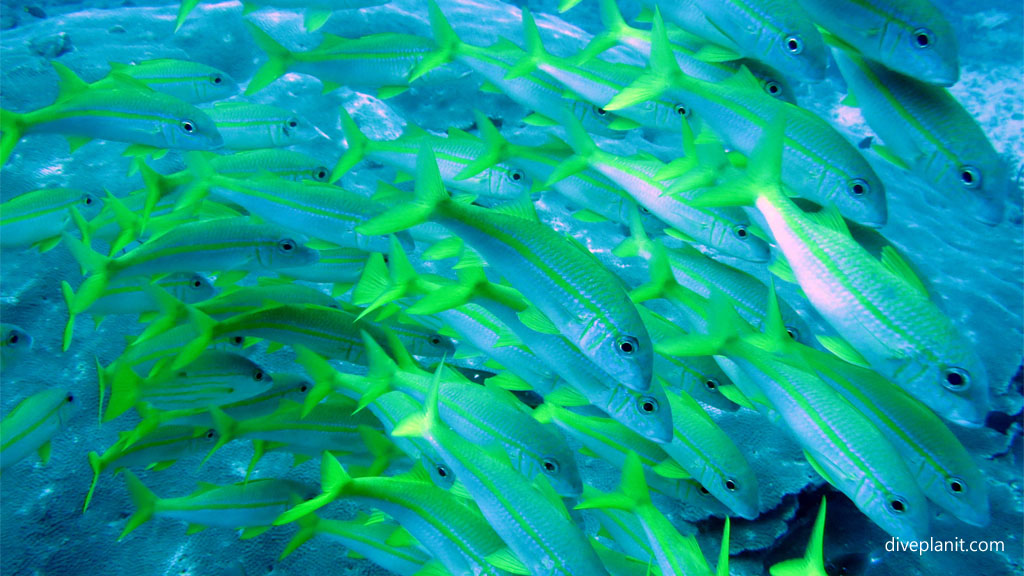 There are plenty of large seafans too – and I mean large.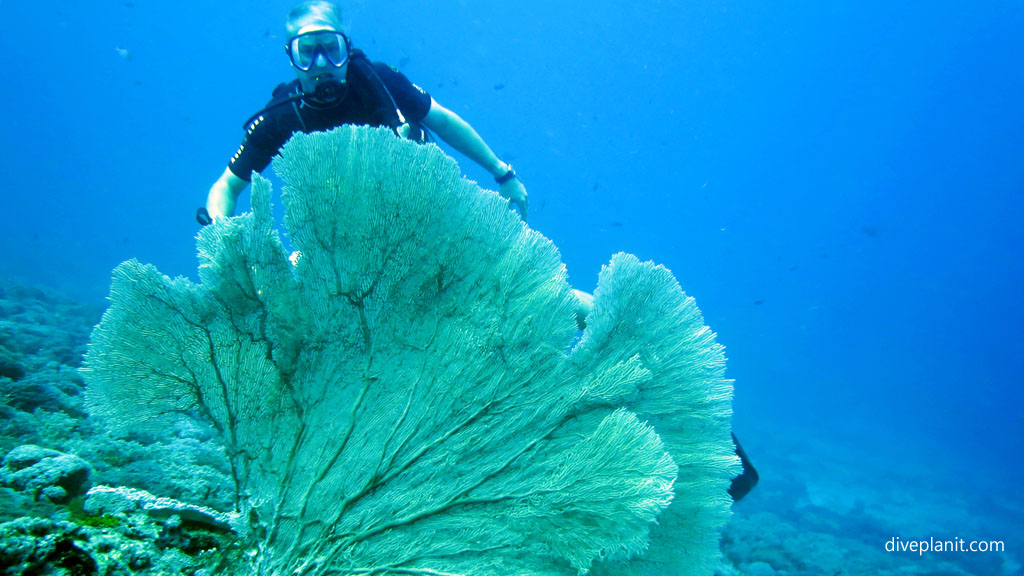 Around these reefs there was a great variety of fish species including…
The Yellow tail (reticulated) butterflyfish
The Blackfin squirrelfish – whose dorsal fin looks like a big toothy mouth when raised – yeah well you try asking a squirrelfish to raise his dorsal – it wasn't happening for me that day.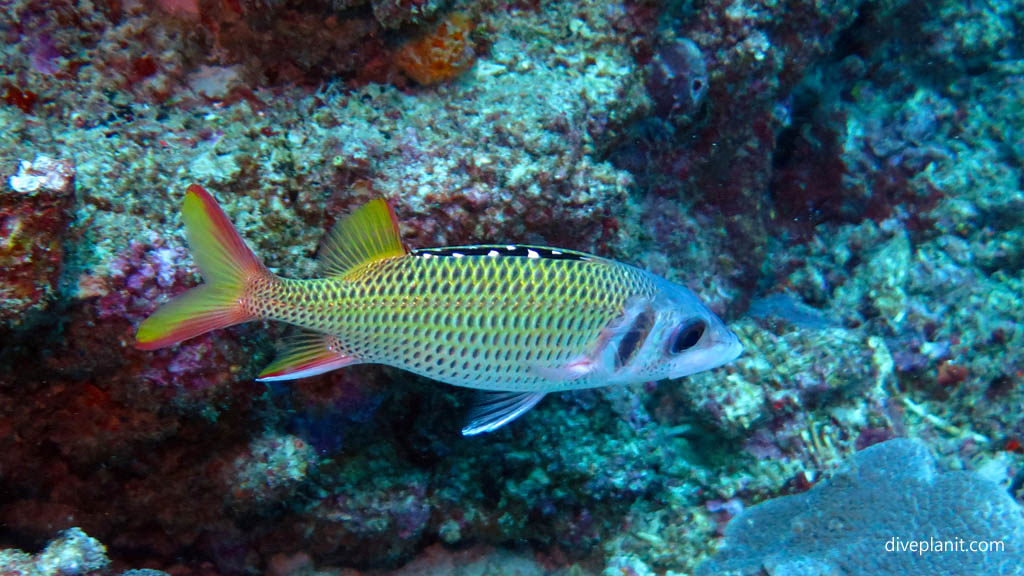 A Fox-face Rabbitfish, which is another weird human invention – it simply doesn't make sense to juxtapose fox and rabbit!
The more aptly named Blue-face angelfish. (Though actually – why 'angel' – it's not as if they have wings or anything).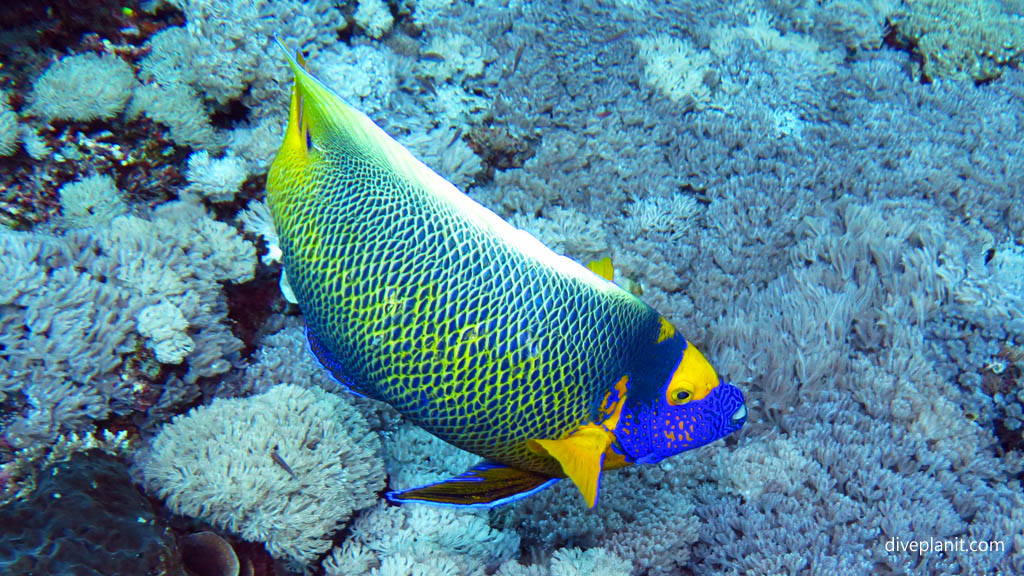 The inaccurately named Two-spot snapper (Lutjanus biguttatus) – I can definitely count three.
And the Black-spotted puffer – which is probably the thing that is most consistent as I've seen some that are all blue, and others that are all yellow – the spots though – are always black!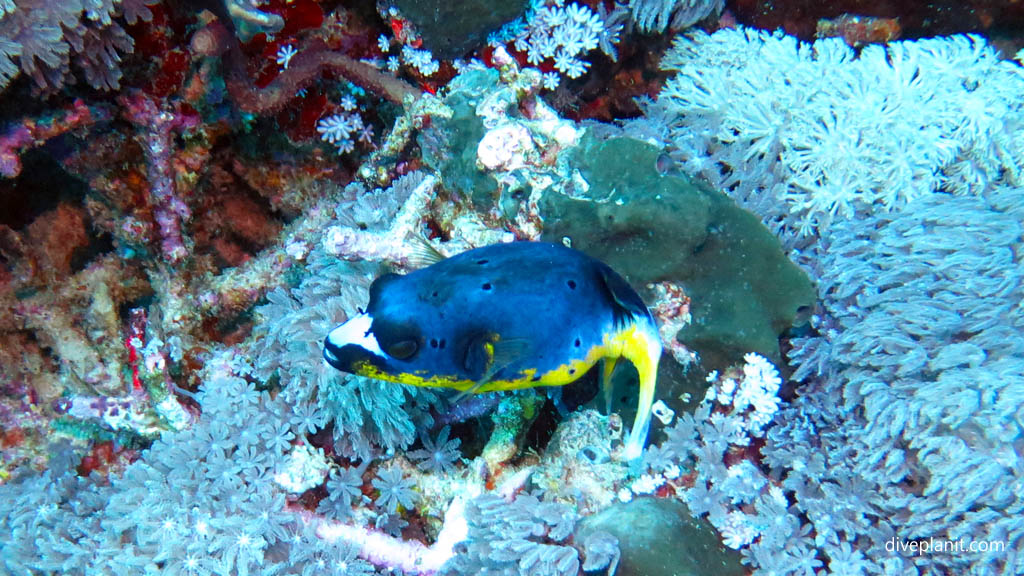 And finally, as we move up to the shallows for the safety stop, sweetlips just hanging above the soft corals. Two ribbon and one diagonal stripped. Cousins maybe?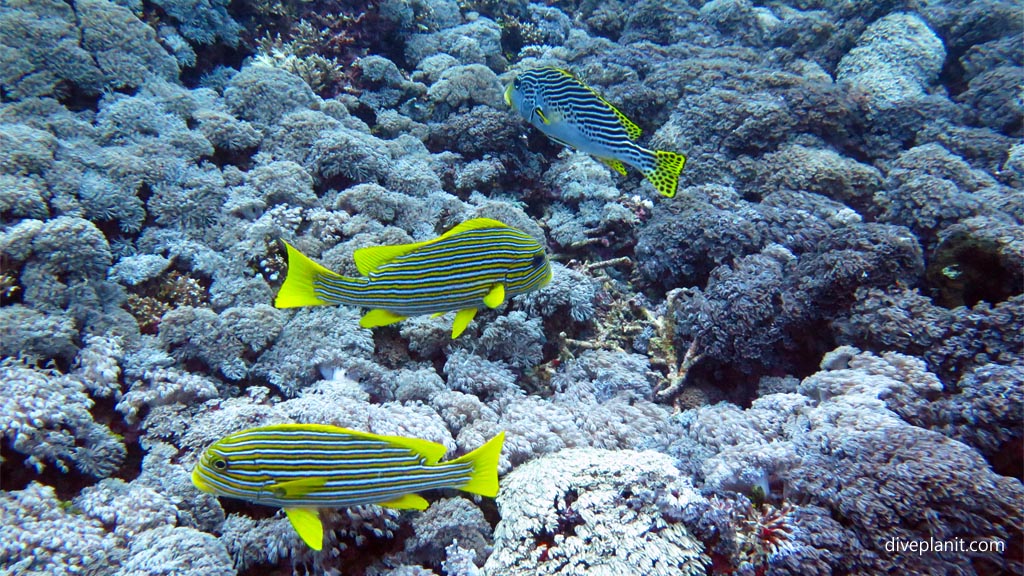 We dived Sunset Reef, Gili Islands, Lombok with 7Seas Dive Gili, Gili Air, Lombok Indonesia.