Koh Ha, Thailand, is a tiny group of uninhabited islands, about an hour's boat ride from Trang on Thailand's south west coast. The Thai Royal family has the group of islands closed for a few weeks each year so they can have exclusive access to it. I soon find out why – this place really is special.
Above water, like a lot of the islands dotted along the coast south of Krabi, the islands are stunning – tall limestone karsts rising dramatically out of the turquoise water.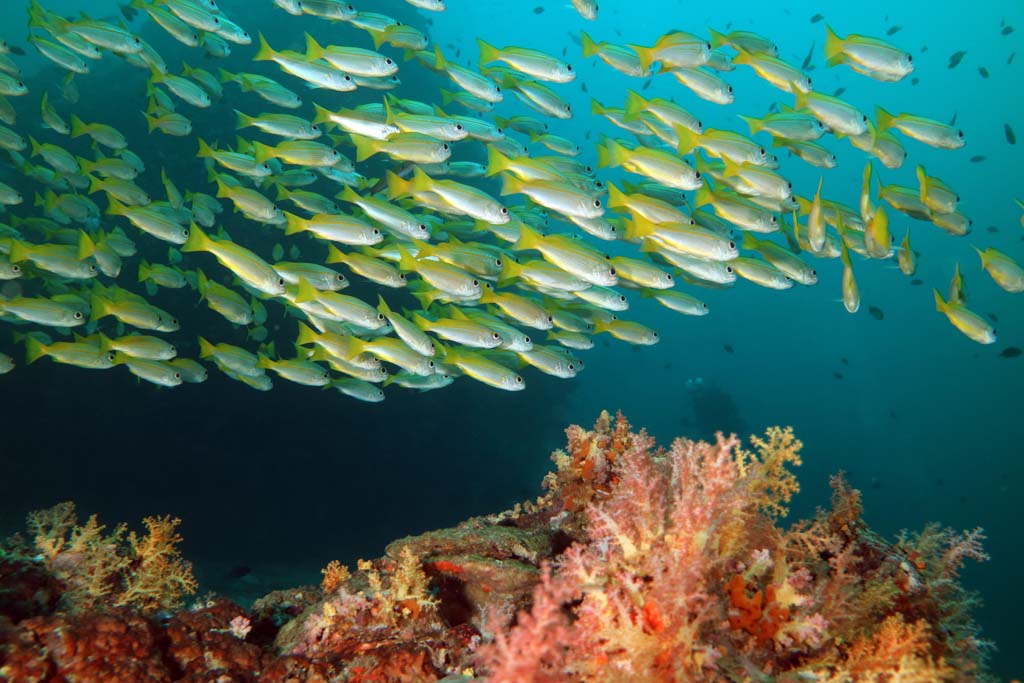 Underwater the landscape is equally stunning, with large boulders and rocky reefs, all with thick covering of colourful soft corals, and a number of caverns and swim-throughs to wind through.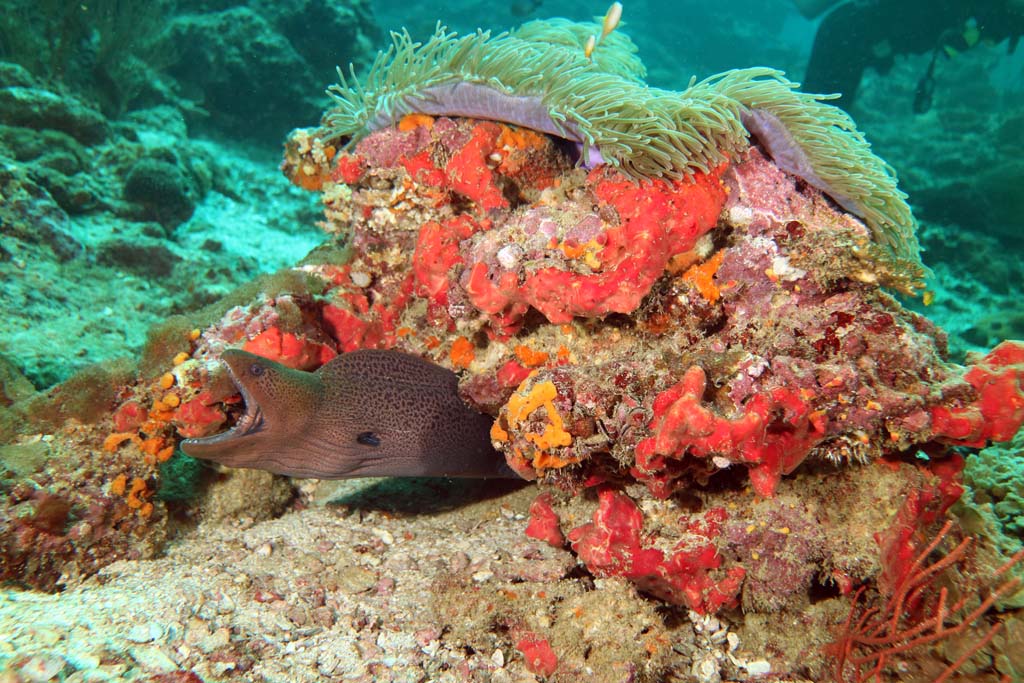 All manner of reef fish, such as damsels, butterfly fish and coral trout flit about the soft coral, several species of anemone fish hover over the many anemones, while schools of snapper, fusiliers, jacks and barracuda swarm in the blue. In the crevices and caverns, giant moray eels, puffer fish and the odd giant groper hide.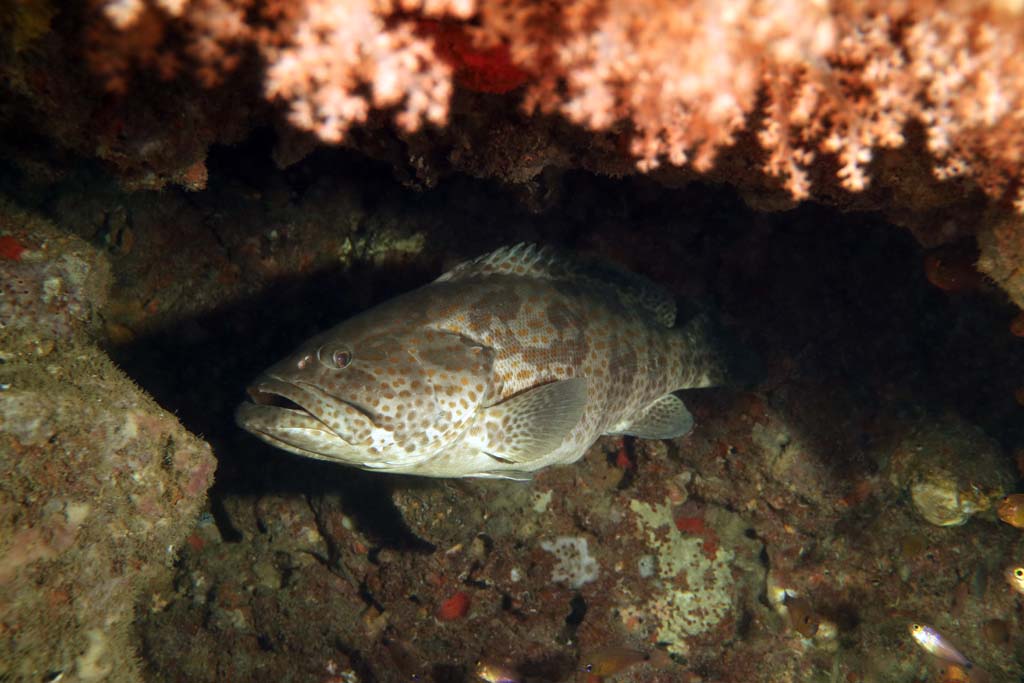 In the Thai language 'Ha' means 'five', and in this tiny little archipelago there are five islands, with most dive sites simply named after each one (No. 2, No. 3, etc), with a few exceptions which are named after specific features, such as 'The Chimney' and 'Twin Cathedrals'.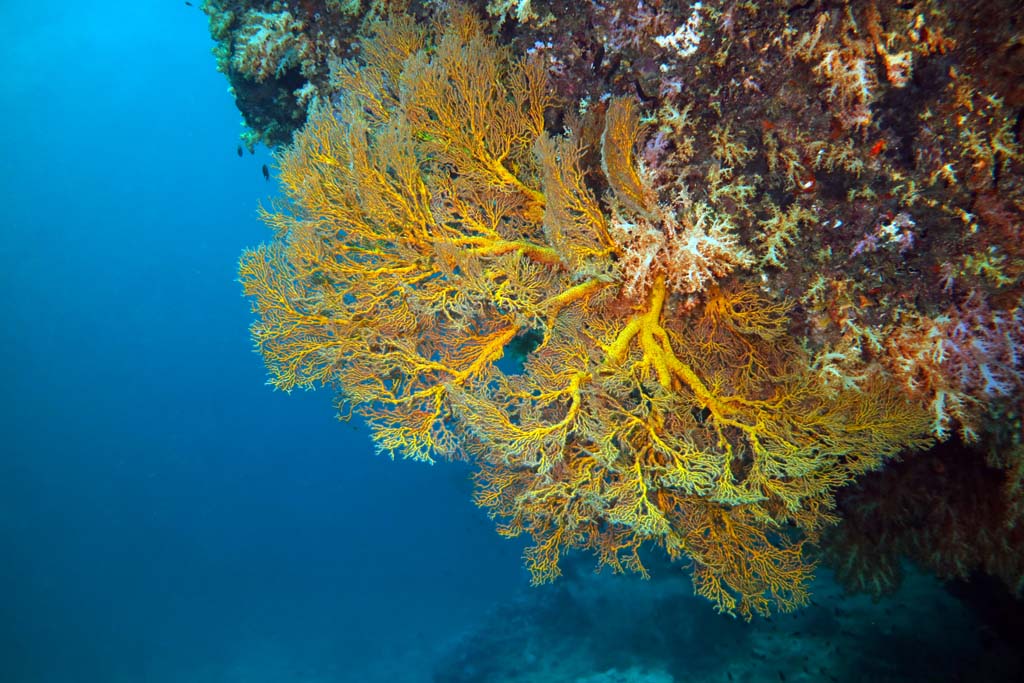 Our first dive here is Twin Cathedrals, named for its two enormous caverns. We descend next to the largest island and swim along the wall towards a couple of enormous boulders, worth exploring before we enter the first cavern.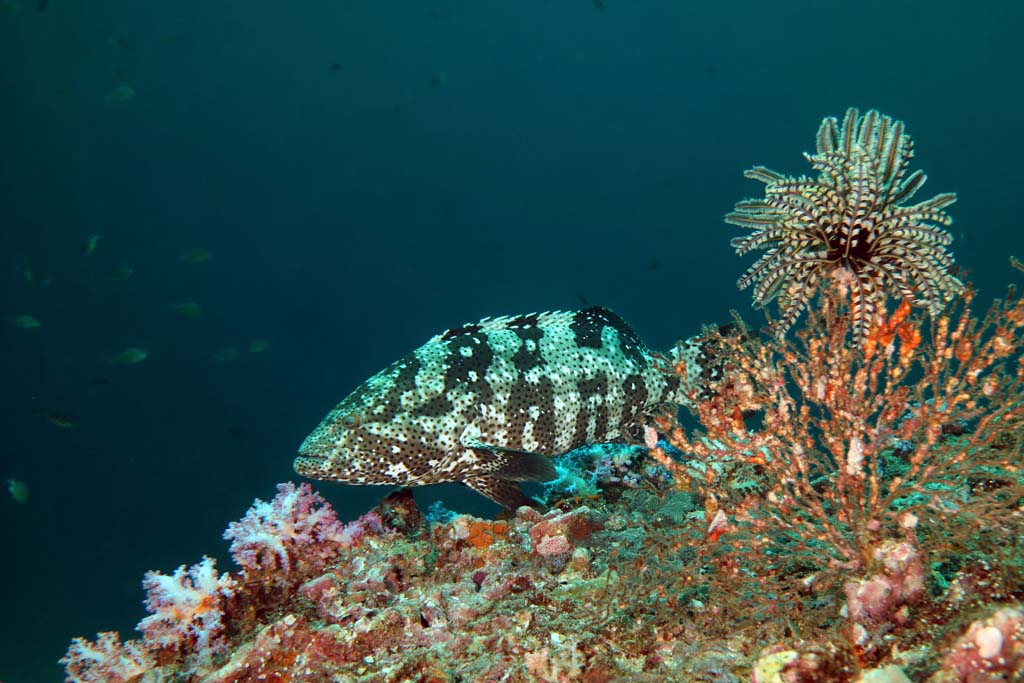 Past the boulders there is a sloping reef, covered in a forest of whip corals descending about 25m which looks like something Dr Suess would have dreamed up. We swim back around this reef and through the enormous arched entrance to the first cavern and start ascending to a small air bubble to check it out. The cave extends another 50m above water, and it's an impressive sight, worth checking out before swimming through another grand arch to the second slightly smaller cavern.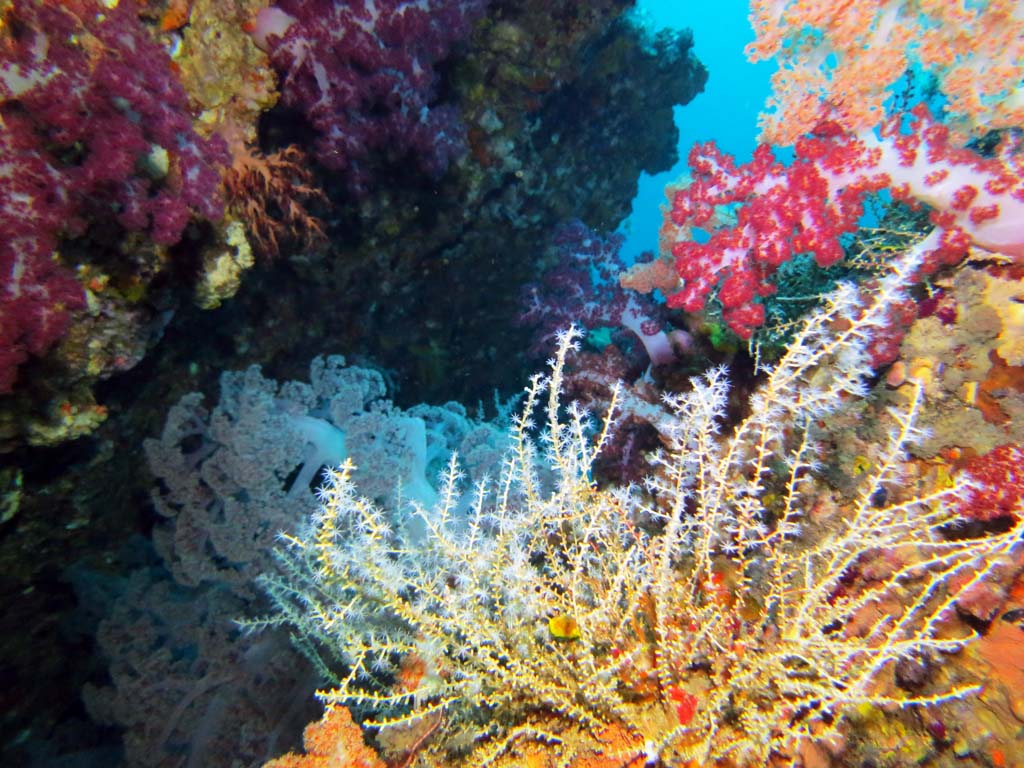 Our next dive is a combination of No. 2 and No. 4, more rocky reefs and large boulders covered in brightly coloured hard and soft corals, as well as large sea fans. Schools of fuseliers and snapper fly over them, and all sorts of damsels, butterflies and anthias dart in and around the coral formations. Down at about 25m, a huge school of Jacks appears from the blue and circles us as we spin around trying to snap them.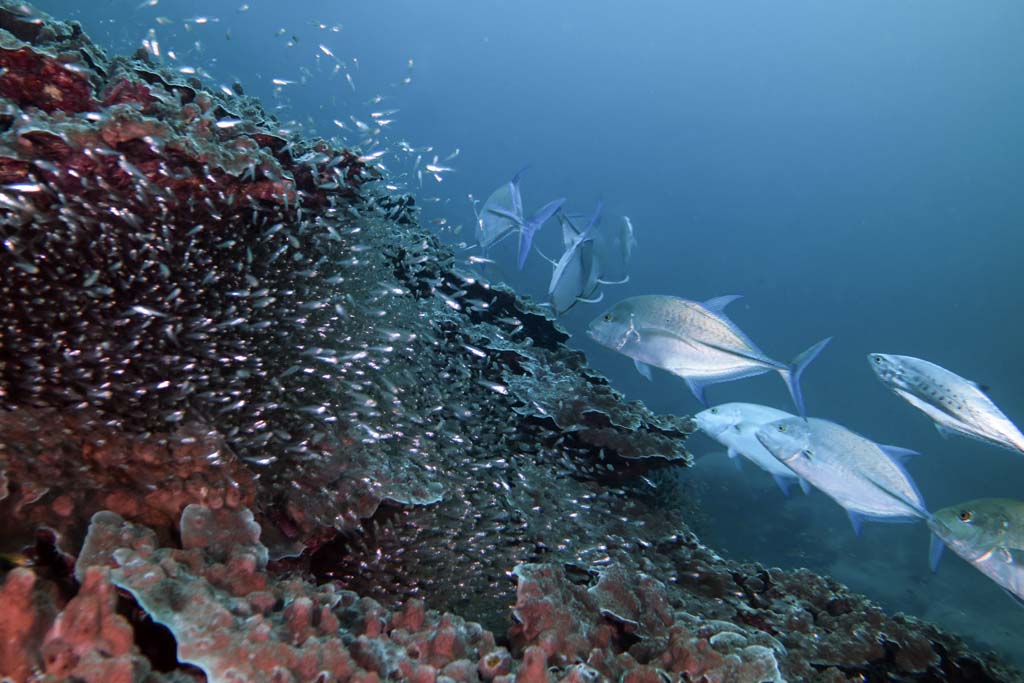 Our third dive is named after one of its main features, the Chimney, which we descend at the start of the dive down to around 20m before it opens into a small cavern, lined with soft coral and full of curious big eyes.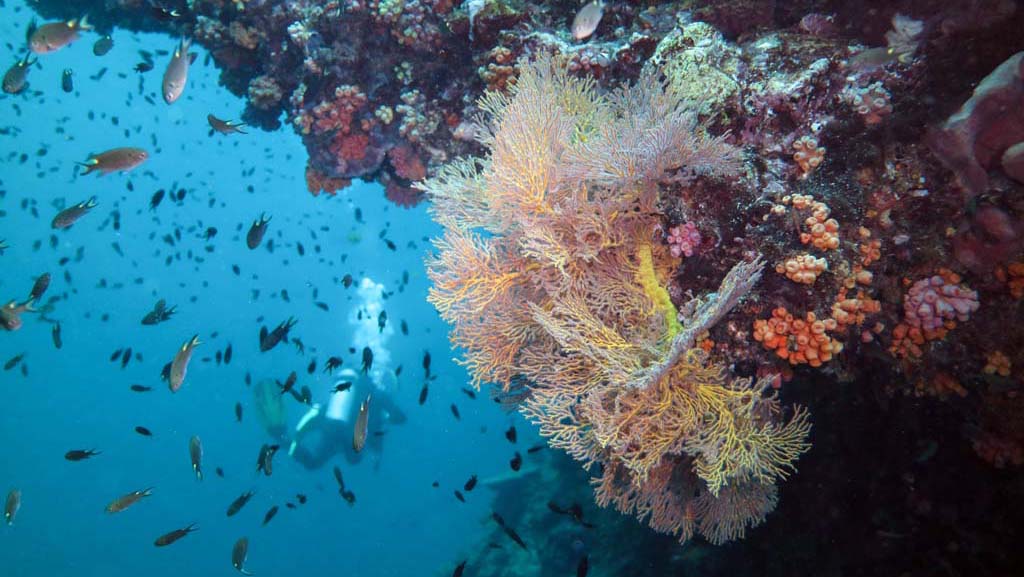 Outside the cavern is a large bowl, protected on all sides by large boulders, with smaller boulders forming a large garden of anemones which we spend lots of time exploring before heading into the shallow coral gardens.
Each dive is as stunning as the next – I can see why the Royals love it so much.
Koh Ha is around 30-60 minutes from Koh Lanta, and 60 minutes from Trang. We dived with Sea Bees Diving based at Anantara Si Kao Resort.