The Diveplanit App can be used to drive traffic to your website and Facebook page simply by having your profile listed. Let's start with a picture of how it works.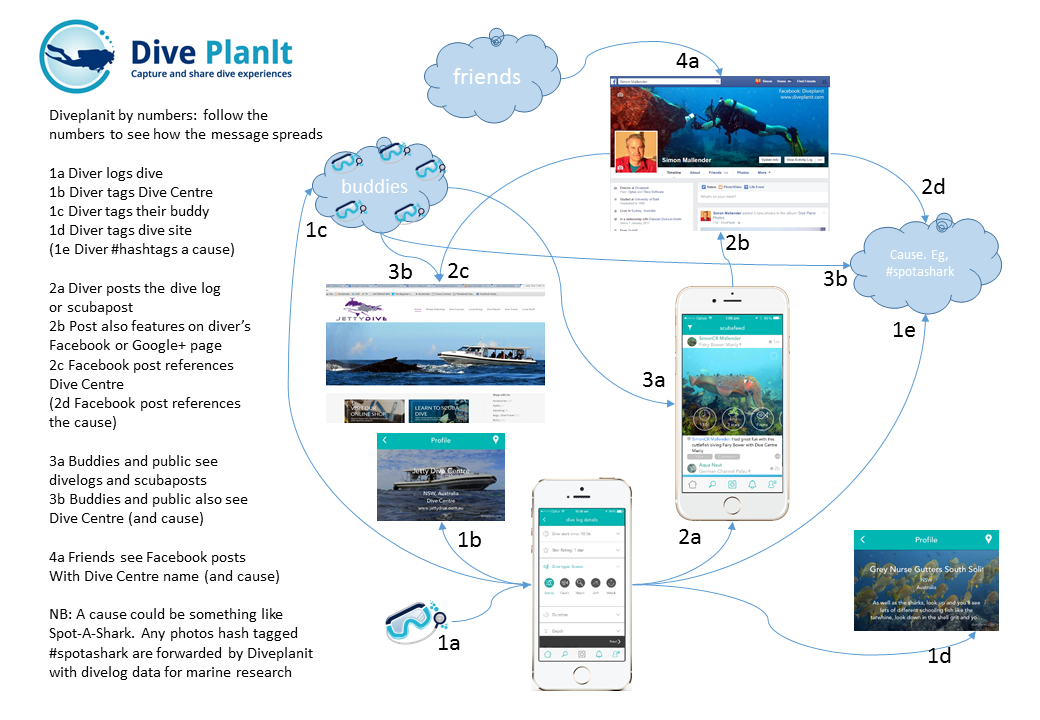 Diveplanit passively converts your customers into advocates for your Dive Centre via their own social media platforms. A more active way is to create a User Profile for your Dive Centre and to promote your courses, trips, events, activities and specials directly.
This page explains how to do both. We assume you've watched the videos on how Diveplanit works for users, if not watch those first here.
Now watch the video to see how Diveplanit can be exploited by Dive Centres and Resorts.
Promoting your Dive Centre via Your Customers
By alerting your customers to the availability of this Free App, and ensuring they have at least one great photo from the dive you took them on, your customers can promote your dive centre via their social media accounts directly to their friends and followers.
Promoting your Dive Centre Directly
In addition to having your Dive Centre tagged on DiveLogs and ScubaPosts, you can create a Diveplanit account and publish posts on your own account, advising of specials, places on trips, spaces on boats, or forth-coming events etc. There is no limit on the number of posts a Dive Centre can put out. However, posting in a spammy way will become self-defeating as users will simply un-follow or even block that Dive Centre 'User'.
The Diveplanit platform effectively allows a Dive Centre to communicate with the members of their 'dive club' directly via push notifications to the divers' mobile devices – no longer relying on them to check Facebook or a Website for offers, deals or events.
Follow these simple steps to ensure you are maximising your Diveplanit presence.
Click here to download Diveplanit for Free at the App Store.