How to book
On this page you can book the following components of the SPUMS 2024 ASM which is taking place at The Pearl Resort & Spa in Fiji's Pacific Harbour from Sunday 12th to Saturday 18th May 2024.
Accommodation at The Pearl Resort & Spa – the Official Conference Resort
In-water practical diving sessions in Beqa Lagoon which take place every morning.
A four evening buffet dinner package for a complete accommodation and meal package.
Pre- and Post-conference trips
A summary of the inclusions of each is given below, with more detail on the linked pages.
Below that is the form where you can sign up for all the components you require.
Note, you must have a Delegate ID before you can book these components. If you do not, please visit the SPUMS ASM website and register as a delegate first.
Accommodation Options
The only accommodation option that we are able to offer is the official conference hotel. There are only a few other accommodation options in Pacific Harbour, none which are close enough to offer the same level of convenience for the tight time table of practical and theory sessions.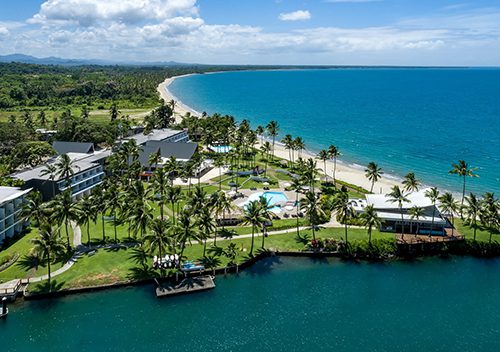 Accommodation Options at The Pearl Resort & Spa
Official Conference Hotel.
Room rate includes a full cooked buffet breakfast daily, and a choice of king bed or two queen beds, with ocean or garden views.
Room rates per night are as follows:
AUD 300 – Adults Only Garden view – King Bed
AUD 338 – Adults Only Ocean view – King Bed
AUD 360 – Superior Twin Garden view – 2 x Queen Bed
AUD 384 – Superior Twin Ocean view – 2 x Queen Bed
AUD 475 – Garden view Penthouse Suite – King Bed
AUD 500 – Ocean view Penthouse Suite – King Bed
More information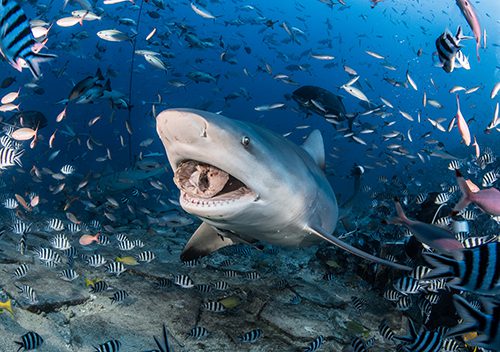 Practical in-water diving sessions
Each morning, five or more dive boats will depart the wharf at The Pearl resort to conduct practical in water diving sessions in Beqa Lagoon.
There are 2, 3 and 5 day options available – every day is a 2-tank dive with the commensurate surface interface where snacks will be served. Each option includes one shark dive experience.
Weights, air-filled tanks and dive guides are included.
Pricing as follows:
AUD 1160 – 1 x Shark Dive plus 4 x Coral dive trip (10 dives)
AUD 1245 – 2 x Shark Dive plus 3 x Coral dive trip (10 dives)
AUD 730 – 1 x Shark Dive plus 2 x Coral dive trip (6 dives)
AUD 515 – 1 x Shark Dive plus 1 x Coral dive trip (4 dives)
AUD 30 – per tank Nitrox
Meals
Breakfasts are included in the nightly rates
Lunches for delegates are included in the Delegate Package. These will be buffet style with a variety of hot & cold dishes. There will be a different menu daily and all dietary requirements will be catered for.
Dinners – there are six dinners required over the six days, two of which will be: The Cocktails & Canapes, and the Gala Dinner – both of are included in the Delegate Package and there will be plenty to eat at both.
For the other 4 nights there is a 4 evening buffet dinner package option at AUD 208 per person, with different themed buffets each evening. Though we expect most participants to add in this option, it is not mandatory. Alternatives are a la carte in the restaurant. Note that there are limited dining options in Pacific Harbour.
Children: for all meals at The Pearl, 0-4 years are free of charge; 4-12 years are charged at 50%, with those 13 and over charged at adult prices.
Transfers
Diveplanit will provide a number of separate vehicles on days around the Start and End dates of the ASM, from Nadi International & Domestic Airports to The Pearl Resort. We will be collating your flight information and optimising the transfers to minimise waiting times at Nadi. Each one way transfer will be AUD 54 per person per way. Individual private transfers can also be arranged at approximately FJD 200 per person per way.
Note: Once you arrive in Nadi you'll be on Fiji time. It could take an hour to collect your bags and clear customs, and the transfer to the resort can take up to 4.5 hours depending on the day and time of day.
Flights
The flight options to Nadi are too numerous to mention here. You can visit the Qantas or Fiji Airways websites to see what might suit from your destination – including from Australian domestic and North American airports.
Note: It is particularly important if you have Australian or Fijian  domestic sectors, including the pre or post conference trips, that you book all sectors on one ticket to get 30kg baggage end to end. Please let us help you if you have a challenge with this – just give us the details on the form below.
Note: If you land in Nadi after about 2pm on Sunday, you stand a good chance of missing the dive briefing, the entertainment and half the cocktails. Please plan to arrive a day earlier in that case.
Pre- and Post-Conference Trips – two world renowned reefs
Fiji is home to two world-renowned reefs and we present both as pre- and post Conference options.
The Rainbow Reef which provides spectacular diving every visit. Located in the Somosomo Straits – a relatively narrow channel between two islands where nutrient rich waters from deeper areas at either end of the channel are brought to the surface and over the reefs providing a constant food supply for the marine life that lives there.
The Great Sea Reef – known in Fiji as Cakaulevu Reef – is located off the northern shore of the island of Vanua Levu and is the third longest continuous barrier reef in the world. It has the highest biodiversity of any reef in Fiji.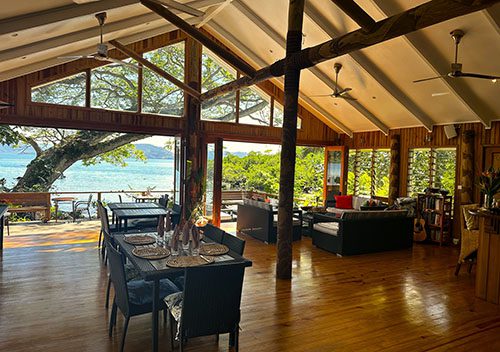 Rainbow Reef – Sau Bay Resort and Spa
Sau Bay is sheltered from waves and storms and is home to a unique ecosystem. Sau Bay Resort & Spa is perfectly located to explore the world famous Rainbow Reef – the soft coral capital of the world.
Accommodation options include per person twin/double share:
USD 1995 – Deluxe Oceanfront Bures, splitable King Bed
USD 2295 – Oceanfront Bures (semi-detached), 2 Queen beds
USD 2595 –  Luxury Tented 'Treehouse' Bure with fixed King Bed
Our package includes: 7 nights accommodation twin or double share, all meals, 10 dives on the Rainbow Reef, transfers from Taveuni airport.
More information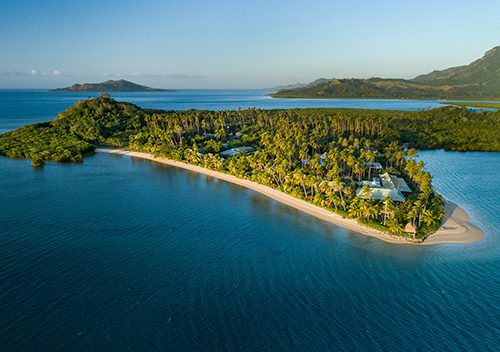 Great Sea Reef – Nukubati Island Resort
Nukubati Great Sea Reef Resort is an island eco-resort located on the North Coast of Vanua Levu with unparalleled access to the Great Sea Reef, offering scuba diving and snorkelling for all levels.
This boutique resort has just 5 bungalows, all elegantly decorated in a simple island style, with a focus on comfort and relaxation. Louvred windows allow natural light to fill the rooms, creating a light and airy atmosphere. Rooms are not air-conditioned, and there are no televisions or phones to distract from the stunning surroundings.
Our package includes: 7 nights accommodation twin or double share, all meals (fresh organic cuisine), 10 dives on the Great Sea Reef, transfers from Labasa airport – FJD 4310 per person twin/double share.
More Information
What to book
Please use the form below to select your options. If you have any questions, call us on 1800 607 913 during office hours and we will assist.
Note: Your bill will be in AUD even though the accommodation, diving and transfers input costs are in a combination of USD and FJD. Due to current AUD FX volatility, should the AUD fall below USD 0.63 (as per Wise FX Rate), an FX surcharge equal to (0.63-fx)/fx will be applied to payments due at that time. (E.g., at AUD 1 = USD 0.61, the surcharge would be: (0.63-0.61)/0.61 = 3.3%).
---