Introduction
Location
Accommodation
Diving
Pricing
Enquire Now
Niugini Dive centre is situated within the Madang Resort & Kalibobo Village. A full PADI Dive facility offering instruction and diving, Niugini Dive has been offering diving in Madang for more than 40 years. Madang Resort is right on the waterfront and just minutes away from the best diving in Madang on its coastal fringing reef, and about one hour away from the offshore islands of Kar Kar & Bagabag. Nuigini Dive and Madang Resort offer packages with accommodation for divers and non-divers, and their professional staff include PADI Instructors, dive masters all with fluent English. Their two dedicated dive boats, are fully equipped to provide fast, efficient and safe transport to all dive sites in Madang and offshore islands
Madang is often called the most beautiful town in Papua New Guinea as it is surrounded by the rugged mountains of the highlands and overlooks the spectacular Madang Lagoon. This picturesque lagoon is dotted with palm tree covered islands and a maze of corals reefs, offering an incredible underwater adventure playground for divers.
Other Activities
For non-divers, or if looking for something else to do when not underwater, Madang Resort has kayaks, catamarans and canoes for guests to use. Fishing and snorkelling trips can also be organised by the resort, and there is a golf course nearby. There are also numerous markets to explore, with the ones in front of the resort selling traditional carvings and other local handicrafts.
The resort can also offer local tours to villages, World War II sites and other attractions in the area. Also based at the resort is Kalibobo Spirit, a 30m long liveaboard vessel that operates extended trips to the Sepik River and nearby islands.
Staying Connected
Complimentary Wifi is available at the Madang Resort.
We Think …
Madang is an underrated gem that will surprise even the most experienced diver with its wonderful range of dive sites and marine life.
The Madang Resort is located on the waterfront and is a 20 minute drive from the Madang Airport. The town centre, including shops and markets, is only a ten minute walk from the resort.
Accommodation/Facilities
A variety of room styles are found at the Madang Resort, all of which are air-conditioned and have balconies with either ocean or garden views. On offer are everything from basic motel rooms, to units, townhouses and also waterfront suites, all with Flat Screen TV, air conditioning and private facilities.
Standard Room
Available in single or twin configurations, with basic bathrooms, private balconies overlooking the beautiful resort gardens. Excellent value for the budget minded traveller
Deluxe Room
Available with twin or queen size beds, all rooms are newly refurbished and feature private balconies overlooking the resort's beautiful gardens. Includes a complimentary fruit bowl on arrival and Tea & coffee making facilities.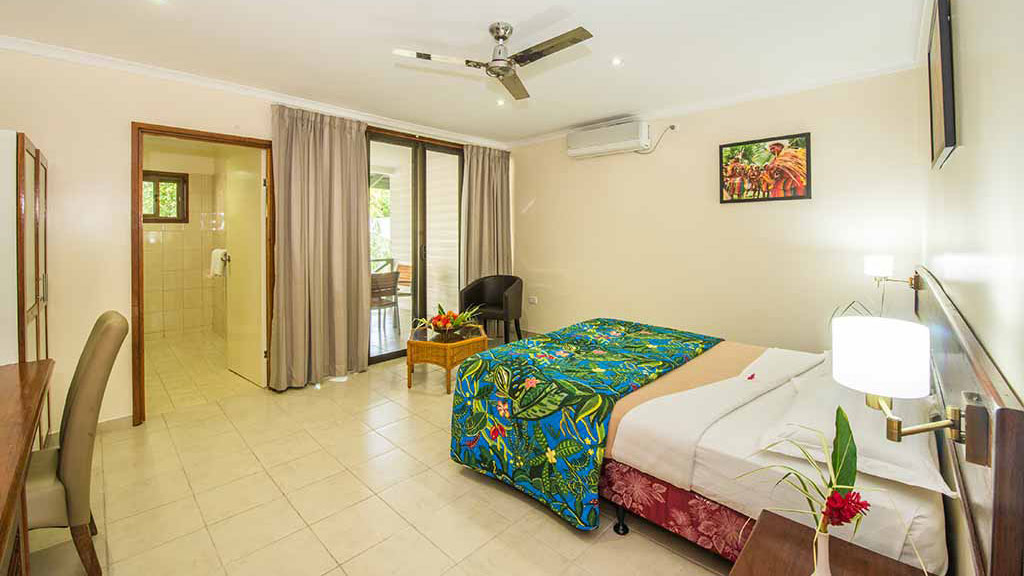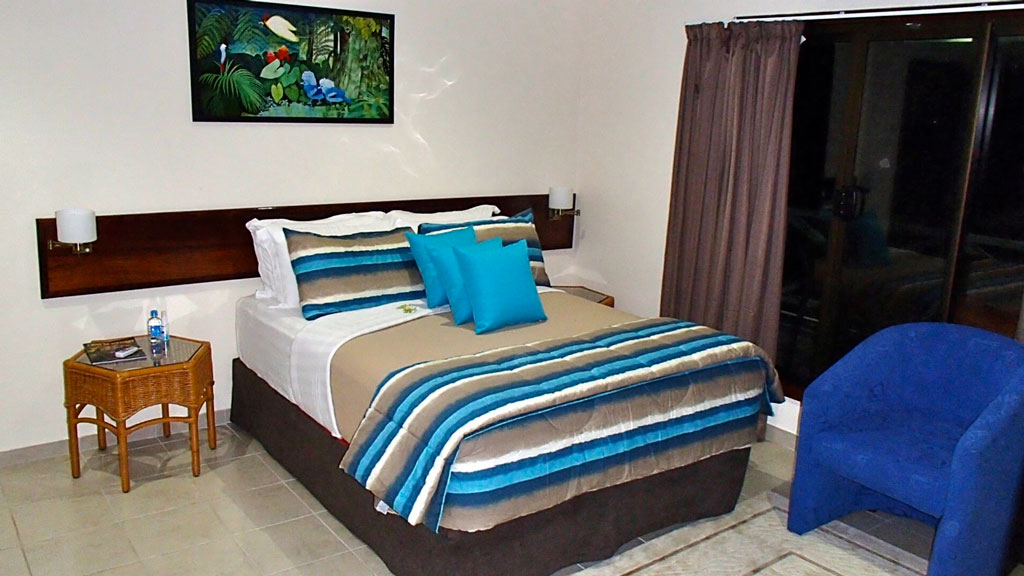 Executive Deluxe
These large Deluxe rooms offer twin, queen-size or family room configurations. All are newly refurbished with balconies overlooking Dallman Passage on absolute water frontage. Includes a complimentary fruit bowl on arrival and Tea & coffee making facilities, and optional mini-bar.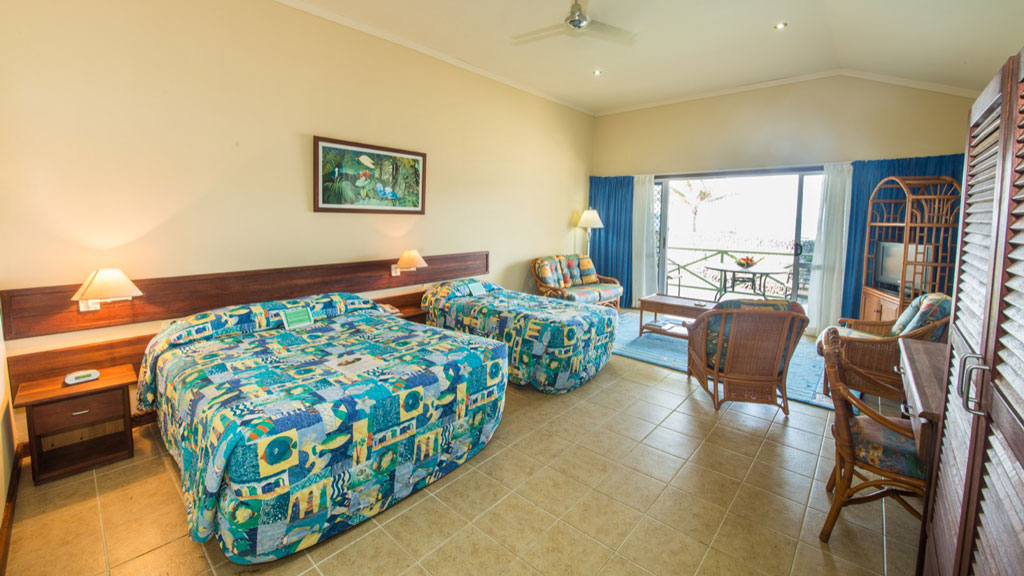 Facilities at the resort include a large swimming pool, tennis court, gym, gift shop, hair salon, conference rooms and two restaurants and bars. Set on 15 acres, the resort has tropical gardens and alsoa mini zoo containing Victoria crown pigeons and a hornbill, which are released each day to freely roam the grounds.
What to Expect
Niugini Dive Adventures is located in the resort complex and have a fully equipped dive shop with a good range of hire gear. Two ex-pat dive instructors manage the dive operation and are ably assisted by excellent local staff. They offer daily boat dives, a double dive in the morning and single tank dive in the afternoon, with night dives on request. Shore dives are also possible at the Madang Resort Jetty, which is an excellent muck site. Currents are common at some sites, but are used to do drift dives. All dives are guided, but experienced divers can do their own thing if the site and conditions allow. PADI dive courses are also available, contact Niugini Dive Adventures beforehand to ensure medicals and paperwork are sorted before you arrive.
Dive Boats
Niugini Dive Adventures operate two dive boats –
Dallman Diver, 8.7m long high-speed boat with double Yamaha 250hp engines, which can take 8 divers or 12 passengers. On board is a toilet, GPS, sonar, radio, life raft, life jackets, first aid kit and oxygen kit.
Reef Explorer, 9.9m long catamaran boat with double Yamaha 250hp engines. The boat has 18 seats and 16 tank racks and can cater for 25 passengers. On board is a toilet, GPS, sonar, radio, life jackets, first aid kit and oxygen kit.
Dive Area
Located in the Coral Triangle, the seas off Madang are home to a diverse range of corals, fish and invertebrates. A variety of dive sites can be enjoyed in Madang, and Niugini Dive Adventures have over 20 dive sites they regularly explore. Inside the lagoon are muck sites, reefs and wrecks, and as the lagoon has calm waters the coral growths are quite extraordinary. Most of the wrecks have been placed in the lagoon for divers to enjoy, but history buffs will get a buzz exploring the wreck of a B25 bomber that was shot down during World War II and is almost completely intact.
Drift dives in the many passages from the lagoon to the open ocean are popular, with these reef walls covered in exquisite corals and swarming with pelagic fish. Outside the lagoon are walls that quickly drop into deep water where sharks and schooling fish are common. While offshore from Madang is a very unique dive site, a sea mount that rises from 600m to 5m.
Divers exploring the reefs and wrecks off Madang will typically see sharks, gropers, stingrays and schools of pelagic fish. Colourful reef fish and nudibranchs are seen at all sites, but the dive guides are also good at finding crocodilefish, sea snakes and pygmy seahorses. Madang also has a number of muck sites where divers will find pipefish, seahorses, emperor shrimps, demon stingers and other strange critters. The Madang area is also home to a unique shark only found in this region – the hooded epaulette shark. These small sharks hide in the coral by day, but emerge at night to feed. So make sure you do at least one night dive to see these unique and rare sharks.
Diving is possible year-round, but the raining season, December to April, can bring reduced visibility of 10m to 20m. The dry season, May to September, is often considered the best time, with the visibility generally 20m to 30m. The water temperature varies from 27°C to 30°C. Hammerhead sharks are best seen in January, August, September and December.
Pricing for Madang Resort & Niugini Dive
Valid through 2020
AUD
USD
7 Nights Standard Accommodation twin share plus 12 Dives

1818
USD
|
1818
7 Nights Standard Accommodation sole occupancy plus 12 Dives

2214
USD
|
2214
7 Nights Deluxe Accommodation twin share plus 12 Dives

1947
USD
|
1947
7 Nights Deluxe Accommodation sole occupancy plus 12 Dives

2444
USD
|
2444
This resort's prices are in USD. The AUD prices shown are based on the current exchange rate. The price paid in AUD will be based on the actual exchange rate at the time any payments are made.
Pricing includes twin share accommodation category as stated, airport transfers, buffet breakfast, 3 course dinner, dives as specified, half day land tour, tank, weights, dive site fees, boat fee and guide.
Complimentary use of kayaks, catamaran sailing boats, tennis & gymnasium
Important note: All divers should have their own medical insurance including medivac by air if necessary

The per person pricing above is indicative only: we show 7 night with 10/12 dive packages singles & doubles for the purposes of comparison. We can give you a price (and availability) for any combination of nights/dives you wish to undertake, which will include any discounts due to you as part of that package, and any exclusions, or items payable at the resort. Please use the [Enquire Now] tab to give us your exact requirements and we'll give you the best deal we can.