Overview
Uepi Island Resort is a self-contained dive resort on the southeast corner of Uepi Island – one of a chain of islands that separates Marovo Lagoon from New Georgia Sound ("The Slot").  As such, there are a dozen dive sites around the island within a 10-minute boat ride which can vary from gardens of coral bommies to vertical coral walls plummeting hundreds of metres.  They even have a steep wall running between their welcome jetty and the dive shop jetty which you can dive to practically any depth, or enjoy a post-dive snorkel with grey and black-tipped reef sharks.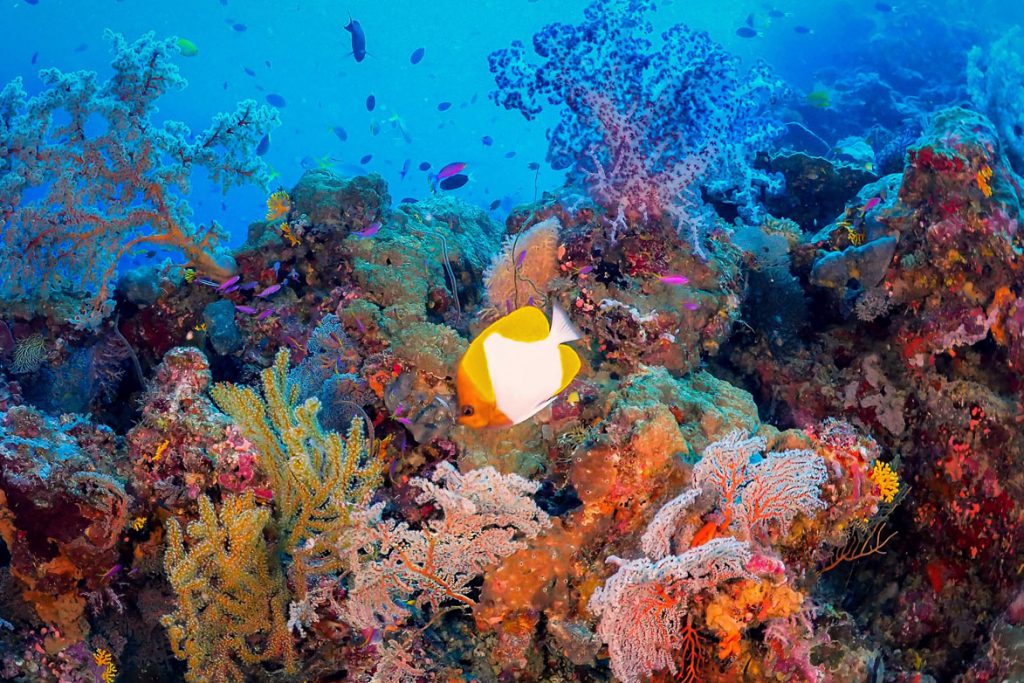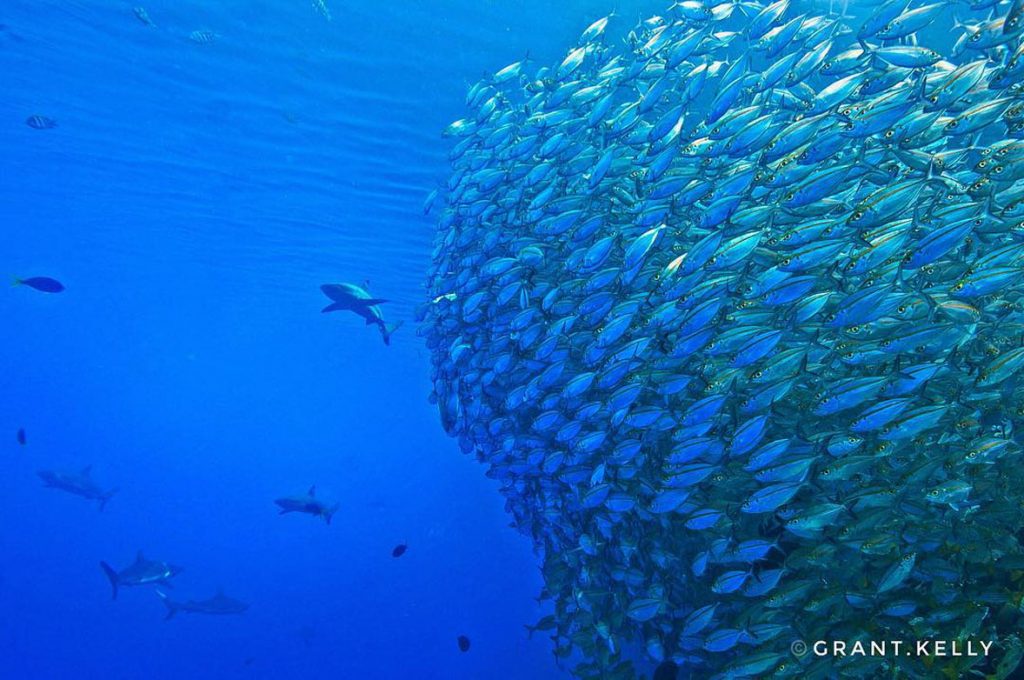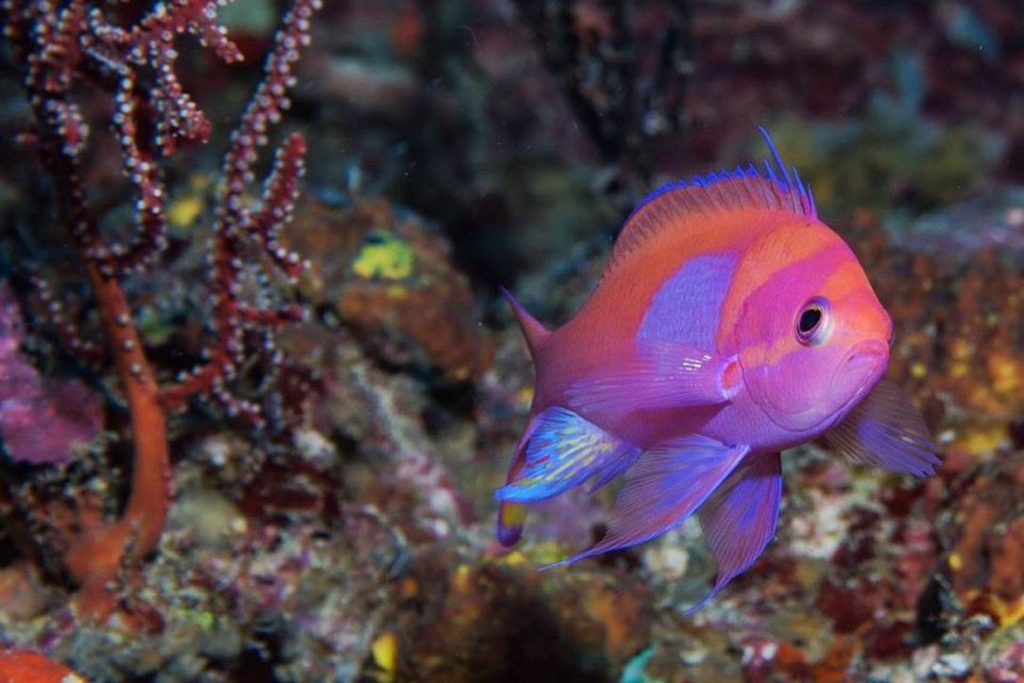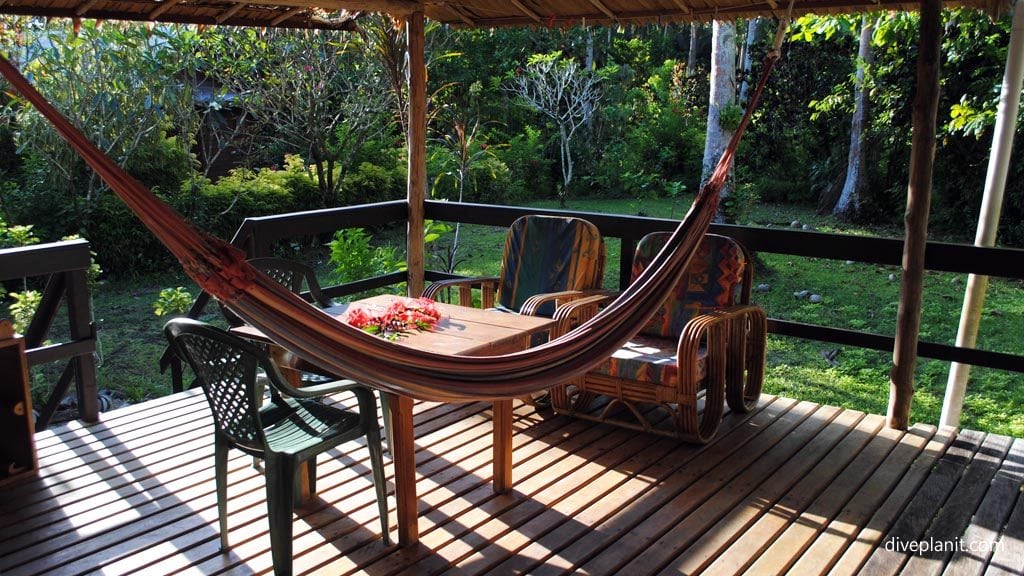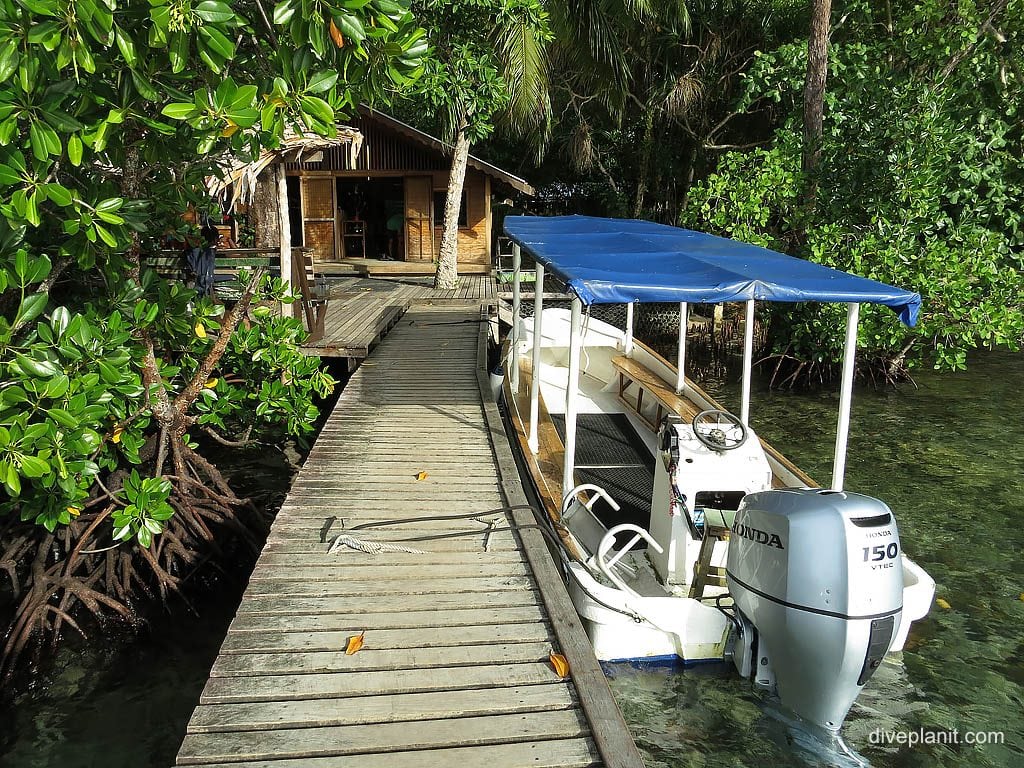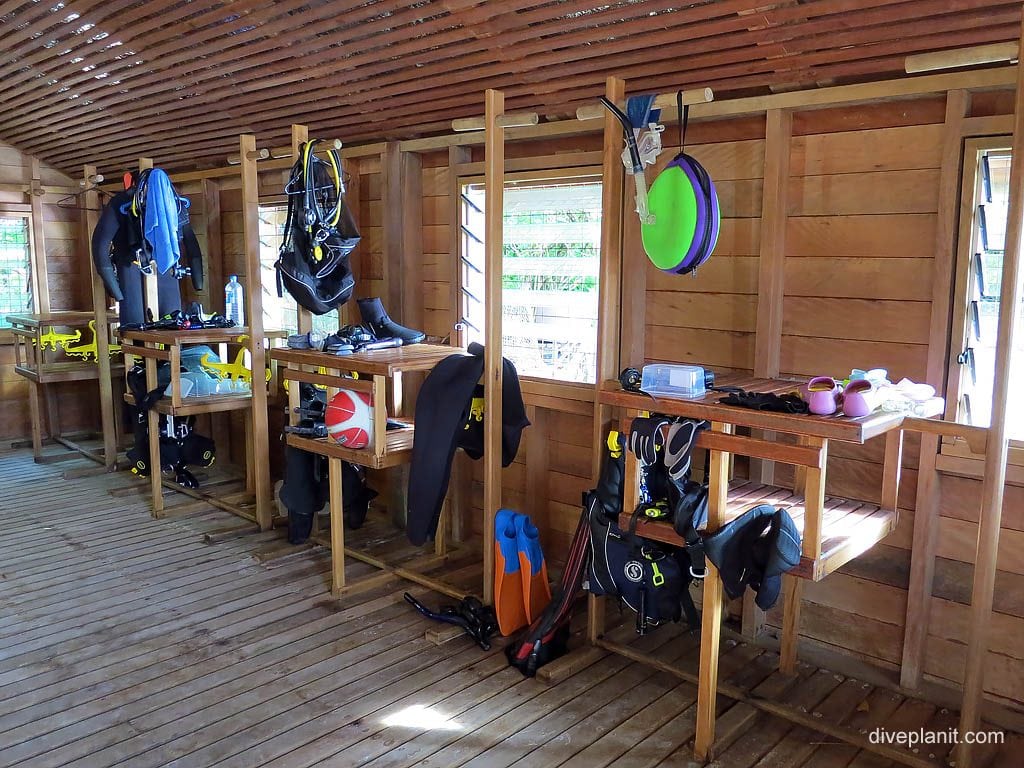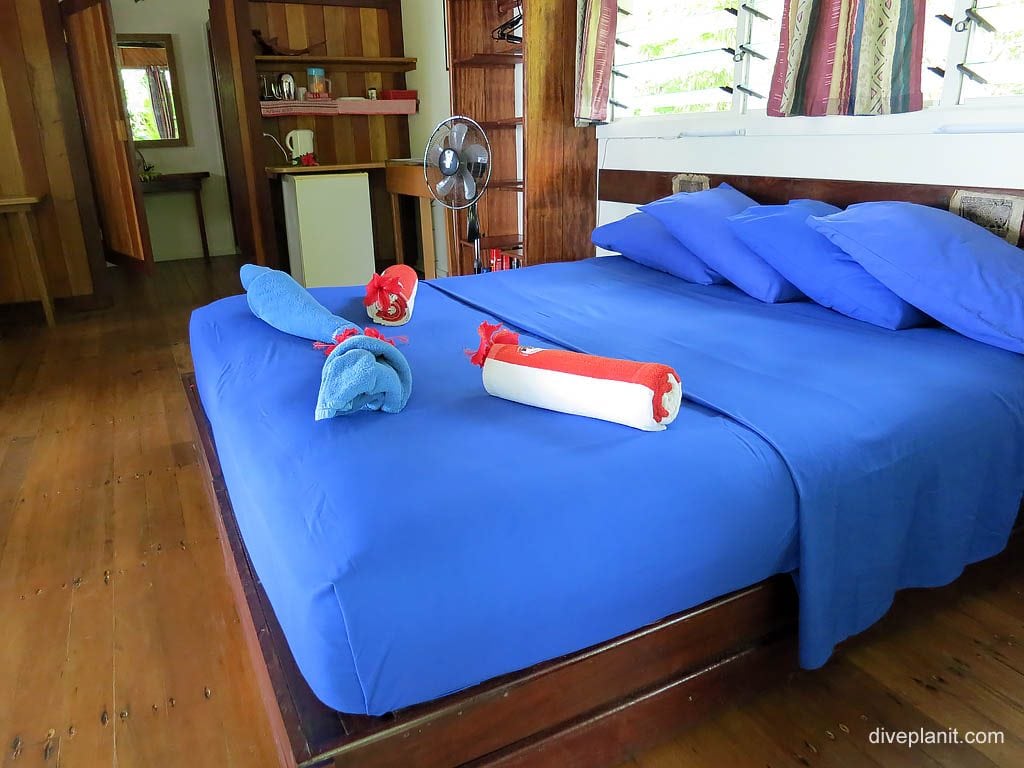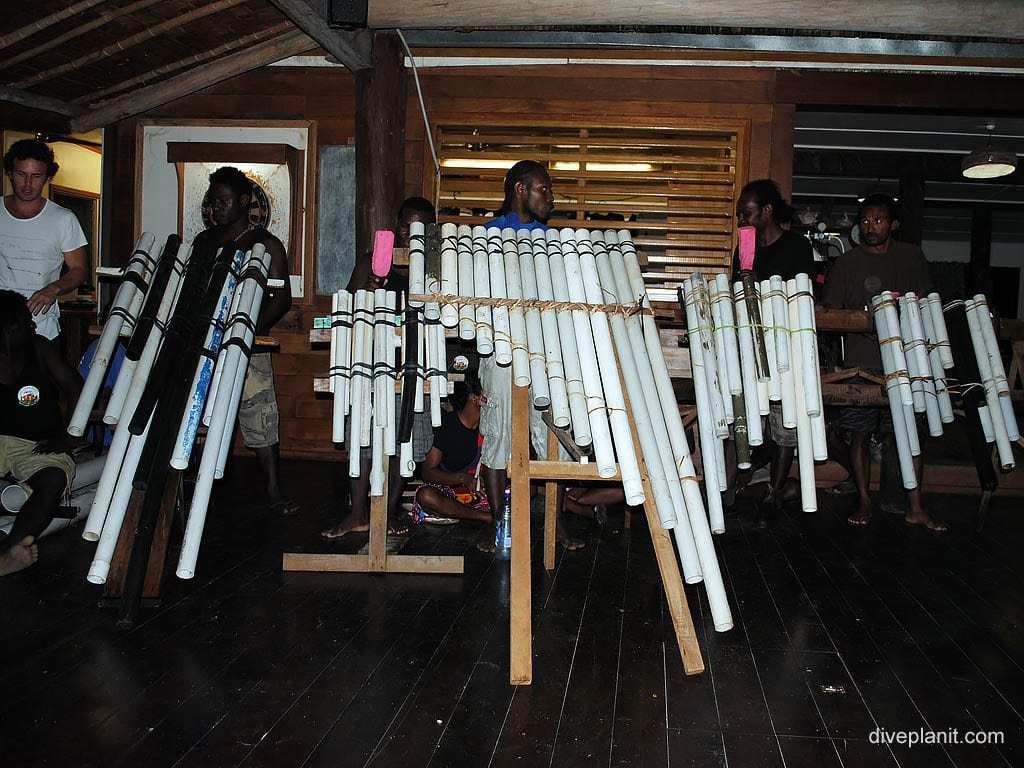 Underwater images by Grant Kelly, used with permission from Uepi Island resort.
Pricing for Uepi Island Resort 2018
AUD
7 Nights Beachfront Bungalow (double/twin) with 10 dives
2878
7 Nights Beachfront Bungalow (single) with 10 dives
3368
7 Nights Garden Bungalow or Unit (double/twin) with 10 dives
2794
7 Nights Garden Bungalow or Unit (single) with 10 dives
3263
7 Nights Guest Room with 10 dives
2458
7 Nights Guest Room (single) with 10 dives
2668
Included: accommodation as specified, all meals, 10 dives, tanks, weights, air fills, boat, dive guide, return airport transfers by boat from/to Seghe Airport
The per person pricing above is indicative only: we show 7 night with 10/12 dive packages at high-end and lower-end rooms (singles & doubles) for the purposes of comparison. We can give you a price (and availability) for any combination of nights/dives you wish to undertake, which will include any discounts due to you as part of that package, and any exclusions, or items payable at the resort. Use the [Enquiry Form] button to give us your exact requirements and we'll give you the best deal we can.
Facilities
| | | | | |
| --- | --- | --- | --- | --- |
| Training School Type: | SSI | | Nitrox Fill: | |
| Air Fill | | | Number of Guides | 5 |
| Gear Hire | | | Number of Boats | 5 |
| Gear Sales | | | Number of Dive Sites | 20 |
| Gear Servicing | | | Accommodation | |
What to expect
Uepi Island Resort teach the internationally recognized Scuba Schools International ("SSI") courses up to Dive Controller (Dive Master) level.  With SSI you can study the theory part of diving on-line in advance, and then complete your practical in-water sessions at the resort. Please check in with Uepi directly if you want to take up any of the training.
All the dive guides and boat crew are locals, and all are very familiar with what current might be running where at any given time of the day. They can advise the best time to snorkel the house reef, though personally, I found that any time was a good time to snorkel between the two jetties. Apparently, it makes a great night dive too.
The diving is classified into dives around the island, and dives further afield that are done as excursions or expeditions! Dives around the island are scheduled daily, usually the evening before, according to the numbers of divers and their experience levels (though many sites can be dived at different experience levels), and modified as required on the day according to conditions. These dives are charged at a standard rate.
The dive excursions visit reefs owned by others, or local communities, for which an addition 'custom fee' is payable.  Most of these sites are within 30 – 40mins be boat.  The dive expeditions, such as the Bapita Day trip takes in four sites which can be dived over two tanks, and are usually done in a specific order to minimize travel time and maximize bottom time. Other dives further afield such as the Hele Bar area might even include overnight stays. There are wrecks of WW2 aircraft and new wrecks and reefs are being discovered by the Uepi team all the time.  If you're looking for adventure – you've come to the right place.
Before your first dive, you can be fitted out with any gear that you decided not to bring. The water temperature is 29°C on the surface and 28°C at depth. The coldest you might ever get is if it decides to rain whilst you're down and have to scoot back to the jetty in the rain.  Hence most of the suits at Uepi are full length 'shark skin' fabric or lycra rather than neoprene; (many of the dive guides just dive in rashie and board shorts).
Each diver is given a purpose-designed gear rack to hang suit, BCD and regs and store their other equipment. The full set of gear remains here for the week, being washed down by the user and hung up straight after each dive.
You can hang and store the clothes that you walked down to the dive centre in on this rack when you're out for the dive.
When it's time to dive, it's a simple matter to assemble the tank, and carry it, basics and weight-belt to the boat moored 10m away. The boat then departs its sheltered little mooring and within a few minutes is over on the local dive sites. The gear sits in the bottom of the open boat, so if you have a camera it's a good idea to have it in neoprene or other padded bag and hold it during the relatively short, and typically smooth run to the site.  There is no point taking anything else in the boat as within 5 minutes of surfacing you'll be back at the jetty.
On arrival at the site, the dive guide gives a briefing as to the terrain and maximum depths and times are agreed.  If there is potential for some current around a particular point or corner, the guide explains this and describes a 'Plan B' that will be adopted in this eventuality. Entry is via synchronized backward roll, and little time is spent on the surface. Thereafter the dive proceeds pretty much to plan.  Even on the wall dives, it is possible to do a 5m safety stop on an interesting part of the reef.  Depending on current it may be necessary to swim off the reef for pick up.  Exit is via de-kitting in the water, and climbing a small ladder slung over the side.
Within a few minutes, the boat is back at the Dive Shop jetty. Everyone is expected to wash down their own gear in the labeled freshwater tanks on return, and store it on their own racks so it will be ready for the next dive.
On the full day expeditions very detailed instructions are issued prior to the trip, along with a briefing of the different dive sites and how to get the best out of them.