Overview
Scuba-junkie is a dive company based in Semporna. It has a dive resort based on Mabul Island, which offers leisure diving at and around the island of Mabul including Kapalai and Sipadan, and PADI dive instruction from DSD right up to dive master, and even Dive Instructor internships.
Clients based in Semporna can travel out to the Mabul resort for the day to enjoy their leisure diving or complete a dive course. Scuba-Junkie also have boats travelling out from Semporna to the islands of Sibuan, Mantabuan and Mataking, and offer 2 and 3 dive packages as well as snorkelling or just a trip out for co-travellers.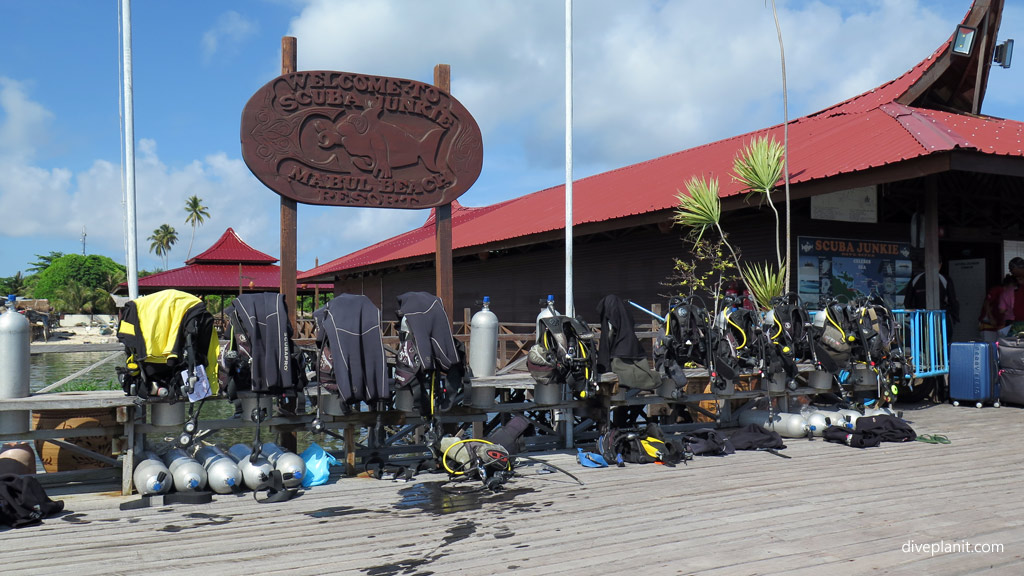 As well as the shop, Scuba-Junkie also have a Dive Lodge in Semporna with rooms to suit smaller budgets, very close to the dock from where their boats depart.
The resort on Mabul has 24 double (and larger) air conditioned and ensuite bungalow rooms each of which has a veranda complete with hammock, table and chairs. There is also a bunk room for independent travellers. They can accommodate families, though there's not too much to keep the kids entertained if parents are out diving.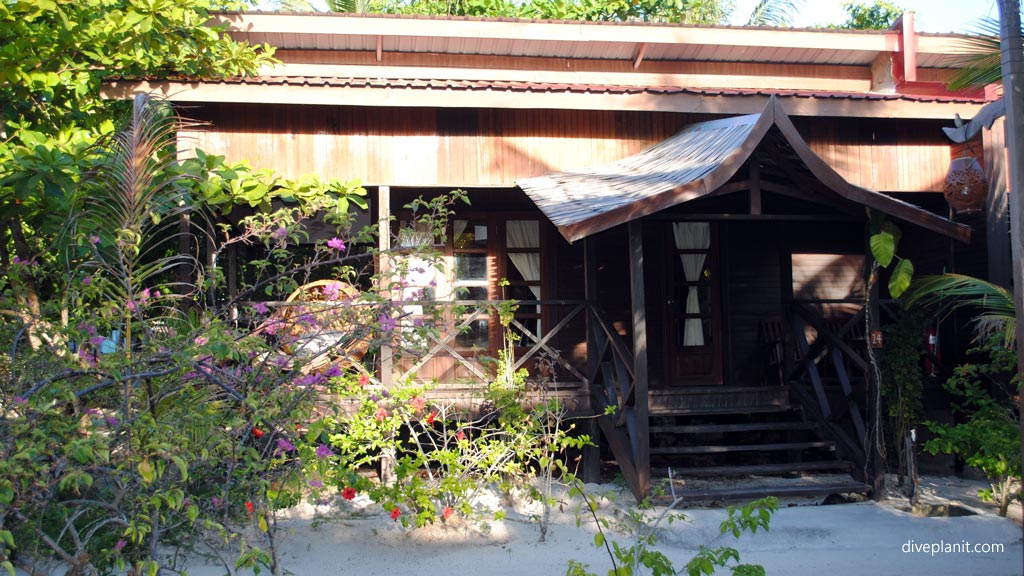 The resort has a spacious restaurant area which serves a variety of meals throughout the day both for resort guests and for guests from Semporna. It also has a shop, and spacious bar, which is used through the day as a place of study for the instructor interns. And anyone else who wants a quiet space to write up dives or read up on critters.
Scattered around the restaurant and bar areas, you will find laminated fields guides covering most of the critters you come across, from anemonefish to zebra sharks and all sizes between.
The diving activity all happens from the end of the very long jetty. It is here that the dive centre is housed. All the dive gear is inside, and so are the compressors that fill the tanks; wash down tubs and showers are outside – on the jetty. Open water trainee divers and DSD's get to train on a platform in the shallow water directly in the water warm in front of the jetty, with fish for observers!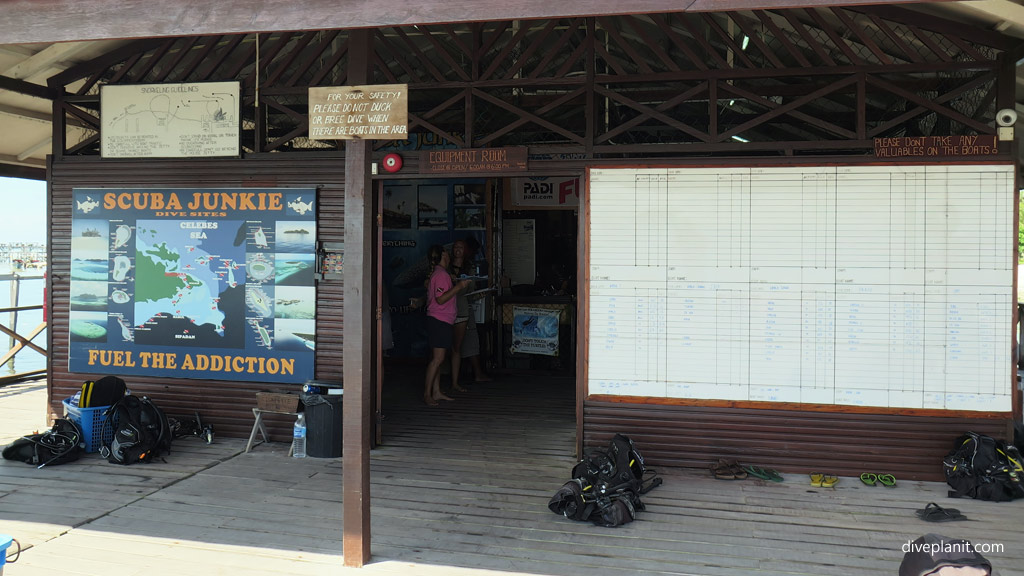 The boards outside the dive centre illustrate all the dive sites that are available around the islands that Scuba-junkie can take you to, and the whiteboard shows who's going where, when and with whom.
The Dive Centre has everything to rent down to cameras and dive computers, and they also have nitrox available.
As well as diving in the local area around Mabul and Kapalai they offer occasional trips to Siamil Island as a one day dive expedition. The trip is about 55 minutes. As there is a small military base on the island they need to check that it is open for diving before these trips are arranged. They also do a Coral Barrier Reef dive safari along some of the reefs on the edge of the continental shelf.
A couple of points to note:
Scuba-junkie don't sell snacks, their philosophy is that they are available in the village: so go and support the local economy and get out there and meet the locals.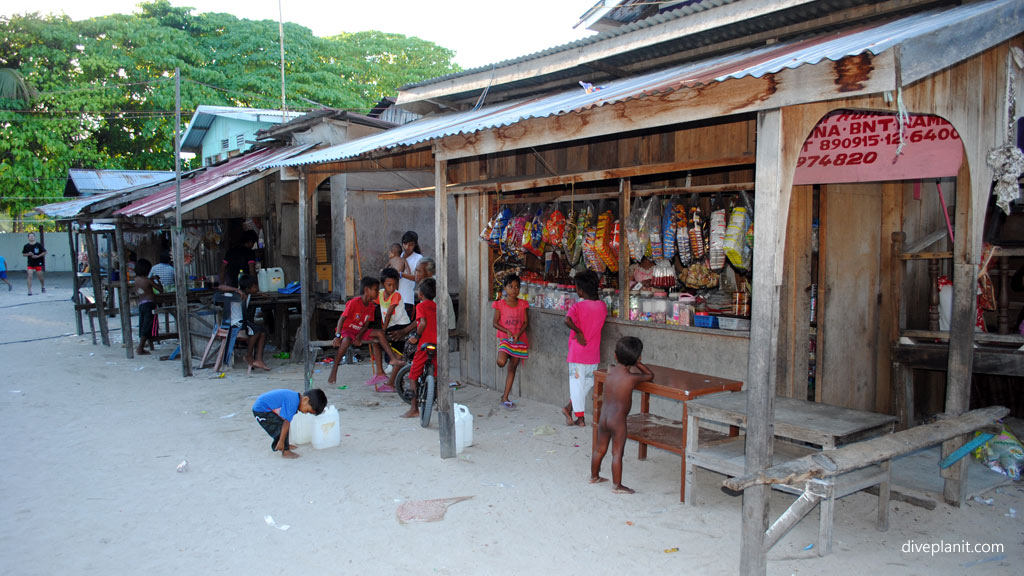 Rooms are not cleaned unless you request them to be cleaned; and towels are changed on request; beach towels are available for a small refundable deposit. Everything is geared with sustainability in mind.
The Wi-Fi in the resort is not designed for downloading large files and the speed will be influenced by the number of users and the time of day that it is being used.
The resort is cash only. So you need to settle your bar bill and anything you buy from the shop in cash. Note they have a great selection of T-shirts where all the proceeds go to shark or turtle conservation. (PS: they come in all shapes and sizes and make great presents!)
Environmental Awareness
Scuba-Junkie are involved in a large number of environmental activities.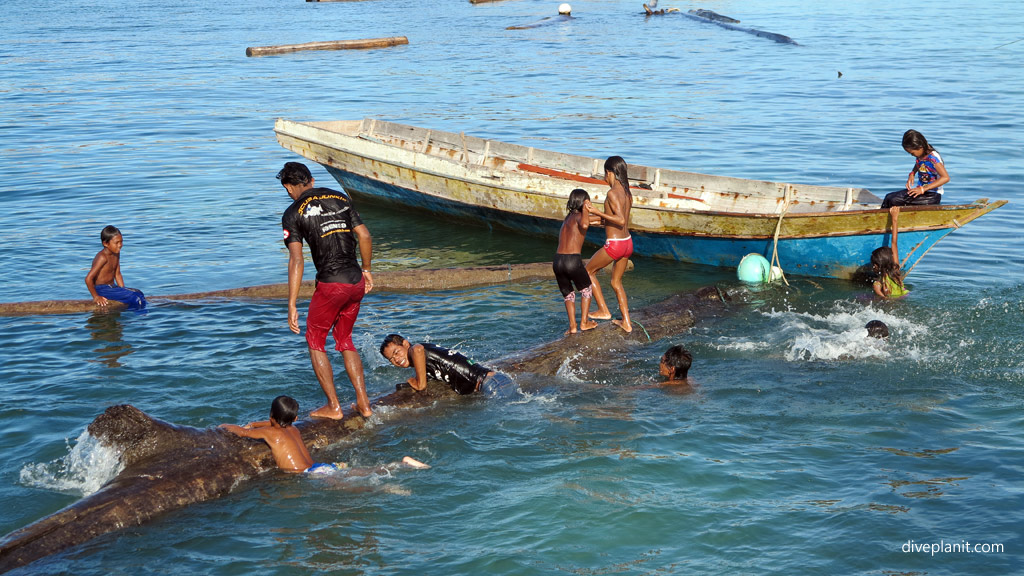 They perform reef cleans and beach cleans weekly. Check the Facebook page for recent and imminent activity.
Scuba-junkie are involved with many environmental agencies such as Green Fins, Project AWARE, Reef Check Malaysia, and have won the Responsible Tourism Award. They are proactive in Marine Week, and Shark Week.
They also have an extensive involvement with Turtles.
Their property deliberately does not extend onto the beach as this is a turtle nesting area, and can have between 11 and 12 nests at any given time. (Much of the other 'beach' area around Mabul is no longer accessible to turtles as people have built 'water villages' over it).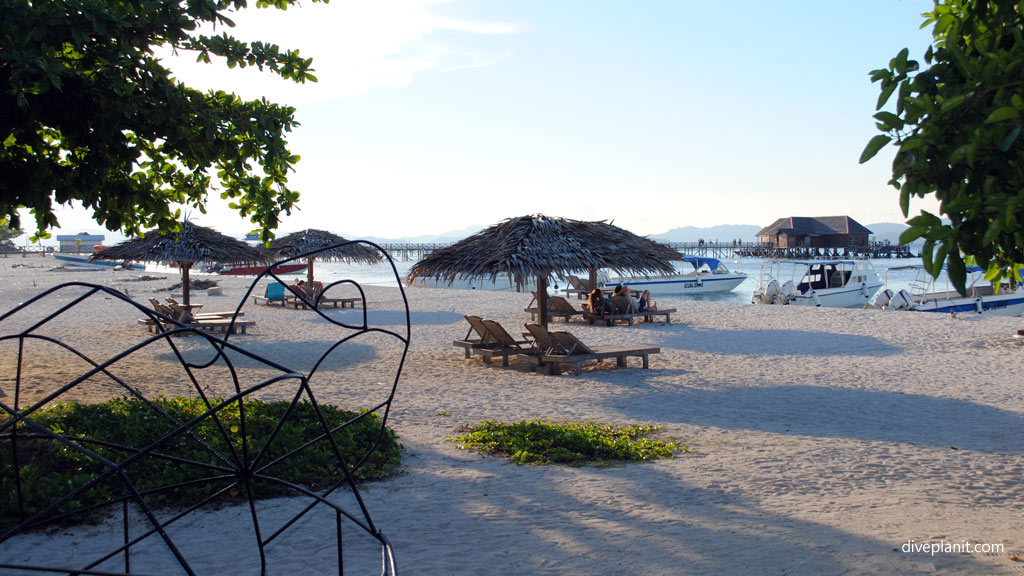 But more than that, Scuba-junkie are a turtle hatchery sanctioned by the Malaysian government. As such they are allowed to excavate nests and relocate eggs to their hatchery. (They pay locals who alert them to a nesting turtle a dividend of 10 ringgits per egg laid, which compares favourably with the 3 ringgits they could get selling eggs singularly).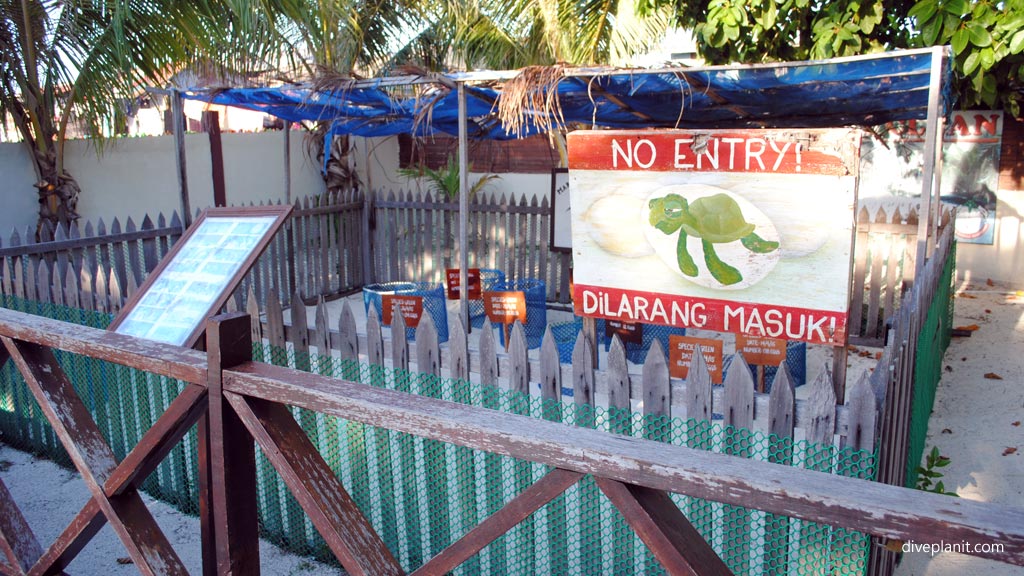 When the turtle eggs hatch in the hatchery they are re-released at night to give the young turtles a slightly better chance of making it safely away from the island, as there are no predators or boat traffic at that time. They have also recently created a turtle rehabilitation tank, which can be used to stabilise injured turtles prior to transferring them to an established Turtle Rehabilitation Centre near Kota Kinabalu. In time, they hope to develop the facility and skills to be able to rehabilitate turtles locally.
Another of their more ambitious and long term projects is referred to as the Semporna Shark Sanctuary a marine protected area (MPA) from Tawau to Semporna and inclusive of the nearby islands – a total of 8000 km². This will only work with government backing and enforcement and they have been lobbying internationally for this. Unfortunately, shark finning is still not illegal in Malaysia and SCUBA junkie have been active in promoting shark education, awareness and survival (S.E.A.S).
Scuba-junkie's neighbours are the Bajau, the stateless 'sea-gypsies' of the Celebes Sea. They find it harder than it should be to access education and employment. Scuba-junkie help out by providing garbage collection facilities.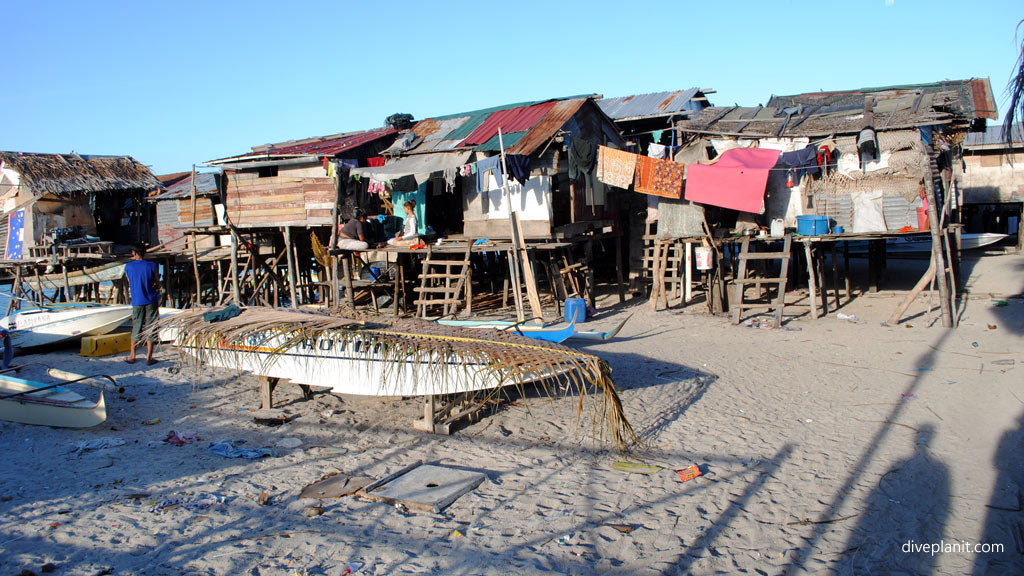 You can read much more about their facilities, their environment initiatives and their diving on their own website.
Facilities
| | | | | |
| --- | --- | --- | --- | --- |
| Training School Type: | PADI | | Nitrox Fill: | |
| Air Fill | | | Number of Guides | 12 |
| Gear Hire | | | Number of Boats | 8 |
| Gear Sales | | | Number of Dive Sites | 40 |
| Gear Servicing | | | Accommodation | |
Location
Scuba-junkie are in Semporna, on Mabul Island, in Kota Kinabalu and now have a new centre in Flores, Indonesia.
What to expect
Whether you are staying at the resort in Mabul, or have just arrived from Semporna, there appears to be an organised chaos on the jetty between 8:30 and 9:30 am as boats arrive from Semporna with new guests, people go straight out for leisure diving, and others commence open water or advanced diving courses from the jetty. However everything is on the whiteboard and with the smaller group sizes it's easy for dive guides and instructors to identify their clients and shepherd them through the process of getting the gear, getting onto the right boat or getting into the right area of the jetty to commence the training.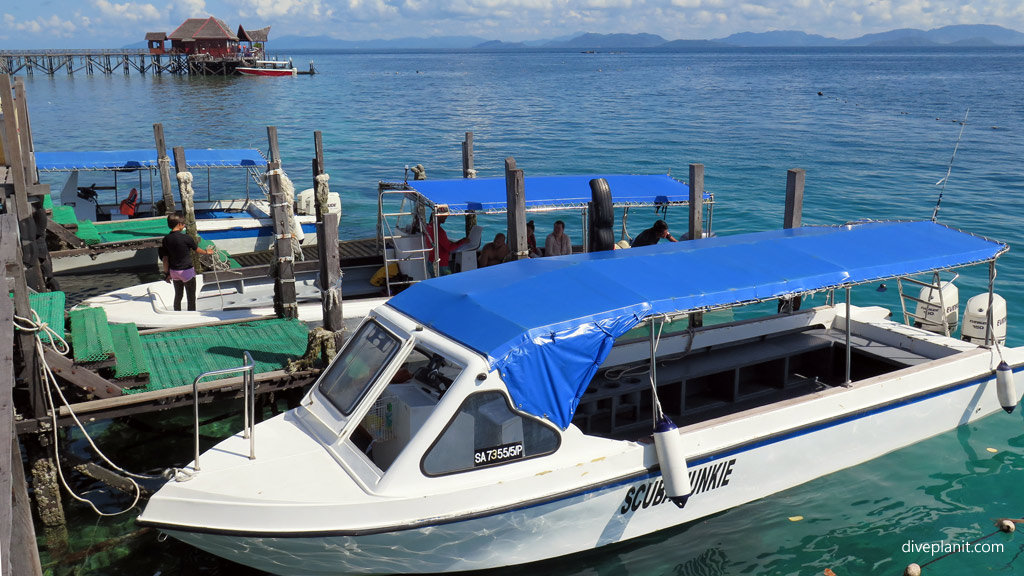 As we were staying at the resort we had all our gear organised the day prior; it was stored in a locker at the dive centre. We were introduced to our dive guide who discussed with us our qualifications, experience and the kind of diving we'd like to do. Minutes later, we were speeding around to the 'back' of the island to dive one of the sites on the natural reef.
There are roof nets under the cover over the top of the boats to keep stuff dry, but it's a great idea to take a dry bag for your sarong or T-shirt and towel and room key.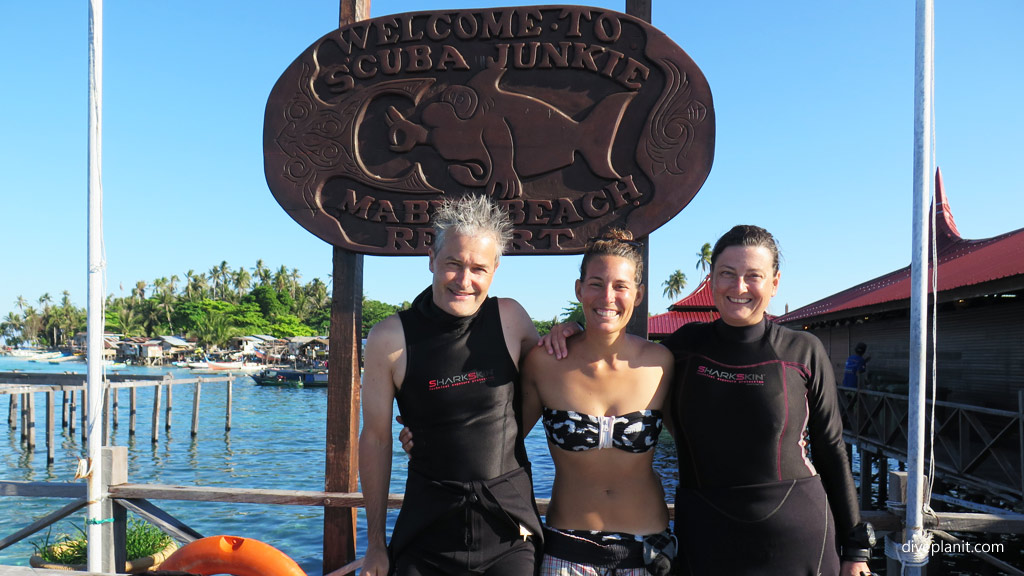 Like most of the dive boats in Sabah, the tanks are set up ready to go and stowed forward in the boat. The stern area is therefore uncluttered for guests. Just before arrival at the site, our briefing commenced on the usual safety elements of the dive, followed by the terrain, topology and the types of critters we should be looking out for. Our guide Rebecca was particularly well versed in what sort of critters could be found where, she was pointing out the next before we'd photographed the last one.
Then the tanks are handed to their divers, and after a buddy check it's a backward roll into the ocean. On surfacing, you hand up you fins and climb the ladder back into the boat; then manoeuvre your tank into its holder and slip out of the BCD. Within minutes you are back at the jetty.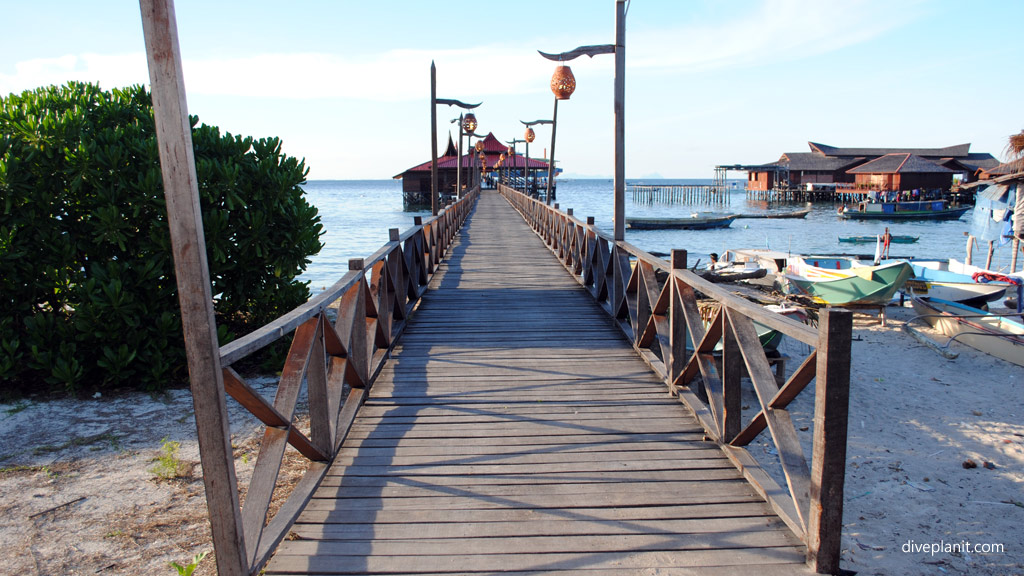 Though there are showers on the jetty there is no toilet, and there are no wetsuits allowed in the restaurant in the resort. It is best, therefore, to leave wetsuit, booties, sharkskin and basics on the boat, and just take your drybag up to the restaurant /day area.
Departure for the second dive is dead easy as everything is where it was left just before the break; your BCD and regs will be where you left them, and attached to a full tank.
Our dive times were 9:40am, 12:20pm, and 2:50pm which makes for a pretty relaxed daily schedule.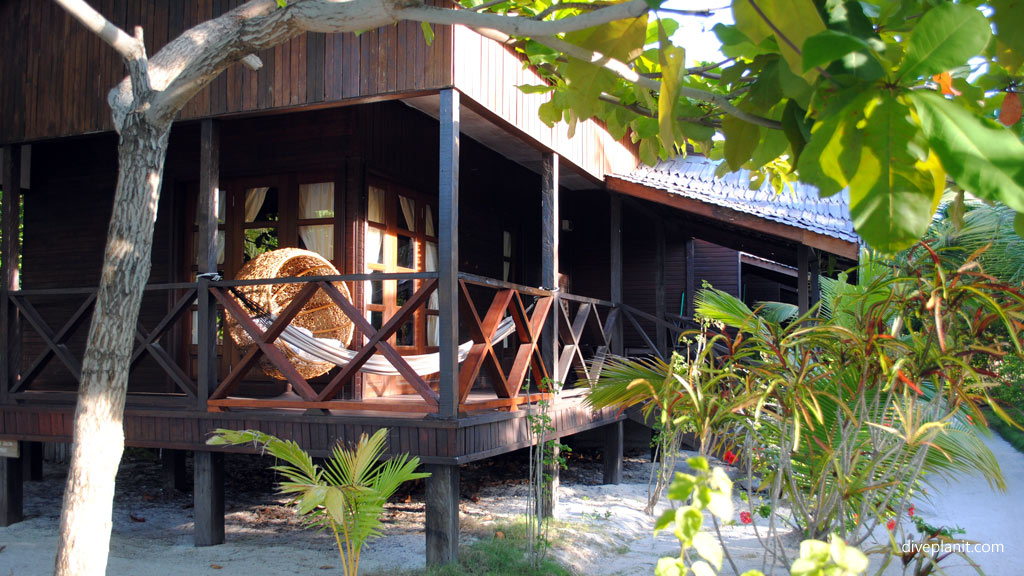 Diving Sipadan with Scuba-junkie
Every single day of the year, Scuba-junkie takes 7 divers to Sipadan. Scuba-junkie only gets seven permits for guests to dive Sipadan, whereas other local resorts get more. However, diving Sipadan with Scuba-junkie you are assured of 4 dives in a relaxed day, with small groups and lower diver-to-guide numbers.
The day starts at 6:30pm for the 25 minute trip to Sipadan. After checking in to sign for your permit, you'll dive once before breakfast, once mid-morning, and two more dives after lunch. All meals are taken on the island under covered shelter with amenities close by. You'll return to Mabul around 4:30pm on a high!
It is advisable to book 3 months in advance to be assured of your spot on a trip to Sipadan within time you wish to spend on Mabul.