Overview
The Nortada liveaboard is perfect for small group diving in the Galapagos. The Nortada's 7-night itineraries from Puerto Ayora on Baltra Island include diving at Darwin Island and Wolf Island. The Nortada liveaboard usually takes just 8 divers making her the perfect choice for small groups and dive clubs.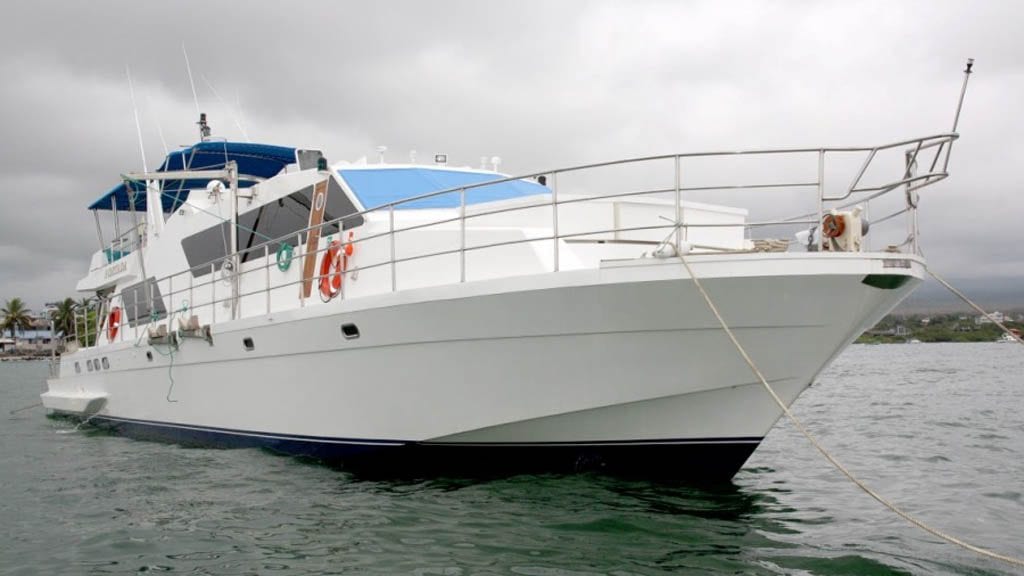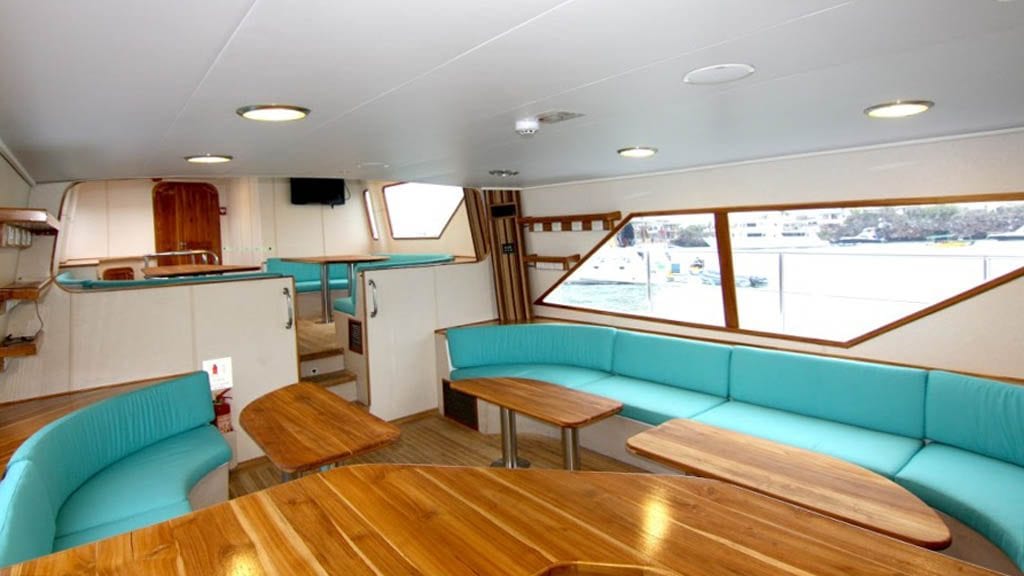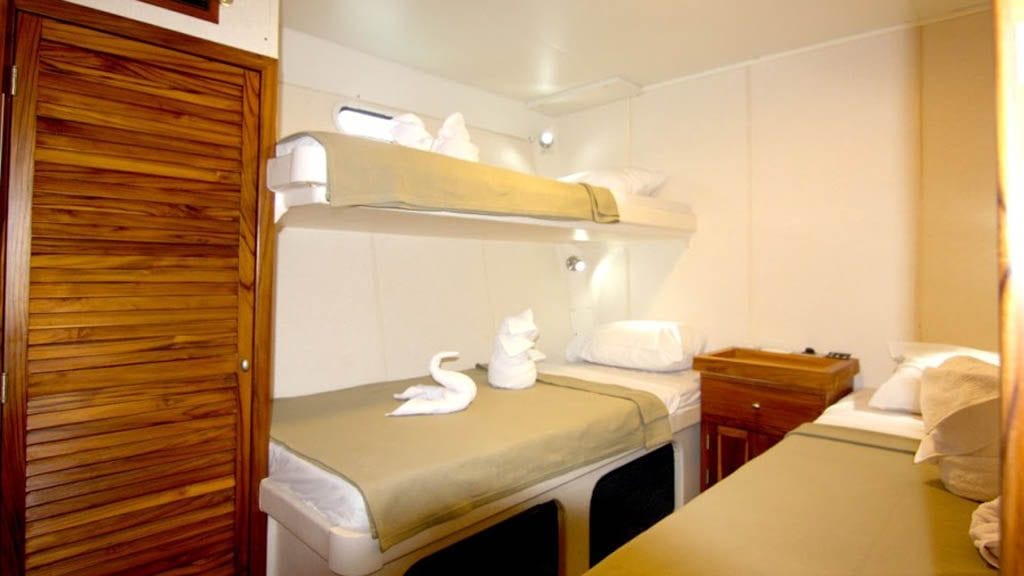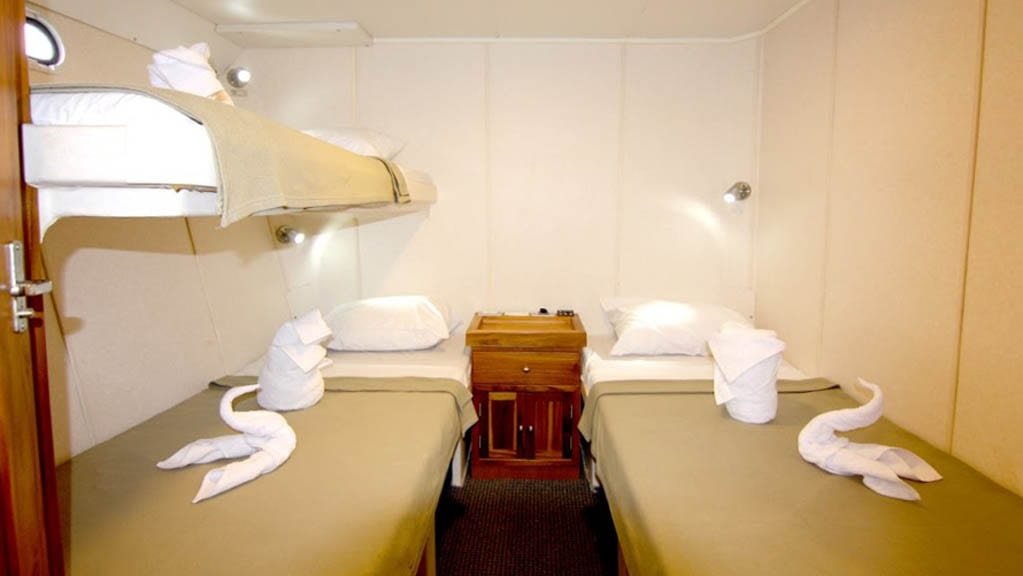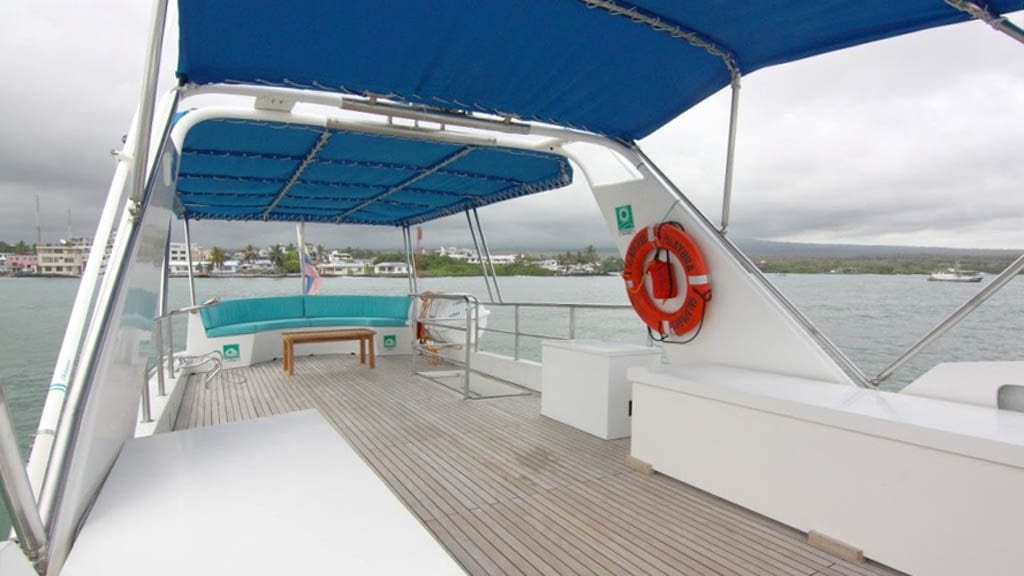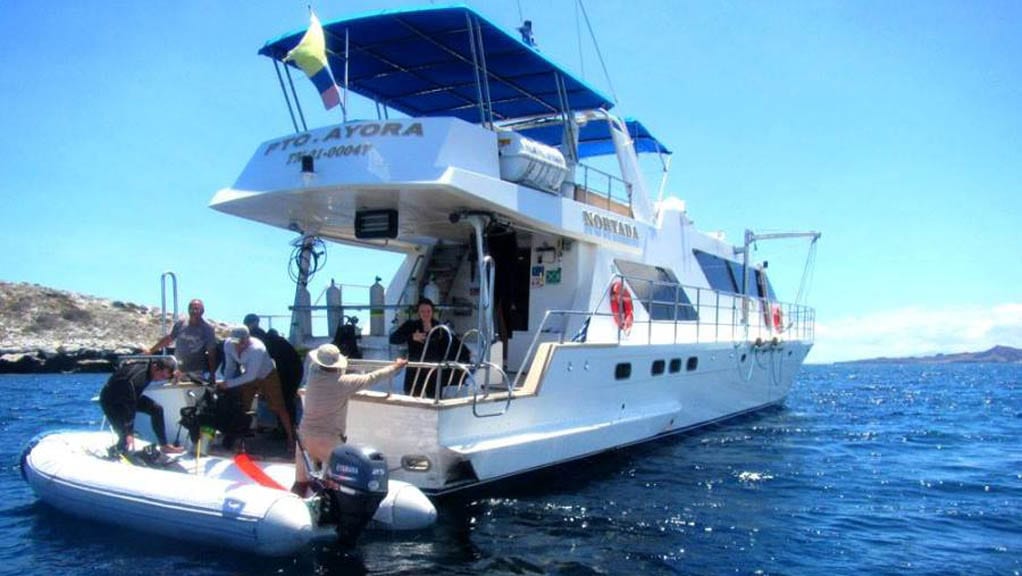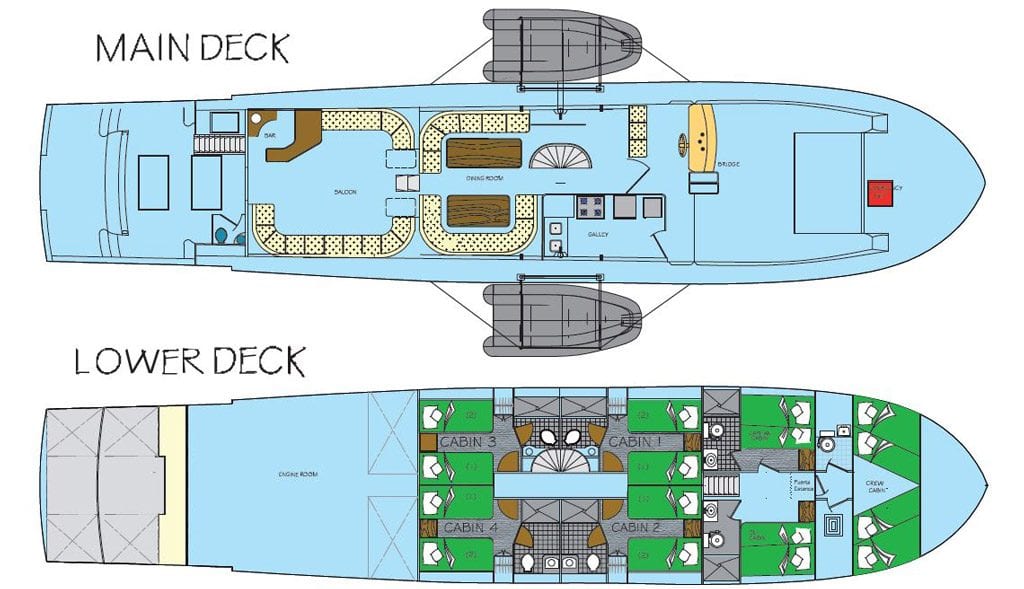 Accommodation & Features
The Nortada has four fully air-conditioned guest cabins on the lower deck, each comfortably furnished with two separated twin beds, lockers and drawers, and with ensuite bathrooms with toilet and showers. Each cabin also has one top bunk – which can be used to extend the occupancy up to 12 divers for full boat charters.
On the upper deck, is the air-conditioned dining room and aft of that the saloon with a small bar. Stairs lead down to the dive deck, above which is the covered sun deck. A perfectly little compact dive liveaboard for a perfectly compact dive team!
Location
The Nortada Liveaboard's 7-night itineraries (Friday to Friday) start and end in Puerto Ayora on Baltra.
What to expect
Dive Service
The Nortada liveaboard is the perfect choice for any recreational diver who likes to dive in small groups. It is also geared for tech divers. The dive operations are provided by Galapagos Tip Top Dive, a PADI 5 star Instructor Development, and Tec Rec Dive Centre in the Galapagos Islands. Nortada is equipped with both Nitrox and re-breathers with all the required support.
Two 15 foot inflatable tenders capable of carrying 4 divers ferry divers to and from the dive sites. All divers are provided with a Nautilus Lifeline bi-directional VHF/DSC marine radio with GPS, dive alert and DSMB.
Dive Areas
The 7 Night itinerary offers at least 20 dives with up to 4 dives daily, including night dives where regulations and conditions permit, and land visits on certain days. It features the world-famous Wolf and Darwin Islands, plus the exciting addition of the top three dive sites in the north-west region of the archipelago: Isabela and Fernandina dive sites are where Flightless Cormorants, Galapagos Penguins, Marina Iguanas and several other endemic species, along with Manta Rays, Mola-Mola and different types of Baleen Whales, are usually sighted.
You should know…
All payments on board are USD and cash only. Rentals and Nitrox are subject to 12% VAT.
We think…
If you like to dive in smaller groups, or better still can muster a group of 8 divers, the Nortada Liveaboard is the perfect way to ensure your most memorable experience of the Galapagos Islands.
Live Availability and Pricing
Pricing for Nortada, Galapagos: 1 Jun - 31 Dec 2018 (Humboldt Season)
AUD
USD
7 nights double/twin cabin
5595
|
5595
This resort's prices are in USD. The AUD prices shown are based on the current exchange rate. The price paid in AUD will be based on the actual exchange rate at the time any payments are made.
Included:
Accommodation, all meals, snacks, water, coffee, tea, juice, up to 4 dives per full dive day (20 dives/week), tanks, weights, air fills, land visits & other activities allowed, naturalist dive guide.
Please use the [Enquiry Form] button to give us your exact requirements in terms of Trip#, dates, number of divers/snorkelers, and we'll give you the best deal we can.
Nortada, Galapagos Extras Payable Locally (as of August 2018)
AUD
USD
Galapagos National Park fees
100
USD
|
100
Galapagos Transit Card Tax
25
USD
|
25
Hyperbaric Chamber fee
35
USD
|
35
Nitrox fills (7 nights)
150
USD
|
150
15L tank (7 nights)
100
USD
|
100
Full set of dive gear rental (incl. computer)
300
USD
|
300
Extras payable at time of booking (as of January 2018)
AUD
USD
Transfers Baltra Airport-Puerto Ayora-Baltra Airport
90
USD
|
90
This resort's prices are in USD. The AUD prices shown are based on the current exchange rate. The price paid in AUD will be based on the actual exchange rate at the time any payments are made.
Important Information
Special payment and cancellation terms apply for this operator.
Pricing / availability enquiry