Overview
MV Chertan has been operating in Milne Bay since 1992, and owner/skipper Rob Vanderloos is one of the most knowledgeable dive boat skippers in the Milne Bay region. Though not a luxury class boat, the MV Chertan had a major re-fit in 2014 and offers cabins with a choice of comfort level for guests. The boat is furnished with elegant tropical timber and offers plenty of space for up to 10 guests, and will sail with a minimum of 6 divers. With state of the art navigation and communication systems, it is perfectly suited for its purpose.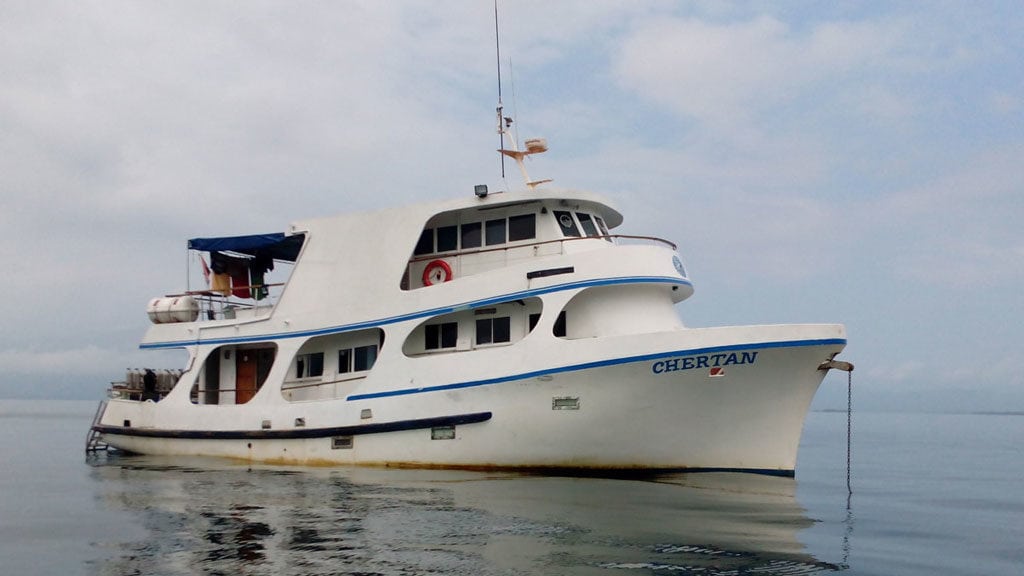 Accommodation & Facilities
Standard Base Cabins (#1 & #2): these (6m2) air-conditioned cabins have two single bunk beds but no en suite. Guest use the 2 bathrooms and 2 showers located on the main deck.
Middle Deluxe Cabins (#3 & #4): These cabins are a little bigger (8m2), also air-conditioned and have two single bunk beds. The Middle cabins are fitted with their own toilets, but no showers. There are 2 showers for guests to share, located on the main deck.
Double Executive Cabin: at 18m2 this is the largest cabin on board (originally 2 cabins), situated at the bow, it has been outfitted with its own bathroom. With a queen size bed and a single bunk bed, this cabin is ideal for 3 family members, a couple or 1 or 2 single travellers. The cabin has individual adjustable air-conditioning.
Location
The MV Chertan itineraries depart from Alotau.
What to expect
Diving Itinerary
As the owner and skipper, Rob Vanderloos, who has been operating in PNG for more than 25 years, knows the area very well. Itineraries are flexible and can be designed to accommodate guests' interests, taking into account the prevailing conditions at the time. Scheduled dates throughout the year offer 4, 6, 7, 8, 9, 10 and 12 night excursions and special interest charters can be arranged on request.
Dive area
Rob Vanderloos is just as happy to take the Chertan to remote and unexplored parts of Milne Bay, as visit its well-known dive sites. As with most cruises in Milne Bay, you can expect a mix of reef diving, muck diving, wrecks and wall dives. The best time to visit is May-June and September-November. However, the weather can be very unpredictable, and with Milne Bay having no rainy season as such, it can rain at any time it chooses!
Dive Service
Diving is mostly conducted directly from the Chertan and 3 to 5 dives are offered daily. The Chertan carries 24 tanks, and divers should plan to bring their own dive gear. A small amount of gear is available to hire, but at extra cost.
We think…
Chertan is not a luxurious boat, but has everything a dedicated diver needs, and a good reason for an excursion with Chertan would be the expertise of the owner in the Milne Bay region.
Enquire for Trip dates & Availability
Pricing for MV Chertan Liveaboard: 1 Jan - 31 Dec 2018
Standard Base Cabin (#1 & #2) twin share/per night
AUD
345
USD
Middle Deluxe Cabin (#3 & #4) twin share/per night
AUD
365
USD
Double Executive Cabin (#5) twin share/per night
AUD
395
USD
Double Executive Cabin (#5) sole occupancy/per night
AUD
790
USD
-
Included: accommodation as specified, all meals, snacks, coffee, tea, water, return airport transfers from/to Alotau, 4-5 dives daily, tanks, weights, air fills, dive guide
Please use the [Enquiry & Booking] button to give us your exact requirements in terms of Trip#, dates, number of divers/snorkelers, and we'll give you the best deal we can.
Chertan Alotau Extras Payable Locally (as of August 2018)
Reef & Chamber fees (per night)
AUD
25
USD
Nitrox fills (per dive day)
AUD
25
USD
Important Information
Special payment and cancellation terms apply for this operator.