Overview
Unfortunately 7Seas Dive Gili closed down after the second earthquake of 2018. It is however representative of many of the smaller dive centres/resorts in the Gilis, so we have left it here for reference. We know of others we can recommend if you want to go.
Though a PADI 5 Star Dive Resort, 7Seas Dive Gili is run like a small family business. The owner manages the dive school, restaurant and accommodation, and Raphael manages a friendly team of dive masters and guides.
The 7Seas dive shop is right on the waterfront, with a pleasant R&R area with day beds where you can relax between or after dives, with a drink and pour over the Fishes of the Indian Oceans books to nail down exactly what you saw.
Next door is the café and restaurant where you can enjoy a light lunch and dinner, and over the 'road' is the resort's cottages and accommodation.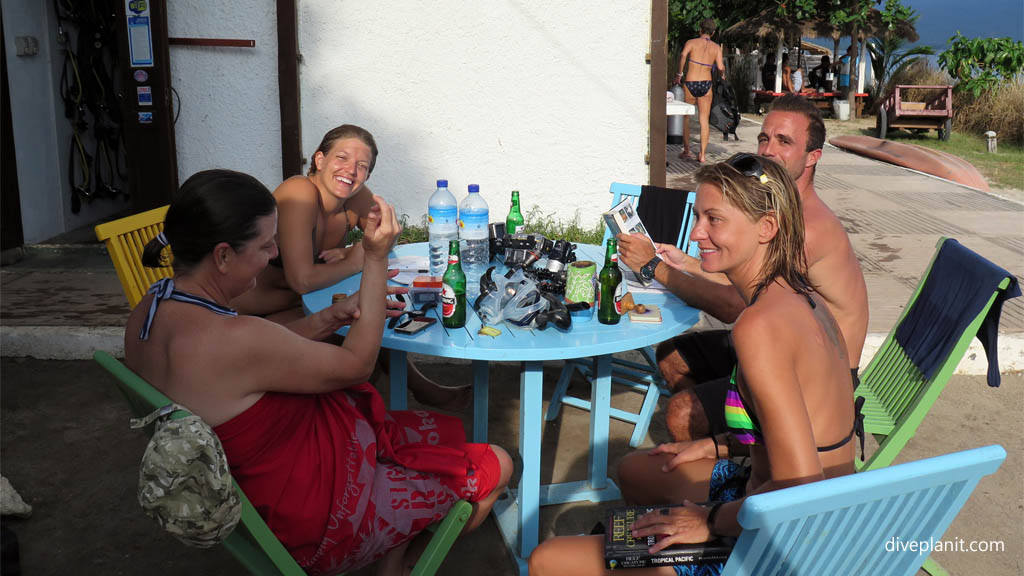 They have one large boat that takes up to 25 divers, and three boat crew.  They charter an additional small boat in the high season.  Their gear is modern Aqualung gear, and all regs have depth gauges, contents gauges and occys. For experienced divers they can offer 3 or 4 dives per day in high season.  The diver to guide ratio is never more than 4:1.
They also have their own exclusive house reef just 50m in front of the shop and restaurant.  This is being actively augmented by an artificial reef which is already attracting fish.  As a PADI 5 Star dive resort they offer all levels of training up to Rescue Diver, Tec Courses up to Tec 50, and have a Dive Master Internship programme. They also offer accommodation packages (free of charge!) if you want to take a PADI open water course with them.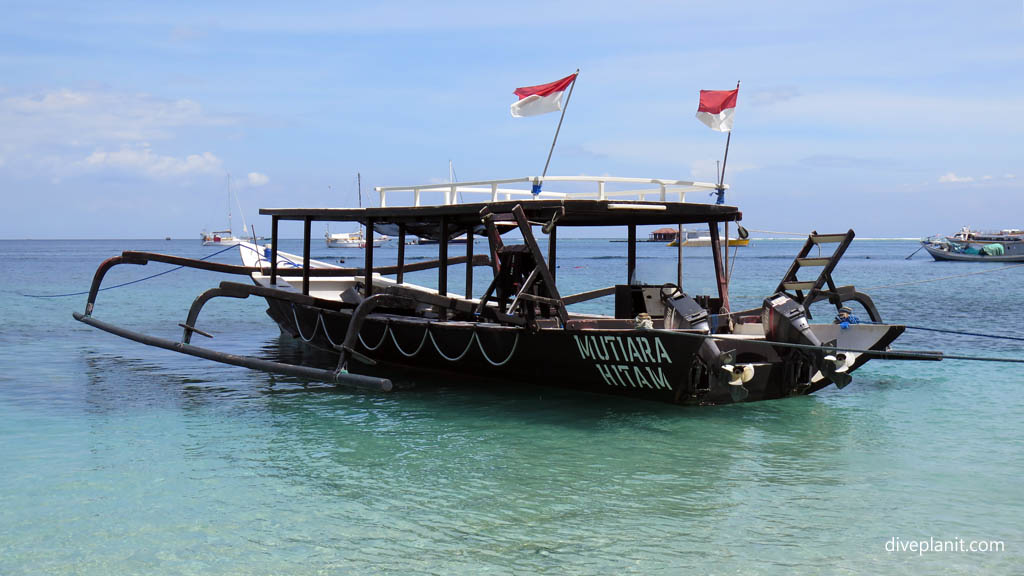 They have a number of accommodation styles on offer including Deluxe Cottage, Family Cottage, Private Villa and backpacker shared rooms.  Best of all the accommodation is literally metres from the dive shop. You can see more on their website.
The also offer live-aboard trips in conjunction with Pirates' Bay Cruising to Komodo, Bali, Nusa Penida and Tulamben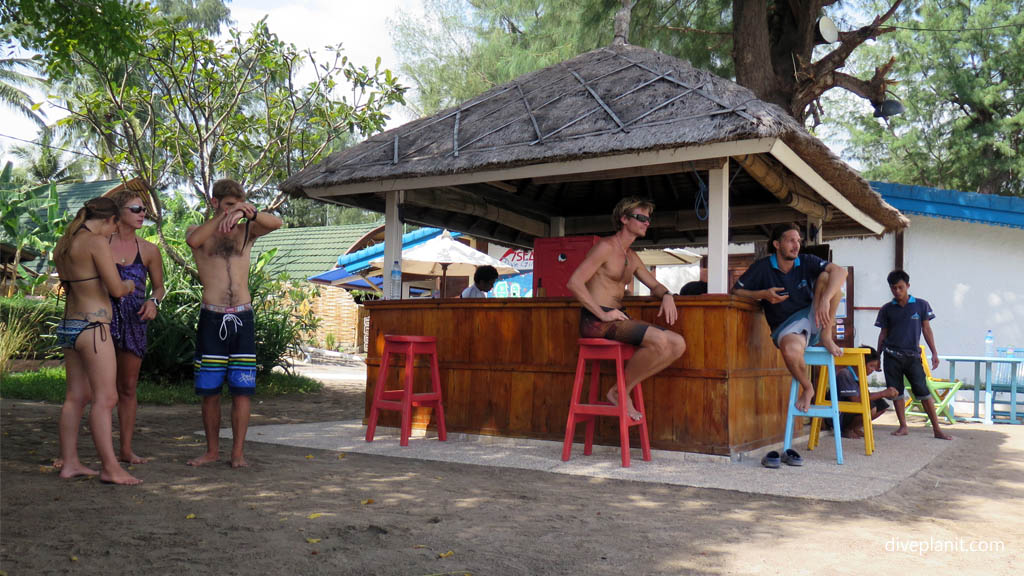 Facilities
| | | | | |
| --- | --- | --- | --- | --- |
| Training School Type: | PADI | | Nitrox Fill: | |
| Air Fill | | | Number of Guides | 6 |
| Gear Hire | | | Number of Boats | 2 |
| Gear Sales | | | Number of Dive Sites | 30 |
| Gear Servicing | | | Accommodation | |
Location
On the waterfront about 100m from the main fast boat drop-off point.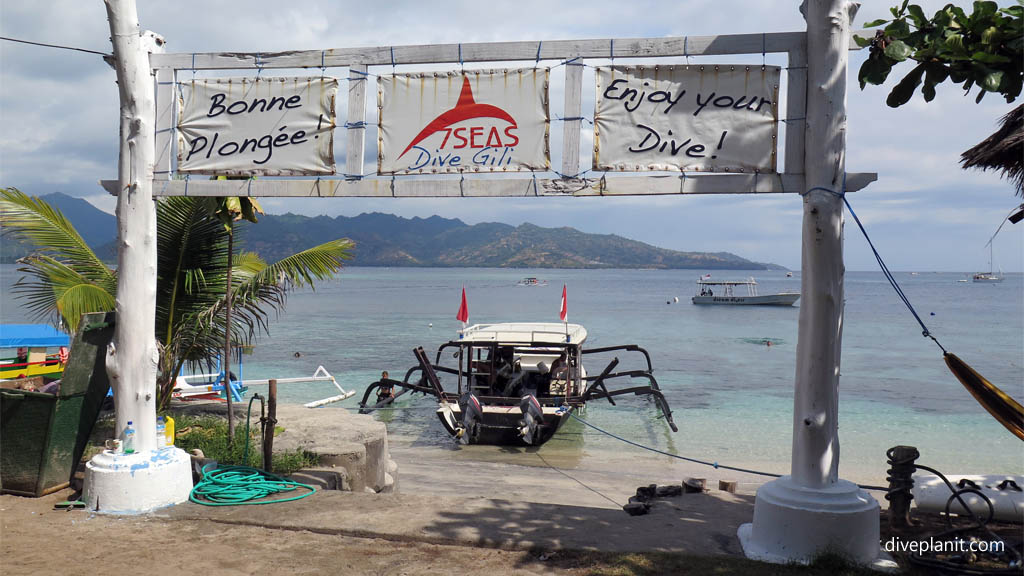 What to expect
In the cool of the air-cond'ed shop, you can complete the paperwork before going round the other side to get fitted for basics, suit, BCD and whatever else you may need.  Then you can chill until the boat departs.  There are two dives per day in the low season, the morning boat departs at 9:30am, the afternoon boat at 2pm, and three in the high season.
All you need carry on board are your basics and your weight belt.  They label your belt and BCD so you know exactly where to place your gear once aboard.
On board there's water, and luggage nets slung below the roof to keep any dry gear dry.  Most dive sites are within 15-20 minutes cruise from the dive shop, which is just enough time to sit through the dive brief.  The experienced guides walk through the whole dive, using this to remind guests of diving protocol: signals, safety, and what you'll see where.  They also check the current prior to each and every dive personally, so that they understand whether current is running and how that will impact on the dive. They remind guests frequently to check their own gear and buddy check prior to setting up to go.
Entry is a backward roll off the boat – together – meeting either bow or stern.  Descent is taken steadily and – together – and once the group is equalised and neutrally buoyant the dive starts.
All the dive guides at 7Seas exude a sense of calm – after all there is no rush – there is plenty of time to enjoy the dive.
The dive proceeds pretty much to plan, whether that's an exhilarating drift, or a meander from coral bommie to coral bommie.  In most cases the dive ends on a shoreline where we can find a 5m level to complete a safety stop and still observe the reef life.  On the deeper dives, where we might end up in bluer water, when the first diver hits 60 bar, preparations are started for the ascent.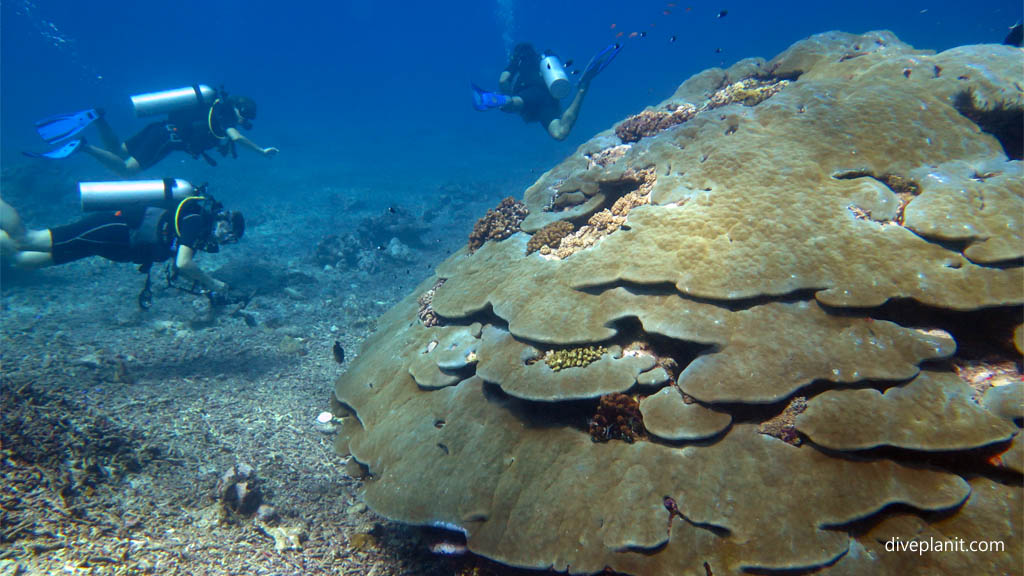 The dive guide sets up a safety sausage and the group ascends for 3 at 5.  By the time we hit the surface the boat is nearby.  There are grab handles on the full length of the boat on both sides, and exit is by hanging onto one of these and passing up weight belt and unclipping from the BCD.  After that, it's an easy walk up the ladder at the rear of the boat. The out-riggers which give the boat its stability look as though they might make entry or exit more difficult – but they don't.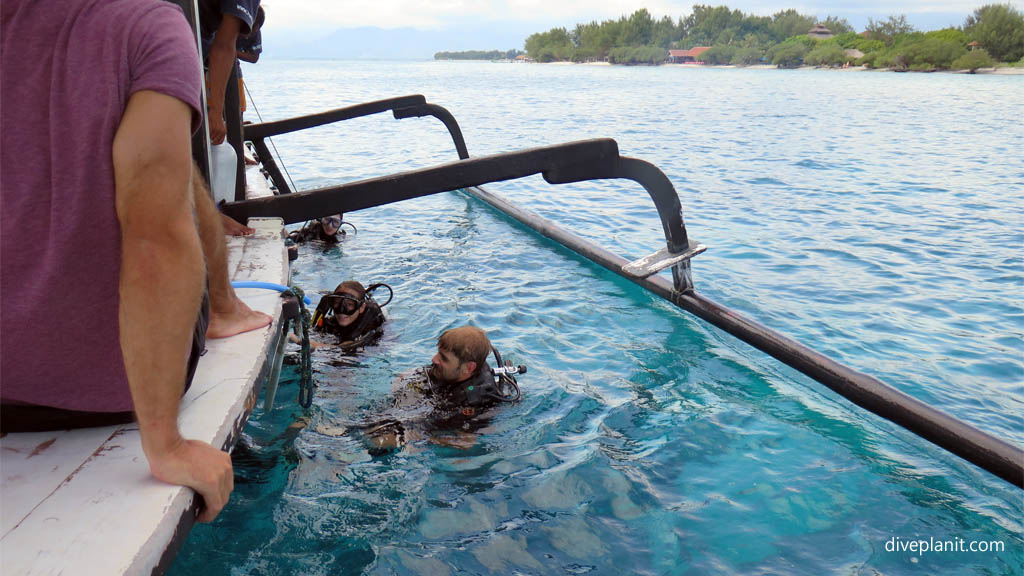 Something you might not be able to do on your average dive boat is climb onto the roof (sun deck?) and enjoy the vista across the water to the Islands, Bali (and Gunang Agung – the volcano) and Lombok.
The boat moors back at the shop, and within minutes gear is washed down, showers are had and the guests are enjoying a drink and writing up the dives. They bring out copies of Tropical Fishes of the Pacific Ocean so that you can make a note of all the fish you see.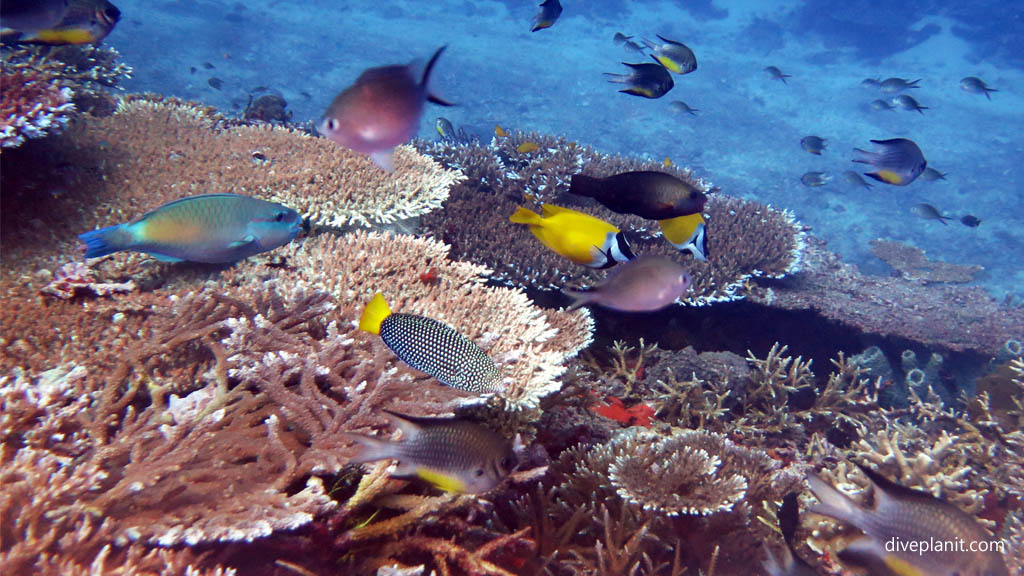 A couple of things you'll see on most dives: turtles and batfish and they are both just so chilled; as captured by this video.