Lynn Funkhouser is an internationally published photographer, author, lecturer, environmentalist, adventuress, and leader in dive travel. She specialises in underwater, nature, travel, and environmental images. Lynn was inducted into the inaugural Women Divers Hall of Fame (WDHOF) in 2000 and into the Society of Women Geographers in 2008.
Lynn is committed to making a difference on this planet through her images and lectures – it's Lynn's passion as an environmentalist, that drives this underwater heroine, as Diveplanit recently found out.
What first inspired you to become an underwater photographer?
Many of my diving experiences were "Happy Accidents".
Growing up in a small town in Ohio, I didn't even know why swimming pools were painted that shade of blue. When interviewing for jobs, just before graduating from college in 1964, I couldn't get a job as a teacher as schools didn't want their teacher competing in skating competitions in a short skirt!  Lucky for me United Airlines was interviewing on campus. I had never been on an airplane so was thrilled to be flown to an interview. I proceeded to interview with 5 other airlines just for the free flights with no thoughts of actually working for any, as I was engaged.  However, TWA made me want the job so promised to return to Ohio in 2 years.  I was badly injured in turbulence on the job and spent 14 months in a neck and back brace, and my fiancé was killed in a car crash, completely changing my whole life.
When I came out of braces friends took me diving in Bimini and I was hooked. Not only was underwater the most beautiful place I had ever been, but it was therapy.  I decided I would stay in the airlines and 'Fly to support my diving habit'! This was 1967 and as few of my friends understood why I was always flying or diving, I took up photography to show them the beauty.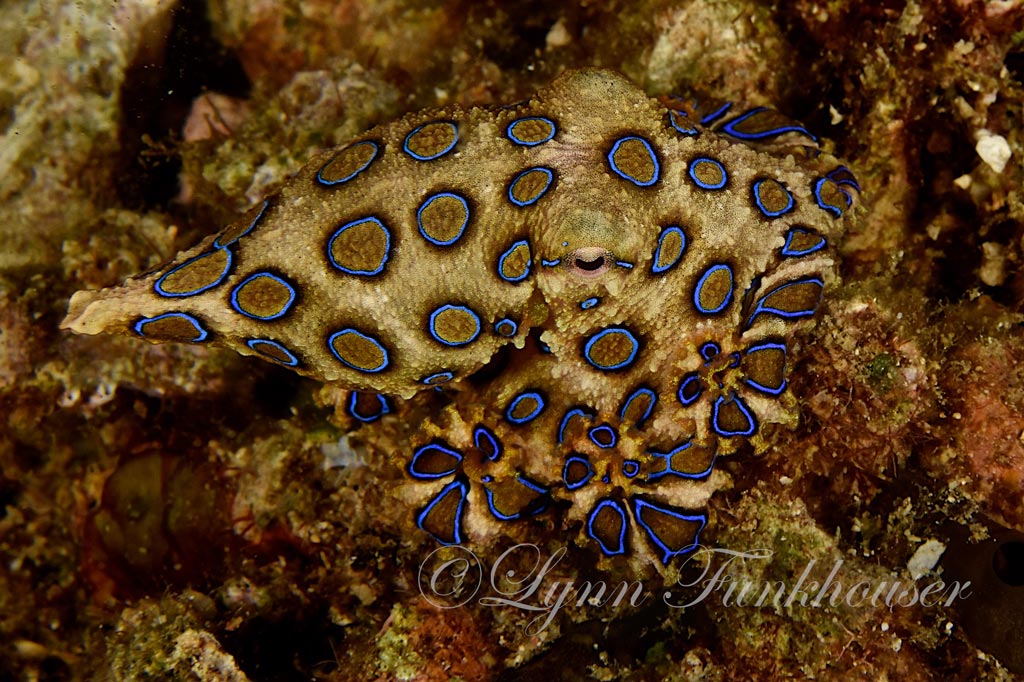 What was your first camera and what's your camera of choice now?
My first camera was a Nikonos ll. I moved up to Nikonos llls and still have around 7 of them somewhere in storage. I loved the 15 mm lens. Since film only gave us 36 exposures, I would carry a bag of up to 5 cameras with various lenses on my weight belt. I didn't need many weights! I had a Subsea Mark 150 strobe & EO connectors, allowing me to plug any camera into the strobe, so could pull cameras out of my bag with more film and choices of camera lenses.
If you flooded a Nikonos you could pour the water out, soak it in fresh water, dry it & keep on using it! Unfortunately lenses didn't fare as well.
I now own Nikon D7000 & D7200 camera bodies. I use a 10.5 mm lens for wide angle and 60mm & 105 mm Nikkor lenses for macro. I have 2 Ikelite housings & 5 Ikelite strobes & various ports. Also use a Macro Mate wet lens. Each set up weighs around 37 pounds.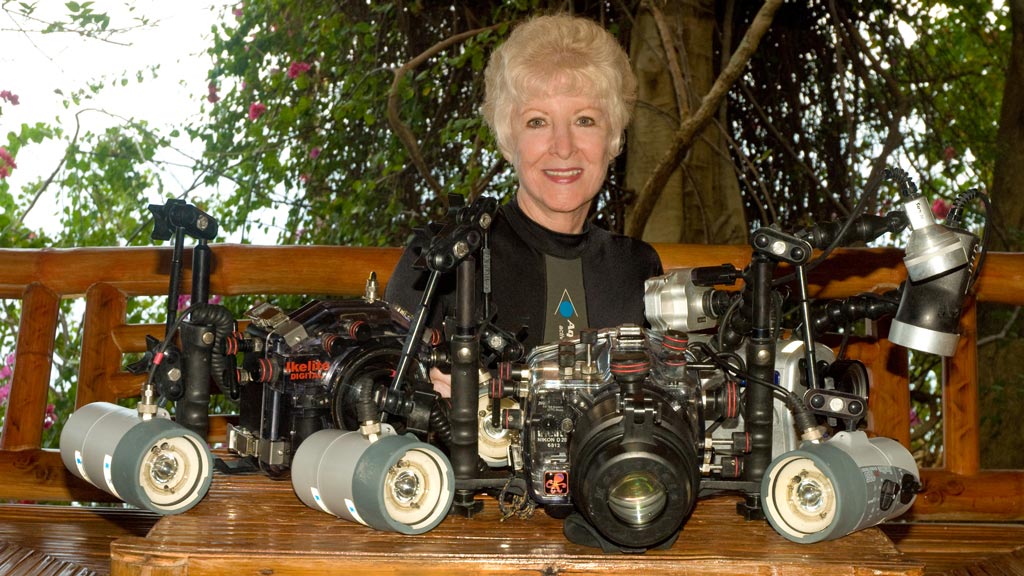 Did you have any mentors when starting out?
My guy owned a camera store and, as I received brown paper bags with a camera or lens for birthdays and Christmases, I decided I had better learn to use them! He was the one who influenced me to dive, take photos, and to attend all the dive shows. We are still friends and laugh about it now.  'He created a monster'.
Who are your marine heroes?
My heroes are Sylvia Earle, PhD, Jane Goodall, PhD, Paul Watson, founder of Sea Shepherd, and many more who are voices protecting our oceans, animals and planet! There is so much work to do that everyone can pick a cause and raise awareness to protect our precious planet.
When starting out, did you plan a career/life that was ocean-based?
I had no plans for a diving career. I just followed my passion and used my airline job to dive the world. The Shedd Aquarium opened the Caribbean Reef Tank in 1971 and I decided that, it being the largest body of water in the Midwest, I had to dive in it. I took about 6 weeks and interventions from friends to convince the director to allow me. He didn't want to see women's legs in his tank so bought me a ¼ inch farmer John wetsuit to wear in water that got to be around 90F in summers.) I dove every weekend for 2 years and made friends with all the critters, especially the two 7 foot moray eels, Mort and Maria. I also got to follow the aquarists around and learned so much! It turned out that I was the original volunteer. Now they rely on over 600 volunteers.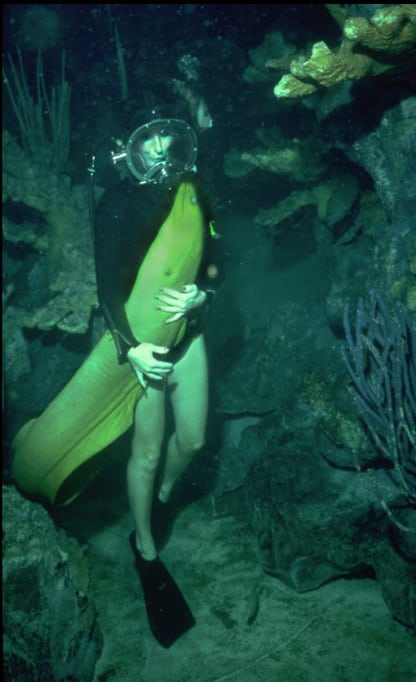 What is it that is special to you, about the underwater world?
I love the spectacular beauty in the oceans. I also love the diversity of critters, their behaviours, and most of all when a critter accepts me and has an interaction with me. I really enjoy seeing critters and behaviours that are new to me. It is very rewarding when we divers/photographers can contribute to science by sharing photos and experiences with the scientists.
Was there a turning point for you where you made a decision to focus on the underwater world?
My first dive gave me my passion! What a gift!  I had to balance it with flying to pay the bills, but that job allowed me amazing freedom of time off and free passes to dive the world. I am only known for my diving in the Philippines, but dove Bimini often; Belize from '67-'80; Galapagos one month each in '71, '72, '73, and ''77; the Caymans often; Bonaire often; St. Croix; St. Thomas; St. Lucia; Haiti; The Dry Tortolas; Florida; California; La Paz and Acapulco; both coasts of Australia; the Rowley Shoals; Red Sea; Guam; Palau and Chuuk, Micronesia; Hong Kong; Ishigaki, Japan; Oahu, Big Island and Maui, Hawaii; Komodo Island area of Indonesia, etc.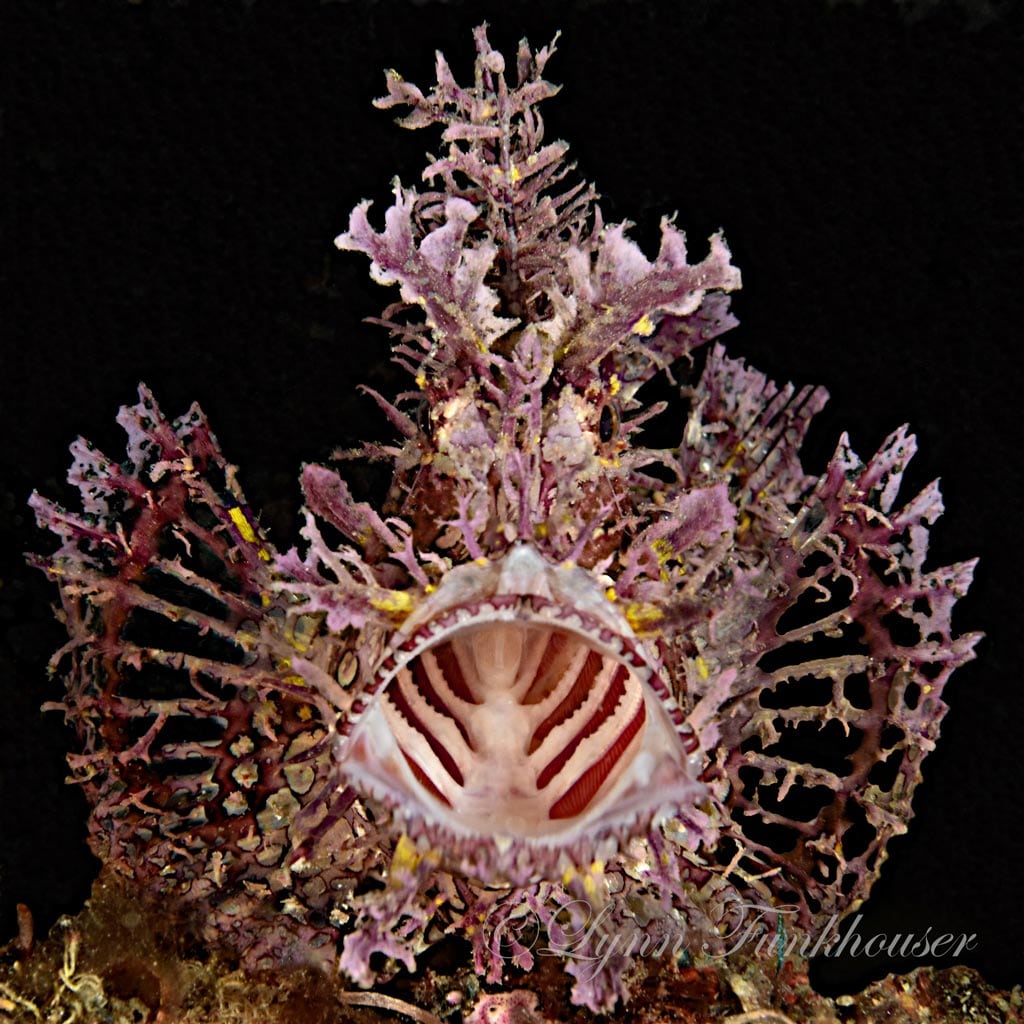 In 1975 I was in diving in Guam and was invited on a medical Mission to the Philippines. After the mission, I went to Anilao and made 2 dives.  I had never seen so many nudibranchs so returned there within months. Since then I have spent 2 to 3 months per year, every year, diving 261 islands out of the 7,107 islands of the Philippines.  I continued diving other destinations, but the Philippine was my 'Gold Standard' and always felt it was the best. Now scientists have proven that the Verde Island Passage, which encompasses Anilao and Puerto Galera, IS the richest area in the world! How lucky was I to happen upon it in 1975, even before there were resorts, and be able to dive it every year! I recently learned that Luzon Island has the most mammals of anywhere else in the world!
In 1985 I went to a meeting to show my photos to some scientists to prove that the Philippines was worth saving. We formed the International Marinelife Alliance to tackle destructive fishing methods. I lived with the blast fishers and cyanide fishers to get the photos. We taught the blast fishers to catch fish with a hook and line and use a needle to decompress them so they could sell them live for 10 times more than a blasted fish. We taught the cyaniders how to catch fish with barrier and hand nets and get more money than for a cyanided fish.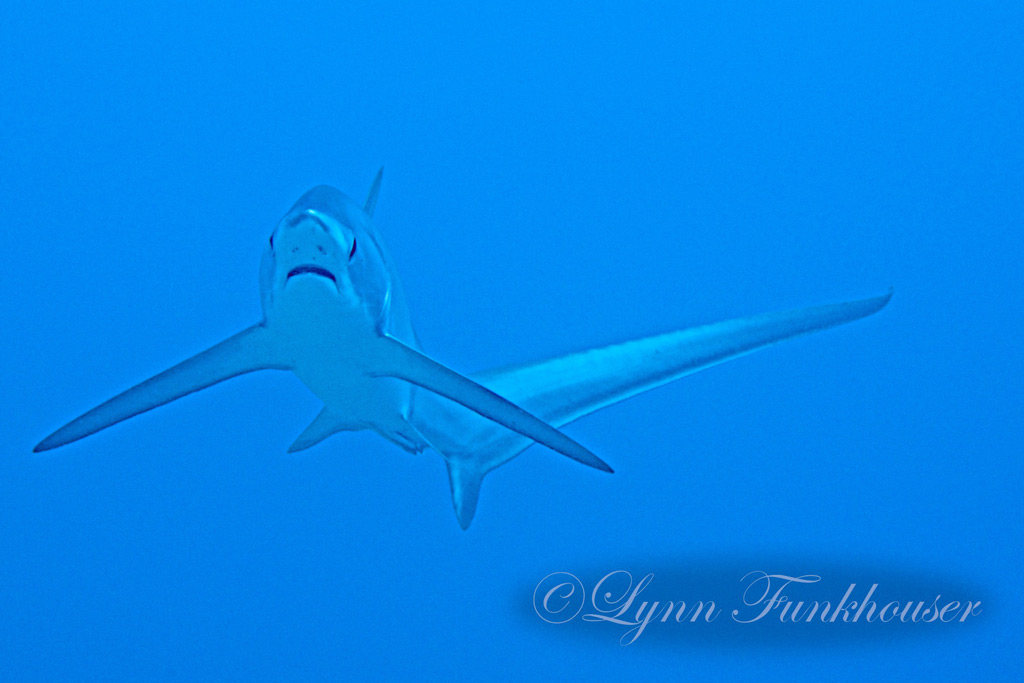 My photos were also used to save Shiraho Reef in Ishigaki, Japan, from having an airport runway built over it. We were the first environmental group to stop a Japanese project.
When the John G. Shedd Aquarium in Chicago decided to build a permanent exhibit focusing on Apo Island, a model sanctuary, I was hired to be a consultant as I had become an expert on the Philippines. It is a $49 million, 1500 square foot, 8 years in the planning, permanent exhibit called Wild Reef. My photos were also used as models to make the realistic fake corals and some of my photos were used in the exhibit.
Because I fell in love with the Philippines and almost no Filipinos realised the amazing treasures they possessed, I have spent many years educating their Department of Tourism to bring divers there and especially to protect their amazing resources. It was heart-warming to watch fishers become guides, instructors and boatmen for divers. Many have become outstanding photographers and critter finders and are making much more money protecting their reefs than fishing!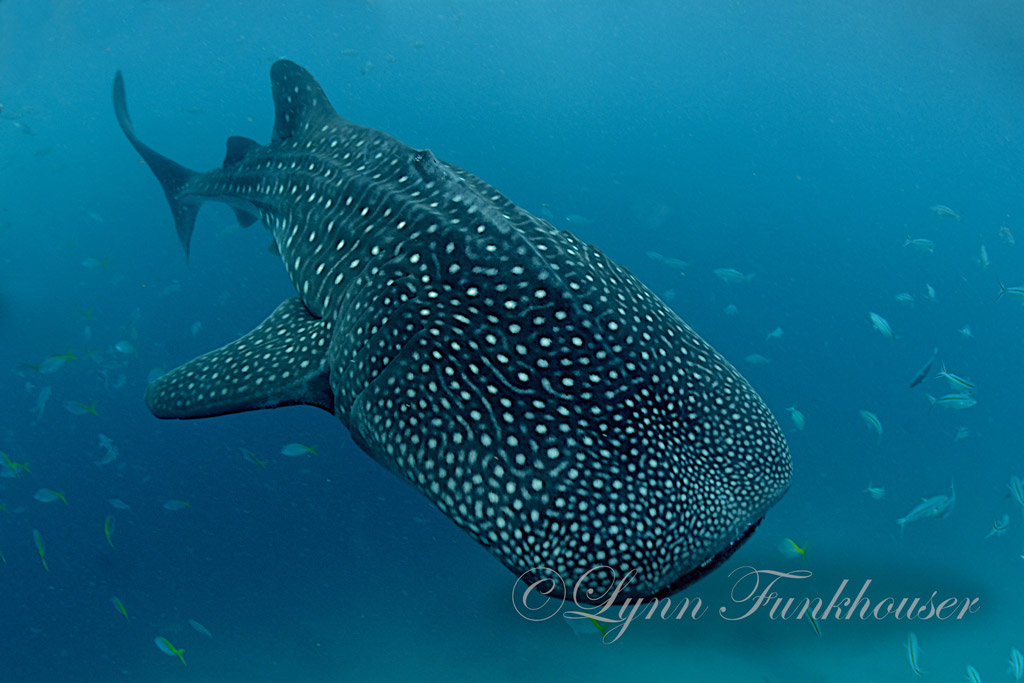 What is your most memorable ocean experience?
So many! Diving with Sandy, the wild dolphin off San Salvador Island and him trying to block me from returning to my boat after hours. Helping to salvaging 200 amphoras from James Bay in Galapagos. Chasing mating sharks down to 257 feet. After searching for a Spanish Dancer nudibranch that was over 2 feet long and finding 5 of them! Seeing my first whale shark after 33 years of always being in the wrong place when they were sighted at the site I had been the day before.  Diving the Atocha when they were discovering emeralds the size of large marbles.
Do you think many people have an understanding of what lies beneath the waves?
I don't think enough people know what treasures our oceans, lakes, rivers, and streams are.  I try to educate people with my presentations and even my Facebook posts. We have to instil love and respect so they will protect our waters. We must stop polluting them and using them to dispose of our garbage! Our very existence depends on healthy oceans and fresh waters!  I urge photographers to take images of the bad as well as good and using them for education.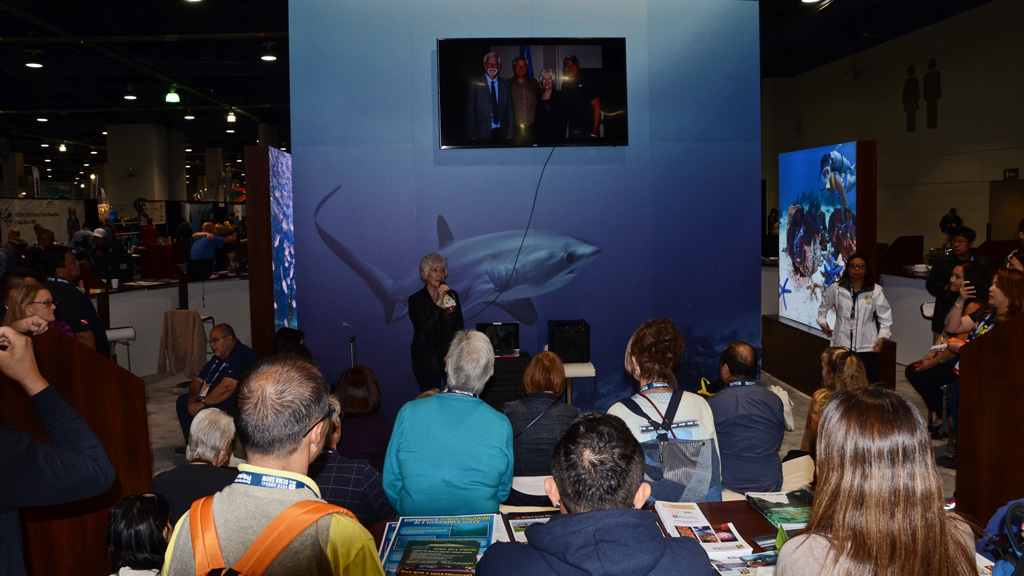 What message do you most want to convey to people with your photography?
I wish to convey the beauty and amazing diversity of the underwater world and her inhabitants plus the fragility and need for protection. The ocean supplies 70% of the oxygen we breathe so it is imperative that we protect it.
We need to stop the plastic pollution and move to green energy. I think in years to come, people will look back at our photographs and not believe what we photographed was real. What a loss.
This is my 50th year diving. I am leading a group to the Atlantis Resort in Dumaguete, Philippines to celebrate. I have 2 rooms open if anyone is interested. I can be contacted at lynnfunkhouser@rcn.com
You can see many more of Lynn's incredible photographs on her Facebook page.
If you liked this post, you might also like Heather Sutton – local Firey and underwater photographer.