Introduction
Location
Accommodation
Diving
Dive Sites
Pricing & Schedules
Enquire Now
The Indo Aggressor – cruising the Komodo Island region in comfort and style!
The Indo Aggressor is a proud member of the Aggressor Fleet of liveaboards. Based in Bali, she explores coral walls and fish life in the nutrient-rich waters of Komodo National Park on 7-10 night itineraries. The Indo Aggressor liveaboard provides interesting island cultures, land excursions to see the famous Komodo Dragons, colourful marine life and exhilarating drift dives combined with first-class onboard service and amenities – a lot to look forward to in just one cruise.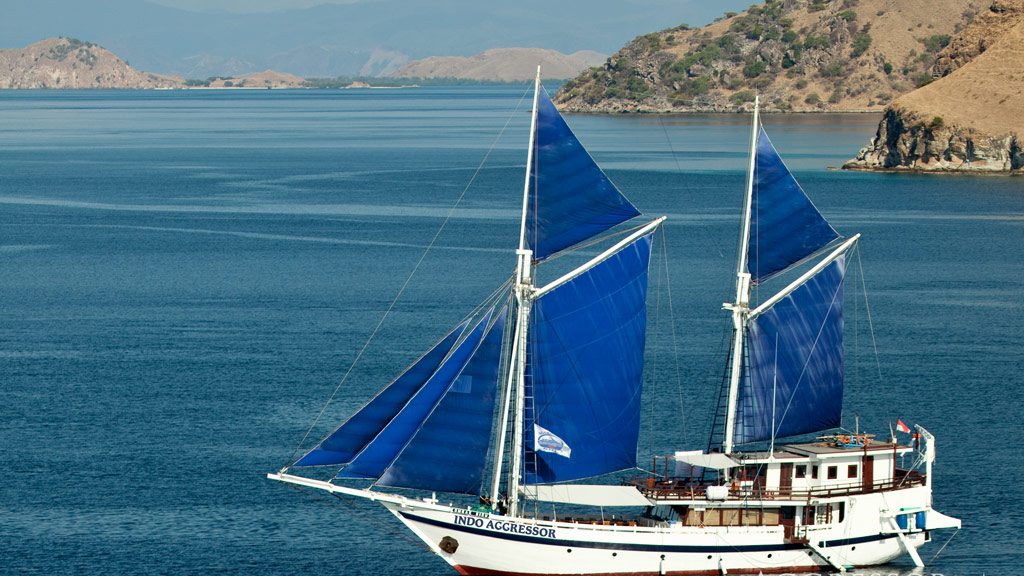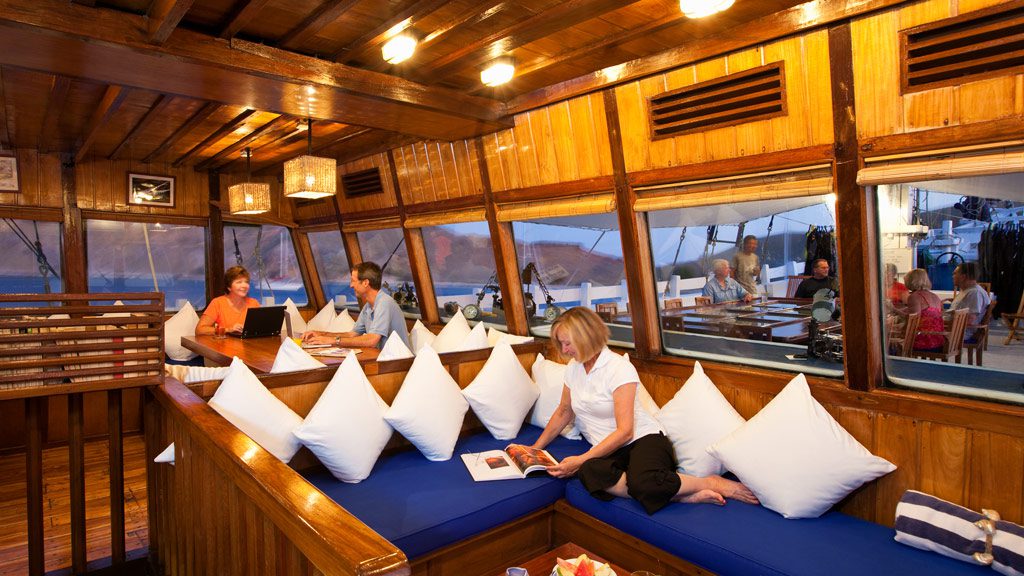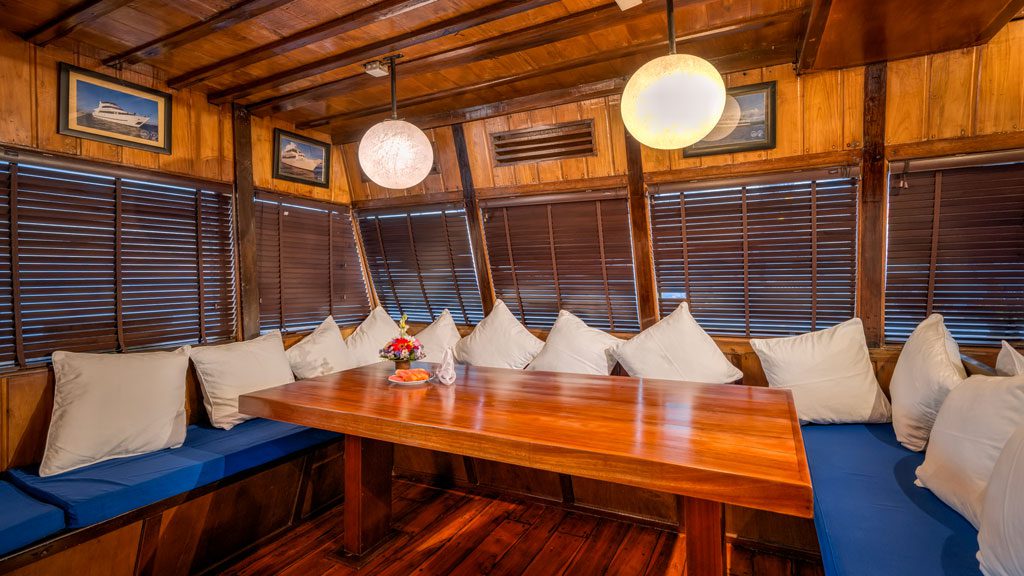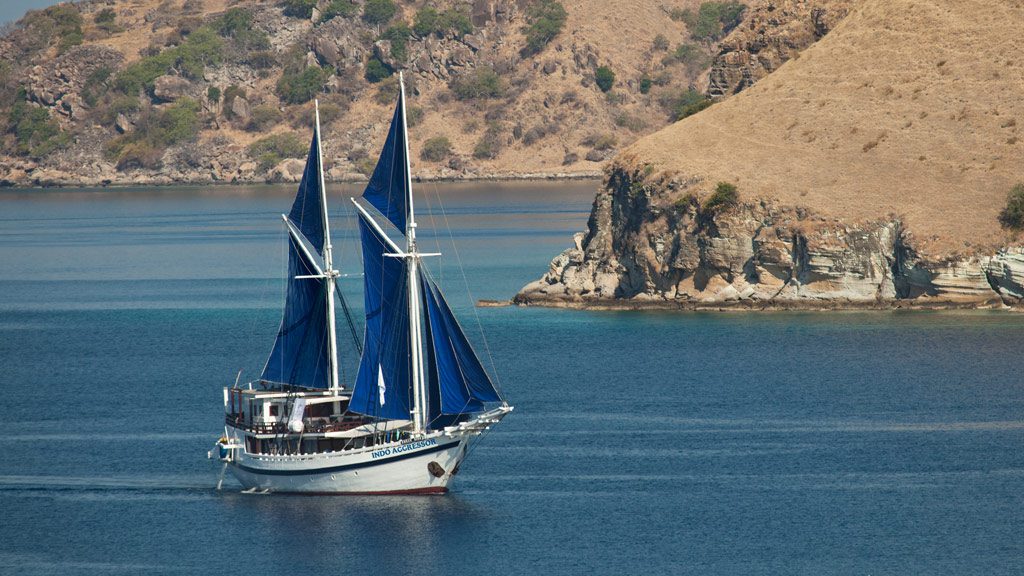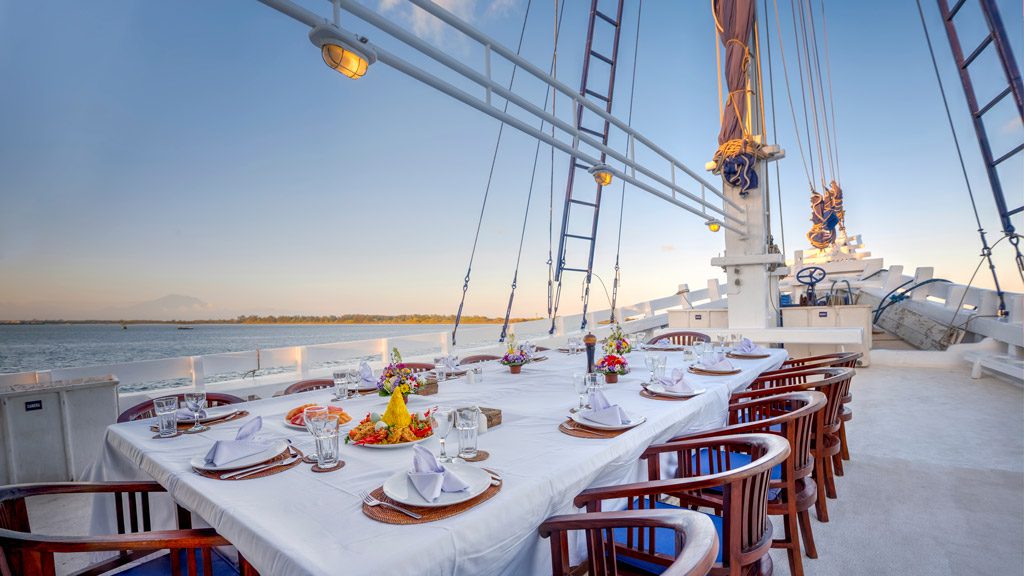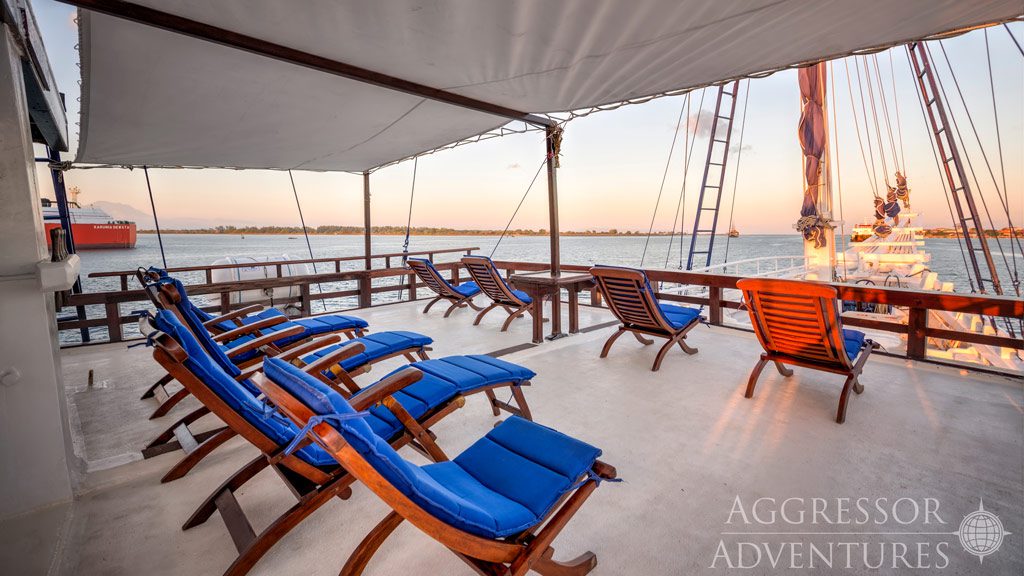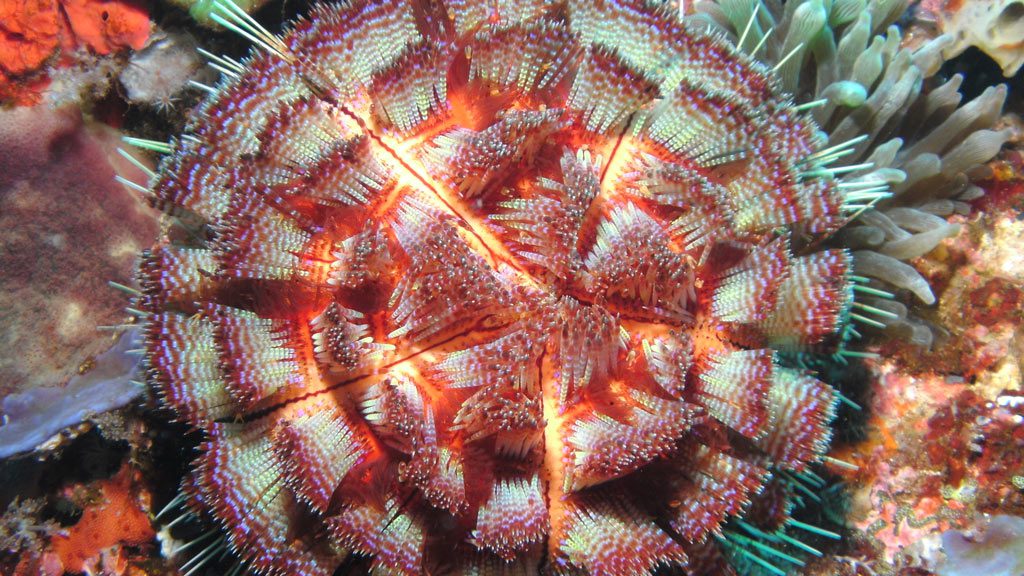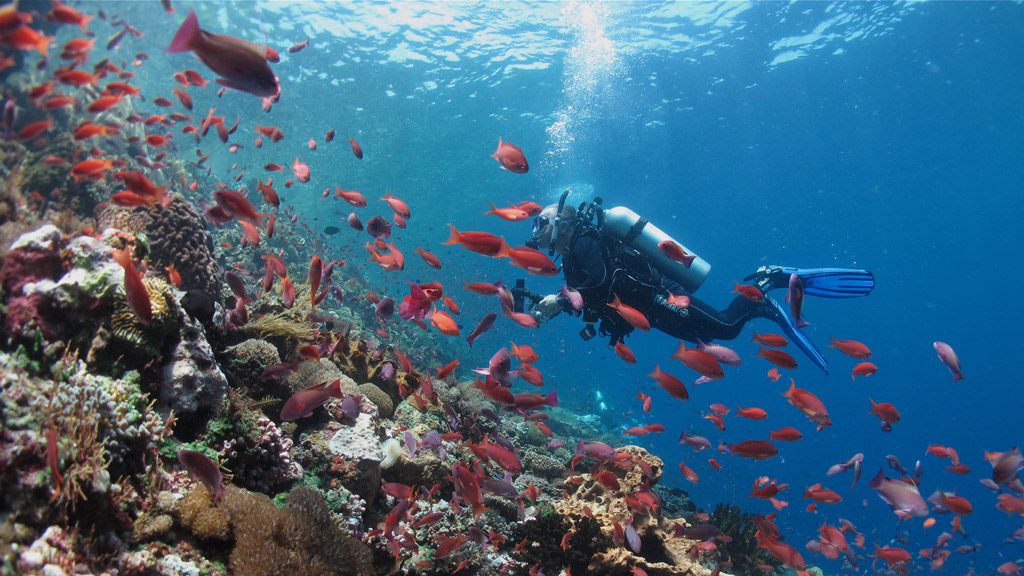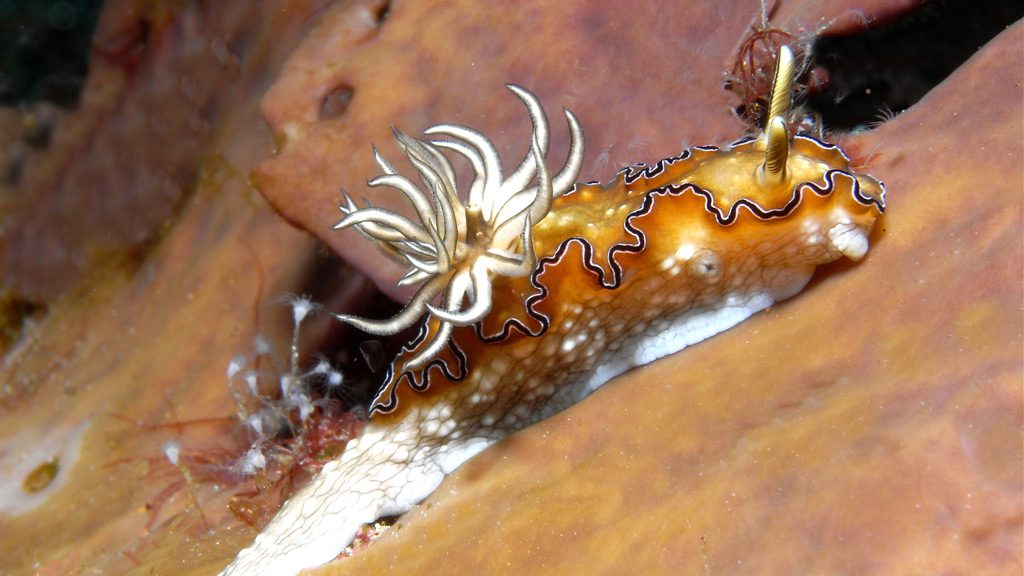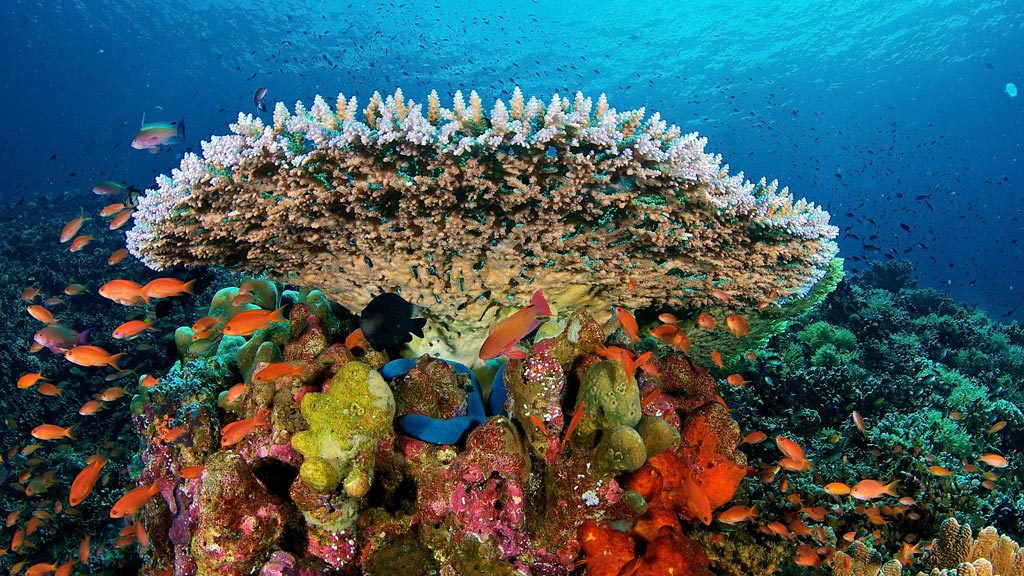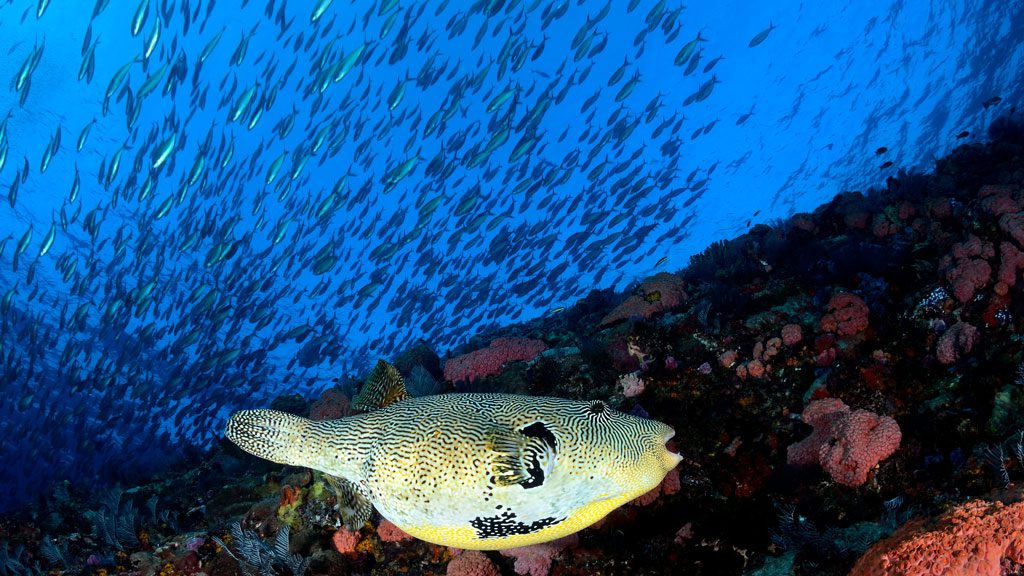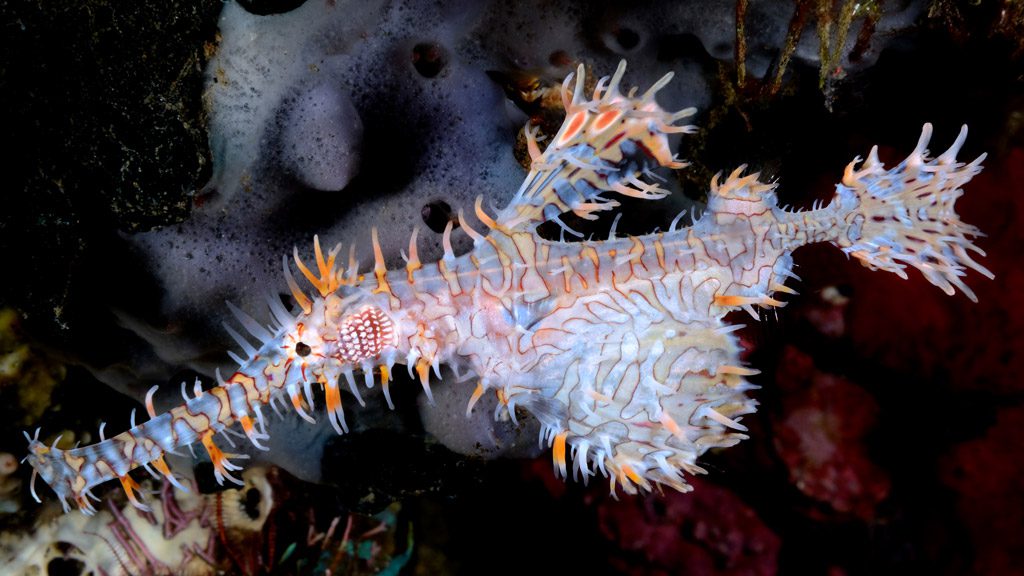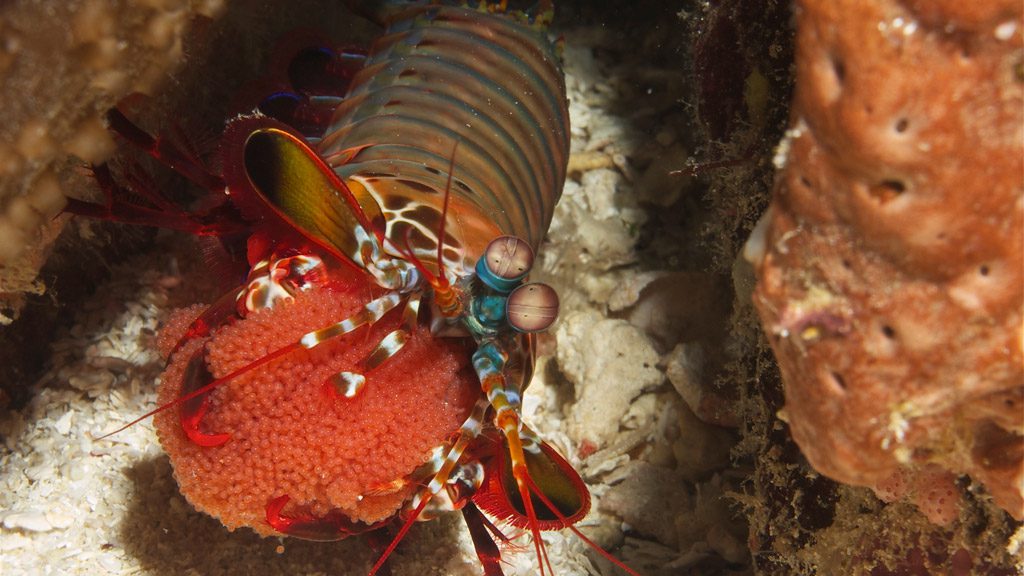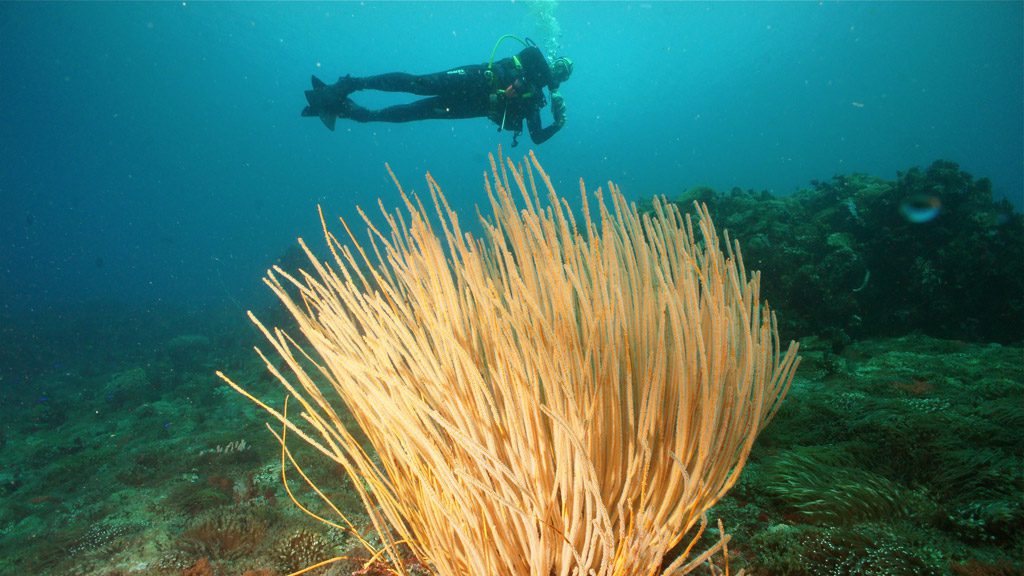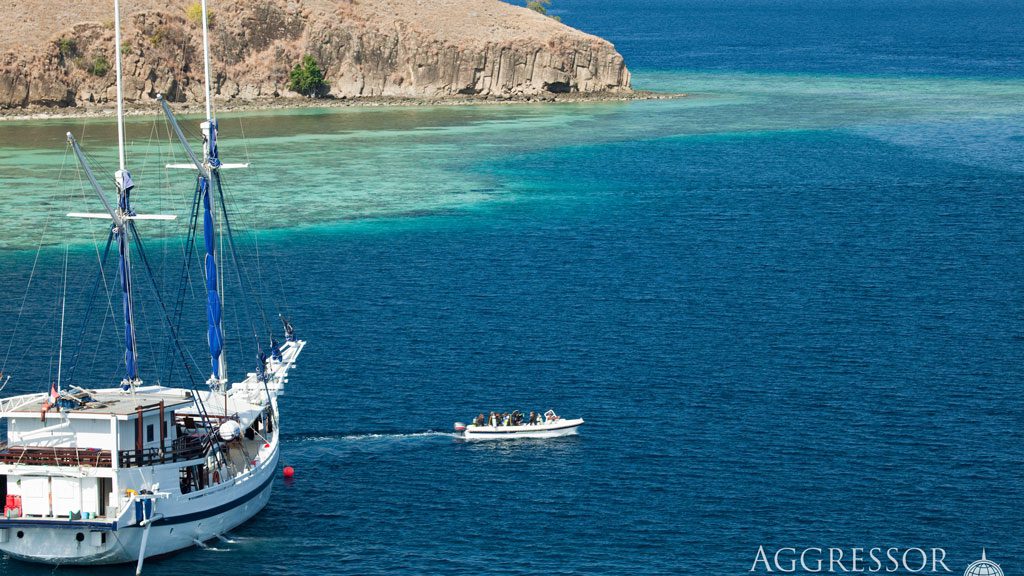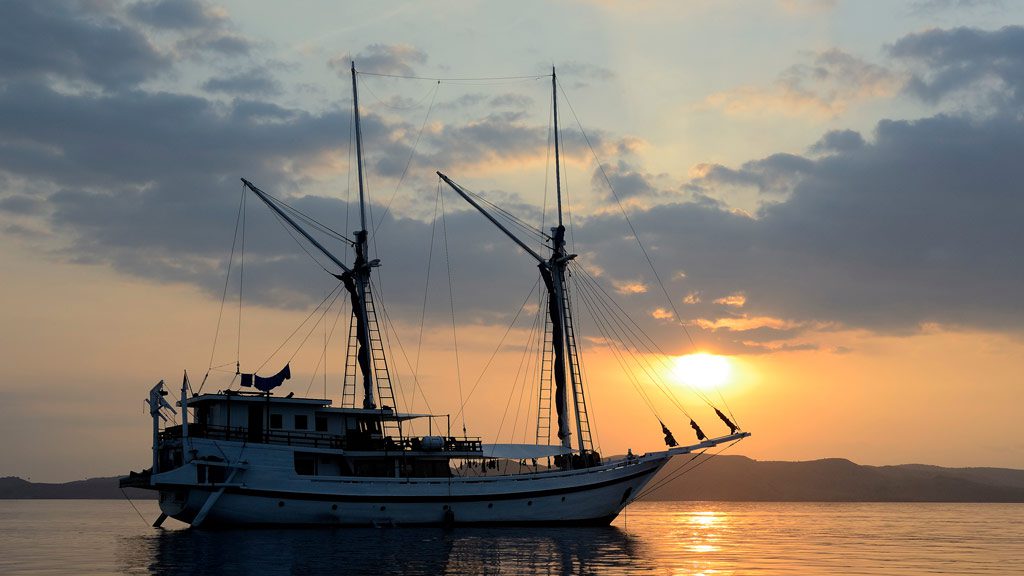 Indo Aggressor also offers cruises where divers can experience the most colourful, interesting and diverse dive destinations: Buton and the Tukang Besi Islands (Wakatobi) to the north and the collection of islands from Alor to Flores, the eastern end of Nusa Tenggara in the south and the Forgotten Islands in the south of Maluku. These unique liveaboard trips are scheduled one way, starting and finishing in different locations.
Features
Indo Aggressor is a traditionally crafted, motorised two-masted wooden schooner, 30m (100ft) long and 9m (30ft) wide. The Main Deck features a comfortable dining salon and a spacious dive deck with camera table and photo lab. The galley is also located on the Main Deck. Outdoor seafood and meat barbeques on the Bridge Deck are the highlights of every voyage, as are the tantalising desserts after each evening meal. The chef offers international and Asian cuisine with a variety of vegetarian options.
We think…
One of the flagships of the Aggressor Fleet in Indonesia, Indo Aggressor crew has extensive experience on these remote dive sites and offers excellent service.
Indo Aggressor departs from a number of different destinations depending on the chosen itinerary.  The four main areas explored are Komodo National Park, Komodo Deep South, Bali to Komodo National Park, and the Forgotten Islands.
Indo Aggressor accommodates 16 divers in 2 deluxe staterooms, 2 master staterooms, and 4 twin staterooms across 3 spacious decks. All cabins are furnished with teak wood panelling, include climate control and type C European 2-pin electrical adapter plug and electrical output.
Deluxe Stateroom (Rooms #2 and #3)
Queen Bed, Private Facilities, Porthole View, Mirrored Wardrobe, Bathrobes, Hairdryer, Toiletries, Fresh Towels Daily, Independent AC Units.
Master Stateroom (Rooms #1 and #8)
Two singles (35"x78") or one Asian King (70" x 78"), Private Facilities, Picture Window, Mirrored Wardrobe, Bathrobes, Hairdryer, Toiletries, Fresh Towels Daily, Independent AC Units.
Twin Stateroom (#4, #5, #6, #7)
Two Twin Bunk Beds (European size), Private Facilities, Porthole View, Mirrored Wardrobe, Bathrobes, Hairdryer, Toiletries, Fresh Towels Daily, Independent AC Units.
The Indo Aggressor provides 80cuft tanks with DIN/yoke adaptable valves, tanks, weight belts and weights. There are two 100cuft tanks on-board. The diving is via the two dive tenders, which are specially designed for local conditions. Each 6m (20ft) long & 2.5m (8ft) wide dive tender is powered by two 40 HP Yamaha outboards with electric starters, which are driven from the front, leaving most of the interior free for divers and gear. The tenders also carry their own oxygen unit, VHF radio and have bilge pumps; 1 dive master is assigned to each tender, together with a driver and an assistant. Guests board the tender and then don their gear at the dive site. Enjoy fresh water showers on the back deck after your dives and dry off with a warm towel. Nitrox courses are conducted on-board, and Nitrox fills are available for Nitrox certified divers at extra cost.
Komodo Island & Marine Park
Officially declared a World Heritage Site in 1991, the Komodo Marine Park around the islands Rinca and Padar encompasses 132,000 hectares, making it one of the largest protected zones in the region. These legendary islands are the only habitat where the Komodo Dragons still roam freely. The Komodo Dragons are survivors of prehistoric reptile carnivores which thrived in tropical Asia some 100 million years ago. Wild eroded mountains and deserted bays with fine pink and white sand beaches dominate these secluded islands.
Indo Aggressor's primary itinerary focuses on diving in Komodo National Park which sits at the heart of the intersection between five major ocean currents, making it one of the most biodiverse places in the world. The park is home to more than 1,000 species of fish, 385 species of reef-building corals, 70 species of sponges, 10 dolphin species, six whale species, giant sea turtles, dugongs, and various species of sharks and rays.
The underwater terrain ranges from thrilling vertical walls and pinnacles to tranquil sandy flats. The marine life provides a broad spectrum of experiences from heart-pounding encounters with mantas and other large pelagics down to the total satisfaction of spotting tiny pygmy seahorses. Indo Aggressor also visits Bima Bay and Sangeang Island where the muck diving rivals that of the Lembeh Strait.
The sparsely populated and still pristine Komodo Islands provide the gateway to a unique dive experience in medium to strong currents with surprisingly cool thermoclines. It is one of the few areas in South East Asia where pelagics can still be found in abundance.
Staying Connected
There is a satellite phone onboard for emergency communication only. Please note that WiFi is not available.
Trip dates & availability
Please see pricing table below the availability panel for inclusions, exclusions, and extras.
Indo Aggressor - Inclusions, Exclusions and Extras
Included
Accommodation as specified, all meals, snacks, water, coffee, tea & soft drinks, ship to shore transportation, all dives, tanks, weights dive guides.
Single supplement surcharge is 65%
Excluded
AUD
USD
Komodo National Park fees
242
USD
|
242
Forgotten Islands and Komodo National Park fees
275
USD
|
275
Optional Extras
Full set of dive gear rental incl. computer (7 nights)
175
USD
|
175
Full set of dive gear rental incl. computer (10 nights)
260
USD
|
260
Nitrox fills (7 night cruise)
100
USD
|
100
Nitrox fills (10 night cruise)
150
USD
|
150
Important Information
This liveaboard's prices are in USD. The AUD prices shown are based on the current exchange rate. The price paid in AUD will be based on the actual exchange rate at the time any payments are made.
Celebrity hosted cruises may attract a surcharge; transfers are included on charter days only