Introduction
Diving Australia
Where to start?
Most people immediately think of the Great Barrier Reef when thinking of scuba diving in Australia. But, being a continent, there's more to diving in Australia than one reef (even if it is the size of Italy!)
Australia has tropical diving in the east along the Great Barrier Reef and over in the west where Ningaloo and the Rowley Shoals are to be found. It also has temperate diving in the south, characterised by kelpy rather than coral landscapes, but often teeming with marine life from cuttlefish, to rays, to seals, to sharks.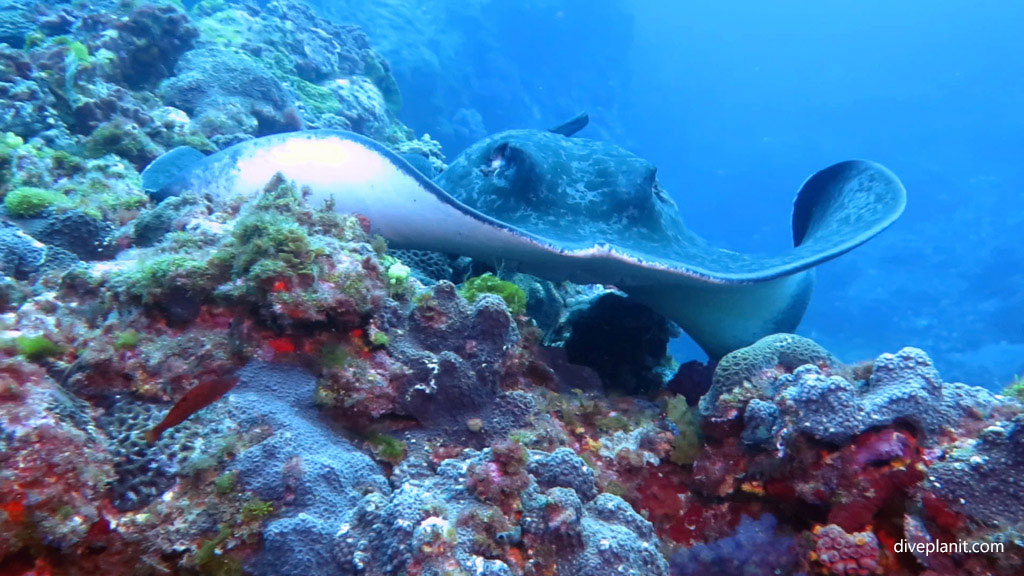 There is surprisingly little liveaboard diving in Australia considering the total length of the coastline, probably because as most Australians live on the coast – they consider the best scuba diving in Australia to be their own favourite shore dive within a few Km of their home.
Australia also has a few very special islands, so here we'll share with you what we consider to be the best liveaboards in Australia, and the best dive holiday destinations in Australia.
Liveaboard Diving in Australia
The most popular liveaboards in Australia are those, like Mike Ball Expedition's Spoilsport out of Cairns, and the Spirit of Freedom, that visits the Coral Sea – servicign the area of the northern Great Barrier Reef. Offering various packages from regular 3 and 4-day trips which can be taken back to back as a luxurious 7-night trip that includes all the best sites.
There are other liveaboards in the Great Barrier Reef area which visit the Ribbon Reefs – those easily accessible reefs north of Cairns. An excellent example of these are Pro Dive's three Scubapro liveaboard boats.
Finally, for those with only a few days to spare, you can still spend a few nights out on the Great Barrier Reef on the Deep Sea Divers Den liveaboard Oceanquest. Moving between different moorings on the Outer Reef it is serviced daily by the day boat Seaquest – so you can spend as many or as few days diving as you like.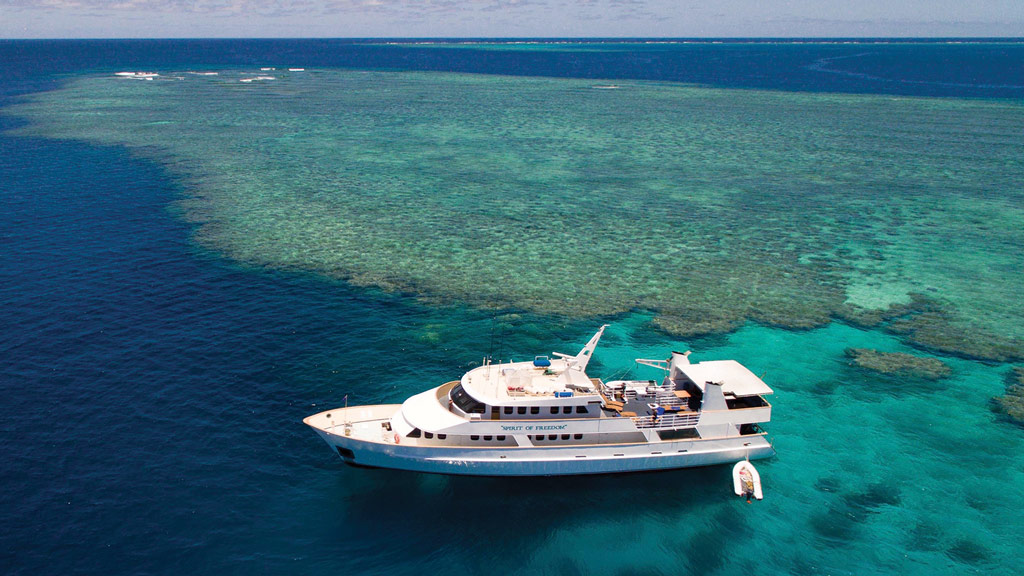 If you plan to visit Australia for diving around October or November, a fantastic but little known alternative would be a trip to the Rowley Shoals – a chain of three spectacular pristine coral atolls – each covering 80 square kilometres and rising up to 400 meters (130 ft) from the ocean floor on the very edge of the widest continental shelf in the world. Comparable to the Coral Sea on the East coast, the stronger prevailing currents make this a unique underwater environment.
Here you dive amongst the giant clams, shellfish, Giant Potato Cod and Maori Wrasse. Discover over 200 species of coral and over 650 species of fish. As the Rowley Shoals is about 100 miles offshore visibility is often in excess of 60m (200 ft).
Two liveaboards – the MV Great Escape and The Odyssey – offer 7-night itineraries in season from Broome in Western Australia, but be aware you may need to book in advance for the next season.
And finally – for something completely different, you might like to get face to face with a Great White Shark. Rodney Fox Expeditions offers 3 and 4-night itineraries to the Neptune Islands from Port Lincoln in South Australia. On these trips, you can spend time in either the surface or ocean floor shark cages and experience these magnificent apex predators up close.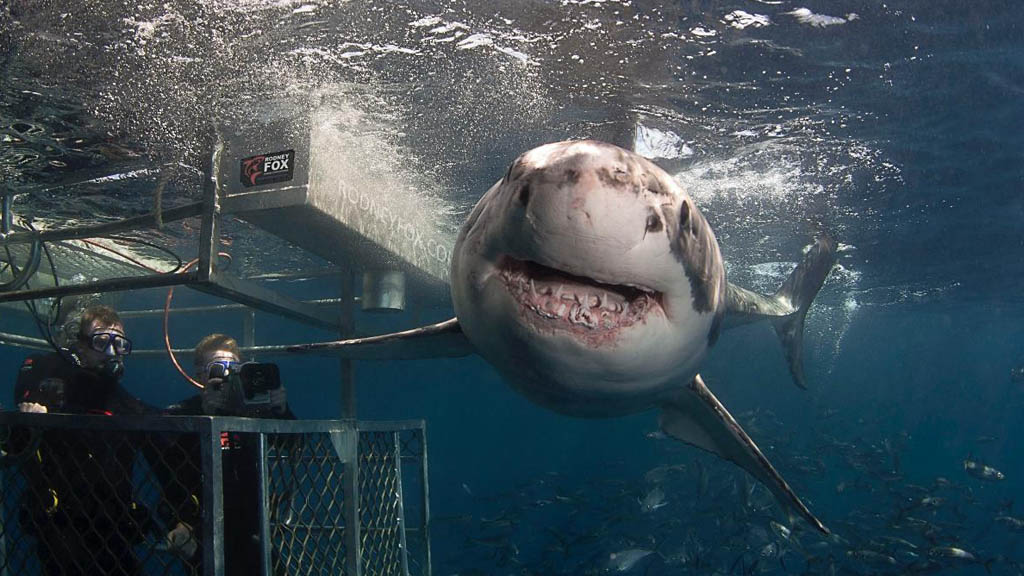 Australian Dive Resorts
All of Australia's dive 'resorts' are on islands dotted around Australia's coast – and each one is completely different. (They are not all strictly resorts either).
To the west, far out in the tropical Indian Ocean are the sandy Cocos Keeling Islands – consisting of two atolls and 27 coral islands, looking just like a lost paradise.
North of Cocos is Christmas Island – the tip of an extinct volcano – whose near-vertical sides slope down to the seabed 3000 m below. A magnet for pelagics from whale sharks to mantas, and well and home to a plethora of colourful reef fish on its fringing reefs.
To the far east, is Lord Howe Island, sitting on the confluence of 5 ocean currents, it has both tropical and temperate species in abundance, and well as a variety of interesting underwater terrain from a lagoon, to small islands, to the Arches, to Ball's Pyramid – a monolithic slab of rock that sticks out of the ocean over 500m high!
On the southern end of the Great Barrier Reef are two coral cays offering both excellent colourful coral reef diving, plus, being on the very edge of the reef, encounters with passing pelagics from Mantas to whales (in season). Being surrounded by sand, both Lady Elliot Island and Heron Island are also nesting grounds for turtles – meaning it would be a rare dive if you didn't have an encounter with a turtle.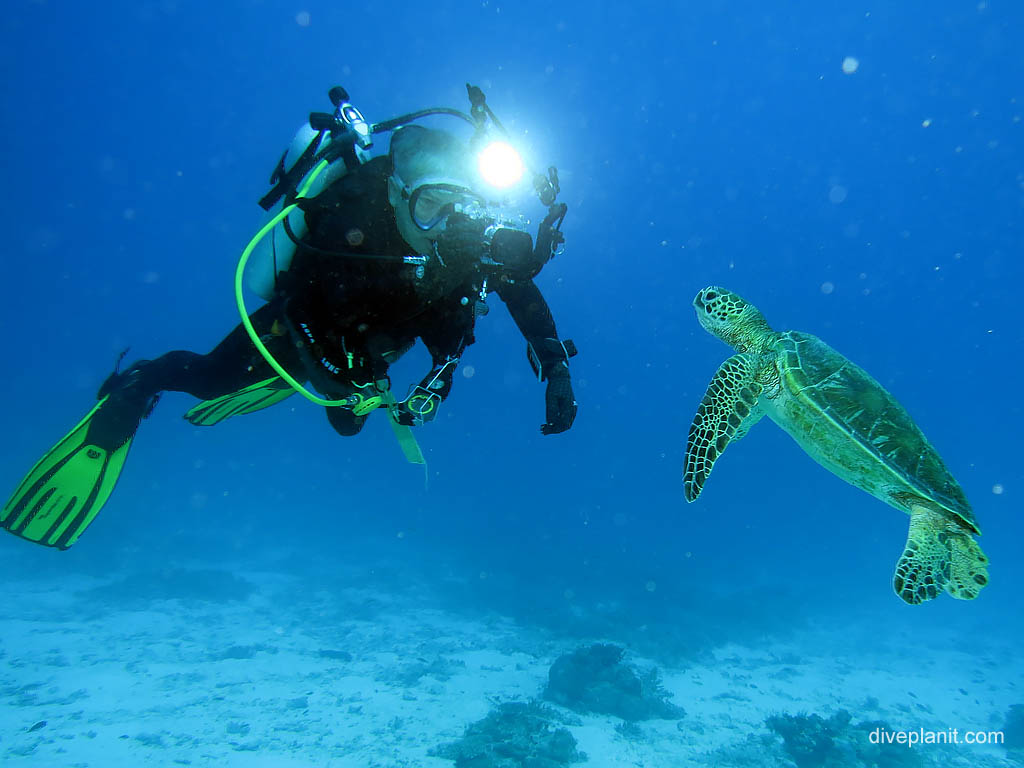 Self Planned Dive Trips
As mentioned above, Australia has lots of great little dive spots right down the eastern seaboard and if you are adventurous, you can simply rent a car or camper van, and dive you way down the coast. Here's a list of useful dive destinations throughout Australia to start researching your own dive holiday Downunder.
Pricing / availability enquiry