Dive Holiday Packages for the Whole Family
Many people think that family holidays and diving holidays are mutually exclusive. But we beg to differ. A Family Dive Holiday could be the first step towards a lifetime of quality time together as a family. There really is nothing like exploring the underwater world with the next generation.
Perhaps, like many scuba divers, you have given up on the idea because it's all too hard with young kids. But with a bit of planning, it's possible to keep diving with kids in tow. And if you introduce your kids to the life aquatic at an early age, hopefully, they'll come to share your love of the underwater world.
The coral reefs of the South Pacific and Indian Oceans really are as spectacular as they look on TV and they are far more accessible than you might think. A family diving holiday may need a bit more planning than your average resort holiday, but generally not much more effort.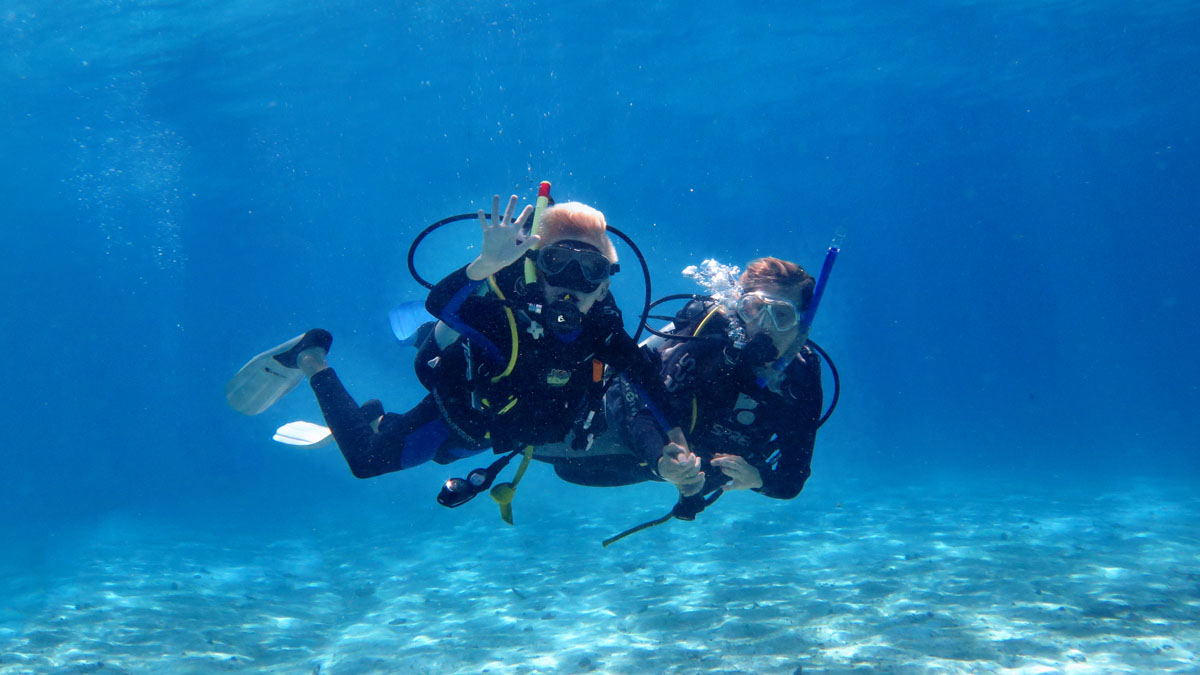 So whether you want to book a family diving holiday, take everyone on a family holiday and get a few dives in; or, teach the kids how to dive and go scuba diving with kids… we have options for you.
Firstly, here you can read a few tips on the sneaky art of converting a non-diver into one of us via a well-planned diving family holiday.
Start with snorkelling
Snorkelling is a good place to start your kids' underwater adventures. Kids usually start to show an interest in snorkelling somewhere between five and eight years old.
How old should kids be to learn how to dive?
Kids as young as eight can try scuba diving with a Bubblemaker experience. Basic theory and safety are taught in a fun environment, followed by a pool session to learn how to use scuba equipment. Once they are comfortable they can enjoy an ocean dive to a depth of 2m. Junior Open Water Certification level is designed for 10 to 14 years. Again, there is a theory component, and lots of practice in the safety of the pool before venturing out to the 'open water' of the ocean. Maximum depth is 12m, though in practice – depths are usually 6-9m where the most interesting marine life is to be found.
Discover Scuba Diving
Another option for kids (or grown-ups) who aren't yet ready to commit to a full-blown scuba diving course, is Discover Scuba Diving option, for ages 10 and up. The emphasis is getting people into the water and actually going diving: getting up close and personal with Nemo and friends and experiencing the weightlessness of diving which is the nearest thing to flying you can get. This is often the trigger for individuals to go for their first real certification – and will count towards it.
Open Water Diver
This is for ages 12 and upwards and for those who want to feel confident and self-reliant in the open water environment to depths of 18m. The course includes lessons on the physiology of diving, the equipment and techniques for safe, comfortable and enjoyable diving – on-line, in the classroom, in the pool and finally in the ocean.
NB: If you'd like to dive as a buddy pair with your newly qualified 10-year old, some dive centres may insist that you are certified to Rescue Diver (or equivalent), depending on the depth of the dive. Check in with the dive centre first as to what their specific procedures and rules may be – it will largely depend on your child. Either way, watching your child experience scuba for the first time is something you'll dine off of for a while.
Thirdly, you can 'kiss and go' – applies to kids, and grown-ups too! It's only fair that everyone gets their holiday: unlike the kids, you don't want to spent 4 hours straight in the pool, they don't want a two-hour spa treatment, but you do want to get a couple of dives in.
Fiji is an obvious first choice, as most resorts already have excellent 'kids clubs' and family-friendly activities, particularly the Mamanucas and the Coral Coast Resorts with access to Sigatoka. Even if the resort doesn't have their own dive centre, they'll be serviced by one.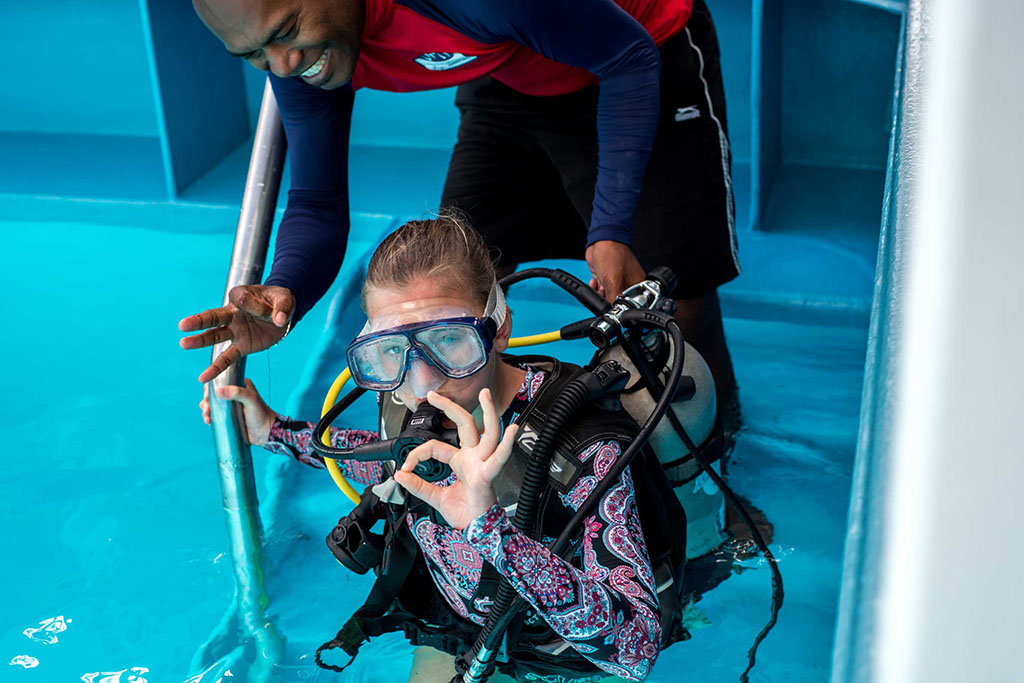 A cruise around the Fiji islands with Captain Cook Cruises Fiji is another wonderful option for families. The onboard kids club has a great program for kids of all ages, and each day a new port offers a wide range of day trips and diving opportunities. The bonus for divers is that you'll visit Fiji's more remote dive sites such as Makogai and Taveuni (think Great White Wall and Rainbow Reef) in a family-friendly environment.
Another more exotic dive liveaboard option for families is the Pindito, which does a dedicated Family Cruise each July. This special "Family Dive Cruise" will begin and end in Bali, with routing into Komodo National Park, a World Heritage Site and location for incredible diving. During the cruise, kids can participate in "Discover Scuba", instructor-lead diving and snorkelling venues. Meanwhile, parents can explore Komodo's coral reefs or they can join the kids and instructors during these fun and mellow intro-dives.
Participants will also be offered many opportunities for land excursions into Komodo National Park to see and photograph Komodo Dragons and other exotic island creatures.
More and more dive resorts are starting to cater to families, including not surprisingly, the luxury options such as Vomo and Wakatobi. Perhaps more surprisingly, family friendly dive resorts are popping up in more adventurous destinations, including Uepi Island Resort the Solomon Islands.
Jean Michel Cousteau Resort in Savusavu on Vanua Levu is already famous for being one of the most family-friendly resorts in family-friendly Fiji. And the diving here is spectacular – beautiful reefs covered in colourful soft corals. And if you want a family-friendly option on the Rainbow Reef, Paradise Taveuni Dive Resort is a great choice.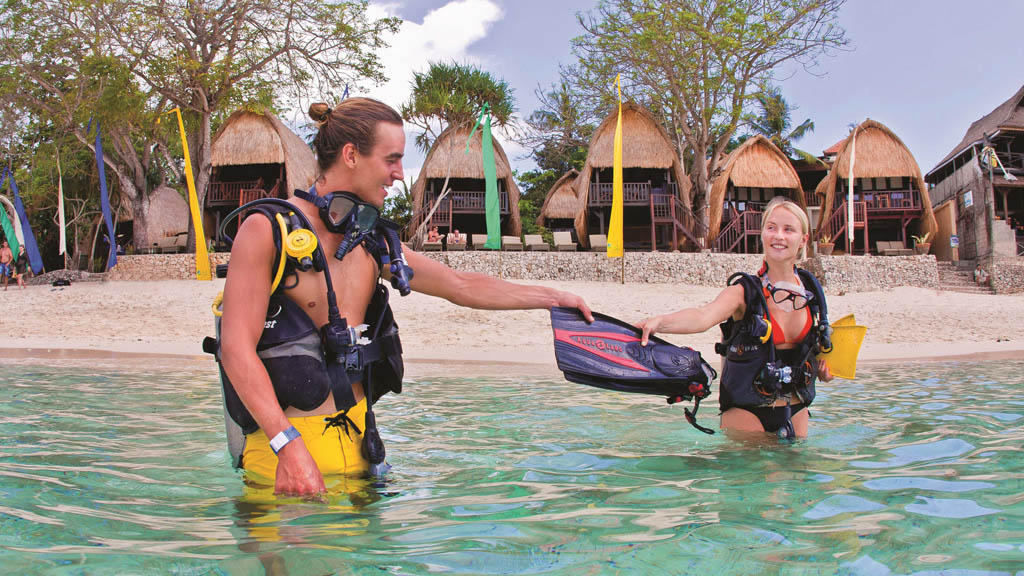 Bali Hai Diving Adventures offers snorkelling and diving experiences in Lembongan Island, across the Lombok Strait from Bali, and Menjangan in Bali's pristine north-west. Learning to dive is pretty easy at both resorts. The operator, Bali Hai Diving Adventures, maintains a policy of a maximum student to instructor ratio of 4:1 to ensure safety and quality training for all PADI course students.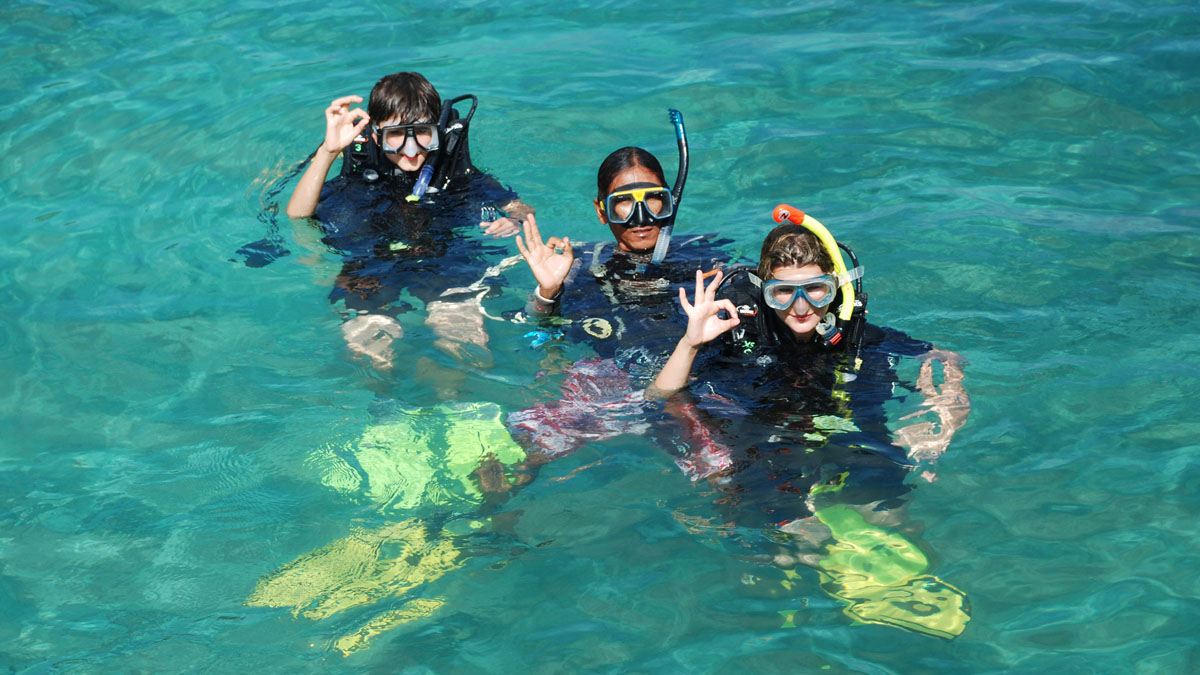 B&J Diving on Tioman Island in Malaysia offers the full range of kids' PADI diving options including the Bubble Maker program and Seal Team Course. They even have kid-size mouthpieces and kid-size tanks.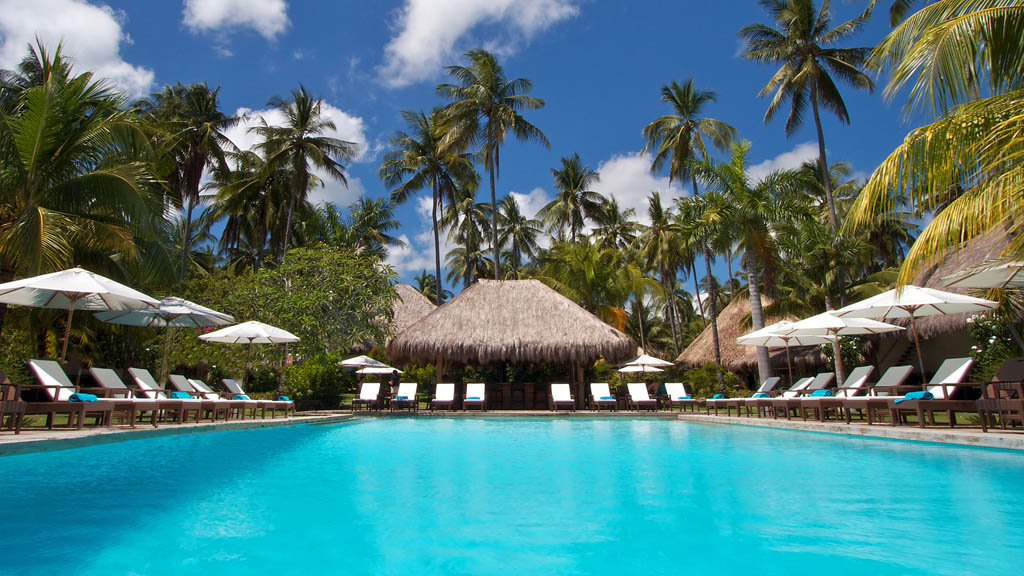 The Philippines is another family-friendly destination, and Atmosphere Resort in Dauin one of the best for kids, with two separate pool areas, of which one comprises of three shallower pools, and a Kids' Club. 'Kids' Cove' on Atmosphere's premises has a range of educational materials and toys, arts and crafts activities and movies. Older kids can snorkel, do a PADI Bubble Maker Dive Course, join the PADI Seal Team program. They also cater to families in the spa with Kid's yoga and a Kid's Spa Menu.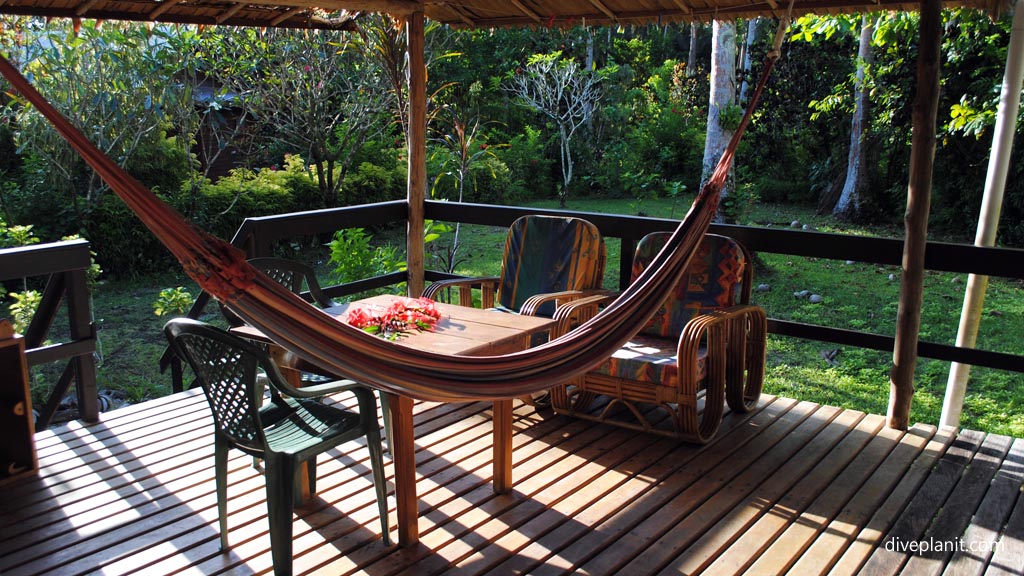 Uepi Island Resort in the Solomon Island's Western Provinces has access to some of the world's best easy diving. Pristine coral reefs and friendly reef sharks are as close as the resort's own jetty and there plenty of land-based activities and safe swimming in the lagoon for kids.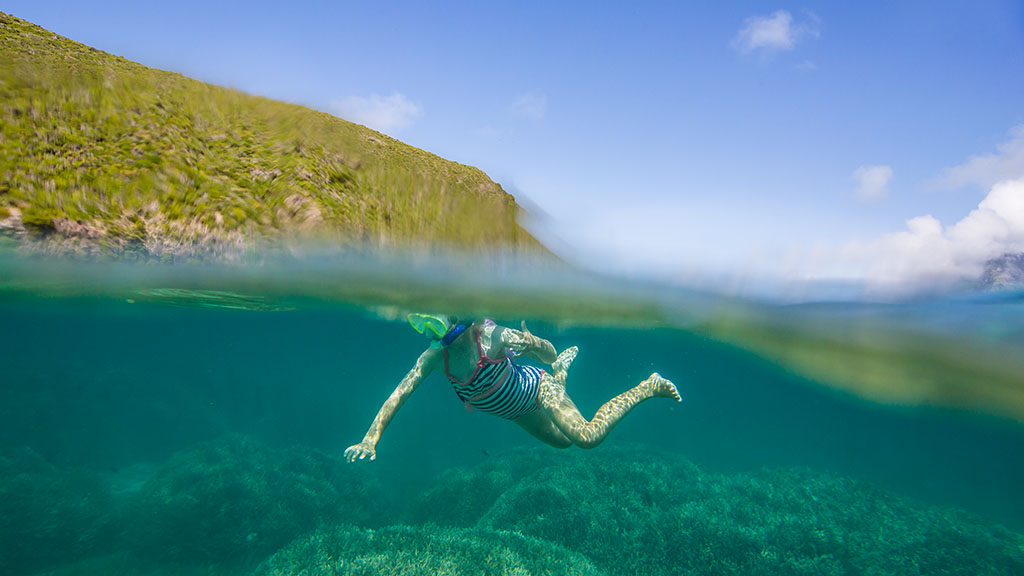 Family adventure travel does not necessarily mean overseas. An obvious place to take kids for their introduction to the wonderful undersea world is the Great Barrier Reef. They will happily snorkel whilst you dive the best diving sites nearby. For a longer stay, plan a family/diving trip to one the Reef's islands such as Heron, Fitzroy or Lady Elliot Island, the Whitsundays which have bespoke kids' clubs like 'Aqua Rangers' and other methods of getting kids excited about what's below the waves or Lord Howe Island, which is surrounded by shallow lagoons for easy diving.
Explore more: Where to start | Easy Diving | Learn to Dive | Liveaboards | Luxury | Families | Great Barrier Reef