Introduction
Thailand has long been a favourite holiday destination for Australians. Friendly people, rich culture, delicious food and, of course, a tropical climate, gorgeous beaches and year-round warm water make it extremely appealing.
The main jump-off points for diving Thailand are Phuket for the Similan Islands and the Andaman Sea, and Koh Samui for the Gulf of Thailand.
There are plenty of dive sites within reach of a day trip from Phuket (and nearby Khao Lak, Krabi and Koh Phi Phi) but if you want to go further afield to the Similan Islands and Richelieu Rock then you will need to book a few days on a liveaboard.
Here are a few words that it pays to know the meaning of, (with spelling alternatives in parenthesis):
Koh (Ko) – an island, e.g., Koh Phi Phi
Mu Koh (Muko) – a group of islands, e.g., Mu Koh Similan – the Similan Islands
Ao – bay, e.g., Ao Chalong – where most of Phuket's boats depart
Hat – beach, e.g., Hat Patong – the most developed beach in Phuket
Hin – rock, e.g., Hin Muang – Red Rock – a well know dive site.
Location
Thailand sits north of mainland Malaysia, with Myanmar to its west, Laos to the north and east and Cambodia to the south east.
The main jump-off points for diving in Thailand are Phuket for the Andaman Sea and Koh Samui for the Gulf of Thailand.
Operators
There are large numbers of independent dive shops, dive centres attached to major resorts and liveaboards throughout the major diving areas. Your challenge will be choosing the one that's right for you from the many available. Points to bear in mind as you make that choice:
Your level of diving experience: sites close to shore tend to be very gentle and great for beginners, (like those around Krabi). A bit further out and you may experience currents, though a day boat is not going to dump a boat load of divers into a raging current! Once you're diving two hours offshore, or on something that is always submerged – be prepared for anything. And Walls are called walls for a reason – the bottom is usually 60+ metres down – so make sure you are correctly weighted and have robust buoyancy control.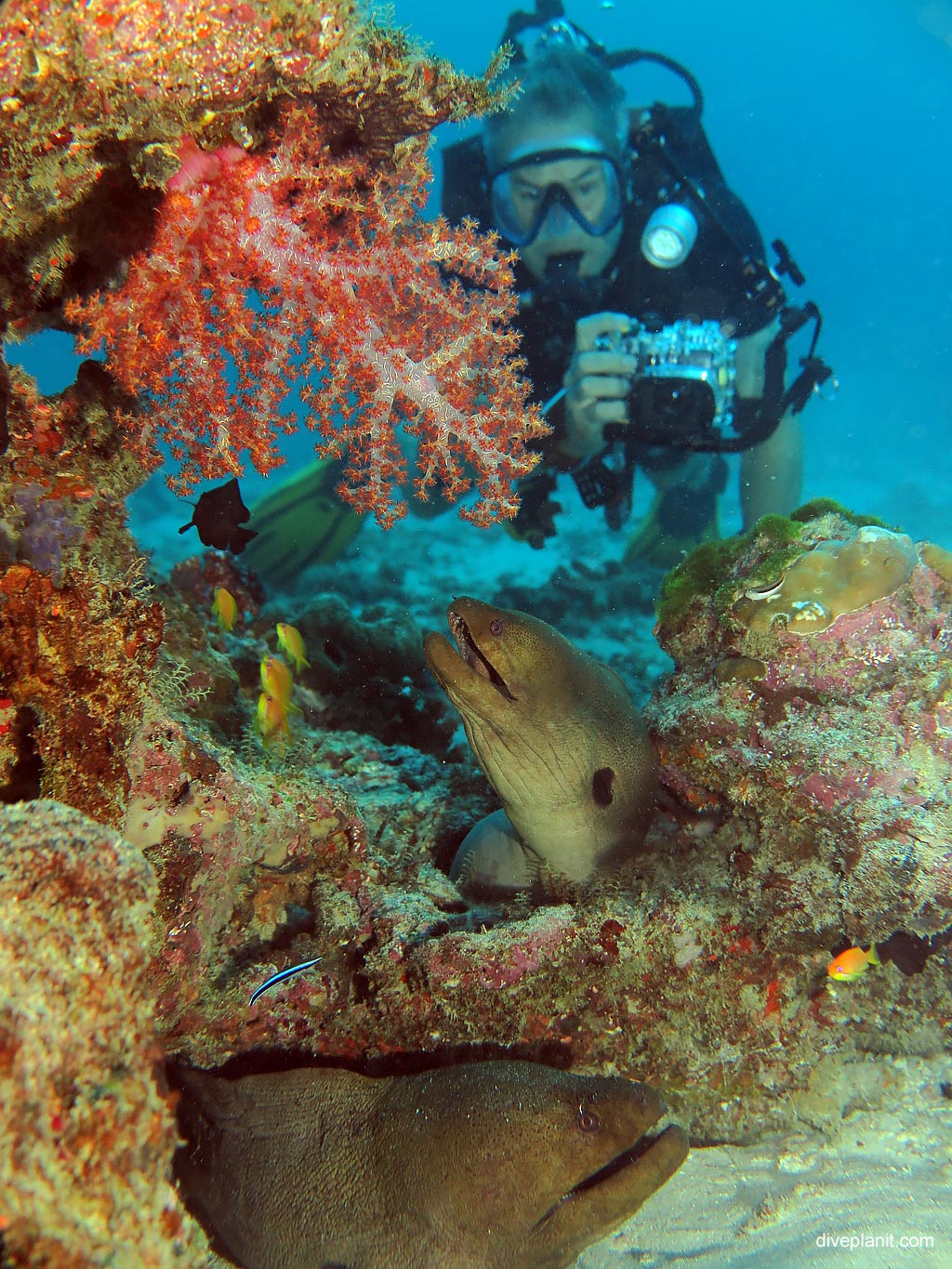 Time: many day boats, even those on Phi Phi, just do a double dive. If you're travelling from the mainland like Phuket, that will take up most of your day; if staying on an island, it will only take half a day. Some smaller operators may do three dives on request if you have the numbers, and some do a planned evening dive.
Live aboard or live ashore? If you plan to do more than 3 days of diving during your stay, I would suggest a liveaboard is the best option. That will ensure you get a variety of dives, but using the same gear and guide, without the hassle of the daily commute both to the boat, and then to the dive site.
Boat: whether you're on the boat for a full day or a week, it's going to make a big impact on your enjoyment of the trip. Different people have different priorities, so confirm what's on-board and what's included with your operator before you commit. Cabin plans and photos speak volumes … and so do their absence. Bear in mind though, that this is Thailand, not the Riviera, so set your expectations accordingly. Most day trips usually include: weights, tanks, food and soft drinks, dry towel, and transfers.
Specific sites: You may have heard from someone that such and such a site is a 'must-do' dive. It probably was, for them, on that day; it can seem pretty ordinary to someone else in different conditions. If you really want to get to Hin Muang, you'll need to find an operator that has a trip planned; bearing in mind, that if they don't get the numbers, their plans may change. My recommendation would be to book trips with the maximum variety.
We have experience of two reputable dive centres, Sea Bees Diving in Phuket, and Zeavola Resort Dive on Ko Phi Phi.
Dive Sites
Gulf of Thailand
On the east side there are the areas of Pattaya and Ko Chang, both offering year round diving, though March to September is best.
Pattaya has been famous as a 'seaside resort' since the 1970's. Only 2 hours from Bangkok it boasts the most inexpensive and accessible diving in Thailand. There are some near, and some offshore islands, which typically have better visibility. There are also wrecks in the area. With numerous diver operators, it's a great cheap place to learn to dive.
Ko Chang is 5 hours by Bangkok by road, or a 1 hour flight, but probably worth it for more experienced divers. There are a number of dive shops, each with their own favourite spots typically on the rocks and pinnacles south of Ko Chang. This area is not particular deep, and there is good snorkelling too.
On the west side, are the group of major islands: Ko Samui, Ko Pha-ngan and Ko Tao, and another group of smaller islands much closer to shore at Chumphon. This area offers diving from January to October.
The three islands of Ko Samui, Ko Pha-ngan and Ko Toa have almost a hundred dive operators, and dive sites suited to every level of experience. Experienced divers should head out to Ko Tao and include Sail Rock and Chumphon Pinnacle on their itinerary.
Chumphon is the least developed dive area in the Gulf. It's half way between Bangkok and Phuket, and well worth the stop over if you are driving. The dive sites are varied and scattered around the rocky outcrops and islets. The local dive shops know the best places to go according to which way the breeze is blowing. Depths (and vis) typically vary between 5 and 20 m.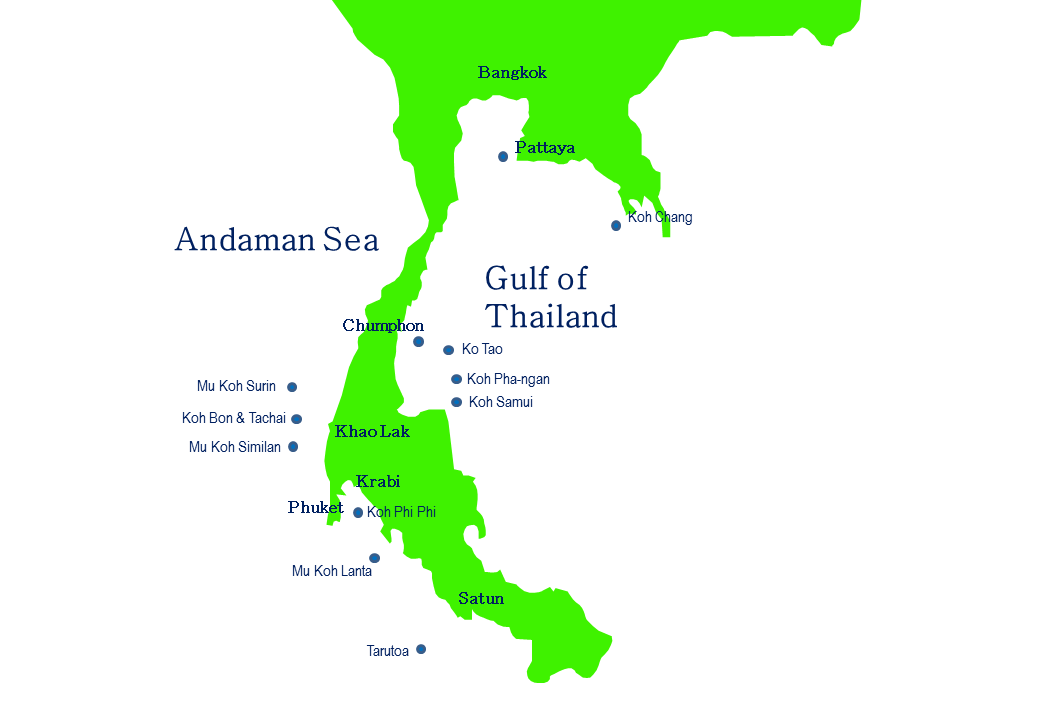 Andaman Sea
There are marine national parks all the way down the west coast of southern Thailand from Surin which is close to the Myanmar border, down to Tarutoa in the tropic zone, close to the Malay border.
Note that the diving season for the Andaman Sea is November through to May, as during May the Southwest Monsoon starts bringing rain and the seas become unpredictable. During this time, the non-coastal parks are closed to visitors. These include Surin, Similan, and Mu Koh Lanta. The rainfall varies along the coast, but is it somewhere between 2 and 4m (yes! 4,000mm) in those six months May to October.
Surin National Park
Surin National park boasts Thailand's most world renowned dive site – the only one I know with its own website: Richelieu Rock. It's famous for a reason: a horseshoe shaped collection of rocks and boulders on and around which you will find both a great abundance and diversity of marine life.  Read our review. During March and April it is the place you are most likely to encounter a whale shark.
Best way to dive Surin as a 3 day liveaboard from Khoa Lak or Tap Lamu or a 6 day liveaboard from either, or Chalong. You can do both parks with two 3 day trips back-to-back (without leaving the boat) with some operators as they will visit Surin and Similan parks alternately on subsequent trips.
Note that although Richelieu Rock is actually part of the Surin National Park, it is usually included on the Similan live aboard dive trips because it has the best diving in the area.
Similan National Park:
The Similan National Park incorporates nine islands, usually numbered #1 to #9. Also close by are Koh Bon and Koh Tachai – both usually included on any trip to 'The Similans'.
The Similans are founded on granite rock, and predominantly to the west – facing the open sea are huge granite boulders standing tall and mighty on a sandy sea bed. To the east, the islands are more sloping and covered in hard corals.
Each island is different and offers different dive sites, from sandy bays to hard coral gardens, and gigantic granite boulders to rocky subaquatic adventure playgrounds.
Phuket, Koh Phi Phi and Krabi
The area centred on Koh Phi Phi to the east of Phuket, and south of Krabi contains a number of dive sites.
The best known site between Phuket and Koh Phi Phi is Koh Dok Mai (Flower Rock); others close by include: King Cruiser Wreck, Anemone Reef, and Shark Point – all of which have write-ups on this website.  Koh Young and Koh Mai are also in this area.
There are a dozen or so sites around Koh Phi Phi: again the best known are probably Koh Bida Nok – an island in the south of Phi Phi group, and Maya Corner – close to Maya Beach on Koh Phi Phi Leh – the beach made famous by the movie 'The Beach' starring Leonardo DiCaprio. Both of these have reviews on this website.
Heading south, Mu Koh Lanta National Marine Park is the next marine National Park. Extending about 30km west to 30km south of Koh Lanta, it boasts a large number of uninhabited islands considered great dive sites. Koh Ha, (Five Islands) are tiny islets located 25 km west of Koh Lanta Island. The channels that separate the islands are over 50 metres deep and the water is usually clear in season. 25km south of Koh Ha is Koh Rok, which are twin islands known as Koh Rok Nai and Koh Rok Nok and are separated by a thin 15 metre deep channel.
The two southern most dive sites of Mu Koh Lanta are considered the best outside of the Similans: Hin Daeng (Red Rock) is a submerged boulder pinnacle where, looking at the bare rocks above water, you would have no idea that it is such a beautiful dive site below water. Healthy soft corals in various shades of red are all around here and plenty of small scale action goes on. One of the most impressive sights is that of a silver wall of trevally cruising past. Show more and Hin Muang (Purple Rock) is Thailand's highest vertical submerged wall.
Hat Chao Mai National Park, accessed mainly from Pak Meng includes Koh Mo(o)k, Koh Kraden, Koh Wean and Hin Nok with a number of established dive sites, is a place for macro enthusiasts.
Mu Koh Phetra National Park – an archipelago of about 30 islands within the southern part of Trang Province and northern part of Satun Province and the beginning of the tropic zone. As such it enjoys both the Southwest Monsoon from April to October, as well as the lesser Northeast Monsoon from November to March. This is an as yet largely unexplored area from a subaquatic perspective.
Further south yet, Tarutao National Marine Park, also in the tropic zone, is on the border with Malaysia; the region near Koh Lipe has, apparently, a massive number of different marine species, but is accessible only via liveaboard.
There just happens to be a very detailed and comprehensive overview of all the national parks in the Andaman Sea on this Seafarer Divers website.
View Dive Sites
Local Information
Visa & Passport Information
Australian (UK, Canadian, and European) tourists travelling to Thailand through one of the international airports on valid passports may currently enter Thailand for up to 30 days without obtaining a visa in advance. This is referred to as a "visa exemption". Thai authorities require all travellers to have at least six months' validity remaining on their passports.
Customs permit visitors to bring in the usual litre of wine or spirits and 200 cigarettes.
There is no departure tax.
Currency
The currency of Thailand is the Thai Baht. Baht come in both coin and banknote form. The size of Thai currency, both coins and bills increases with value and varies in colour.
Banking
Thai bank hours are generally Monday through Friday, 9:30 am to 3:30 pm, though currency exchange booths are open considerably longer hours in Bangkok and other tourist destinations, and offer much better rates than hotels or department stores. Credit cards are widely accepted, and also give a good rate, but often the merchant will charge an additional 2 or 3% and your bank will take a fee too.
Tipping
Tipping is not customary or mandatory in Thailand.  In most establishments, a service charge of 10% is already added to the bill.
Observing Culture
Thai monarchy : In Thai culture, people have a deep, traditional reverence for the royal family, and visitors should be careful to show respect for the King, the Queen and the royal family, as well as any image of royal family members.  It is unacceptable to speak ill of the royal family and it is required by both the standards of Thai culture as well as Thai law to stand in honour of the King prior to movie screenings and other public events.
The official religion of Thailand is Buddhism, which is practiced by 95% of Thais. Though Thais are very tolerant of other religions, they are particular passionate about Buddhism, and this extends to images of Buddha. Show respect when visiting temples which may include a dress code, removing footwear, not filming in certain areas, and not touching.
Dress Code
Dressing casually is the norm in Thailand, though when you look around, you will see that most Thais appear well-dressed. This is because, to a Thai, dressing well means you are taking them seriously and they will be more willing to help you. For an amusing read on what to wear in different places:
http://www.kohsamuisunset.com/what-to-wear-in-thailand/
Keep your beach attire for the beach; and remember, if you are going to visit a sacred Wat or temple, you may need to wear clothing that covers your legs and arms.
Language
More than 92% of the population speaks Thai or one of its regional dialects. While the Thai language is the official language of Thailand, as a result of its cosmopolitan capital city and established tourism infrastructure, English is spoken and understood throughout much of Thailand.
Telecommunications
The Thai phone system is both modern, with comprehensive mobile coverage, and reliable pay phones found throughout the Kingdom. It is very easy to purchase a mobile SIM and plan on arrival, and you can top this up at any 7-Eleven convenience store. Alternately, you can rely on Wi-Fi which is free in many establishments where you are a paying guest.
Thailand Standard time is GMT +7. Thailand does not observe daylight saving.
Electricity
Electrical outlets in Thailand are charged to 220V at 50 Hz, which is compatible with appliances from Europe and most of Asia. The power outlets generally support plugs with two round prongs i.e., the European style.
Weather
Located just 15 degrees north of the equator, Thailand has a tropical climate and temperatures typically range from 19 to 38°C (66-100 F). The weather in Thailand is generally hot and humid: typical of its location within the tropics. Generally speaking, Thailand has three seasons for its non-coastal inland, and two seasons for the coastal south.
In the Andaman Sea, there are two distinct seasons: the dry season from November to April, and the southwest monsoon season, from May to October, when many of the offshore marine parks are closed for the safety of visitors.
In the Gulf of Thailand the most rain falls between September and December, making November and December, the least desirable times to be diving.
Health
Drinking Water. While a lot of resorts have rainwater tanks, it is not recommended for drinking. It's safe to brush your teeth with and you will in most cases be provided with bottled drinking water. Some resorts and liveaboards provide refills so you can reuse your bottle.
Rabies: Don't pet or feed the monkeys you'll inevitably come across. Australians are routinely treated with rabies immunoglobulin on their return to Australia following bites or scratches from monkeys. (There are also other very good reasons not to do this!)
Emergency Services
Tourist Police – 1155
General Emergency Call – 191
Tourism Authority Thailand (Call Centre open daily 08:00 – 20:00 hrs) call 1672
Final notes on safety
Observe all normal precautions in regards to personal safety, as well as the safety of your belongings. Be sure that all your valuables, money, jewellery, and airline tickets are securely stashed away – you'll likely find a safe in your hotel room.
Do not get yourself involved with drugs. Penalties for drug offences are very severe in Thailand.
Do not support any manner of animal abuse. Never purchase any products or souvenirs made from wild animals including snake or monitor lizard skin, turtle shells, or ivory.
Avoid having your photo taken with captive animals such as monkeys or gibbons. These animals are captured as babies, usually by killing the mother, only to be abandoned when they reach adolescence and become, unsurprisingly, aggressive.
Some useful websites to read up on Thailand before you go.
Australian Govt's Smart Traveller
Getting There
Flights to Thailand are provided by approximately 70 airlines, most of them fly to Bangkok (BKK). However, internal connections to Phuket (HKT) are both frequent and relatively streamlined within Bangkok airport.
Flying to Bangkok from Australia, your main options are: Thai Airways, Qantas and Virgin (who codeshare with Singapore airlines), or Air Asia via Kuala Lumpur.
If you are only going to the Phuket area, there are a few direct flights to Phuket from places like Helsinki, Novosibirsk and Qatar, and more usefully KL (KUL) and Singapore (SIN) – both of which are south of Phuket.